Because I am a die hard AK74M fan and prefer the fullsize rifle, to be honest I only added an AK105 to have as part of the collection. This is because with a fullsize I have had really good performance out to 500m with optics and irons, and even did well at 600m with PO3.5x21P. I will say that after getting to know the 105 and having plenty of trigger time on it I can see now why it is such a popular rifle. Balance is better than the fullsize and functionally there is little performance difference out to 500m (in my observation). It's a handy and pointable rifle and one that has quickly come very close to my appreciation of the fullsize 74M.
This was converted from another SGL31-44 by Mario at Piece of History including selector markings and gas block/ front site block dimples. He did the barrel chop as well and I have found it to be an accurate rifle though again I have not benched this against the fullsize 74M
In 2017 I sent the paperwork in for a second SGL31 to AK105 conversion and in early 2018 the stamp came back. Work was done by Two Rivers and is top notch

During 2019 and 2020 I did a lot of testing with my ZenitCo AK105 and have this rifle dialed in quite nicely. This is the softest shooting AK I've ever owned, and I believe it's most accurate one I own as well. It took a couple years but this is by far my favorite AK rifle in the collection


Shown here with Kashtan 1P, ZenitCo Perst 2 IR laser and Trijicon Skeet-IR thermal clip-on
The suppressor is a Sandman K with E-Brake and the QD mount is also a brake. It's definitely not hearing safe but it make the 105 super low recoil. Another factor that I am sure helps with the recoil is the whopping 12.8 pounds fully loaded this rifle comes in at. It's a pig, but it's still weirdly handy and pointable. I've found this to be a great hog gun in Texas

This rifle is capable of holding .75" groups at 50 yards with Hornady Black 60gr VMax 5.45x39 using 1P87 and a 3x magnifier, or 1P78-1P Kashtan 2.8x
I've been able to repeat this on a number of range sessions and really dig how consistent it is, but even going with a conservative observation it will hold 1" groups at 50 yards all day long and I'm confident to proclaim this a legit 2 MOA rifle. For me the secret sauce appears to the additional weight of the suppressor affecting barrel harmonics in a good way, and the 11 degree target crown that I added

I've even had some half inch groups at 50 yards...wow


I do a lot of pig hunting with this rifle and have had excellent results. Like most calibers against hogs only the first round is typically well placed and after that you need multiple hits to bring them down due to how crazy a sounder gets after breaking, and the mayhem that ensues. As you would expect of the lighter caliber I've found 5.45 to be really effective in these scenarios due to the fast followup shots

Perst 2 has been an excellent laser as well

The complete parts list of the ZenitCo AK105:
ZenitCo B10U lower HG
ZenitCo B19 upper HG
ZenitCo B33 topcover
ZenitCo Perst 2 Green + (IR light and laser, white light and visible green laser)
Sandman K + E-Brake
Dead Air KeyMo QD brake
ALG trigger
Some kind of enhanced safety (Maybe Krebs? I don't remember)


This particular rifle was threaded an inch past the FSB for suppressor use, but on most of my rifles I use the Griffin 24x1.5 adaptor and don't need to direct thread the barrel


So what's the only thing better than owning 1 AK105? Owning 2, so you can be traditional and tactical at the same time

Dead Air PBS-1 Wolverine and AAC Mini 4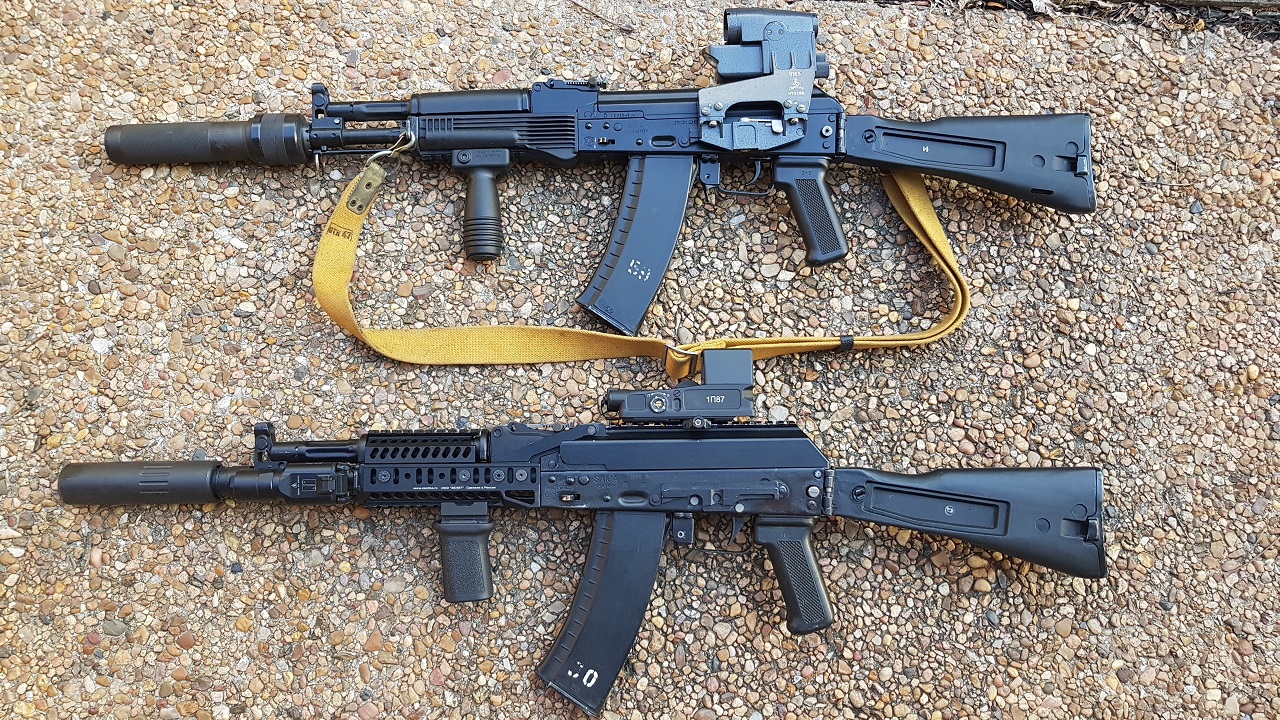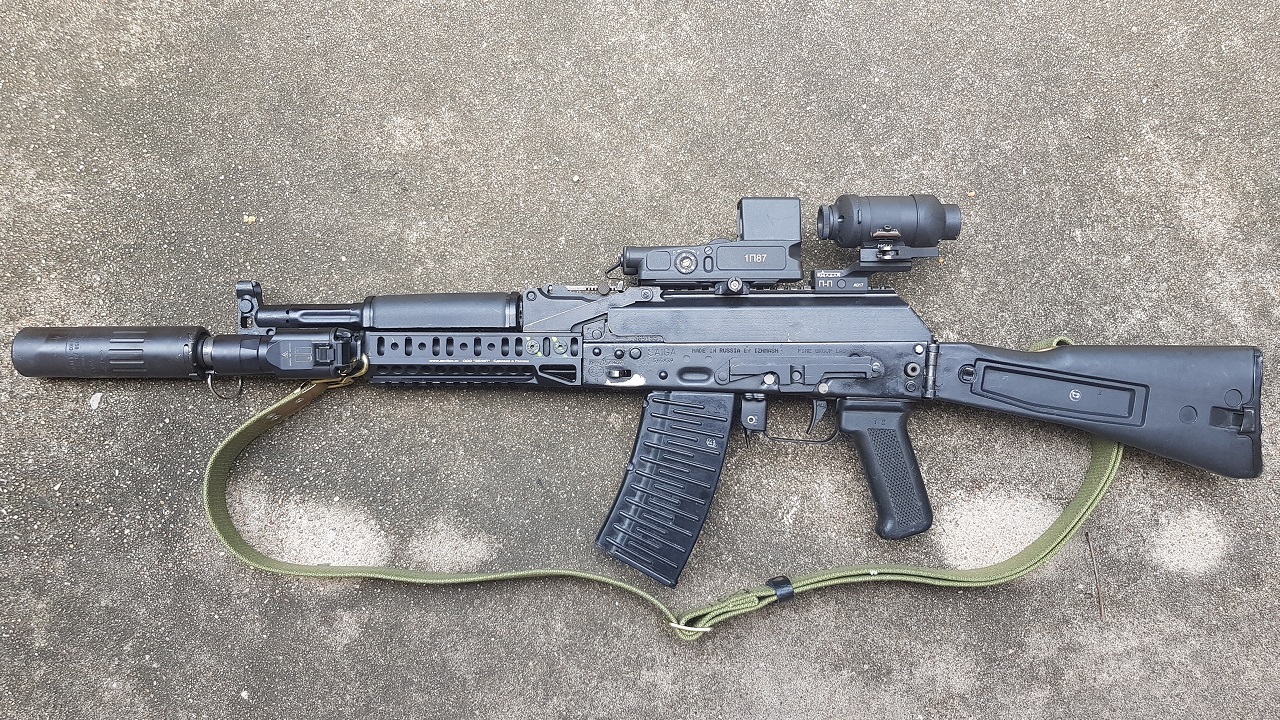 I borrowed Joshard's Surefire SOCOM 762 suppressor, here with Obzor and Surefire X300 on RS Regulate BM-1 mount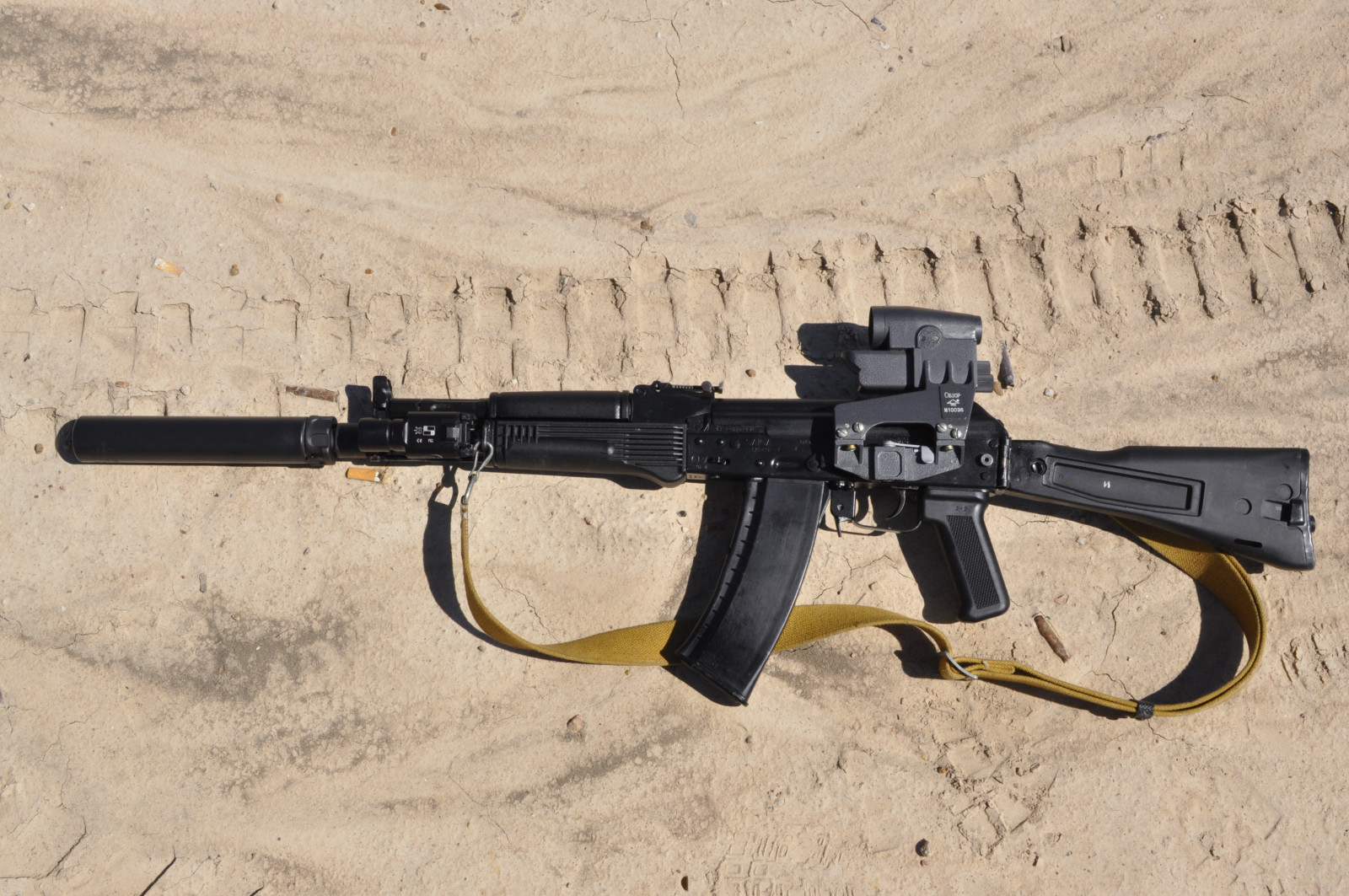 Top: AK105 with PK01-VS
Bottom: AK74M with 1P78 Kashtan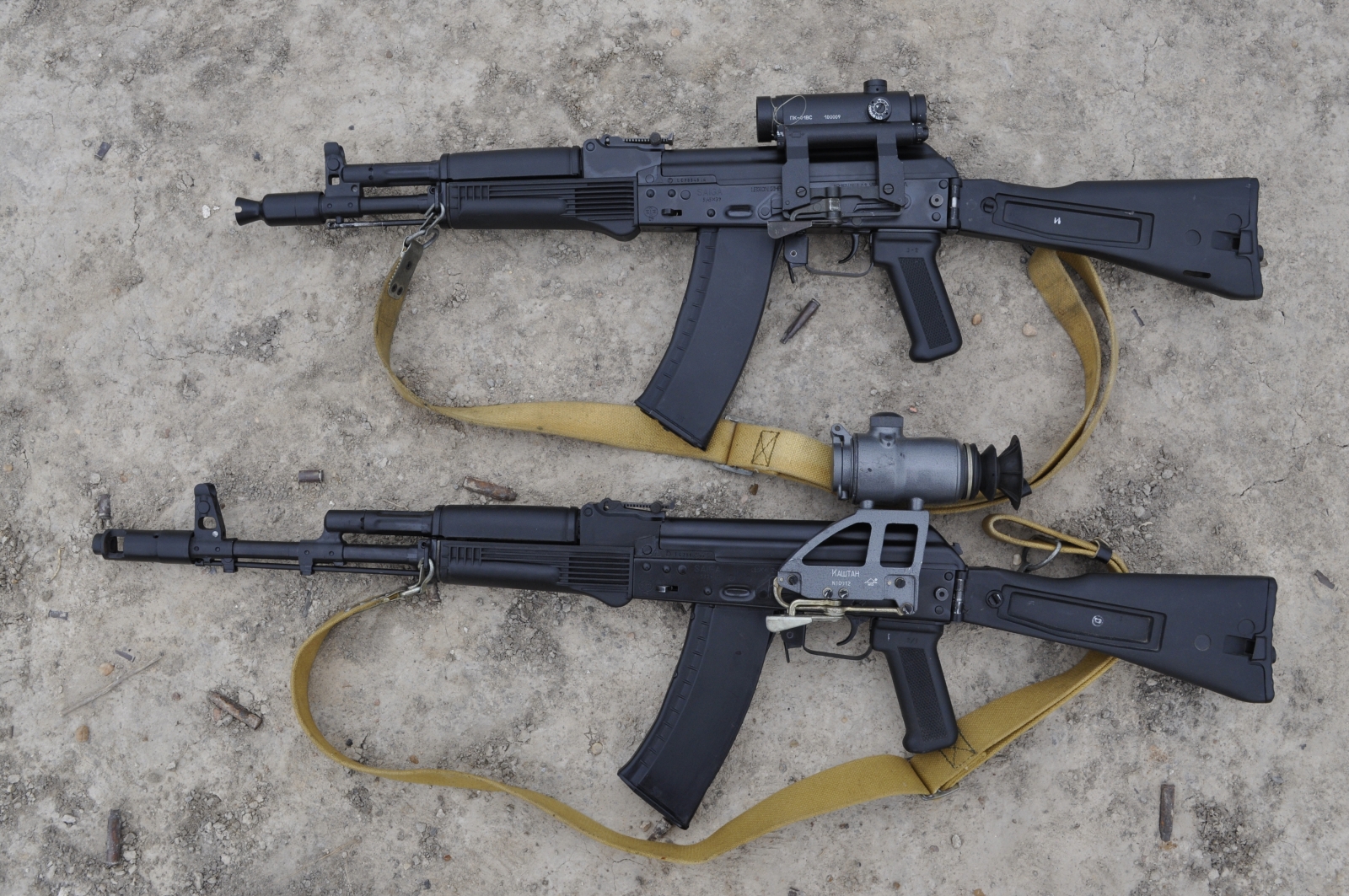 This is also a very useful configuration. ZenitCo makes some excellent gear so while pricey (and relatively rare) B33 is definitely the best top cover solution on the market.
With ZenitCo rails, Manticore Nightbrake and Trijicon RMR08
I will say that after a fair amount of use I don't care at all for the RMR08. It washes out too easily in most lighting conditions and even has a difficult time at indoor ranges. Neat, but pretty useless in my opinion and one of the rare things Trijicon didn't get right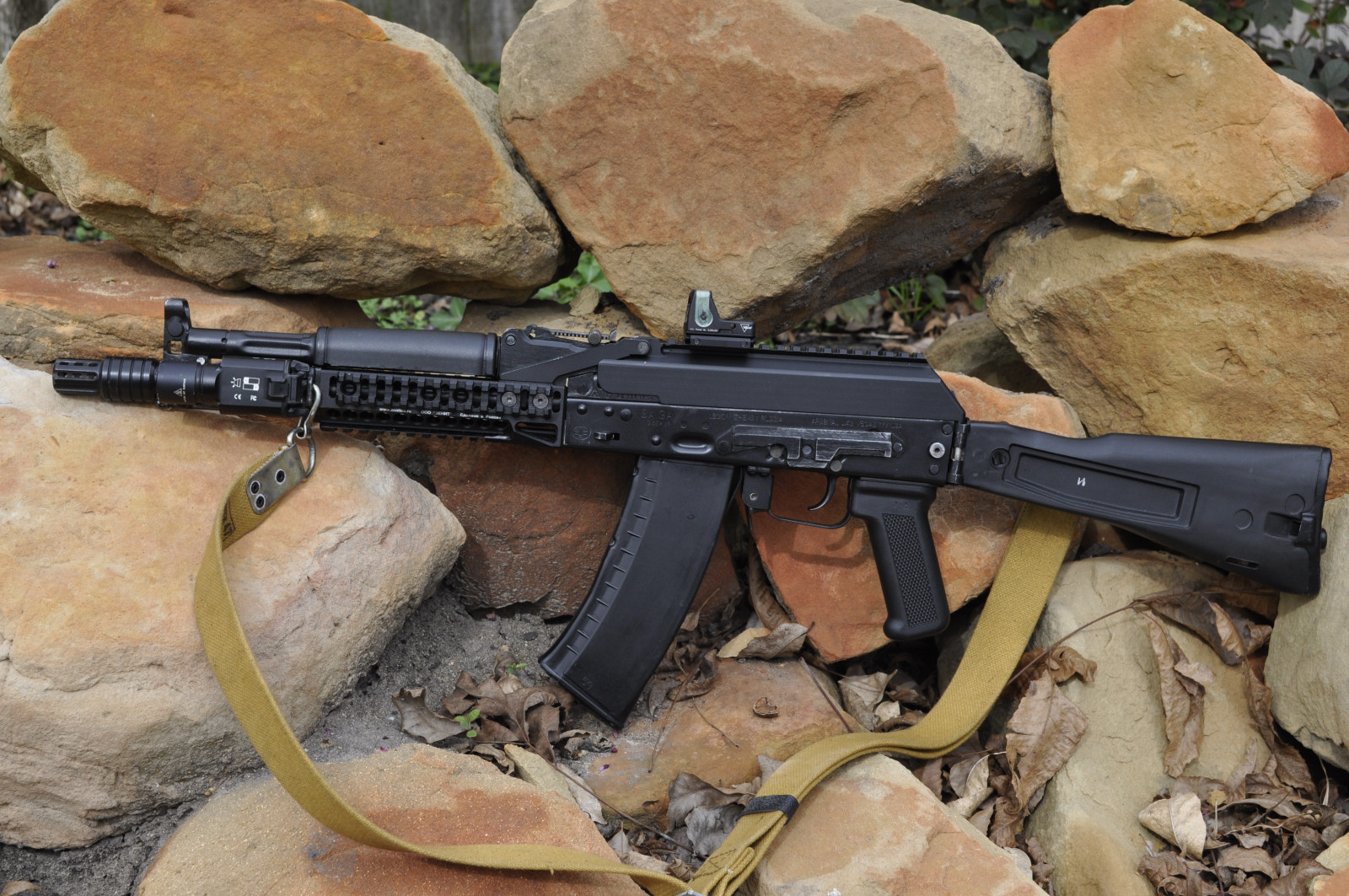 Mounted here is the modern series polymer folder that has a slot for the grenade launch pad strap
The sling is an Afghan era tan double buckle, and while not correct for a clone build this is by far my favorite Russian sling and I use it for almost all my rifles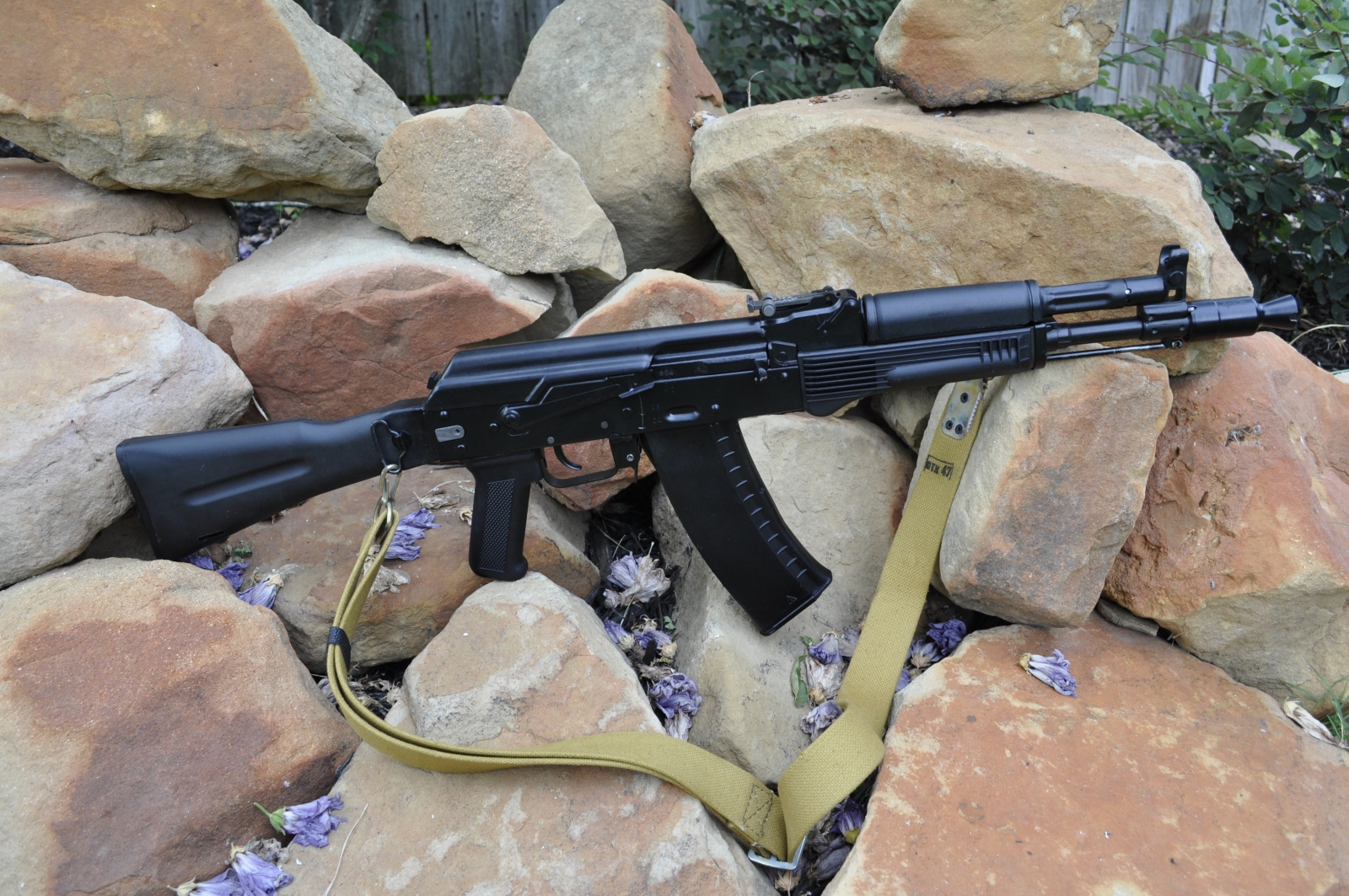 Close up of FSB/GB dimples
Early versions of the AK74M and AK105 had dimples pressed to keep the gas block and front site block in place while later versions reverted to pinned blocks without dimples, presumably due to ease of manufacture.
See
Avtomats In Action
for more detail on the differences between Russian and Bulgarian designs. Arsenal SLR series rifles will use the Bulgarian FSB/GB, Russian SGL series will use the Russian pattern components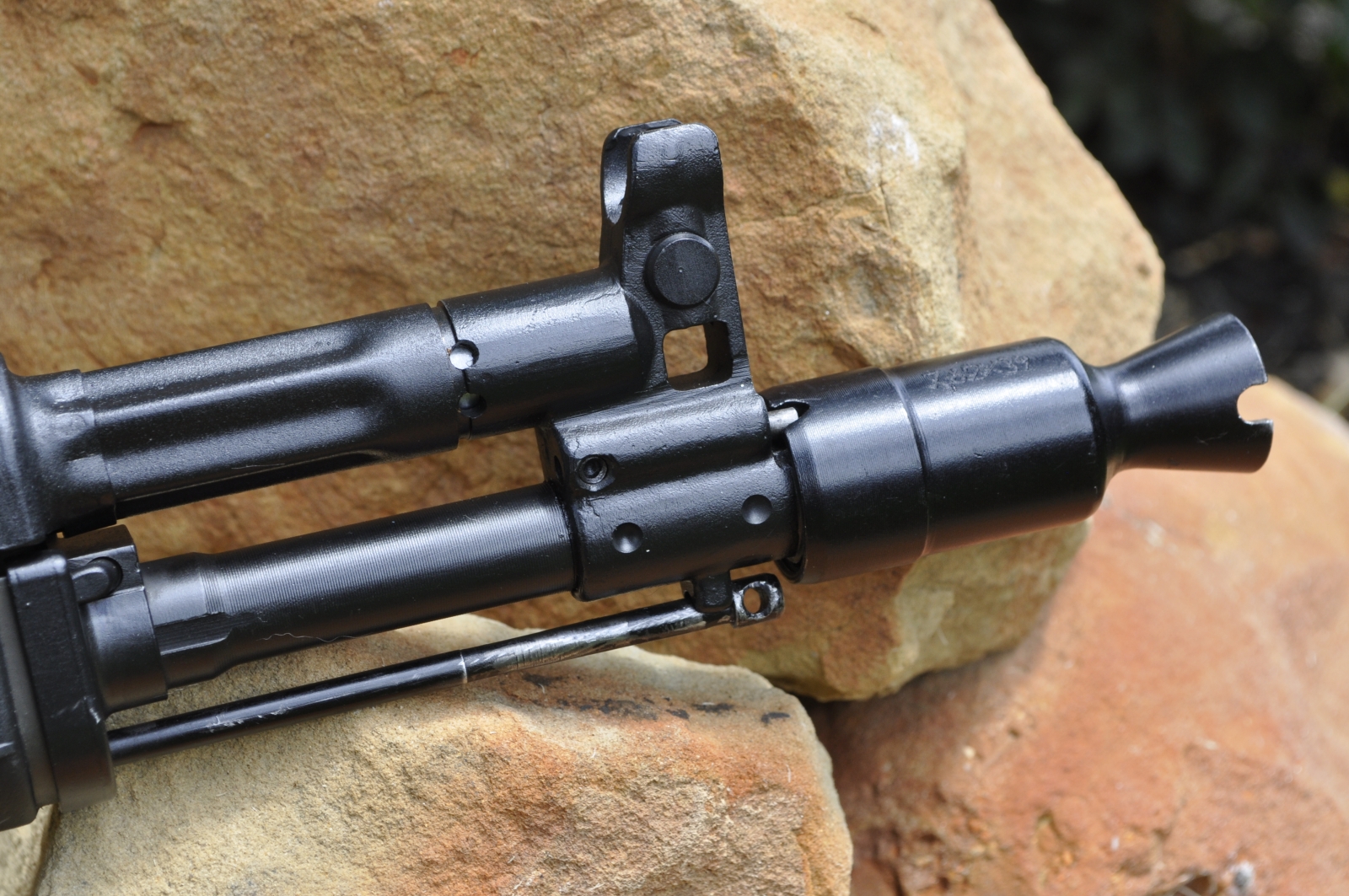 Boosters
The AK104/105 booster is actually a bit smaller than the AKSU, and there are differences between Russian and Bulgarian manufacture
Top: AKSU booster (For 8" AKSU barrel)
Bottom AK104/105 (For 12" AK104/105 barrel)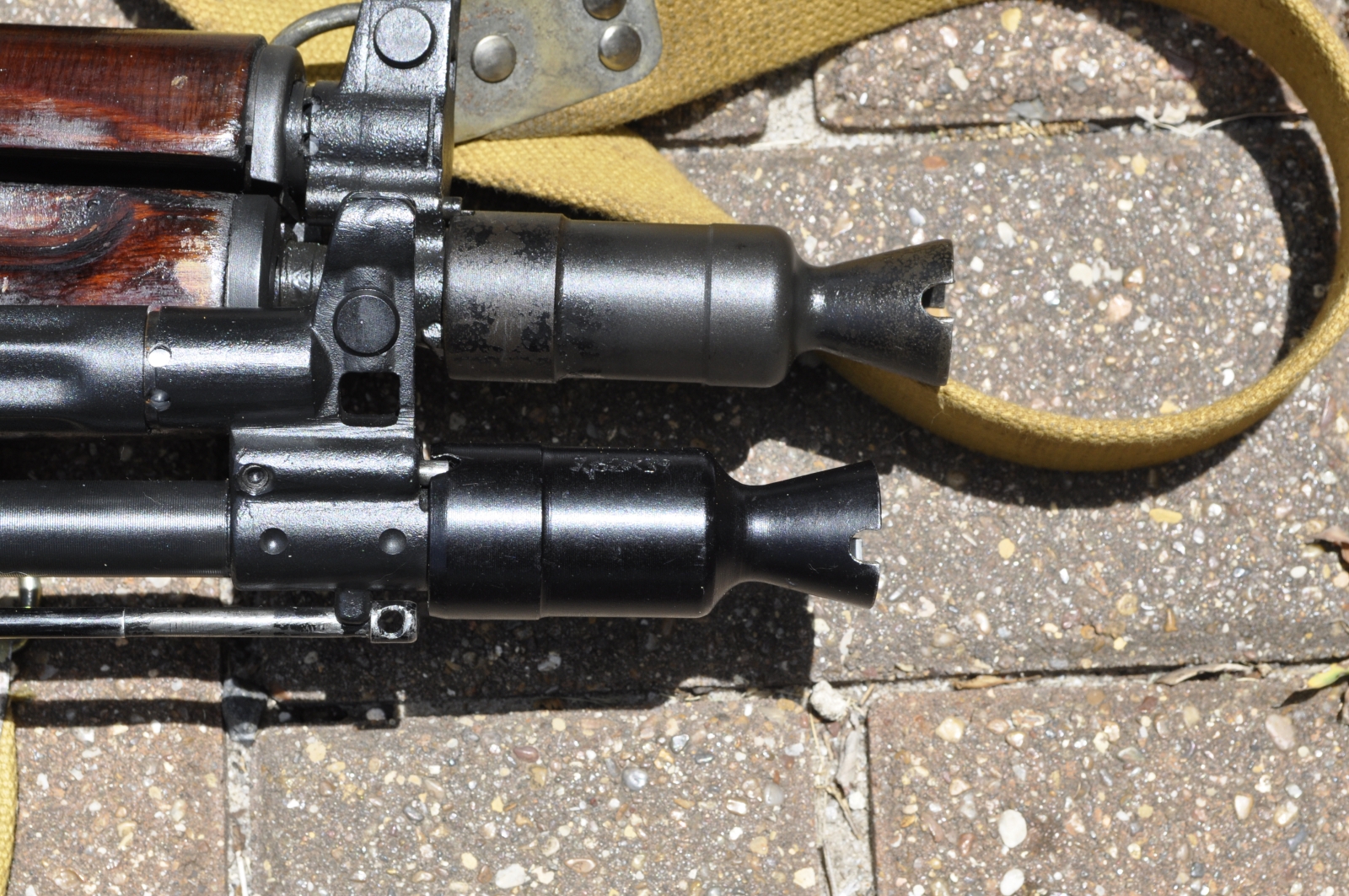 Selector Markings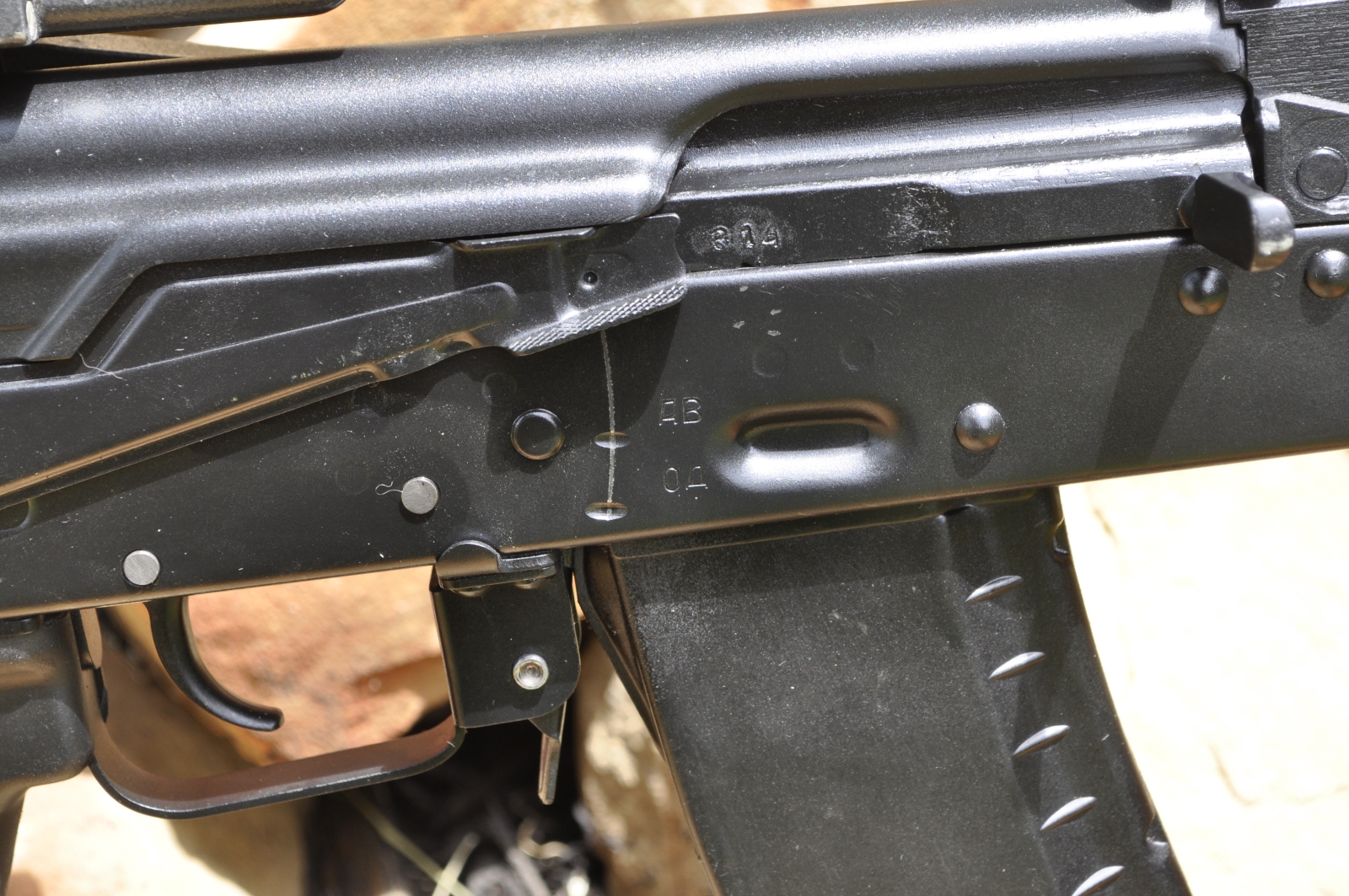 Folder Rivets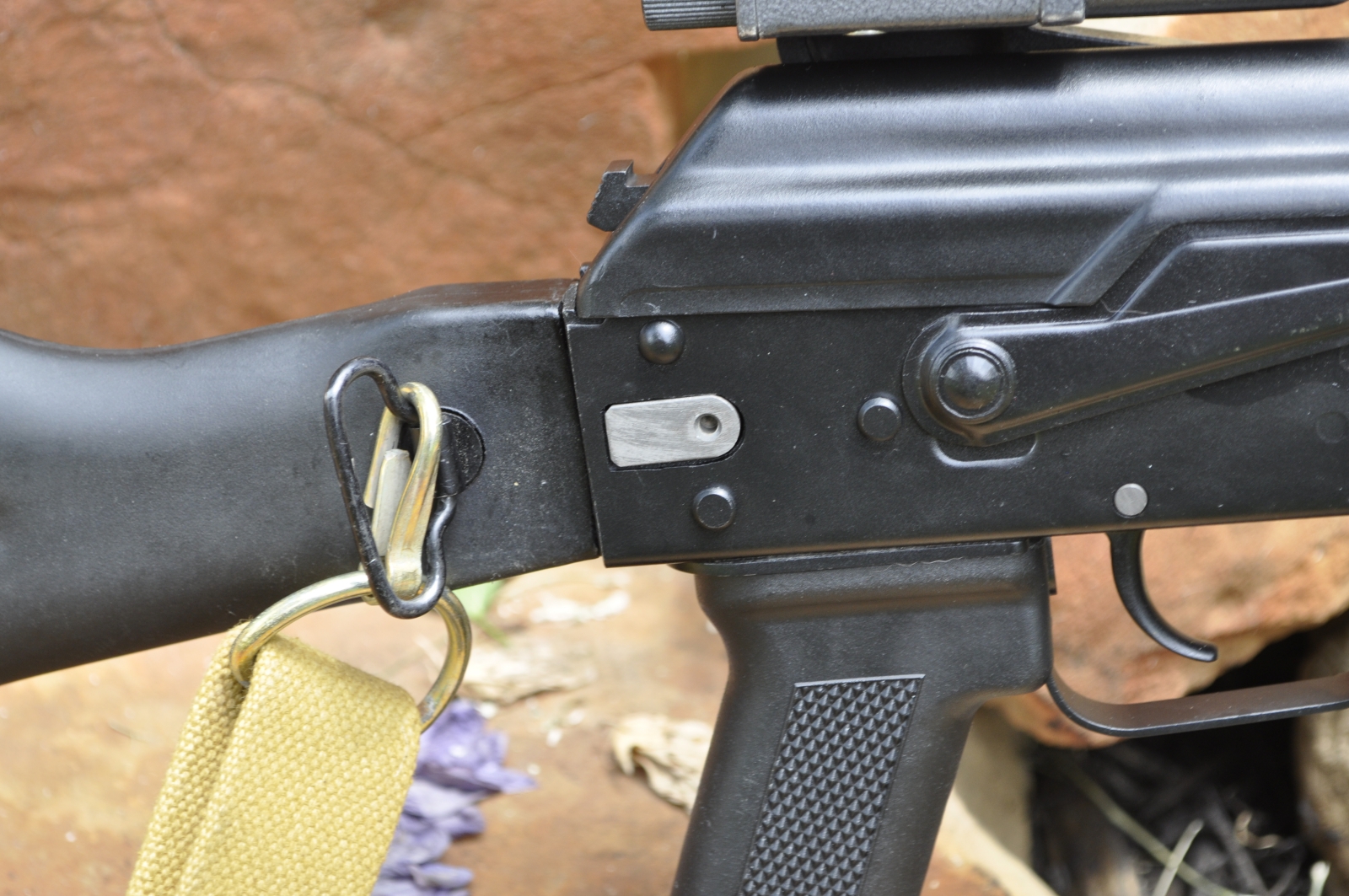 With 5.5mm Bizon triangle folder and Surefire X300 mounted to LHV47 polymer HG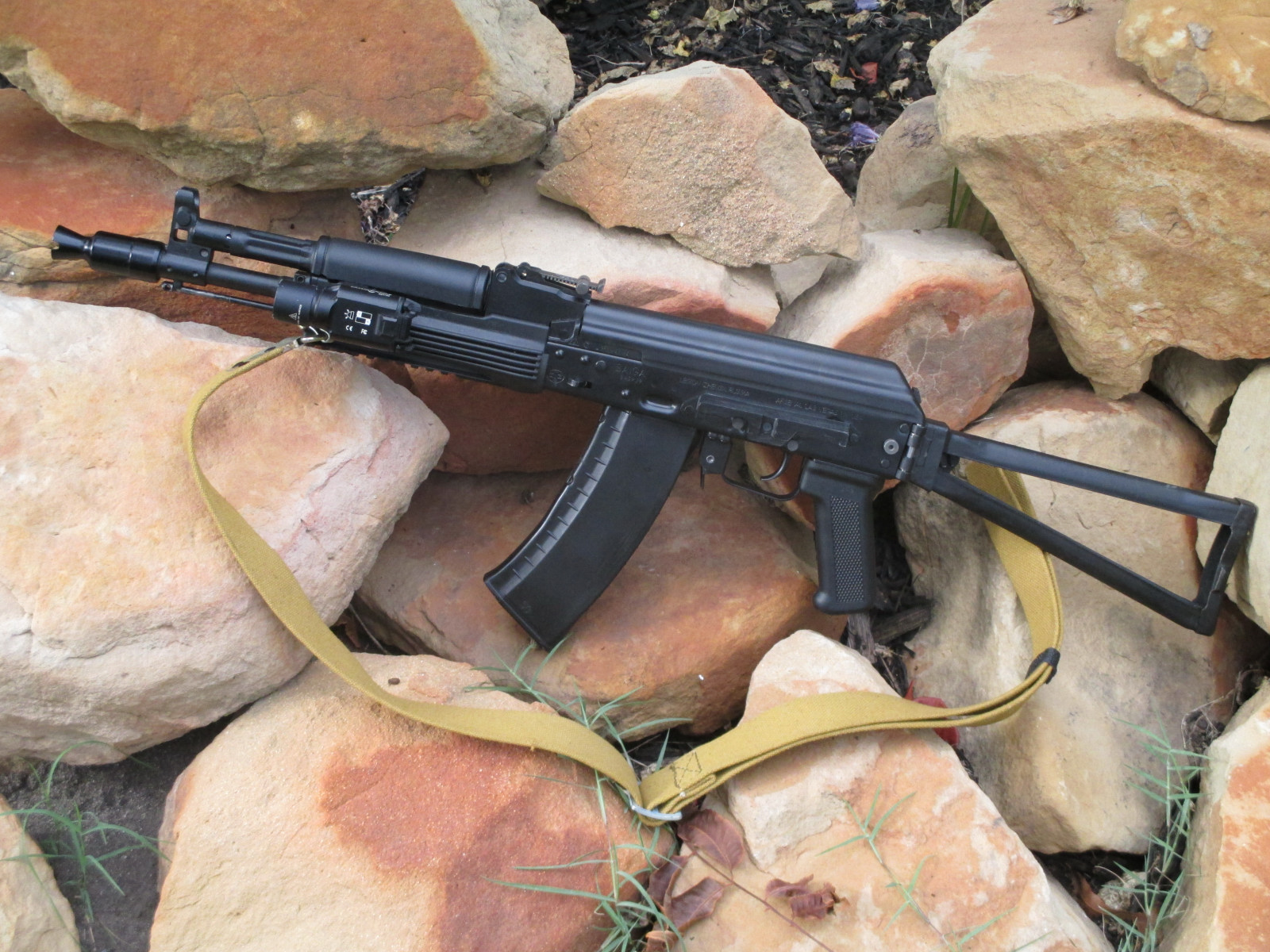 With
Obzor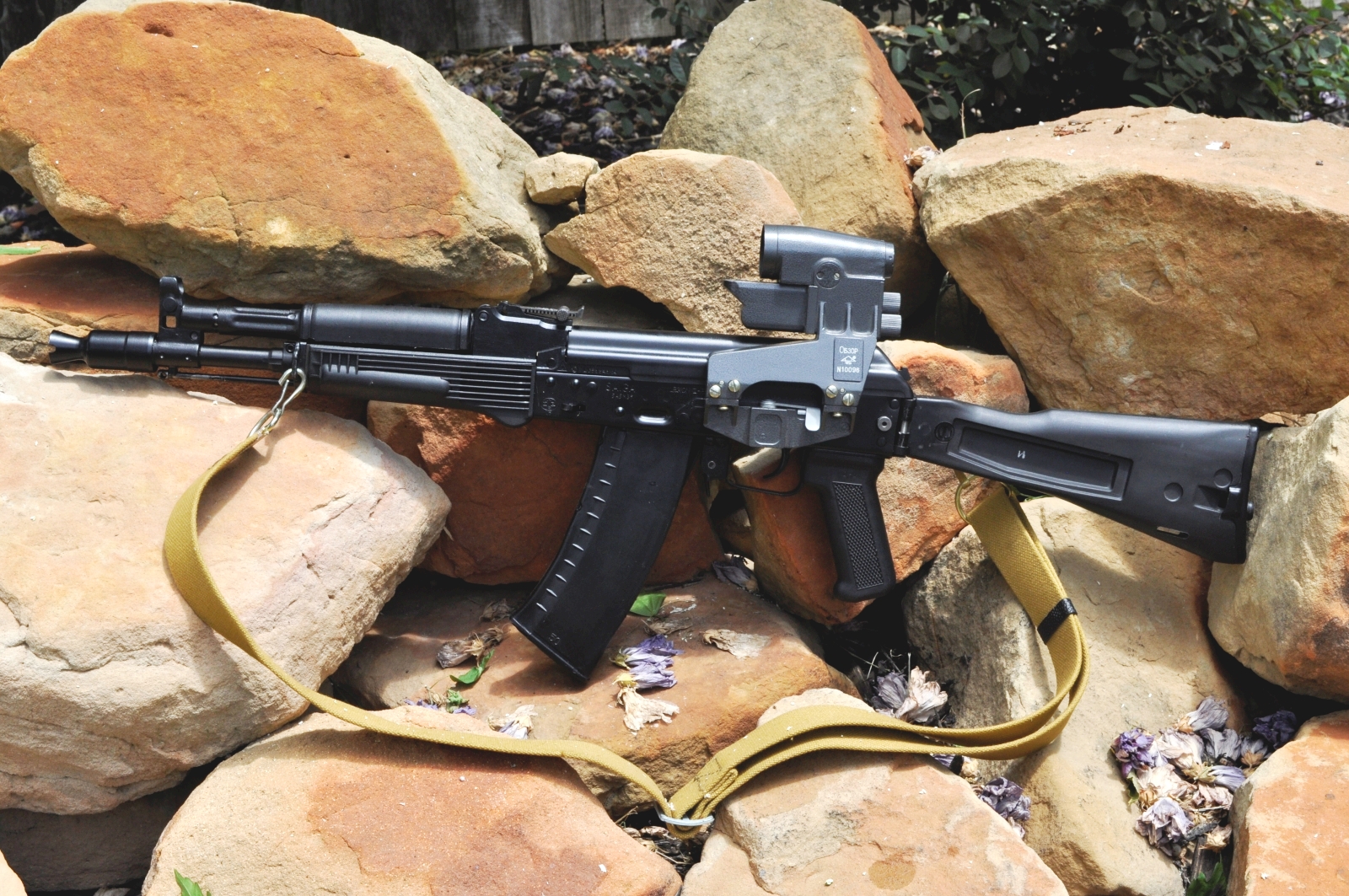 With
PK01-VS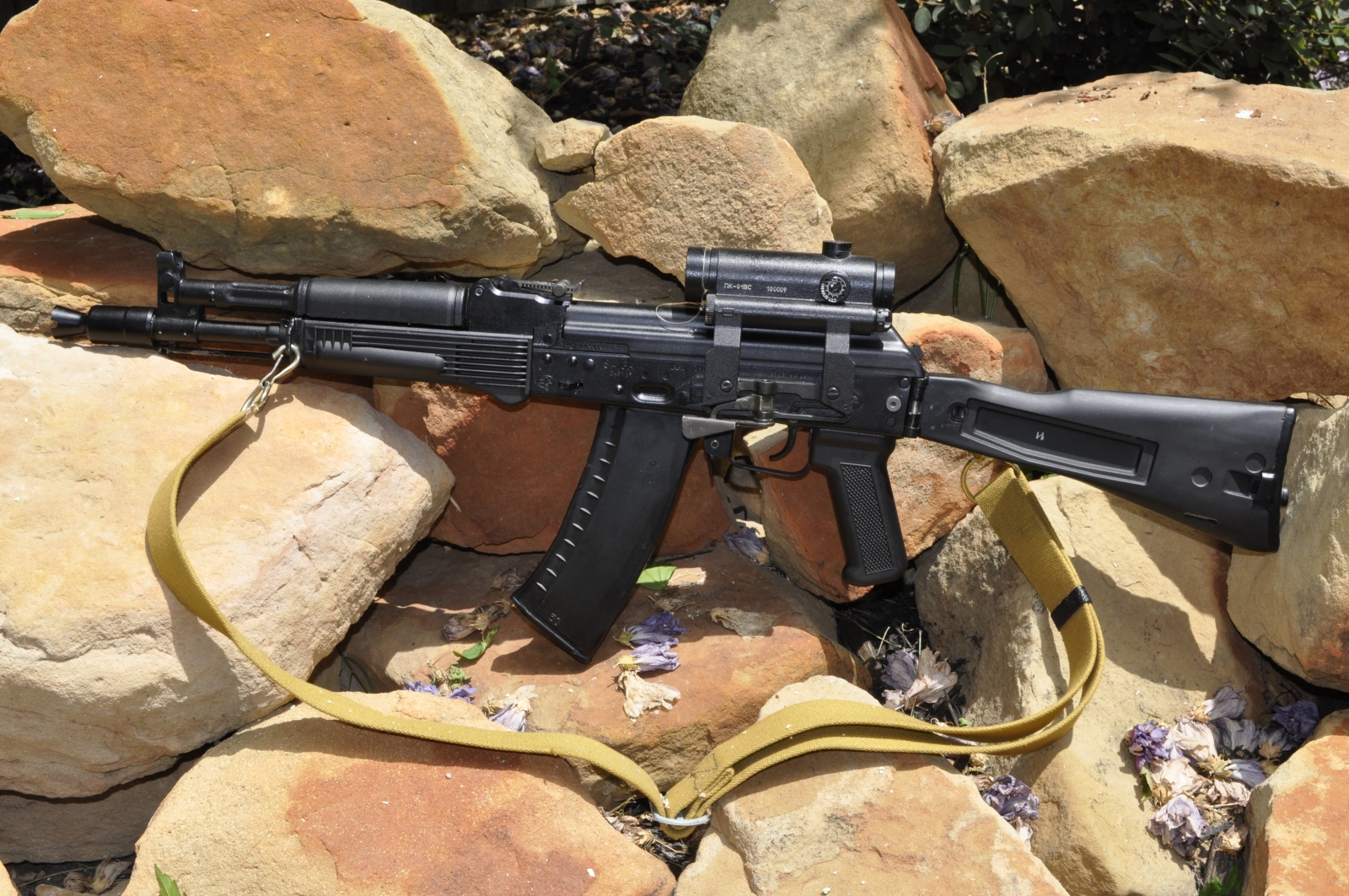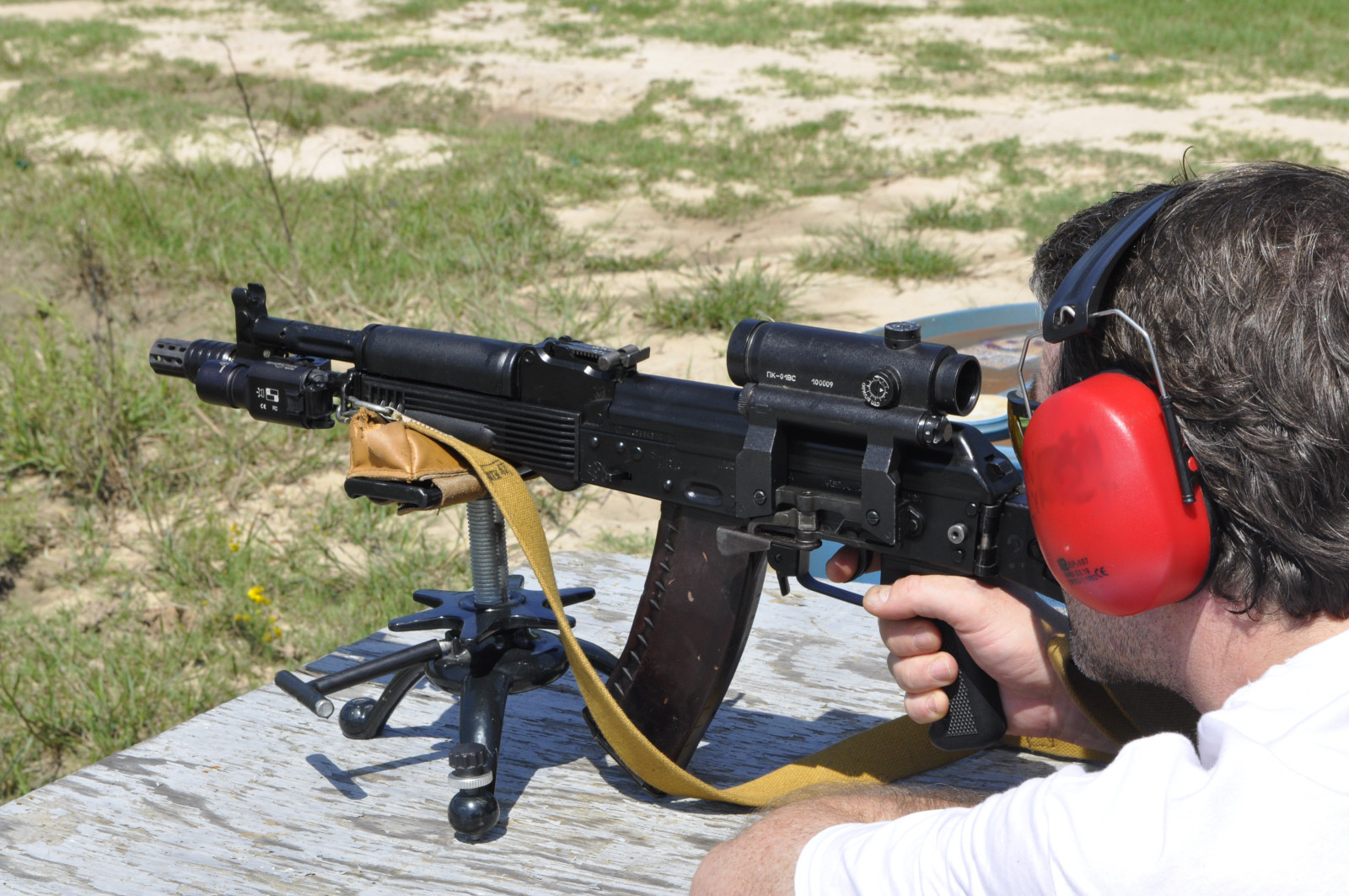 RS Regulate BM1 Mount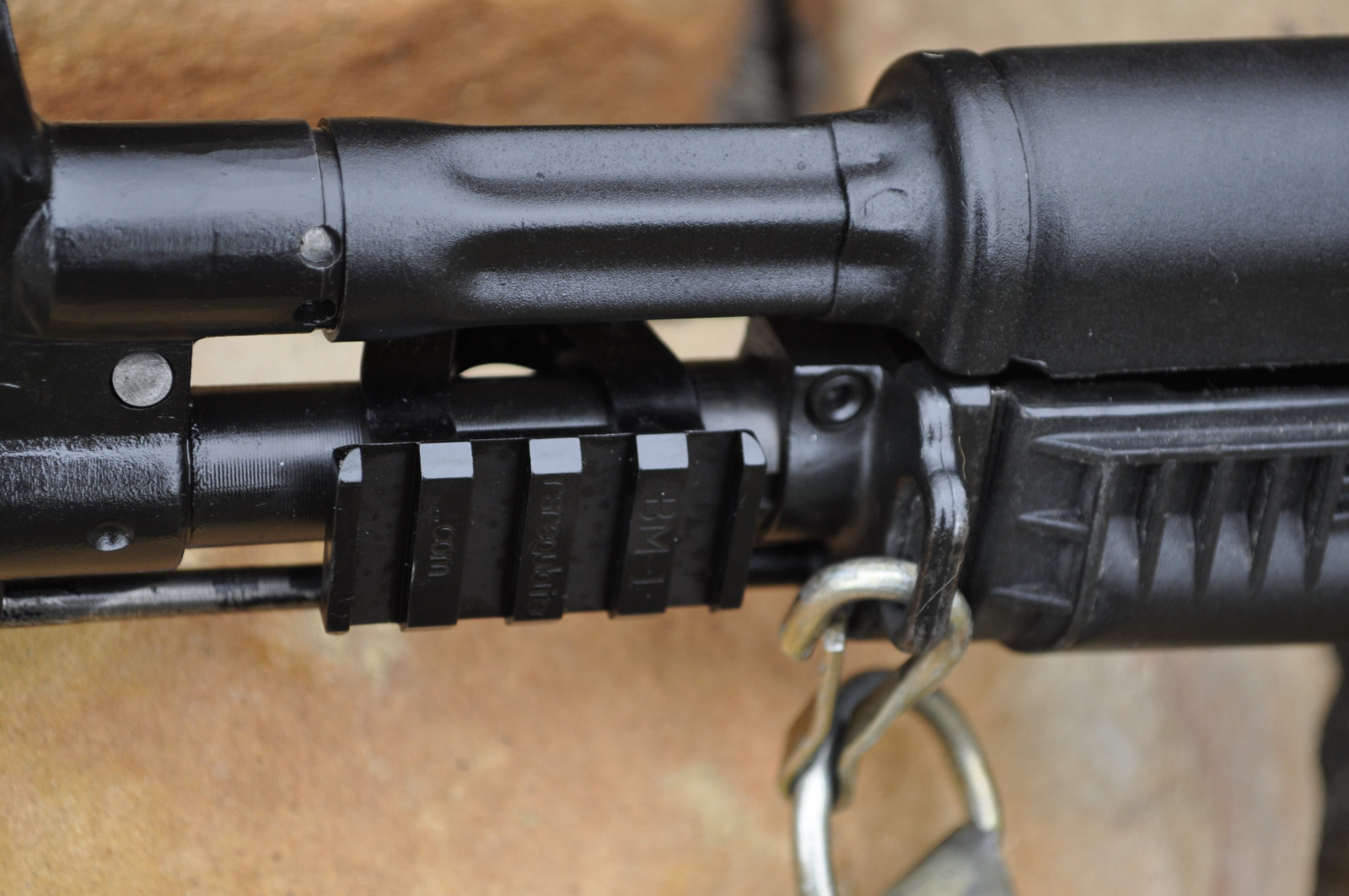 1P78 Kashtan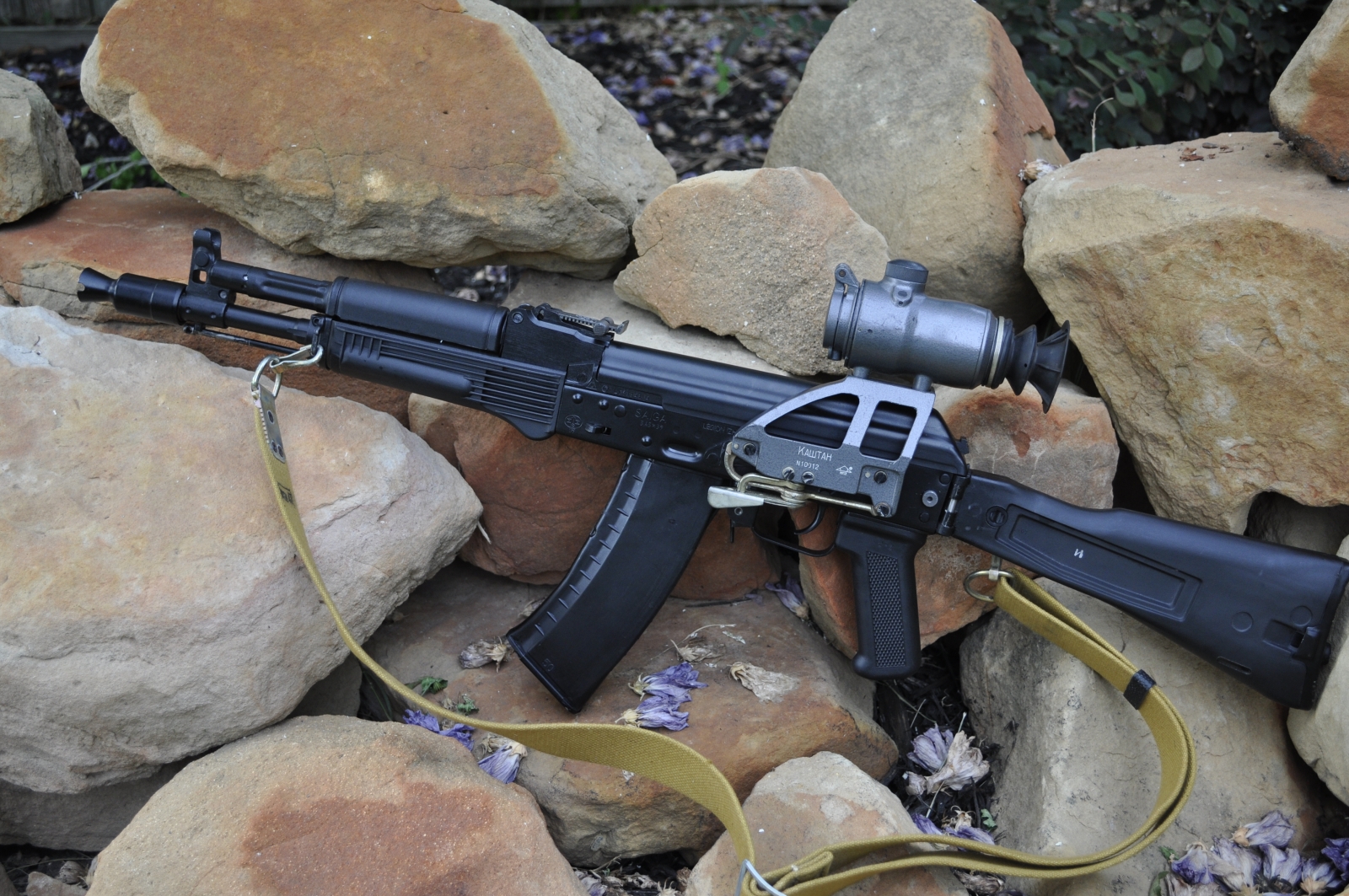 With OKP-7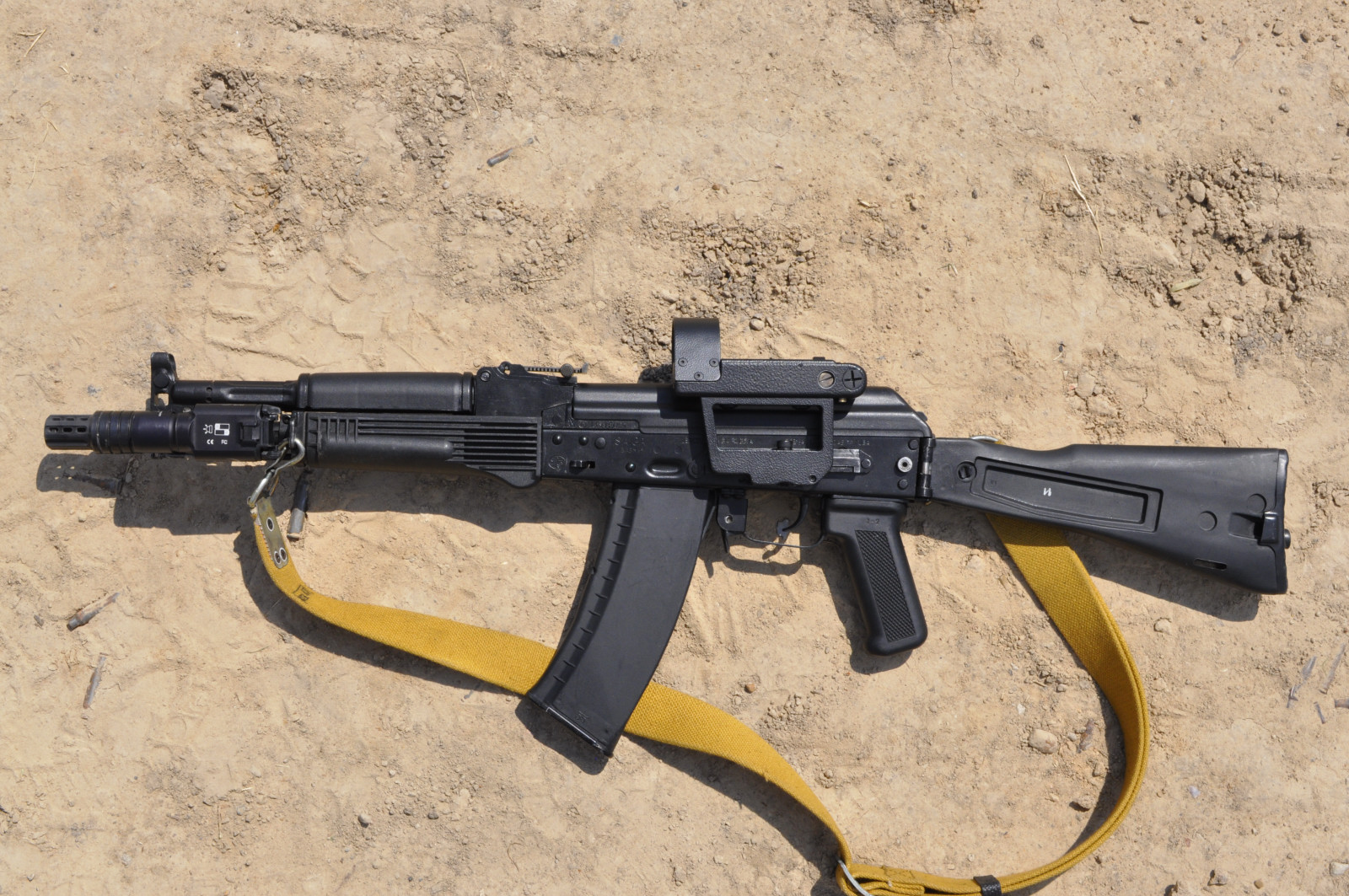 With ZenitCo Rails and PT-1 Stock, plus RMR08 optic