I thought I would do another quick write up on yet another commie scope that got my attention. This time it's the little brother of Belorussian Optical plant P.O. -3,5x21. I have completed that write up which dates back to 2012 and clearly shows its being a quality product. P.O. -3,5x21 had the best field of view of any comm block scope I have ever handled. The reticle was quite clever as well. It combined modern-style BDC with the classic look of early 60s NPZ's PSO-1. The only gripe about it was its weight. Coming in at nearly 1 kilo; the scope did add a bit of girth to the Avtomat. However, since it did attach via side rail which is centrally located with respect to the length of the AK, it balanced very well. Modern day AK is quite light by itself and with a little practice and muscle memory mag changes did become easier with time.
I have been using P.O.- 3,5x21 for a while now and really got to like it……until a package showed up at my doorstep from my a good friend and my favorite US AK dealer over at AK-stuff.com. I am not going into super-detailed write up of the scope itself, Zen already has covered that quite well. The purpose of it is to see how well the scope will perform in extreme conditions.
Oleg warned me right off the bat that the scope is not cheap, but worth every penny. DISCLAIMER. I am not by any means telling you guys to go and dump your PO 3,5x21 and replace it with this scope. P.O. -3,5x21 is still a great product and will remain in my arsenal. Another aspect to think about is the fact that P.O. -3,5x21 has a 21 mm objective, and this scope 17mm, hence larger field of view.

P.O 4x17 arrived in your typical communist canvas case, instructions and the cloth to wipe down your objective in case it gets dirty or dusty. Thing is pretty slim. Clicks were very positive and protective caps were well made. Finish was true black with white writings. The scope did have a unique design which eliminates the use of scope rings to mount it to your picatinny rail. Unlike the traditional Russian side-mounting system that incorporates the clamp that attaches itself to the left side of the AK's receiver via a dove tail, this scope came picatinny ready, with the clamp built into the bottom of the scope. One advantage of this design is that it lets the user choose the way he or she wants to mount in on the rifle. Another advantage is for those whose AK does not have a side rail. There are many new innovative US and foreign ways to mount your optic on your rifle. ZenitCo's B-33 dustcover would be a good example. The clamp that is incorporated in the scope will allow it to sit relatively low, compared to a scope that will use traditional scope rings to attach it to picatinny. At this point it's up to the user which way to mount the P.O.- 4x17 onto the rifle.
I chose the trusty ZenitCo B-13 side mount which weighs only 5 ounces. The eye relief was achieved with ease, check weld was decent and I hardly felt any weight added to my AK-74.

For those familiar with the P.O. 3,5x21 reticle you will see that P.O.- 4x17 has almost identical version of its predecessor. Top three hashmarks, or boresight cross, indicate BDC for 53 grain 7N6, or any other commercial made 5,45x39 ammo. The only ammo that would take some time to calibrate your scope to or just know your holdovers would be old school 70 grain Wolf MC FMJs. The boresight cross hashmarks correspond to 100, 200 and 300 meters. The next chevron below is your 400 meter zero which corresponds to the height of 22.5 centimeters @ 100 meters. Following that we have 700 and 800 meter chevrons. Classic choke-style range finder is also located on the right side of the scope but also includes a new width based range finder as well. Scope also comes with illuminated red reticle which is unfortunately is not NV compatible.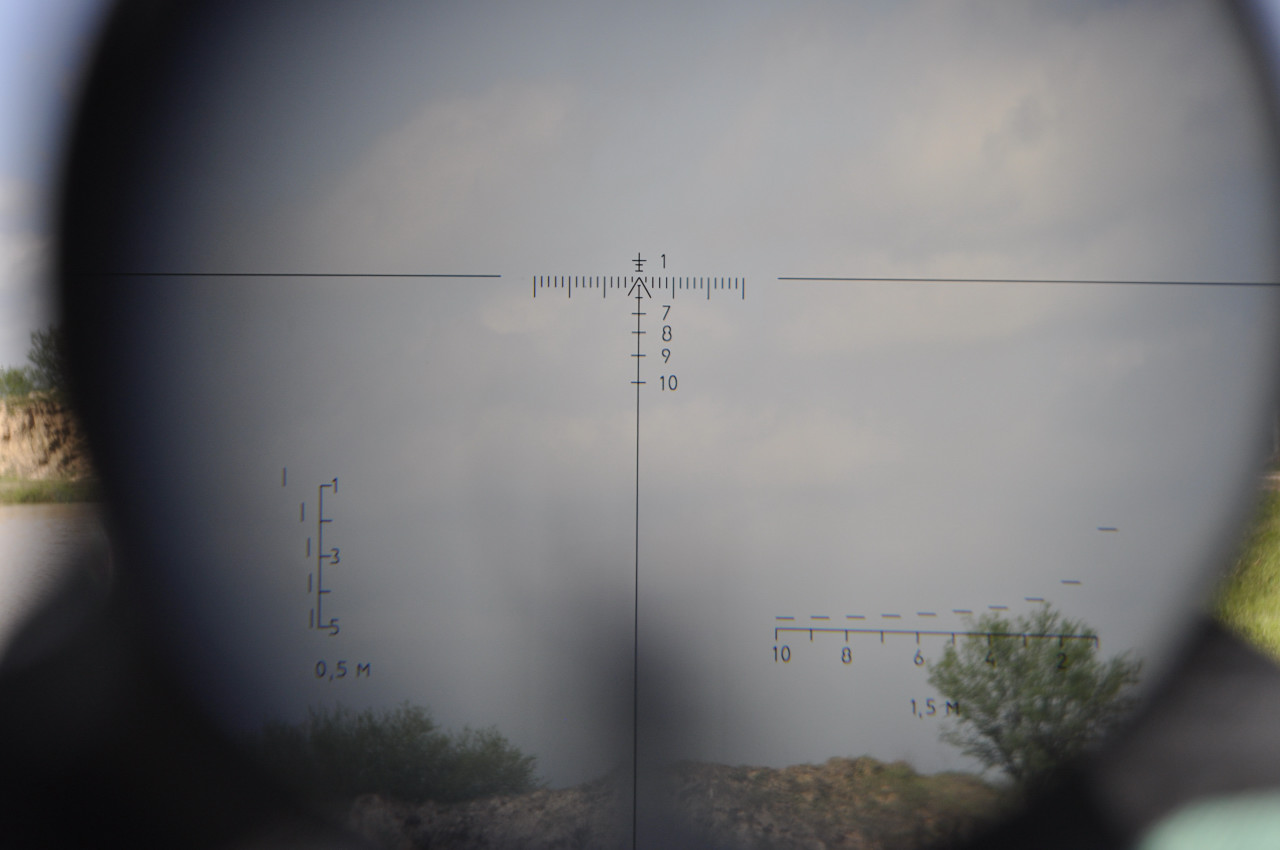 First things fist-need to sight the sucker in. I chose to start @ 100 meters and further out see how well would the scope's BDC work at further distances, once the rifle is zeroed @ 100.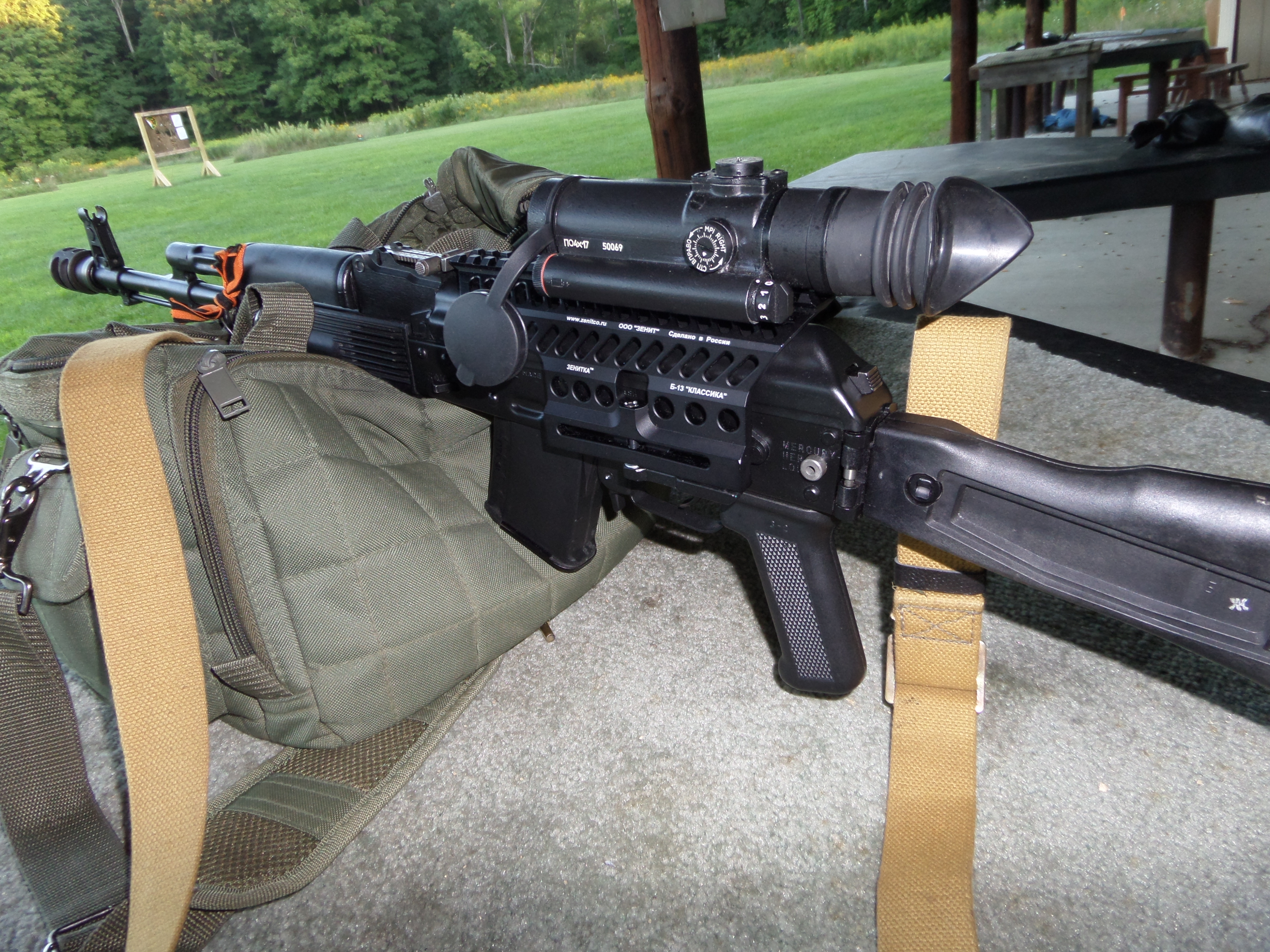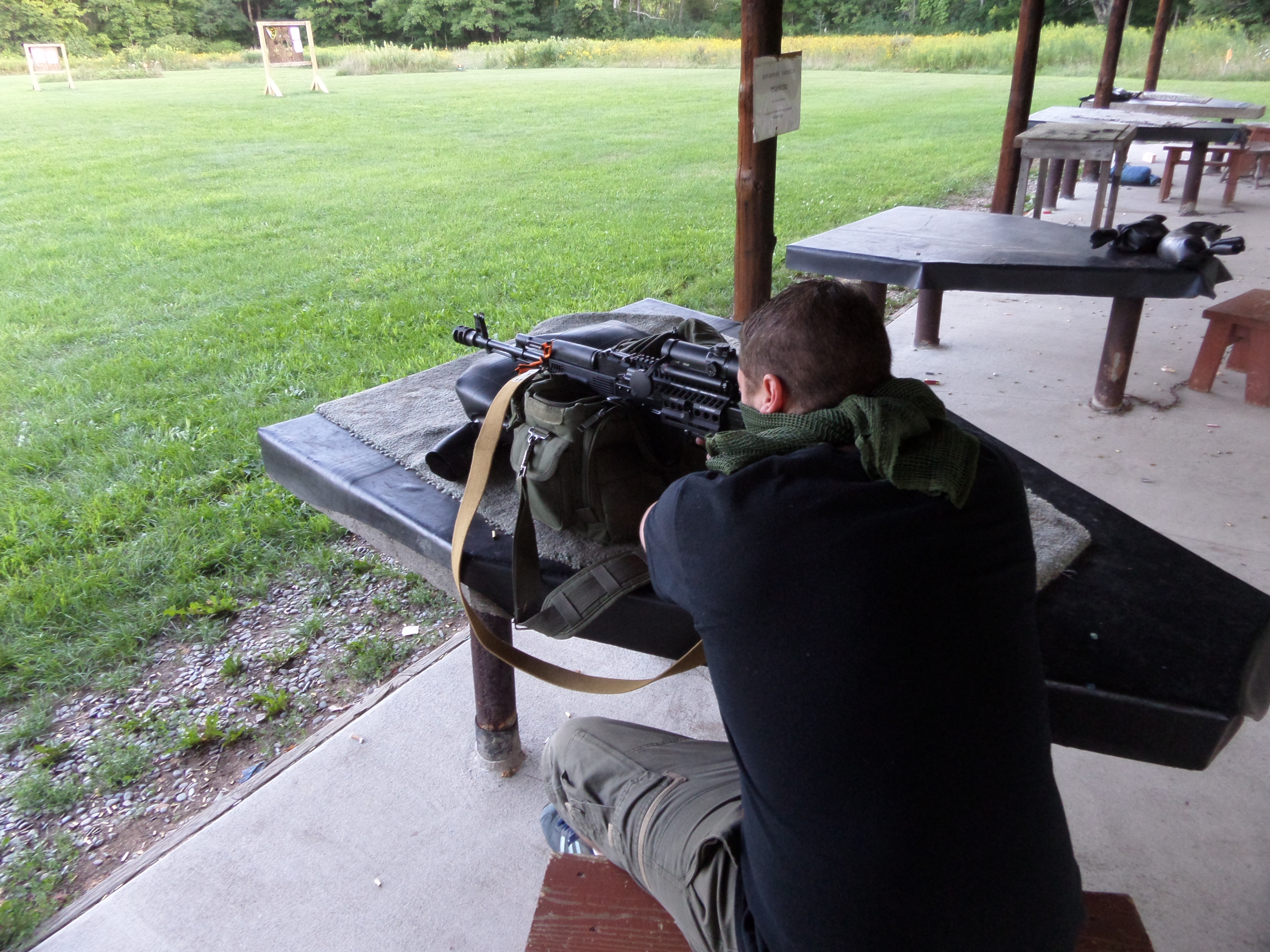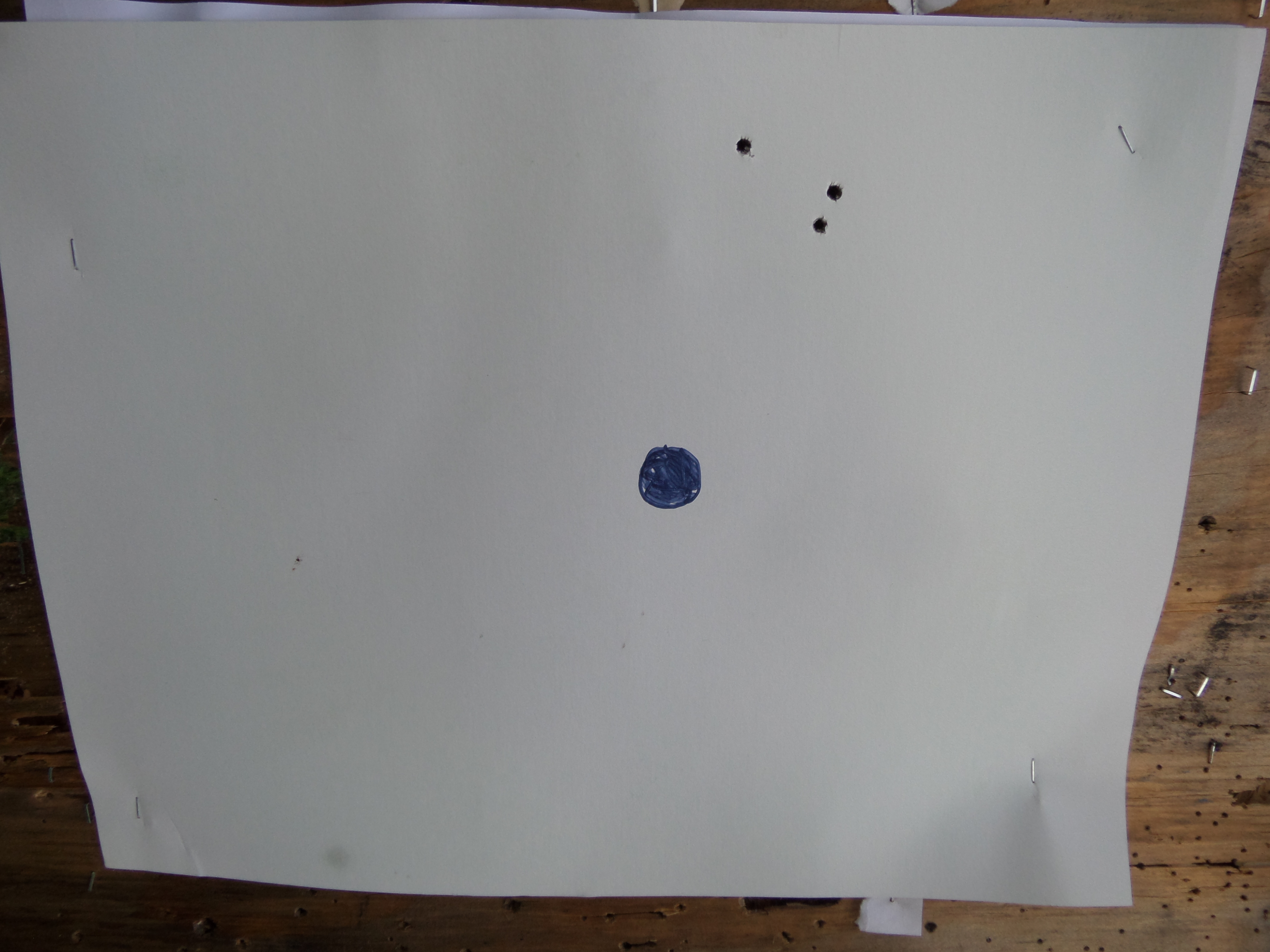 After sighting the rifle I decided to do some tests to see how well the rifle would hold up. Classic toss six feet in the air and landing in grass with rocks on it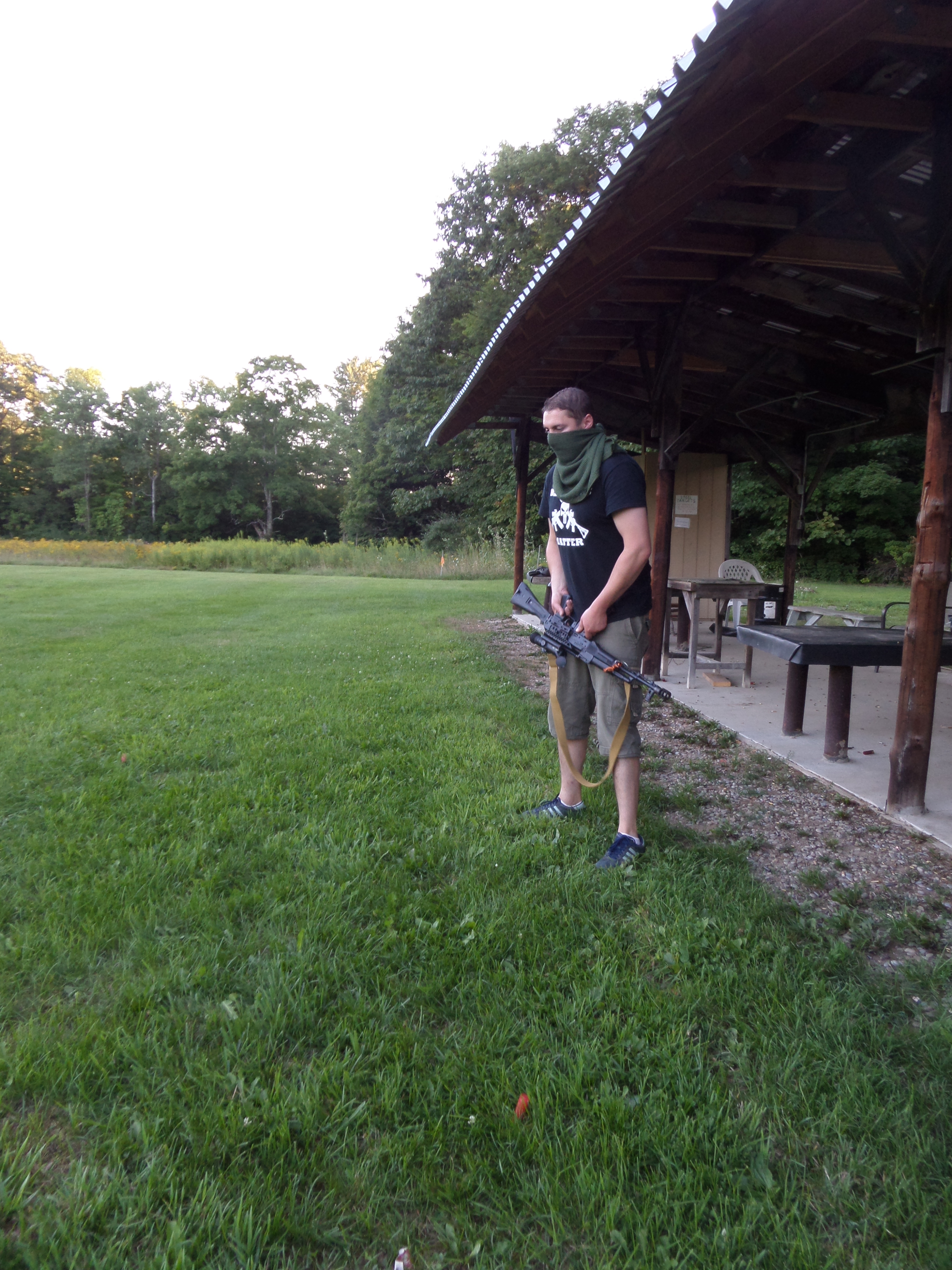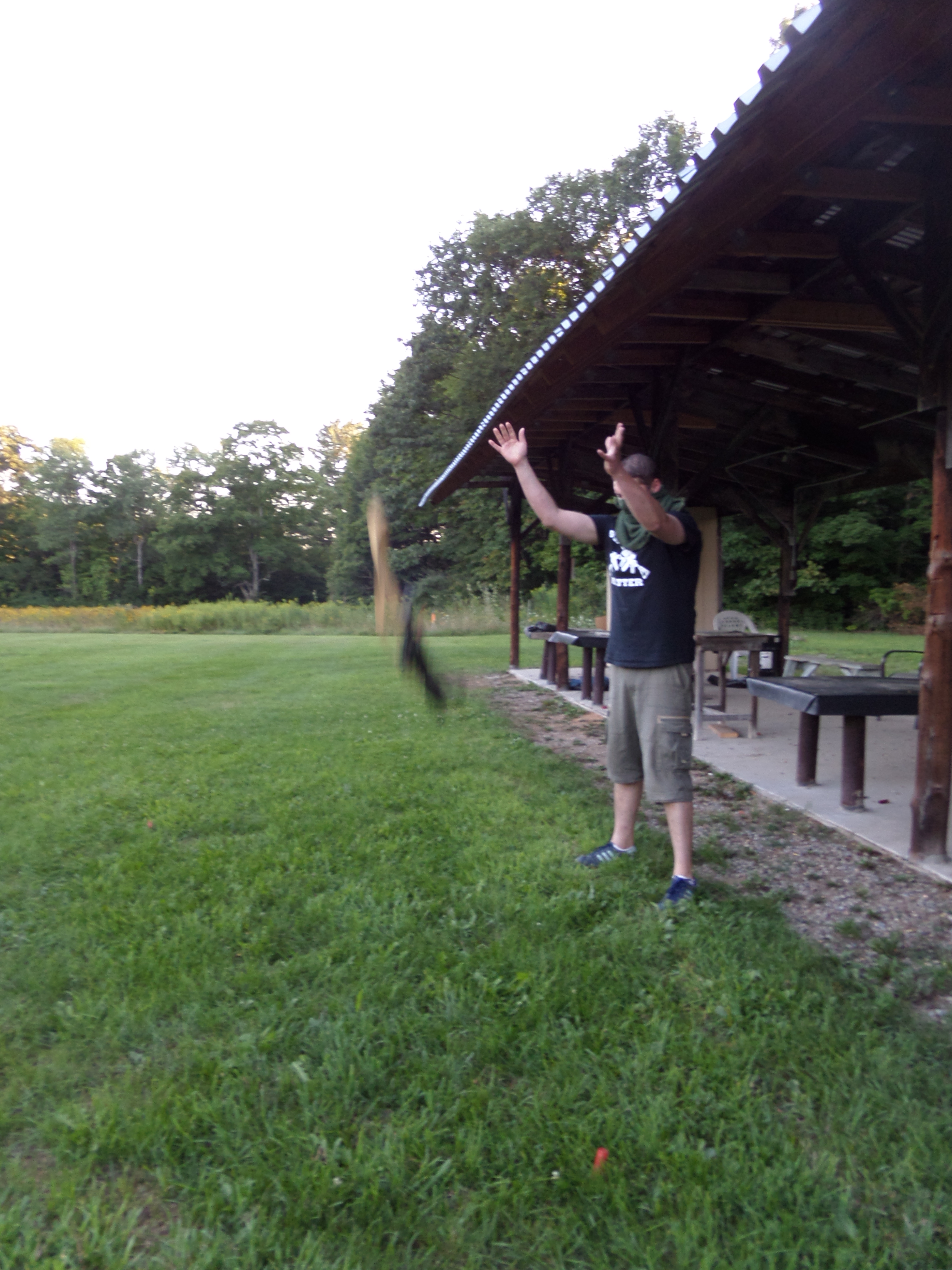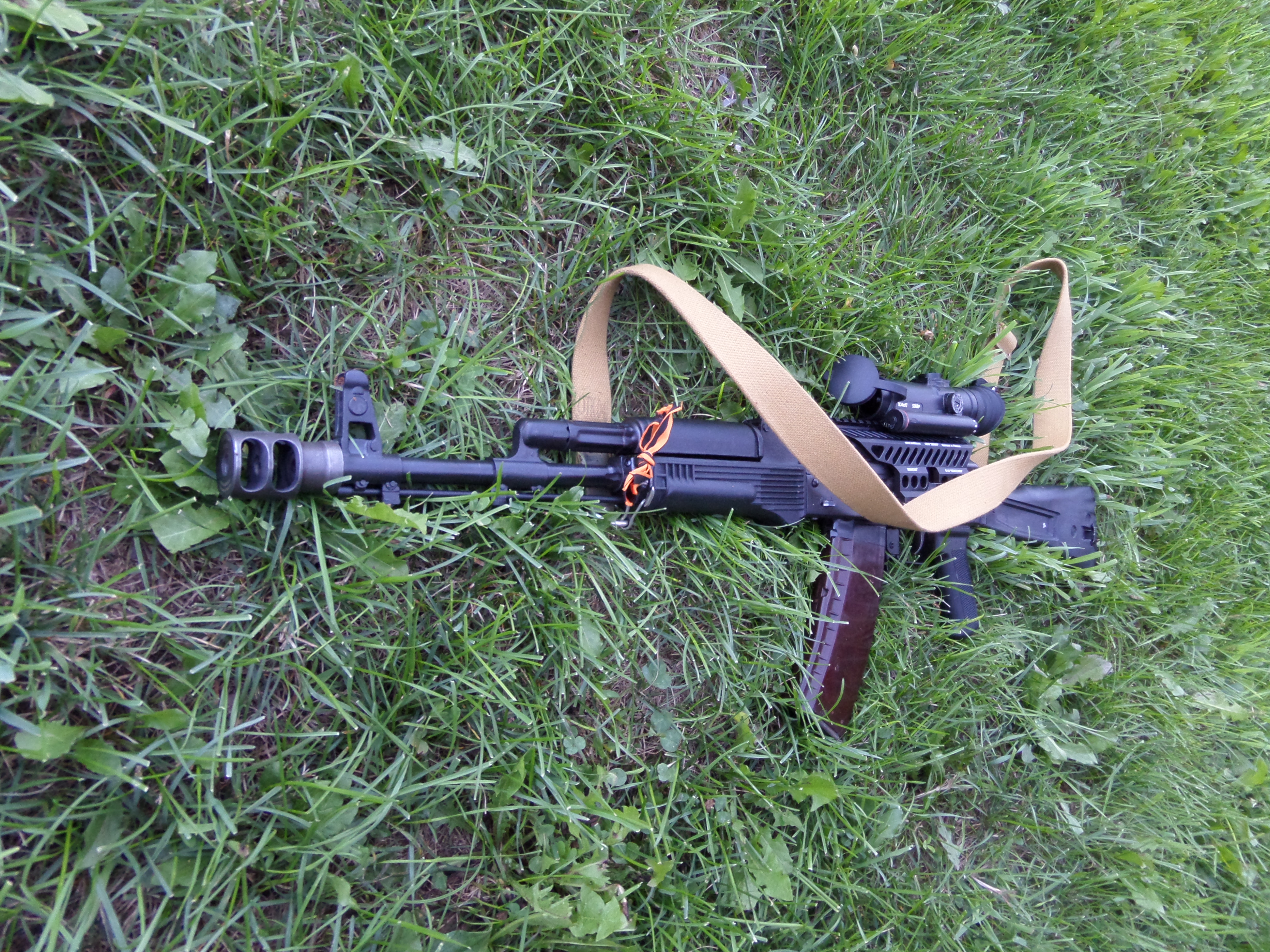 Another 5-shot group was preformed and scope seemed to hold zero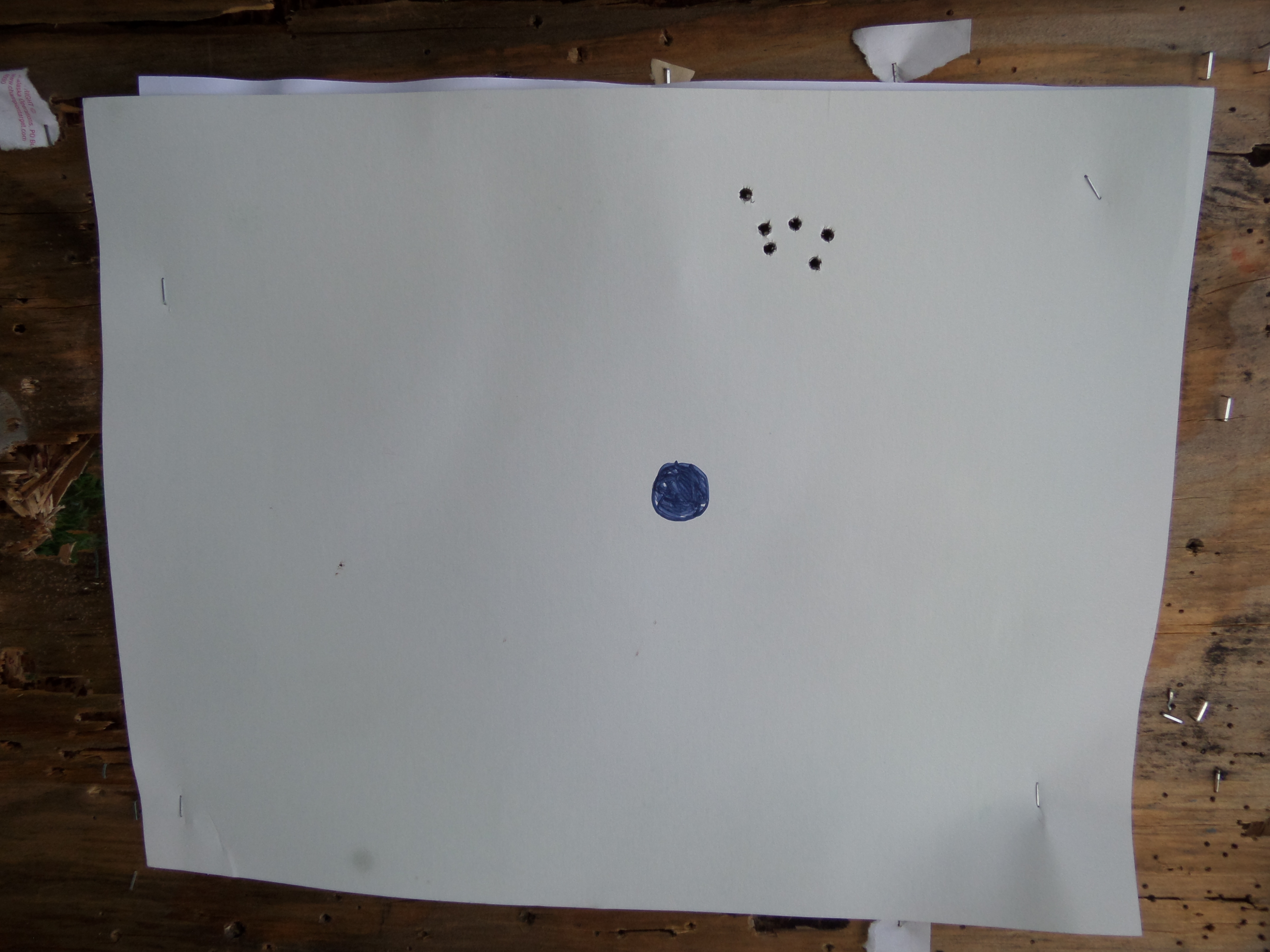 Another toss 6 feet in the air resulting in rifle landing on the scope itself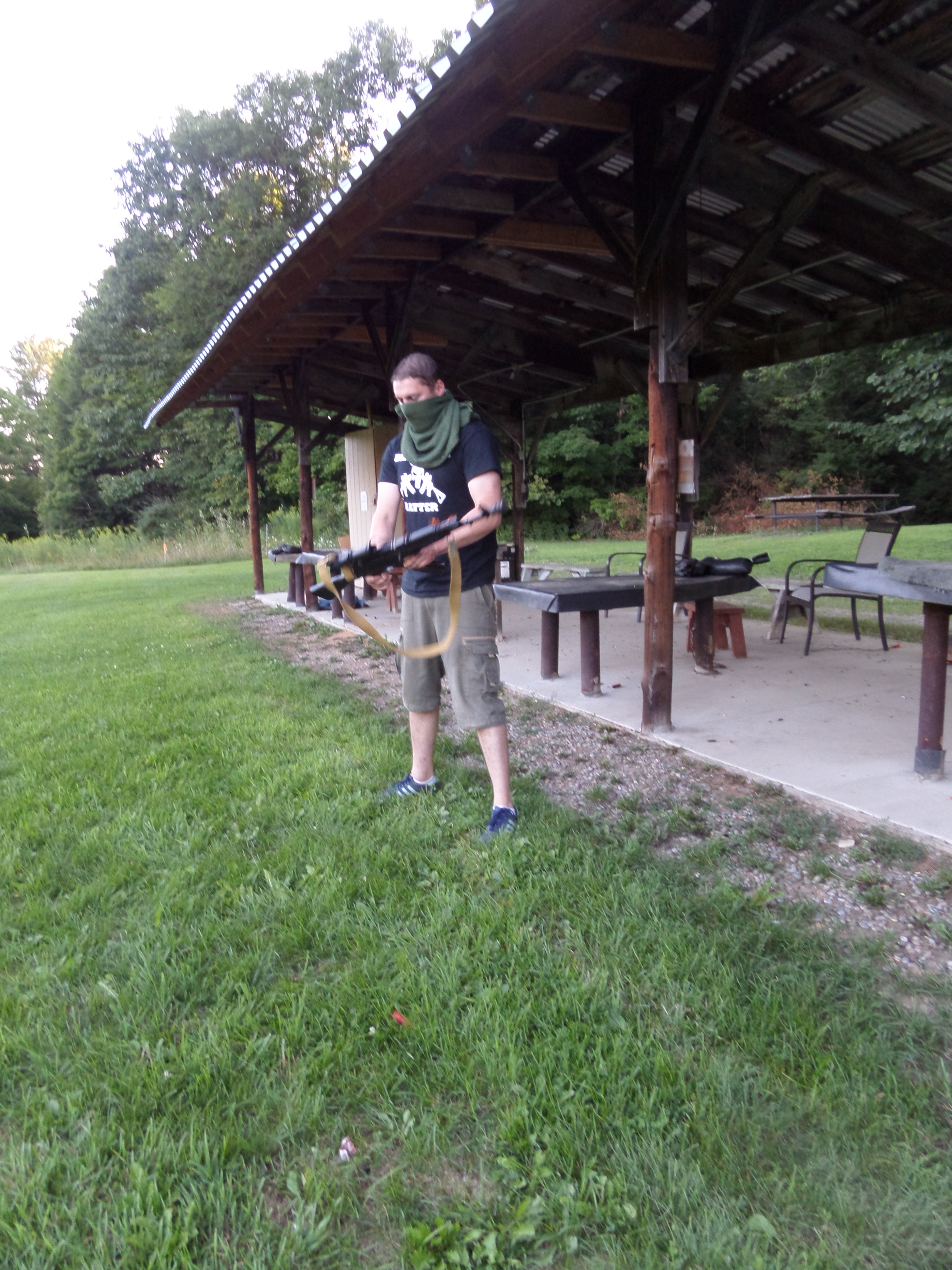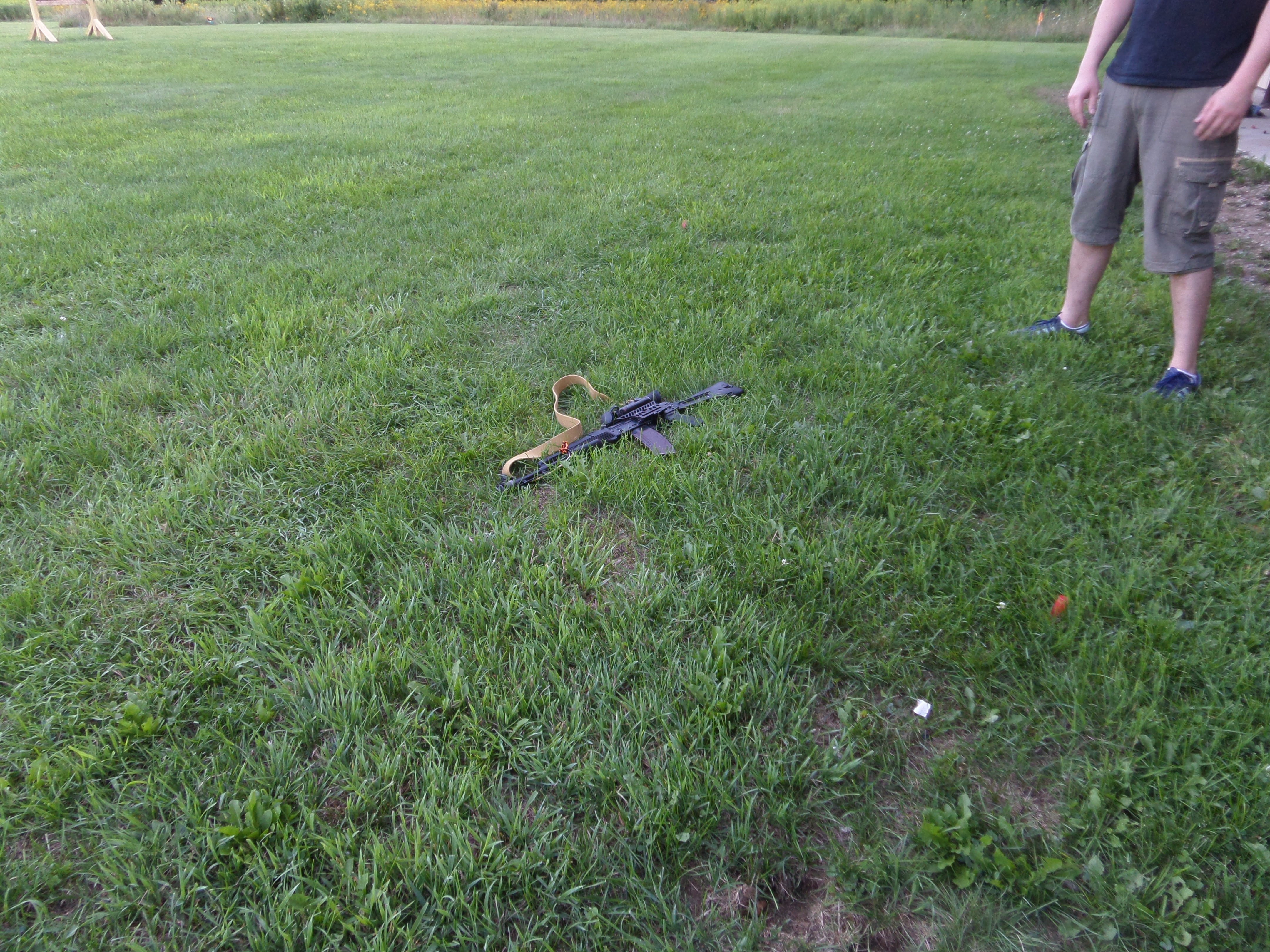 Five more shots fired. No change in zero found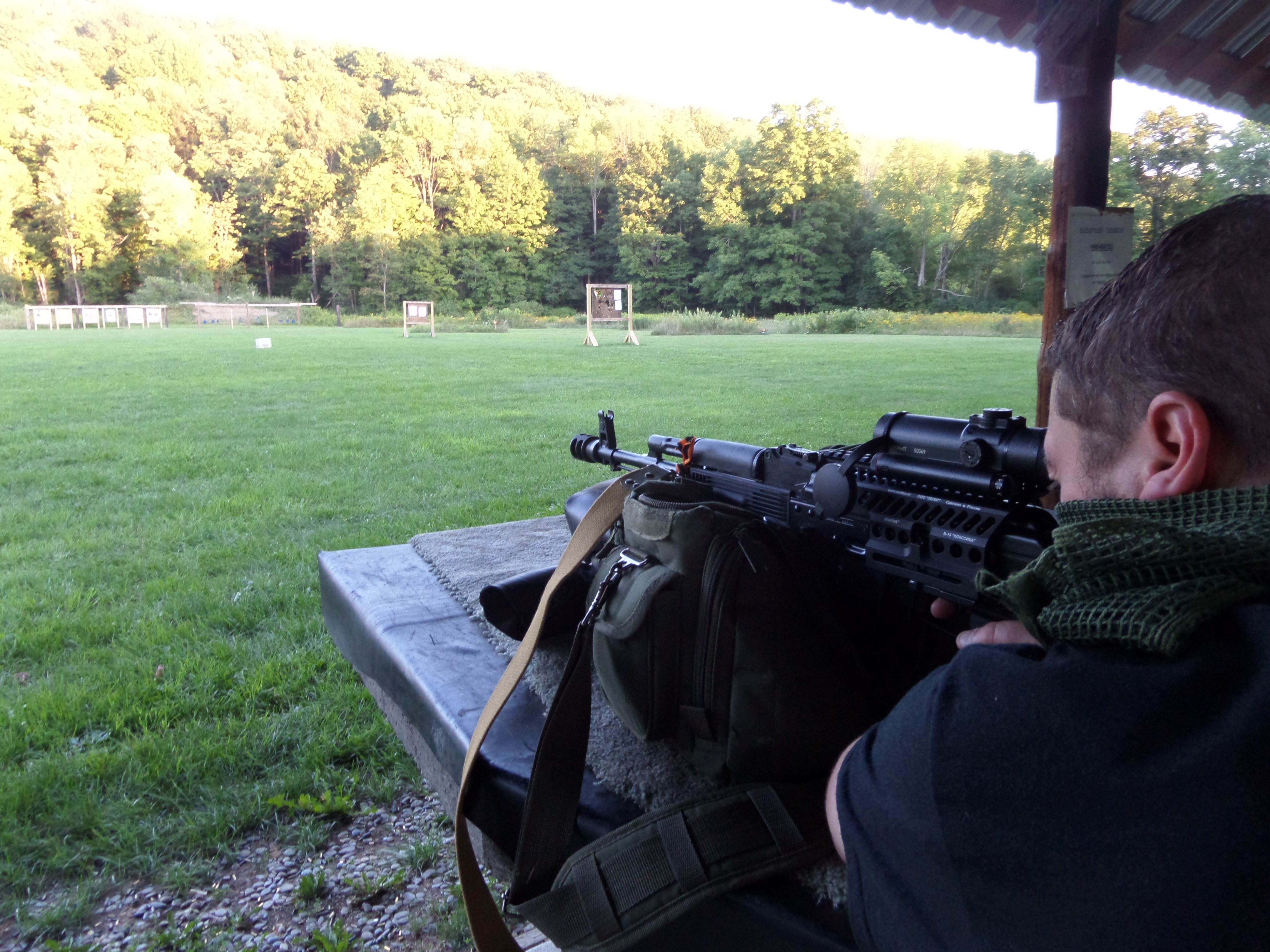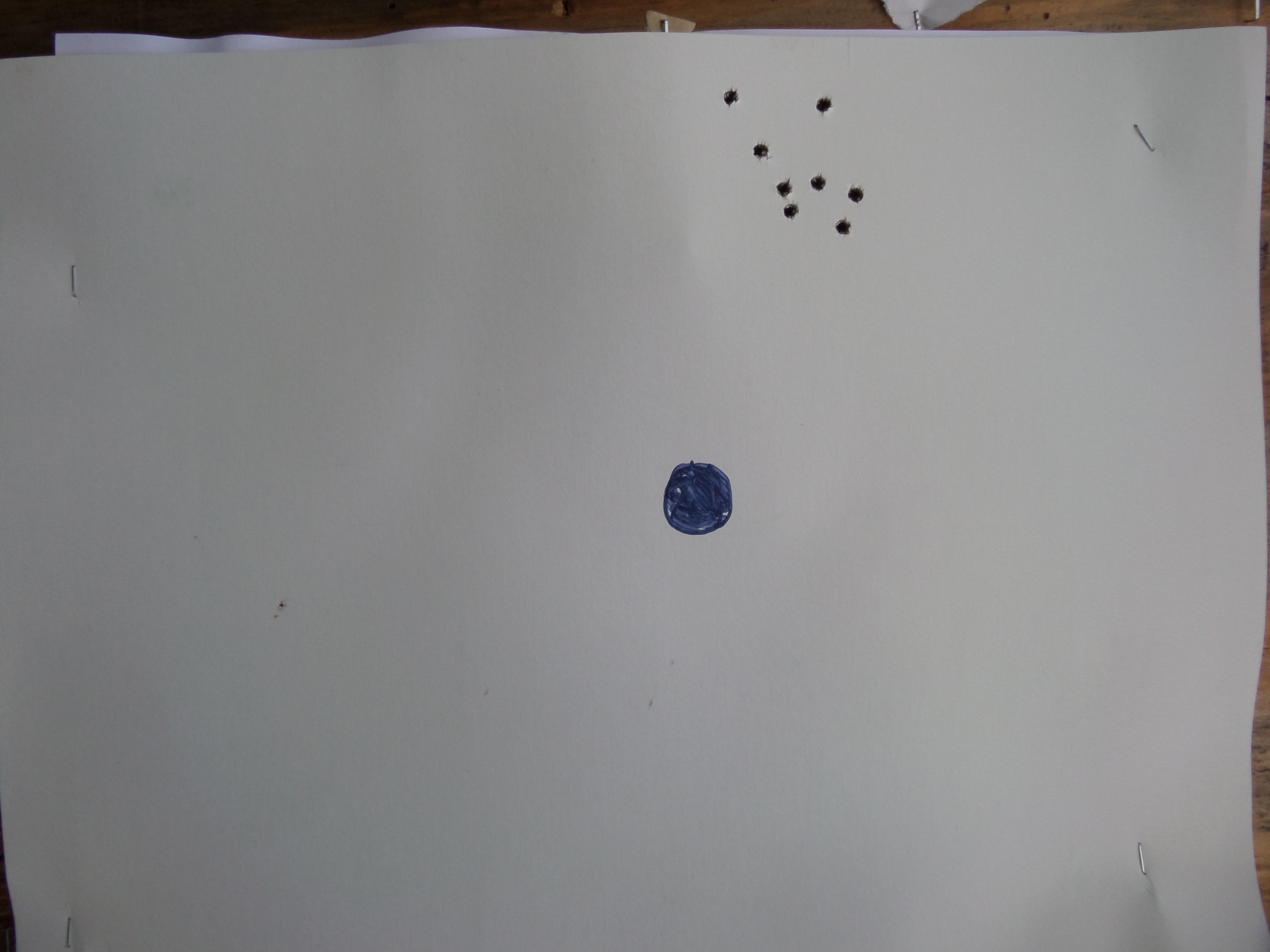 Last toss and this time rifle landing on the stock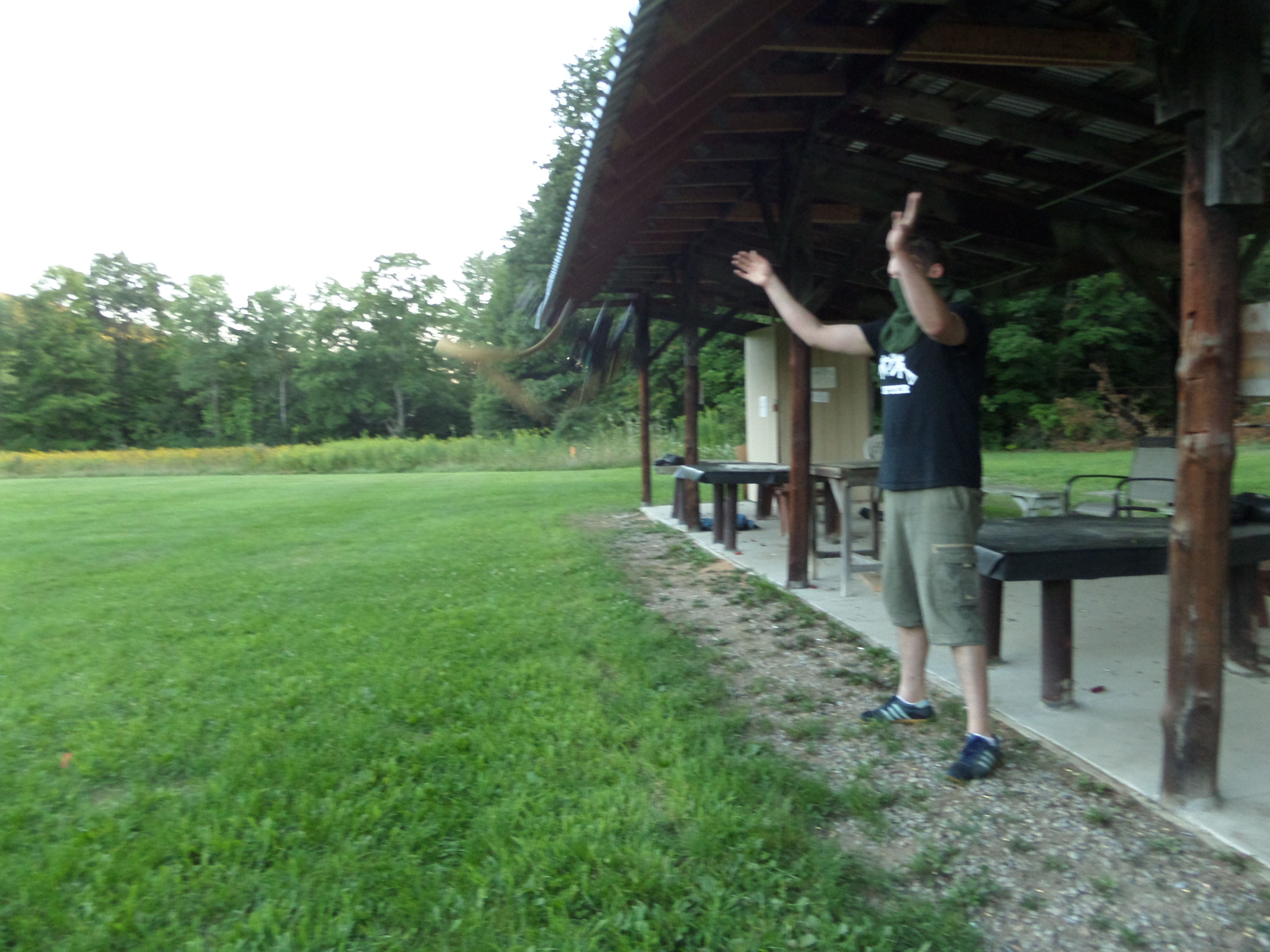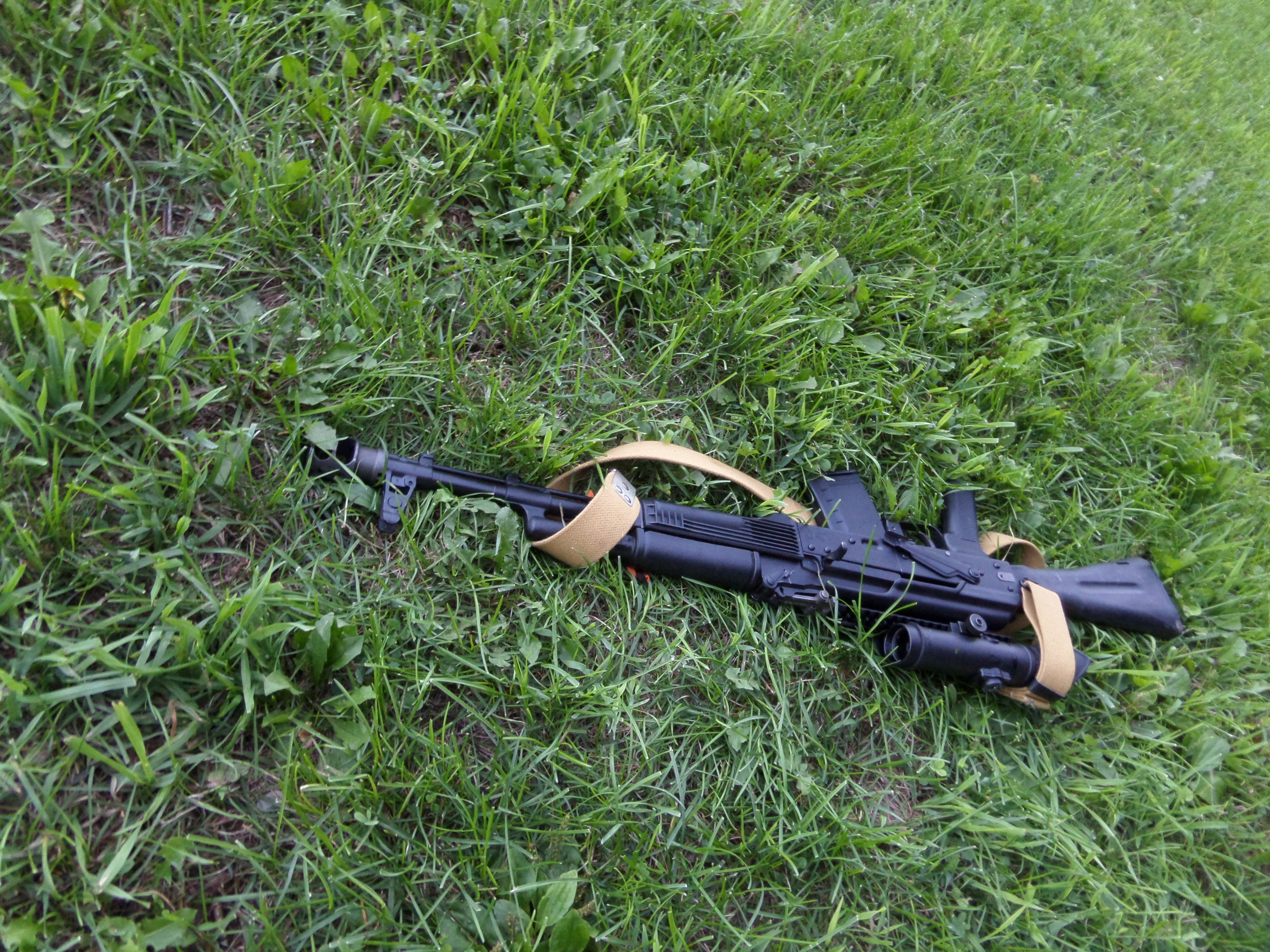 No change in zero found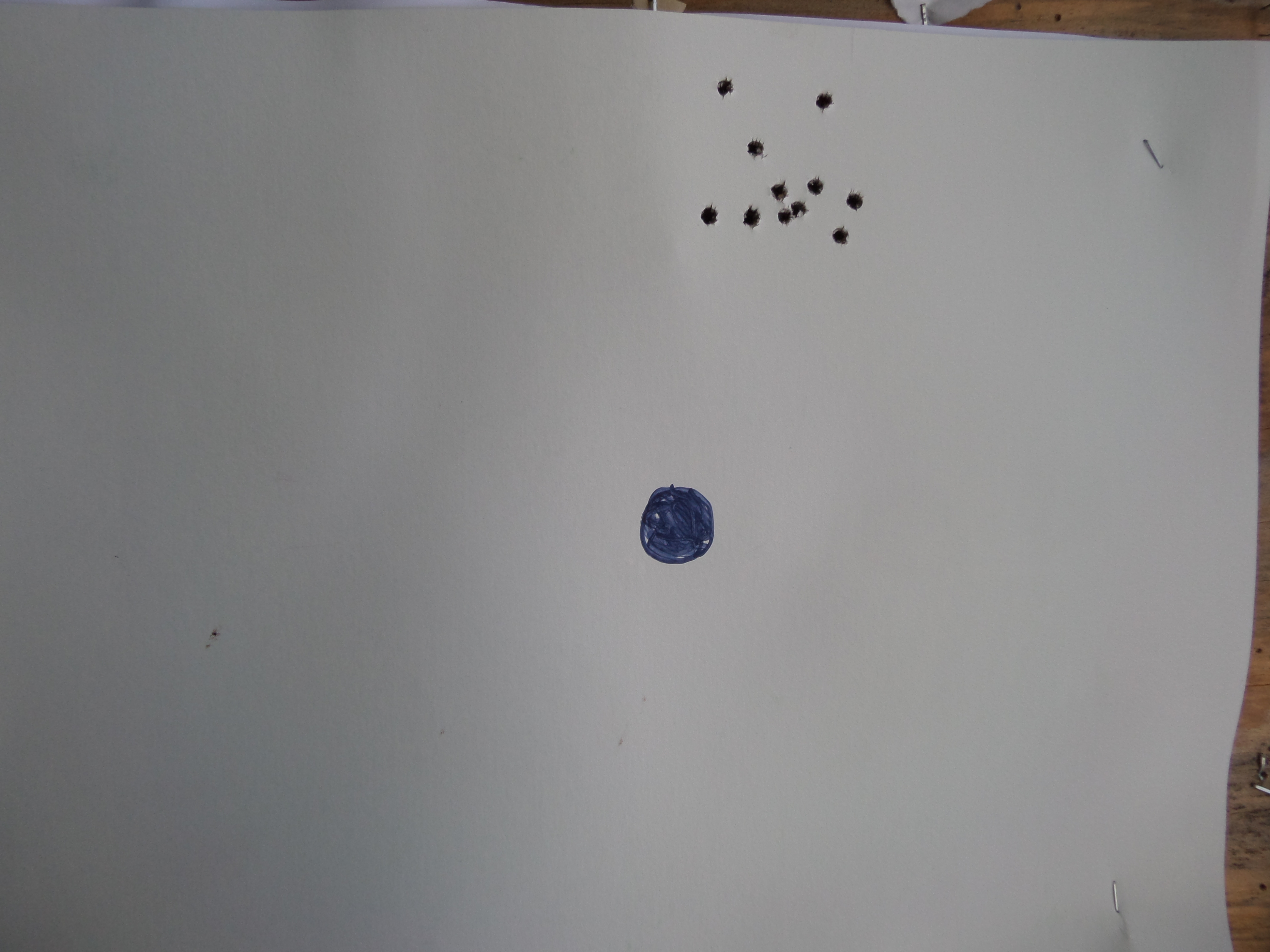 Next I wanted to see how well does scope's BDC correspond to POA at various distances. Running out of daylight we decided to set up a target @ 400 meters (436 yards)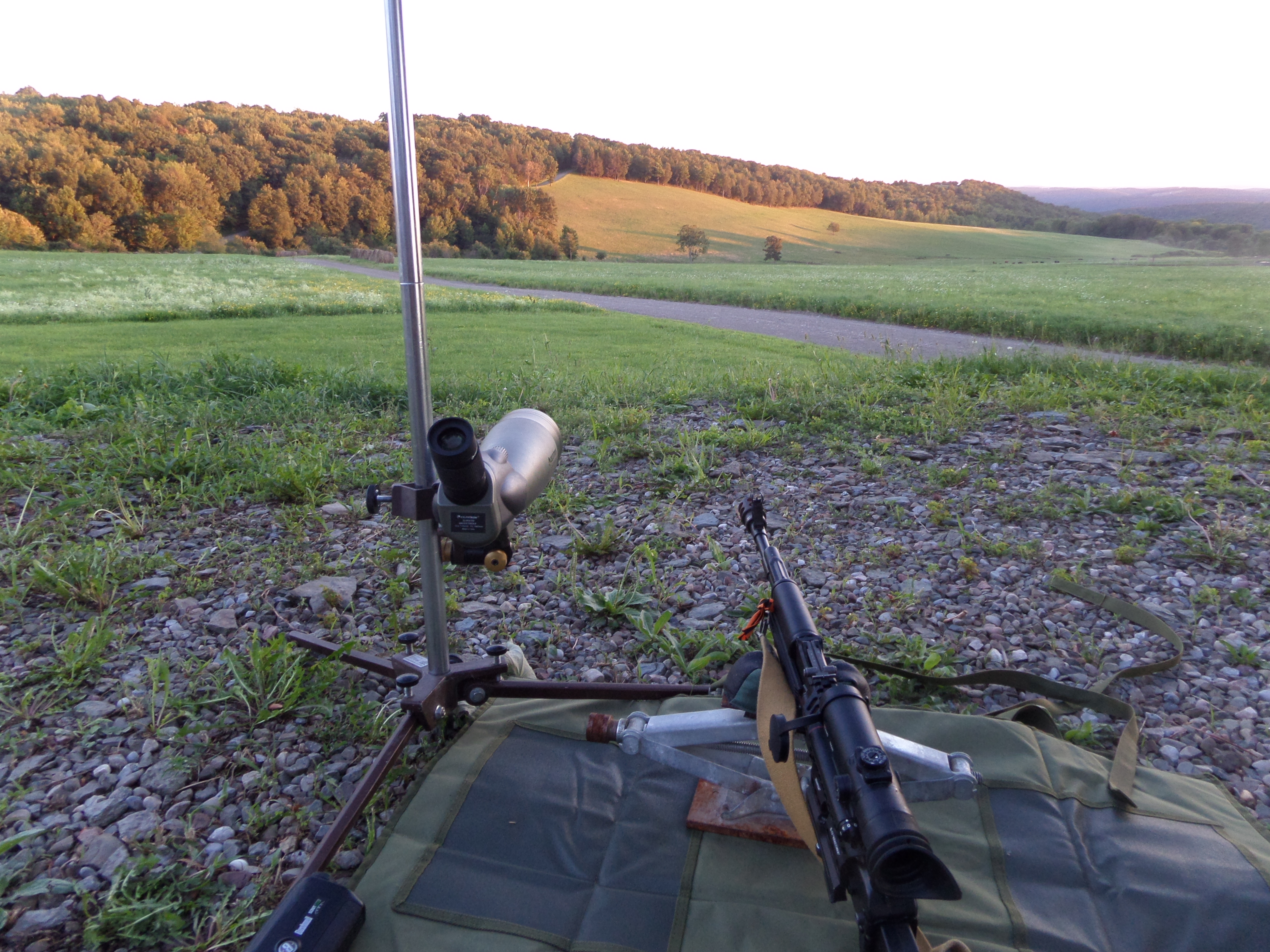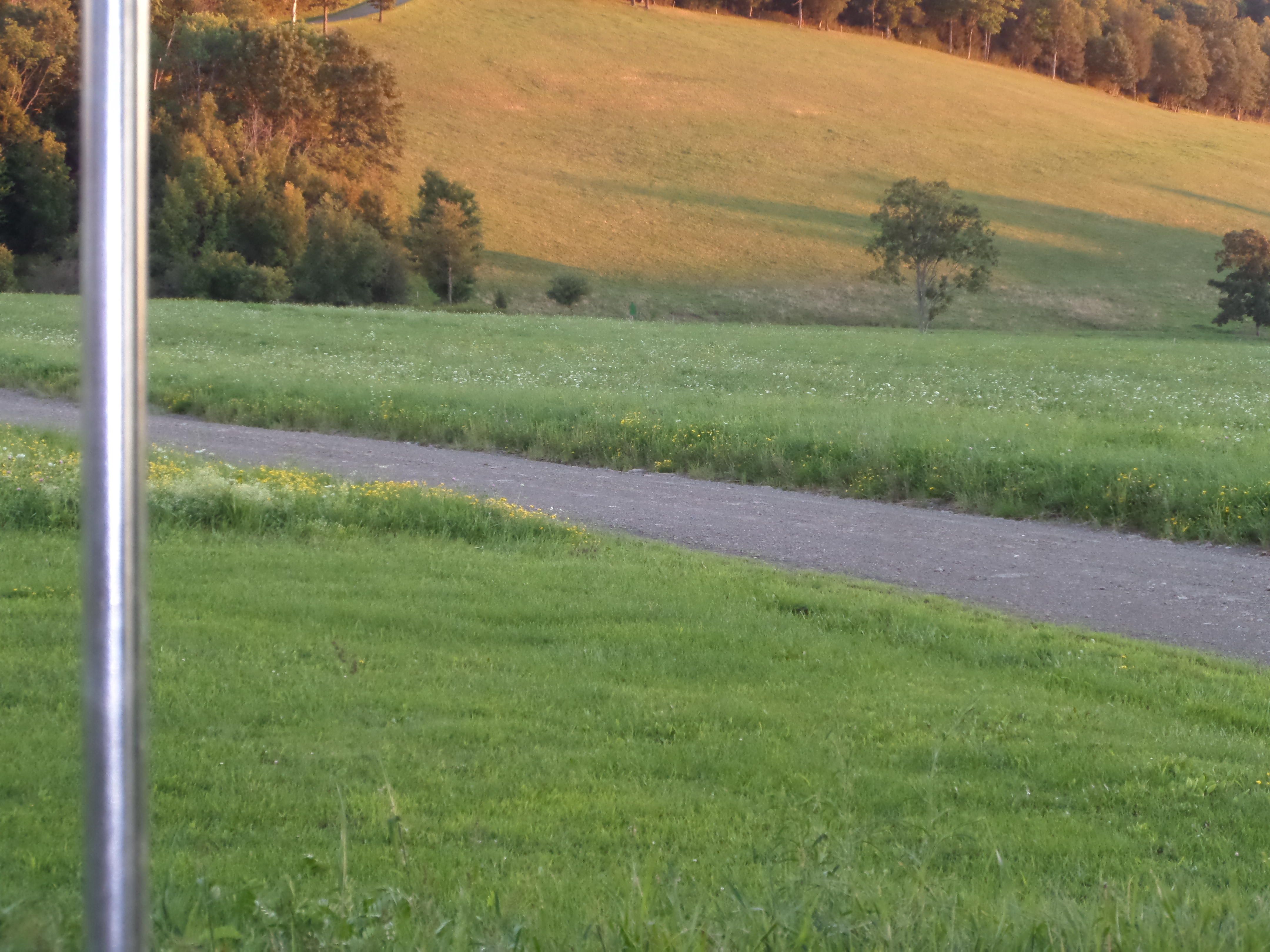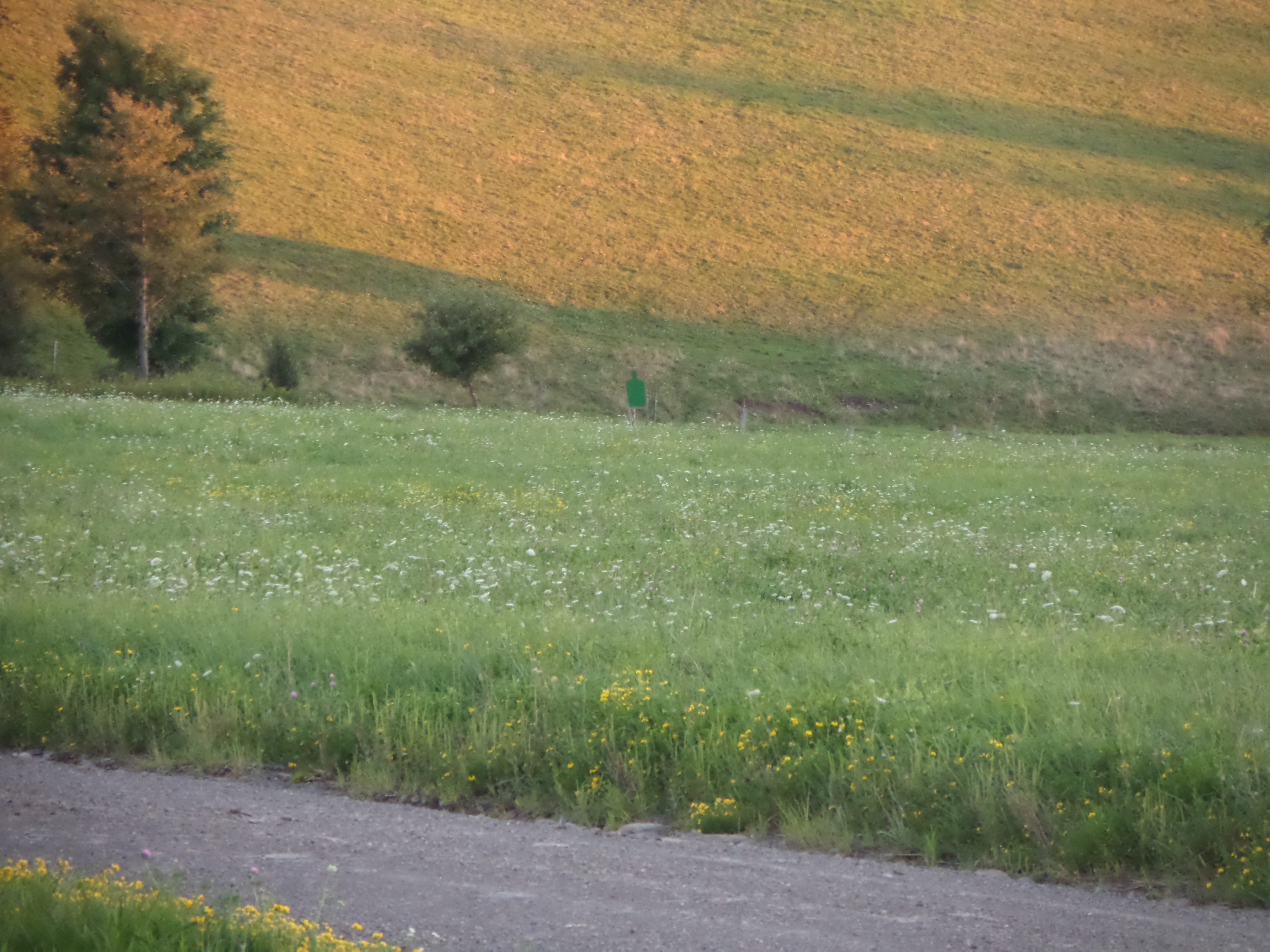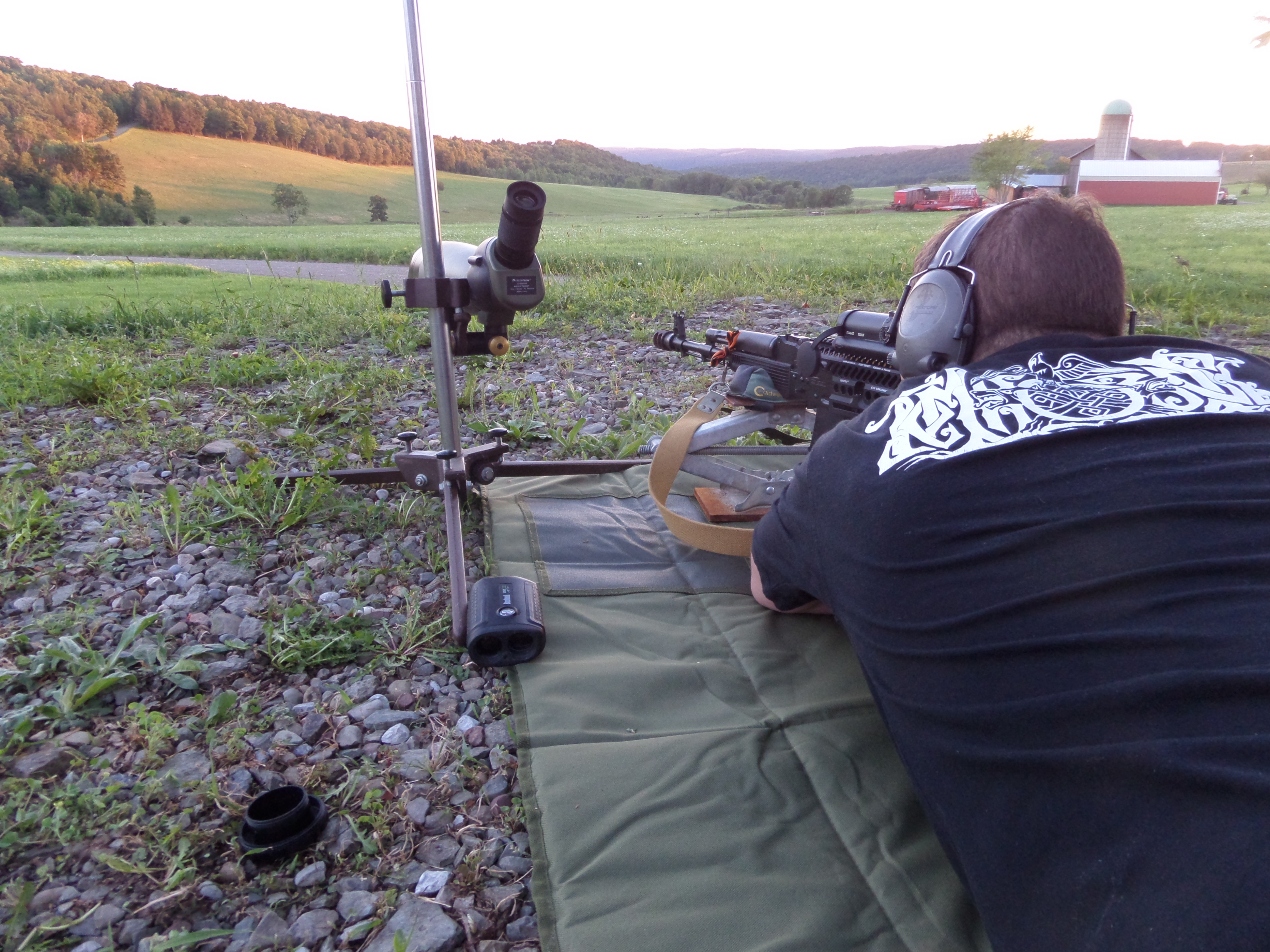 Green silhouette was purposely chosen to make it more realistic against grasses' natural green color. Ten- shot group was fired. POA was the classic belt buckle which corresponded to the bottom of the 8 ring on my target. All shots made in on paper and from pictures you could see that I needed to go at least 2 clicks to my left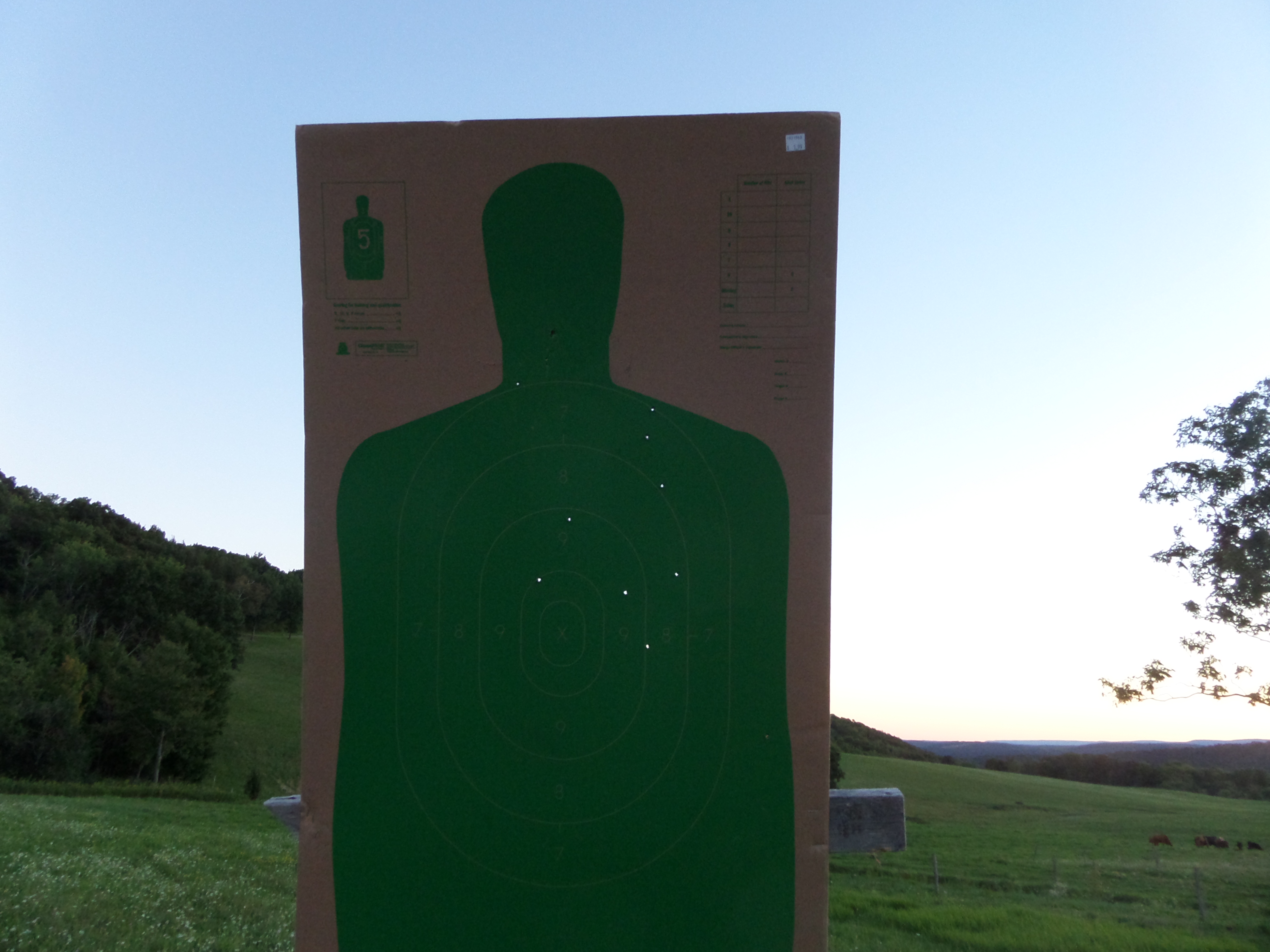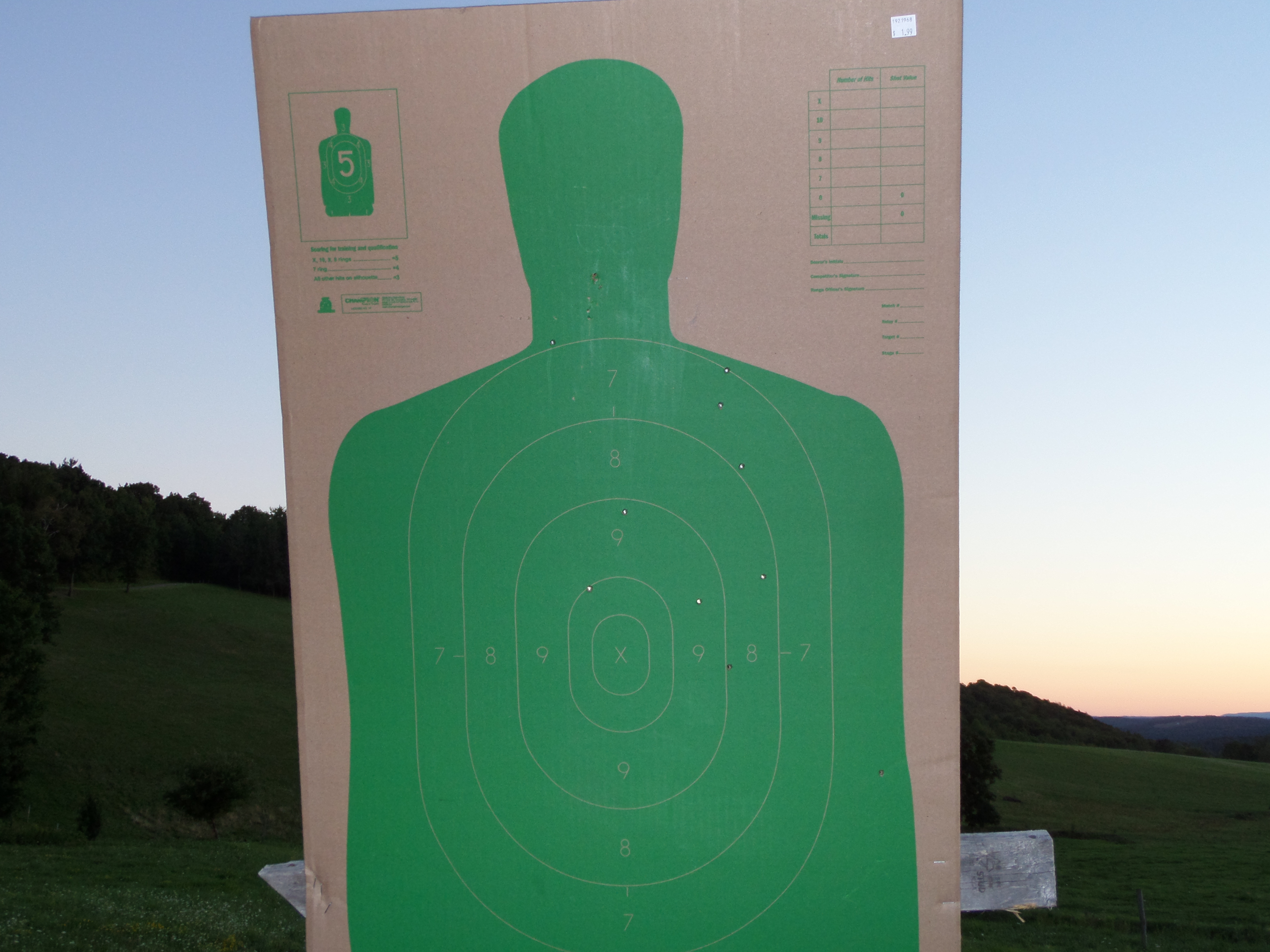 I purposely did not perform that task for the sake of this exercise (to this day I don't remember why) and proceeded to go to 600 meters. Unfortunately we ran out of daylight and had to continue the next day.
We setup identical target @ 600 meters (654 yards), promising my neighbor that we would not shoot his cattle. We break it we buy it. Wind was blowing pretty well that day as it always is on top of my hill -often reaching velocities up to 100 MPH. Last year the neighbor's barn lost its roof and ended up in my fields.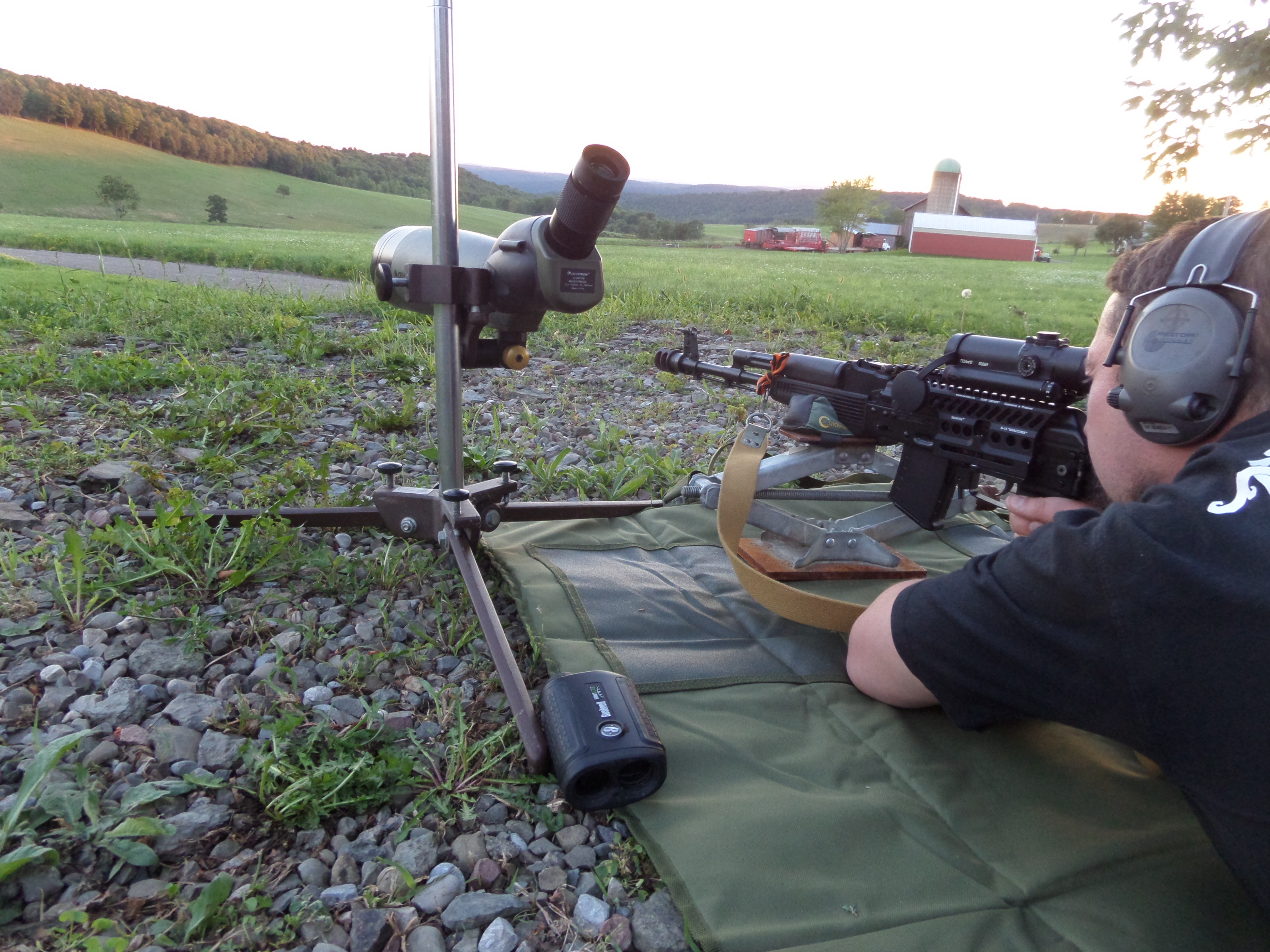 You can see that only 7 shots made it on paper, as my shot placement appears to be to the right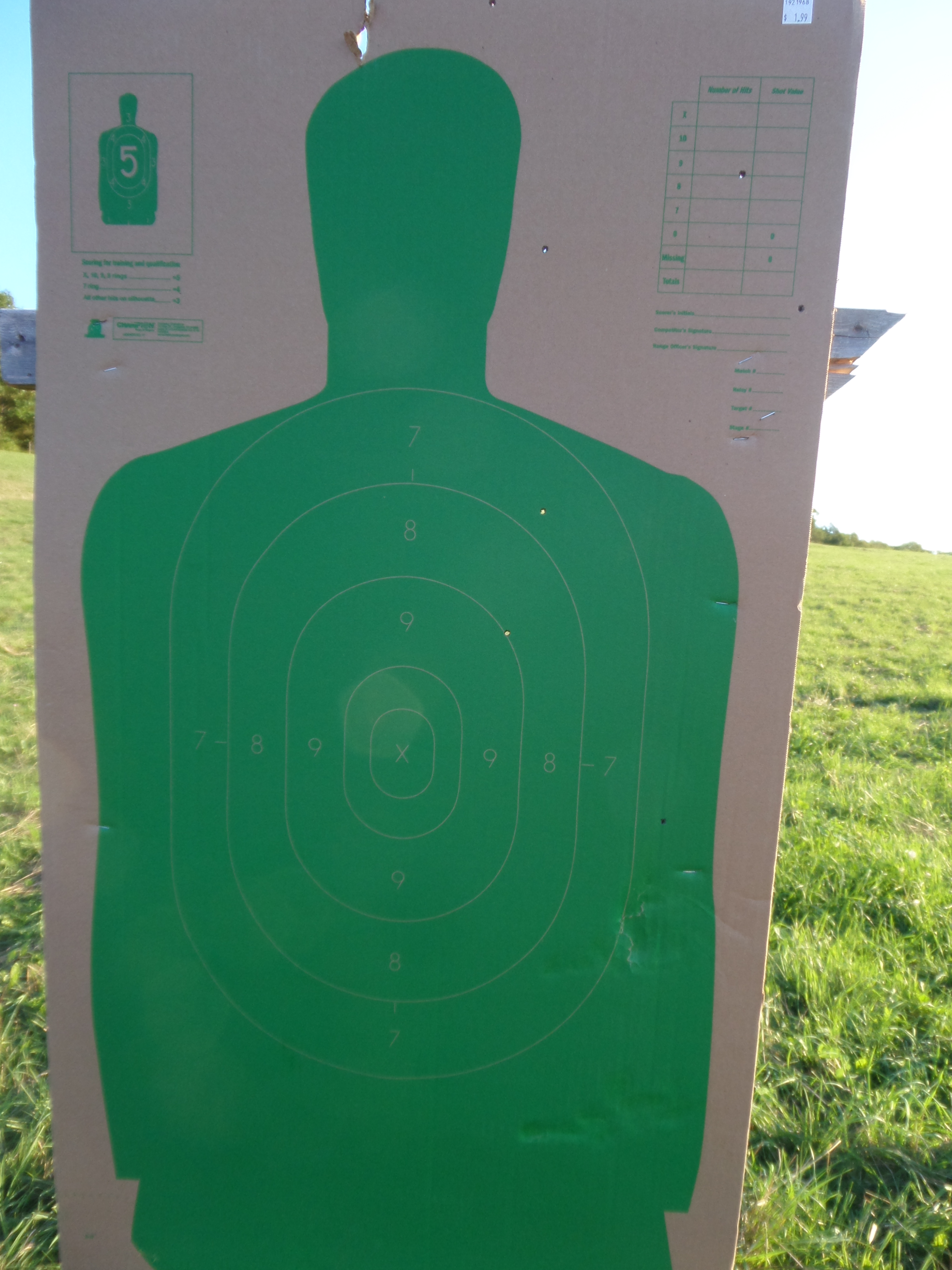 Looking back at my original 100 meter target, I did notice that my groups was slightly to the right of the bulls eye, so extrapolate that out to almost 700 yards and you see results. Should have used my head and made the adjustments.

So. Can't say there are any true drawbacks of the scope. For under 600 bucks you get yourself a true mil-spec scope that holds up under extreme conditions. Winter is around the corner…maybe I will bury in the snow for a few days. See what happens.
Voron, Autumn 2016
Written EXCLUSIVELY for Russianoptics.net