Truth be told I am not all that into tactical gear but I think we've all seen pics floating around of ZenitCo's tactical AK accessories...I've noticed interest building up on forums over the past year or so, myself included. I was able to get my hands on a range of ZenitCo accessories and get some pics.

First impressions are favorable for me. Though I am not a big fan of tactical gear I have had my hands on plenty of it over the years. While I'm certainly no expert I've generally not been that impressed with most US manufacturers. Stormwerkz is a home run for the AKSU and of course the venerable Ultimak is a great product, but many other designs that seem promising get mixed reviews or don't do well at all.
I guess it should be no surprise that when you get gear designed by Russians specifically for AK's you are probably more likely to get a good product and ZenitCo seems to have done a really good job. These guys are apparently all ex military and have made quality their #1 priority, and are apparently making pretty good waves in Russia.

As a testament to the quality I can say that I was originally going to do a photo review and return the gear, but after handling it I decided to take a chance and keep the kit in order to do a long term review and maybe beat it up a bit over the next year or so.


*** 2018 Update:
I can't say enough good things about the B10 lower HG and B33 top cover combination. The two that I use have held up to years of shooting, tons of different optics and a lot of rounds down range. This is without question the best top cover you can buy, hands down and bar none. I used to say I wasn't really a tactical guy but after years of ZenitCo I for sure prefer this setup to most others out there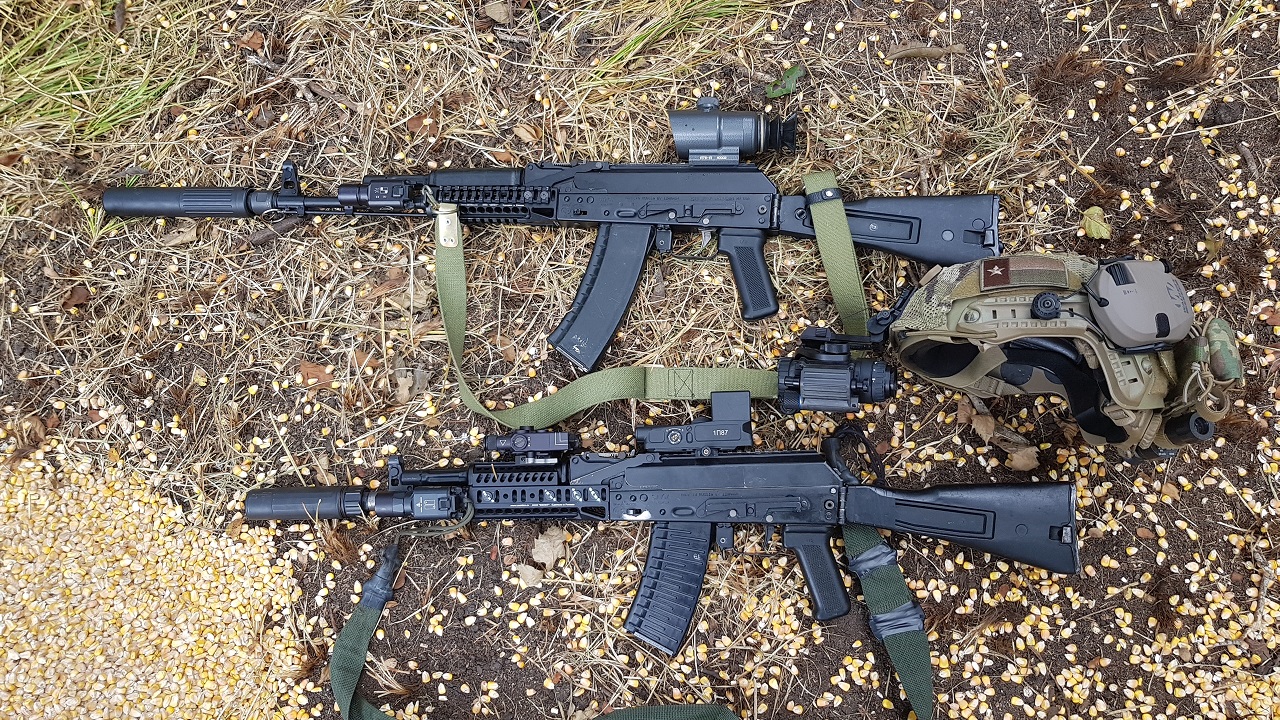 From ZenitCo's website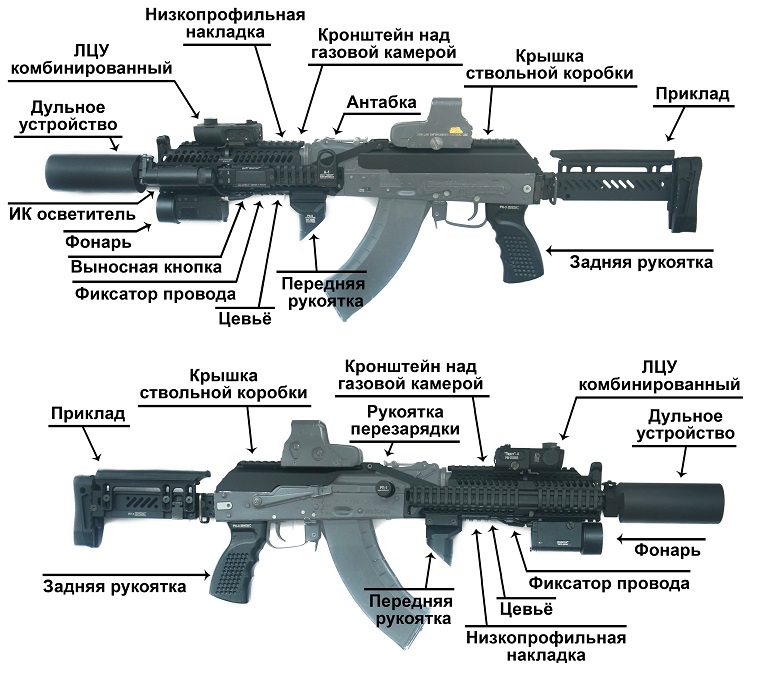 After a few years of fiddling with various configurations for daylight and night use (and hog hunting) in 2018 I've come up with a couple of patterns I like quite a bit

Fullsize SGL31-94 with Mini 4 and Kashtan 1P

AK105 with Griffin M4SD-K and 1P87 + 3x Jupiter magnifier (or PVS14 on weapon mount for hog hunting)
Both with RS Regulate BM1 light mount, X300 and ZenitCo B10 lower HG +B33 top cover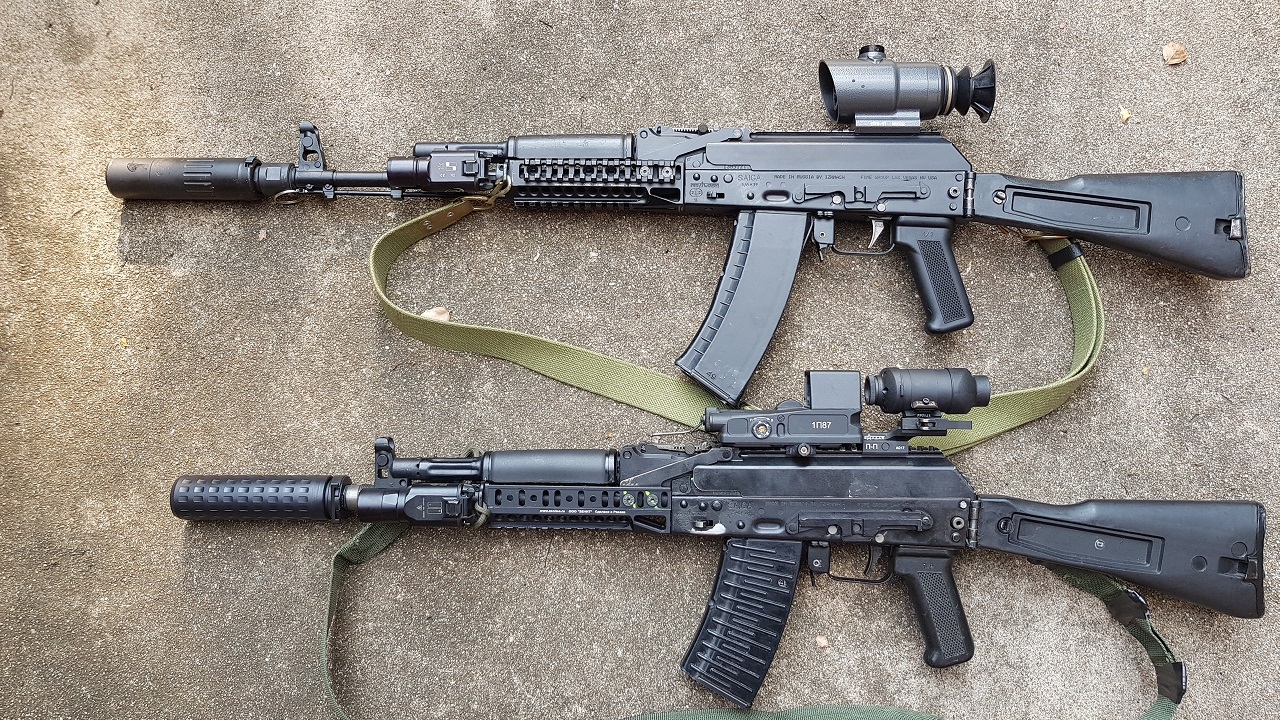 Kashtan P1 on the ZenitCo B33 top cover. Shown here with AAC Mini 4 suppressor, Griffin 24x1.5 to 1/2x28 adapter and DBAL A3 (mounted on the RS Regulate BM-1 Mount). This rifle also has the amazing ALG AKT-E trigger (Now called AKT-UL)

These are experimental photos while I was getting the configuration dialed in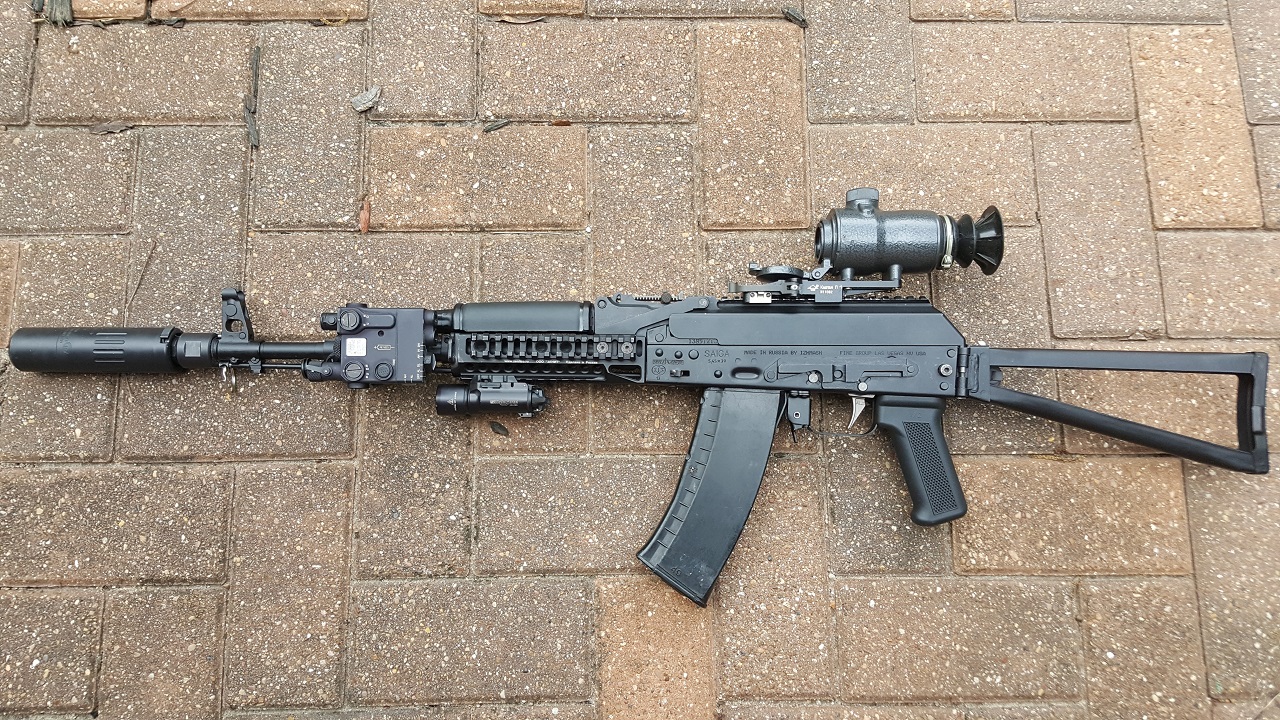 With Kashtan 1P and a foregrip to help balance this front heavy rifle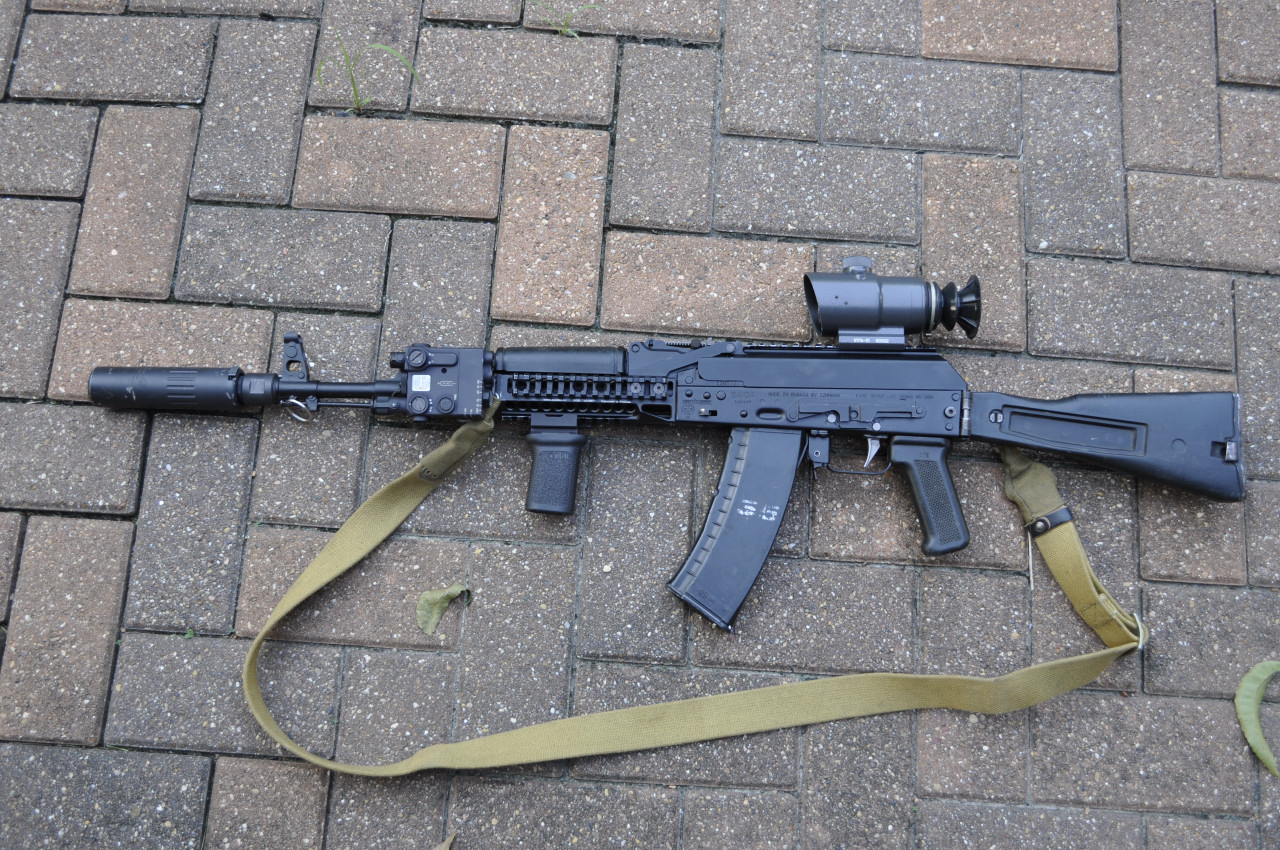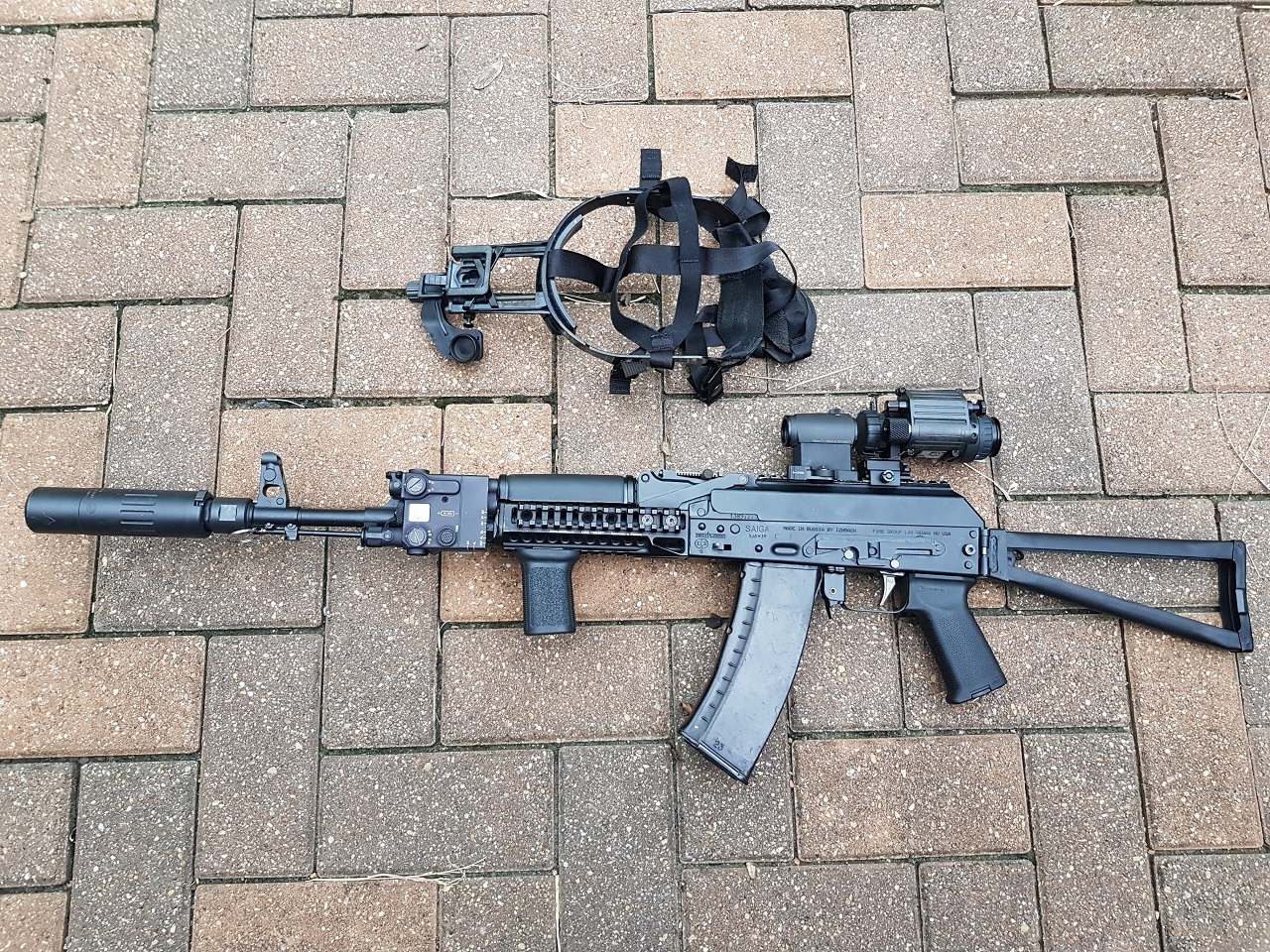 AK105 with most of the kit: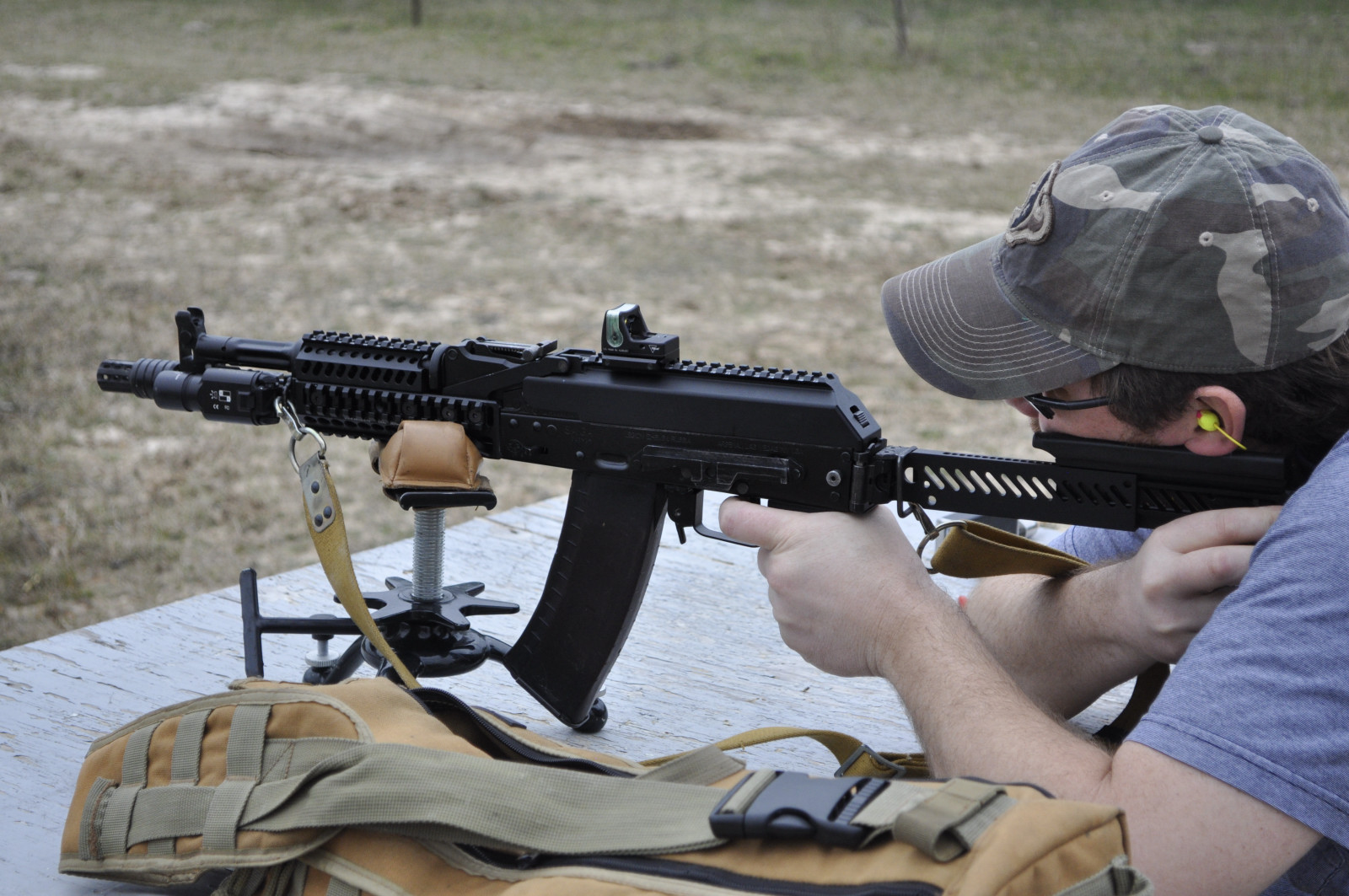 With Trijicon RMR08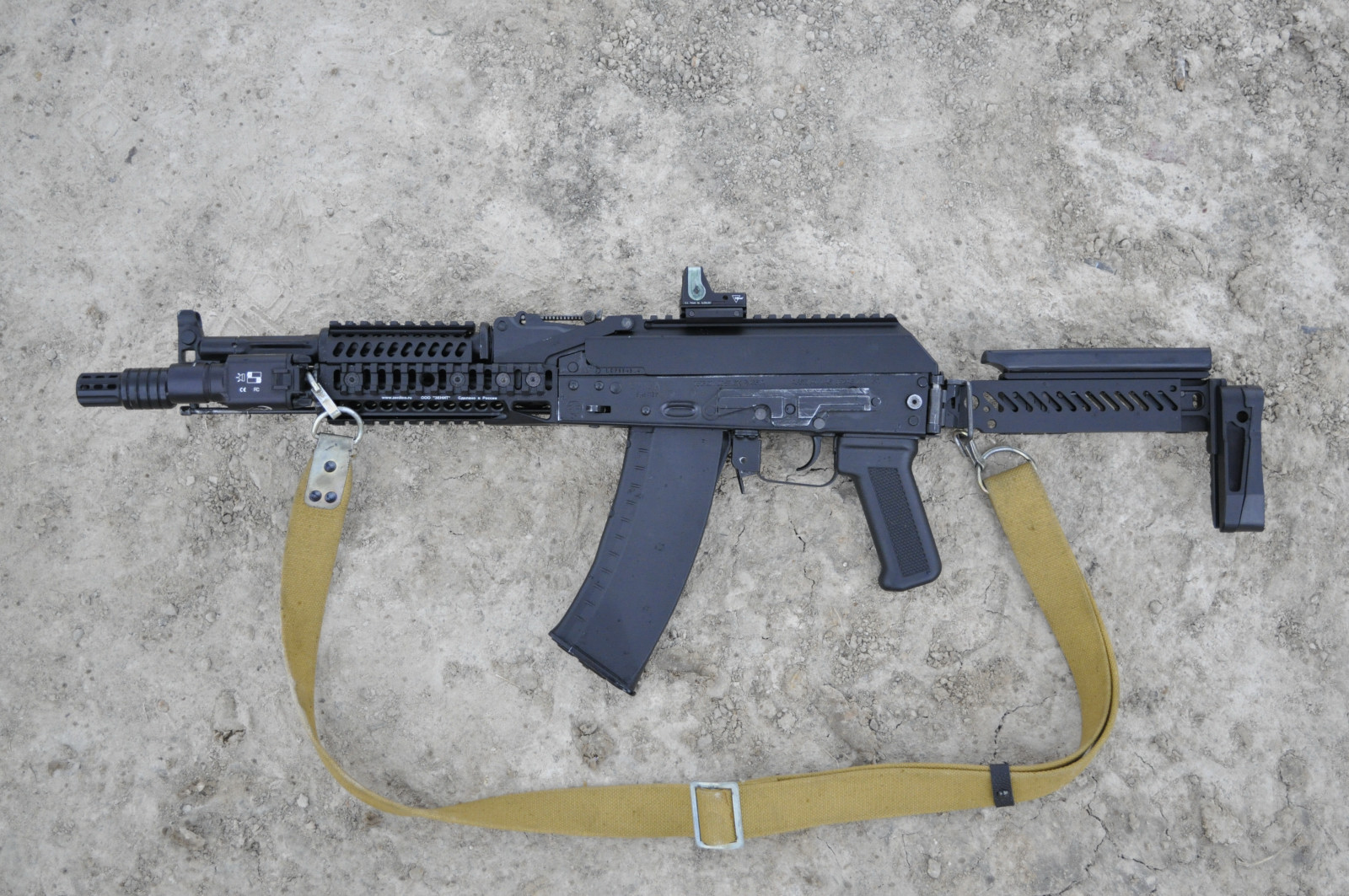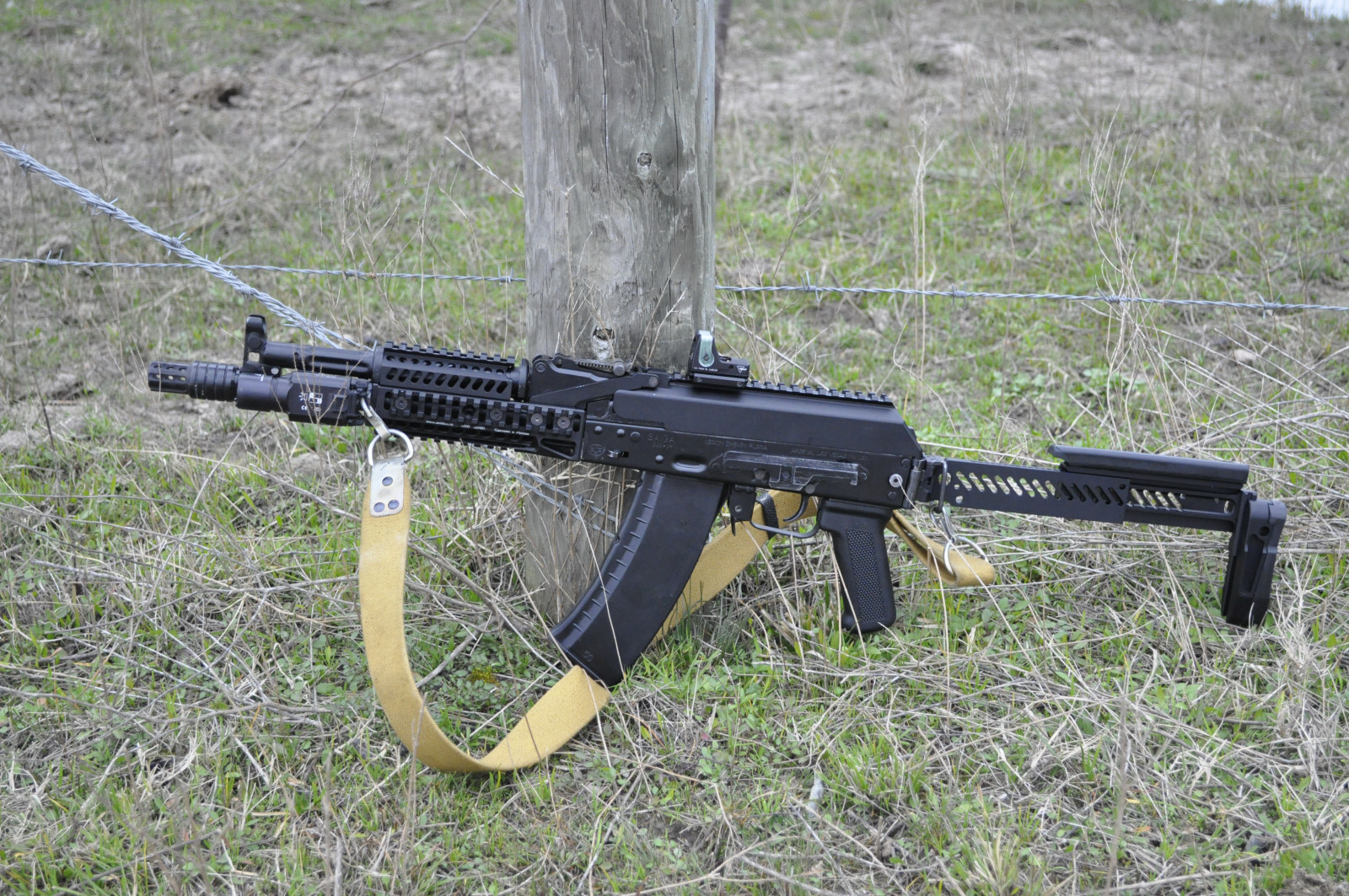 With PO4x17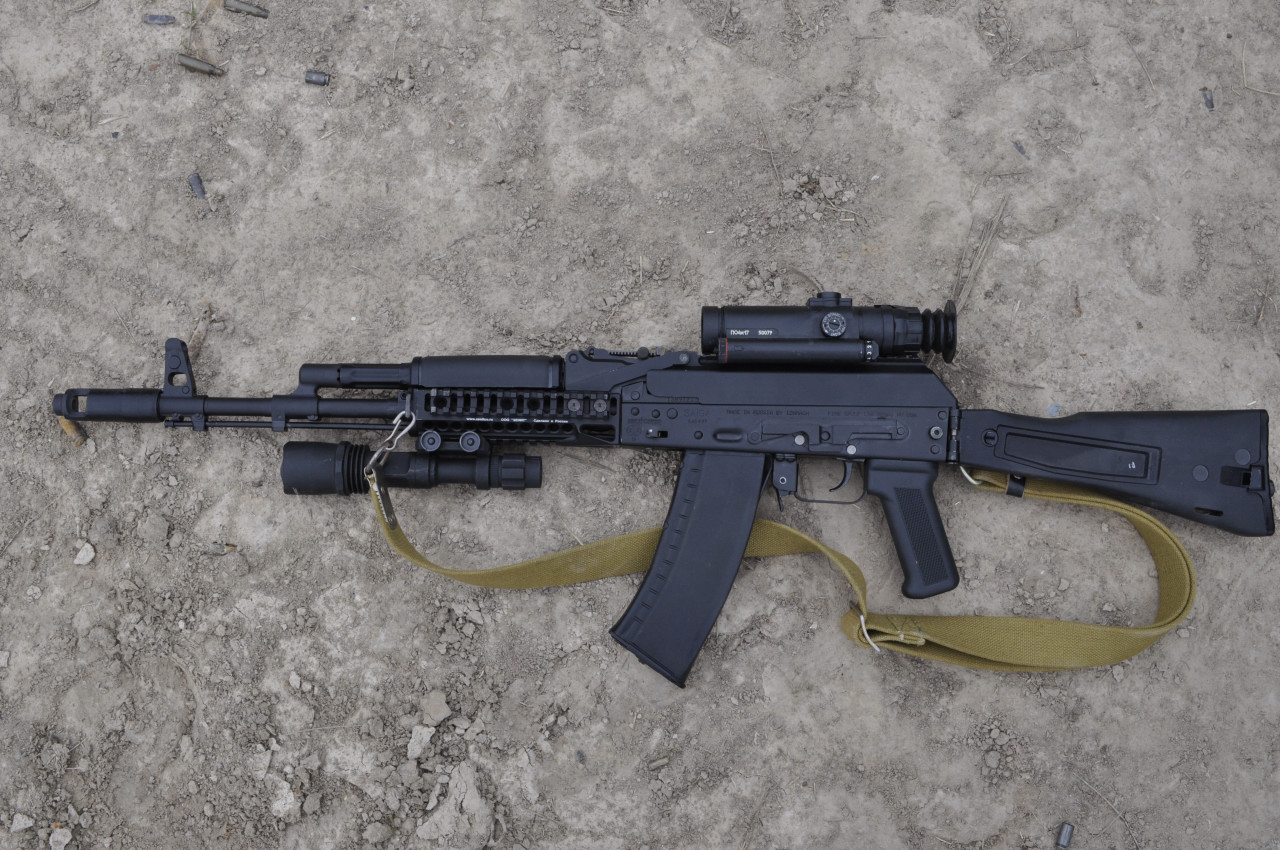 ZenitCo rail system
This comes in two main versions, the long over gas block style and the shorter hand guard length version. I prefer the shorter rail personally but was able to get pics of the long version also.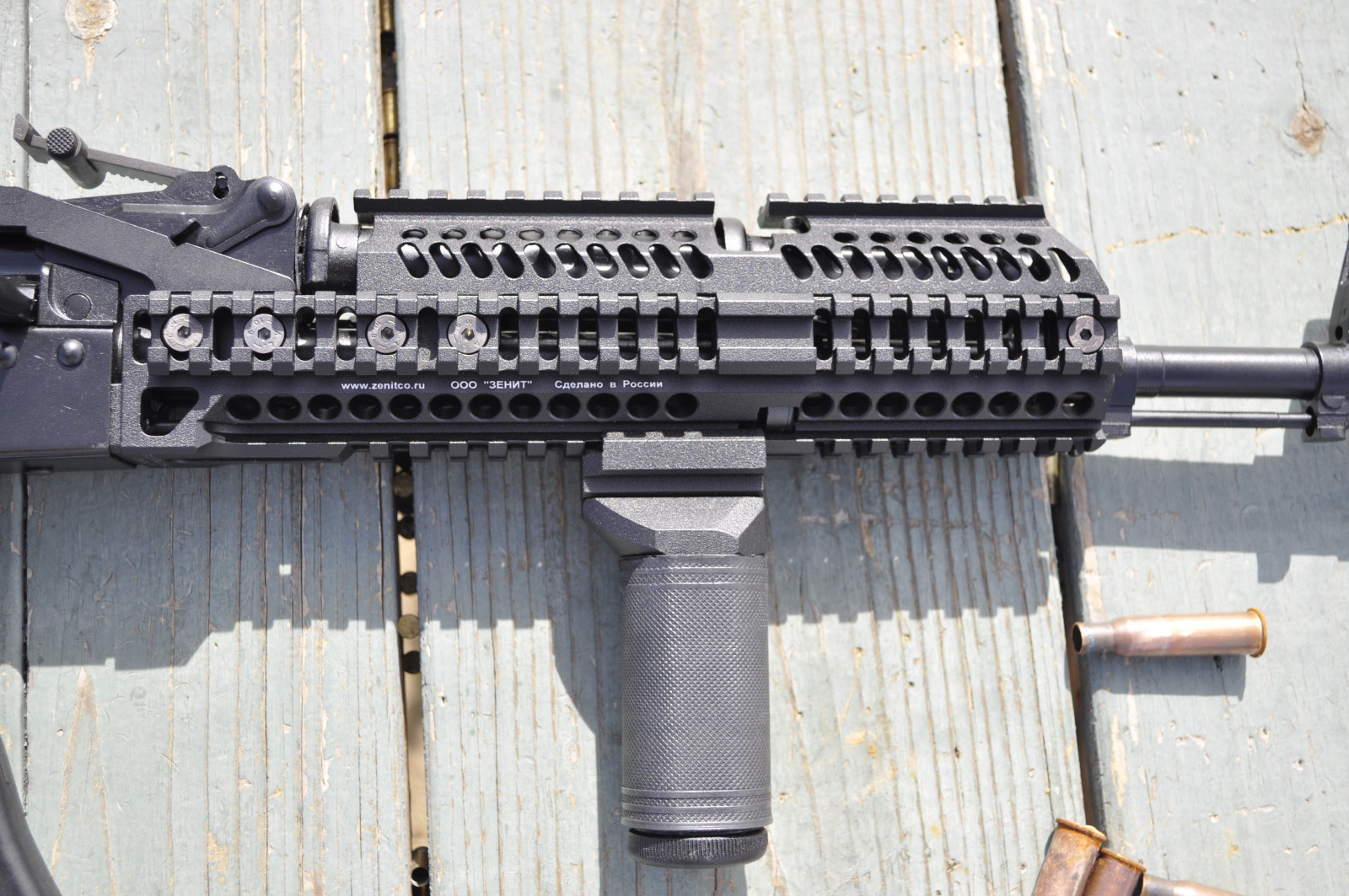 The system is modular and builds on itself, meaning that you can use just the lower HG, add the gas tube to the lower HG or use the top cover with just the HG or with both the upper and lowers mounted together. B33 top cover does not require the rear sight leaf to be removed during installation and you can see the irons perfectly while the B33 top cover is mounted when using a standard polymer or metal triangle AK74M buttstock.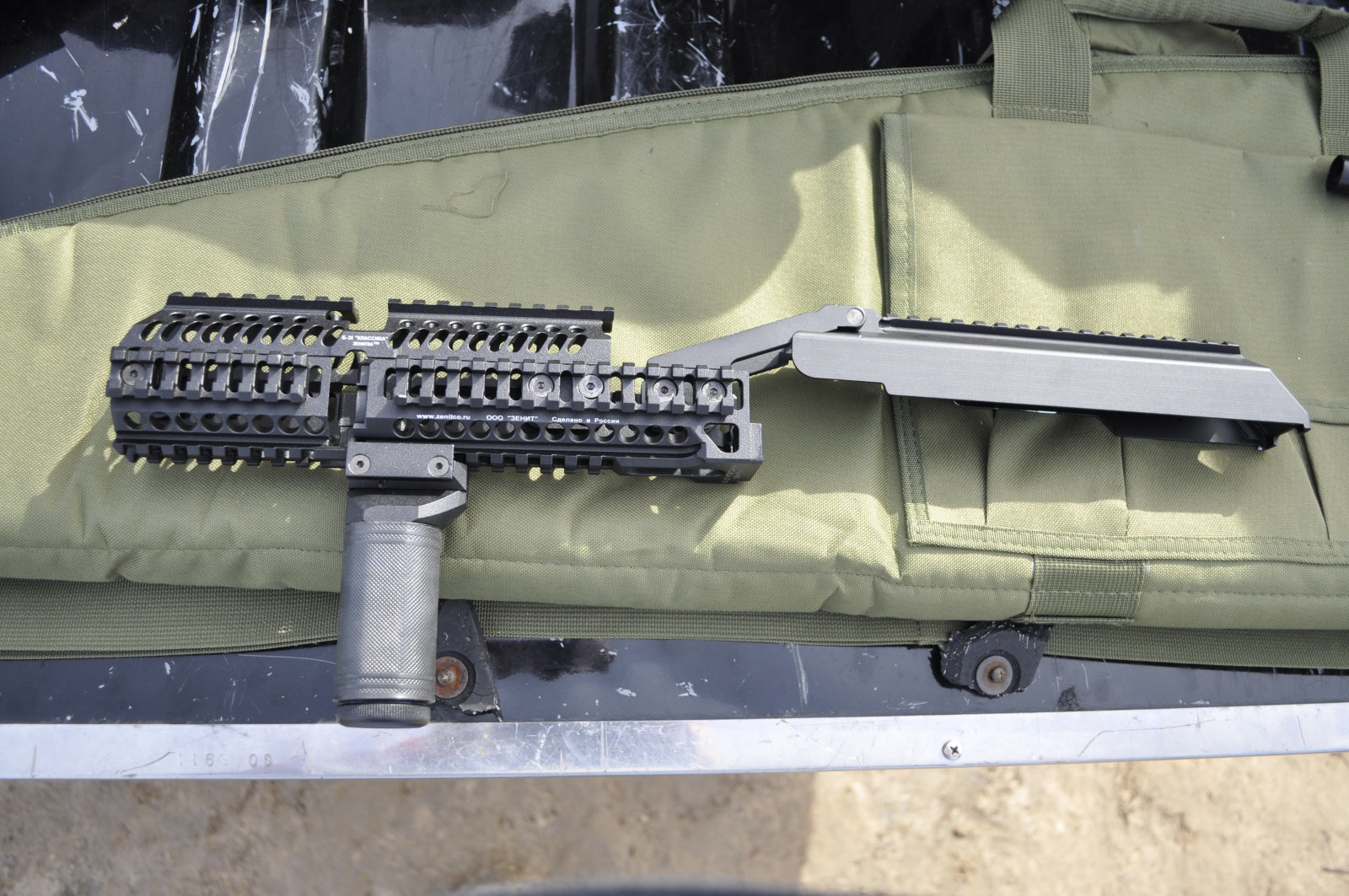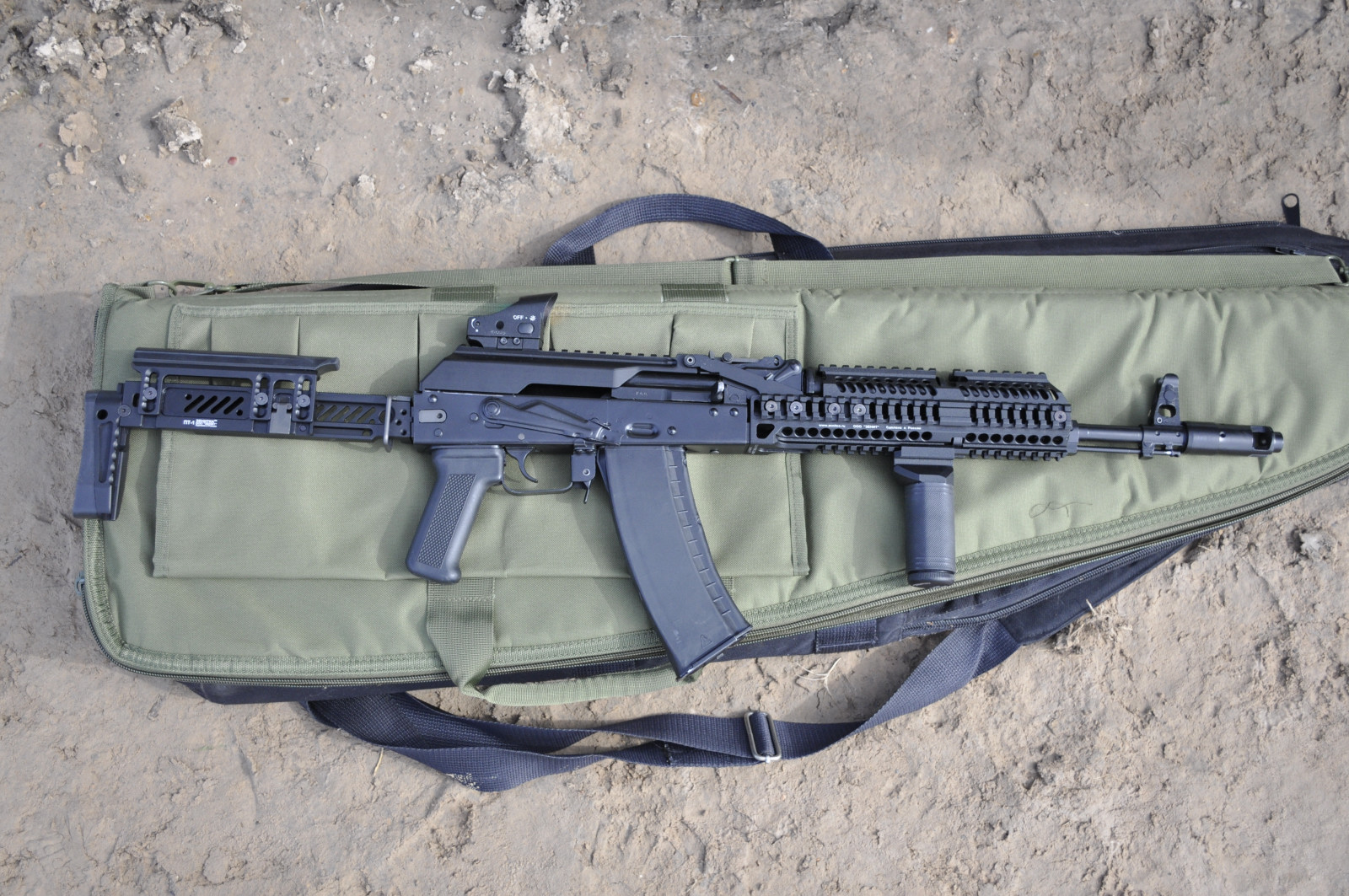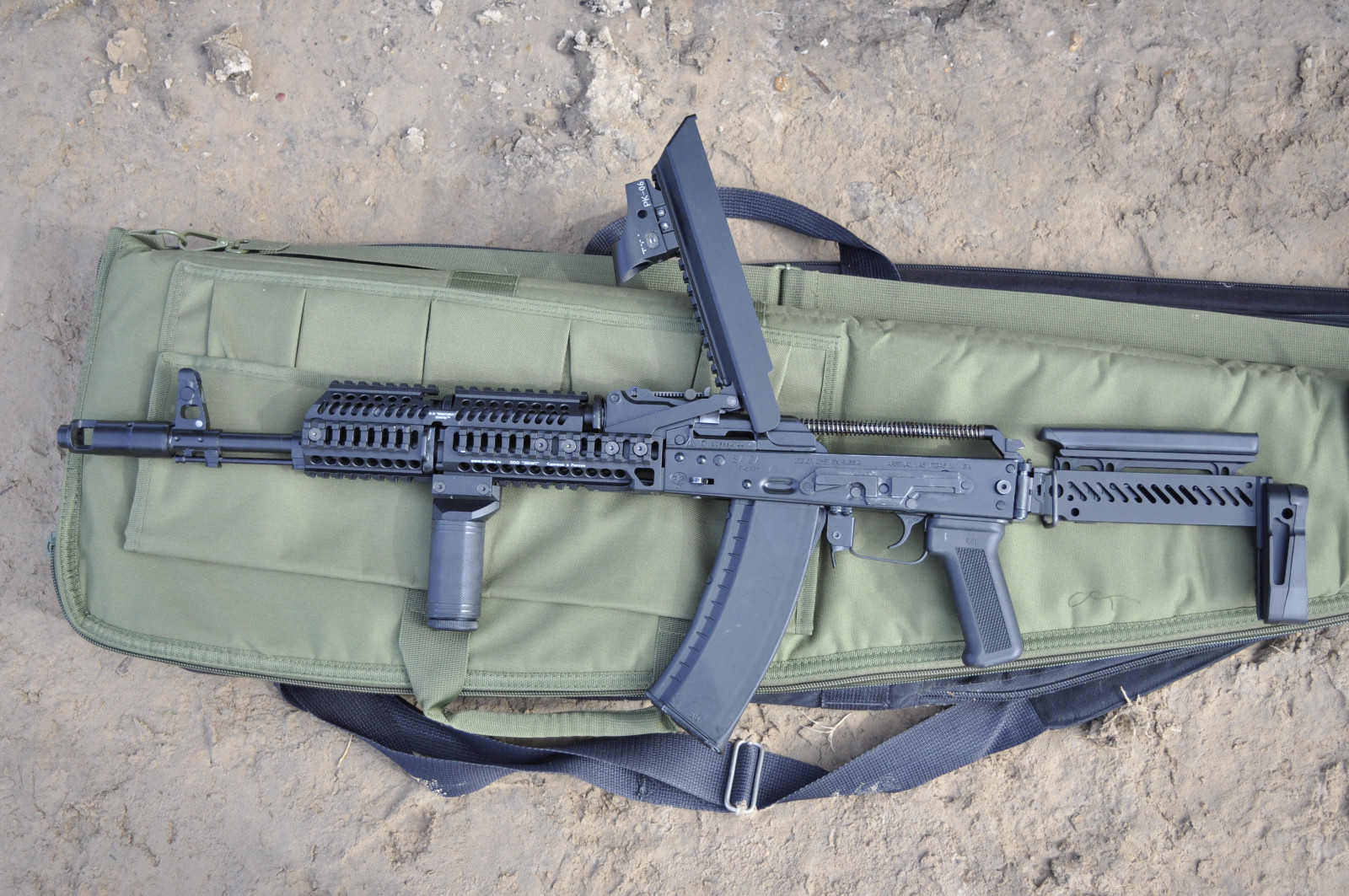 The short lower HG is called B10M which is the model that the B19 gas tube rail secures into, B33 top cover attaches to it as well.
A simpler version called B10 can be mounted which is purely a stand alone lower hand guard. This appears to only have a side rail on the right side of the unit, for some reason not both sides. B10 and B10M weigh 5.0 oz vs about 4.0 oz for a standard lower polymer HG, B33 weighs 7.4 with screws compared to 4.7 oz for a standard 74M topcover.
More details on the
hand guards
Top to bottom: B31 + B30, B19 + B10M, B10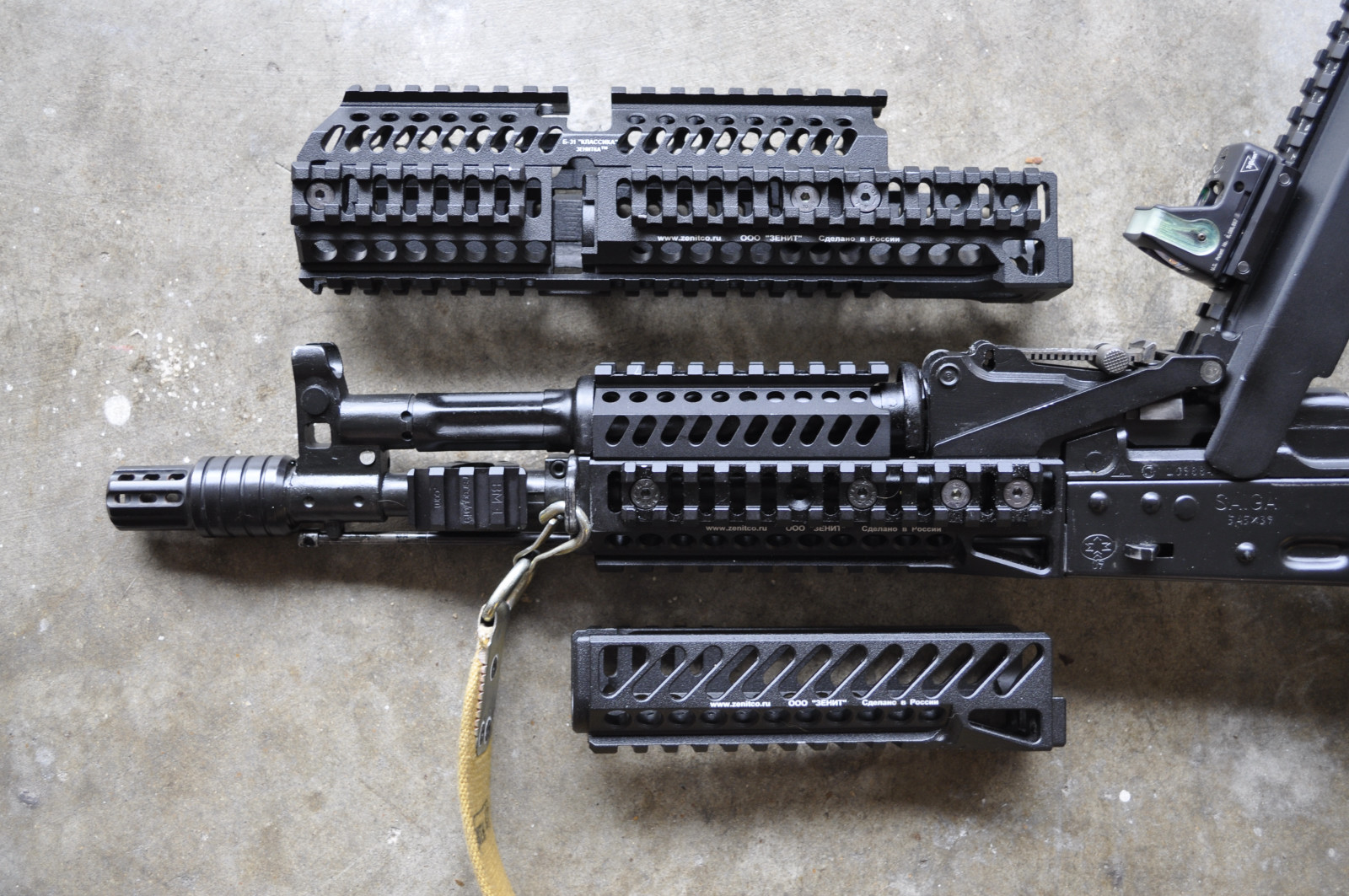 (also note the superb RS Regulate BM-1 barrel mount, my preferred AK light mount)
Note that B10M and B30 may require some fitting of the lower HG portion. In the pics with the long version mounted I have not done any fitting because I did not intend to keep the unit for myself and therefore it looks like it's sticking out a bit too far from the receiver. The top cover still closes securely even without fitting the lower HG properly. For the short version it took me about 10 minutes of mild fitting with a dremel on low power to get a good seat on my SGL31-44/AK105.
(ZenitCo strongly advises against any modification of the rail due to the need for it to be very tight with the GP25 underbarrel grenade launcher, but I was simply unable to get my HG's into the receiver without fitting them)
Gas tube lever. This will open when the lower rail is mounted with a standard polymer gas tube. If you have the railed gas tube secured to the lower rail as I do in the pic obviously the gas tube won't be able to be removed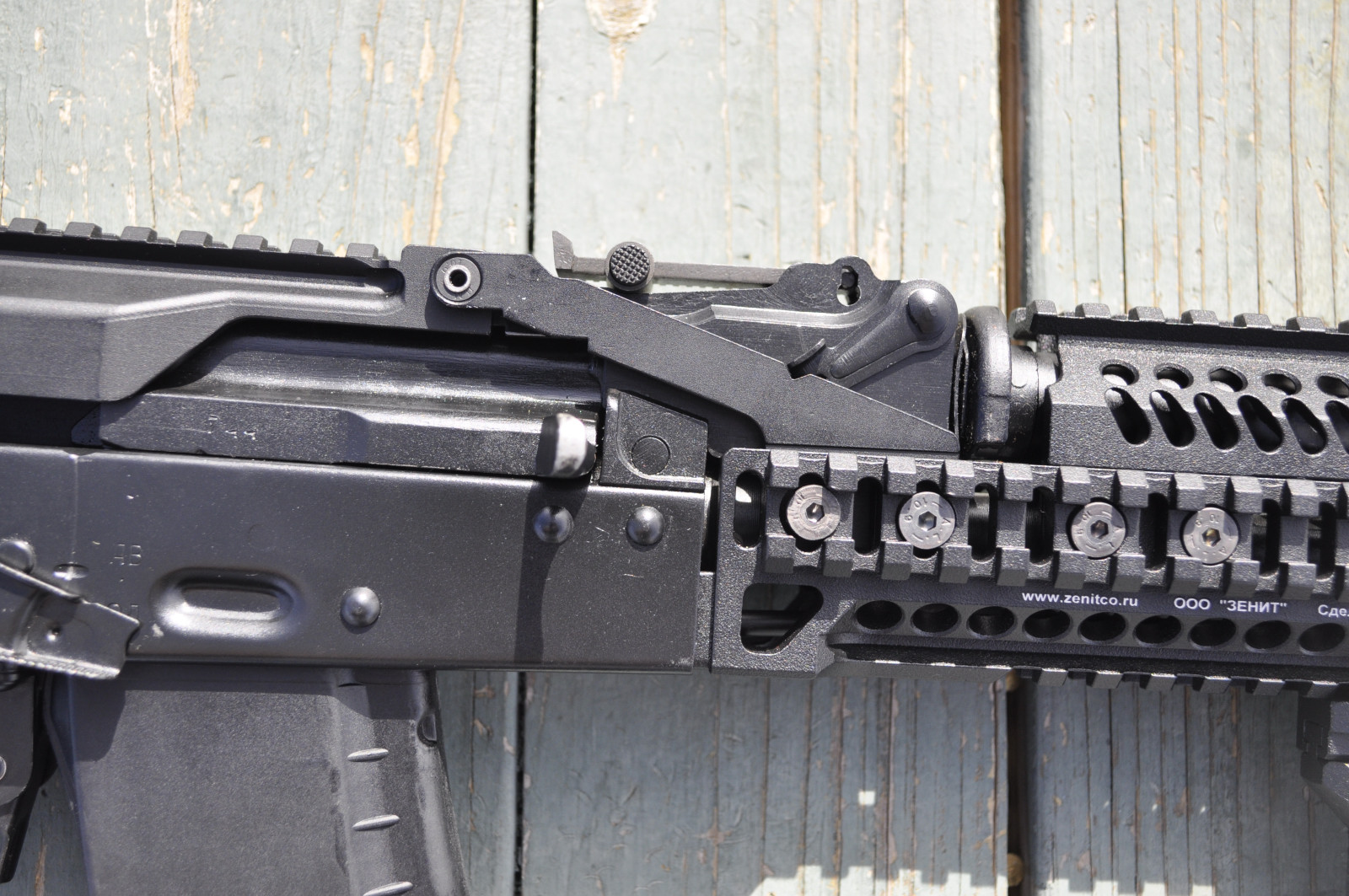 Here you see B19 gas tube cover can be removed and replaced with the standard gas tube. B19 weighs 3.2 oz with screws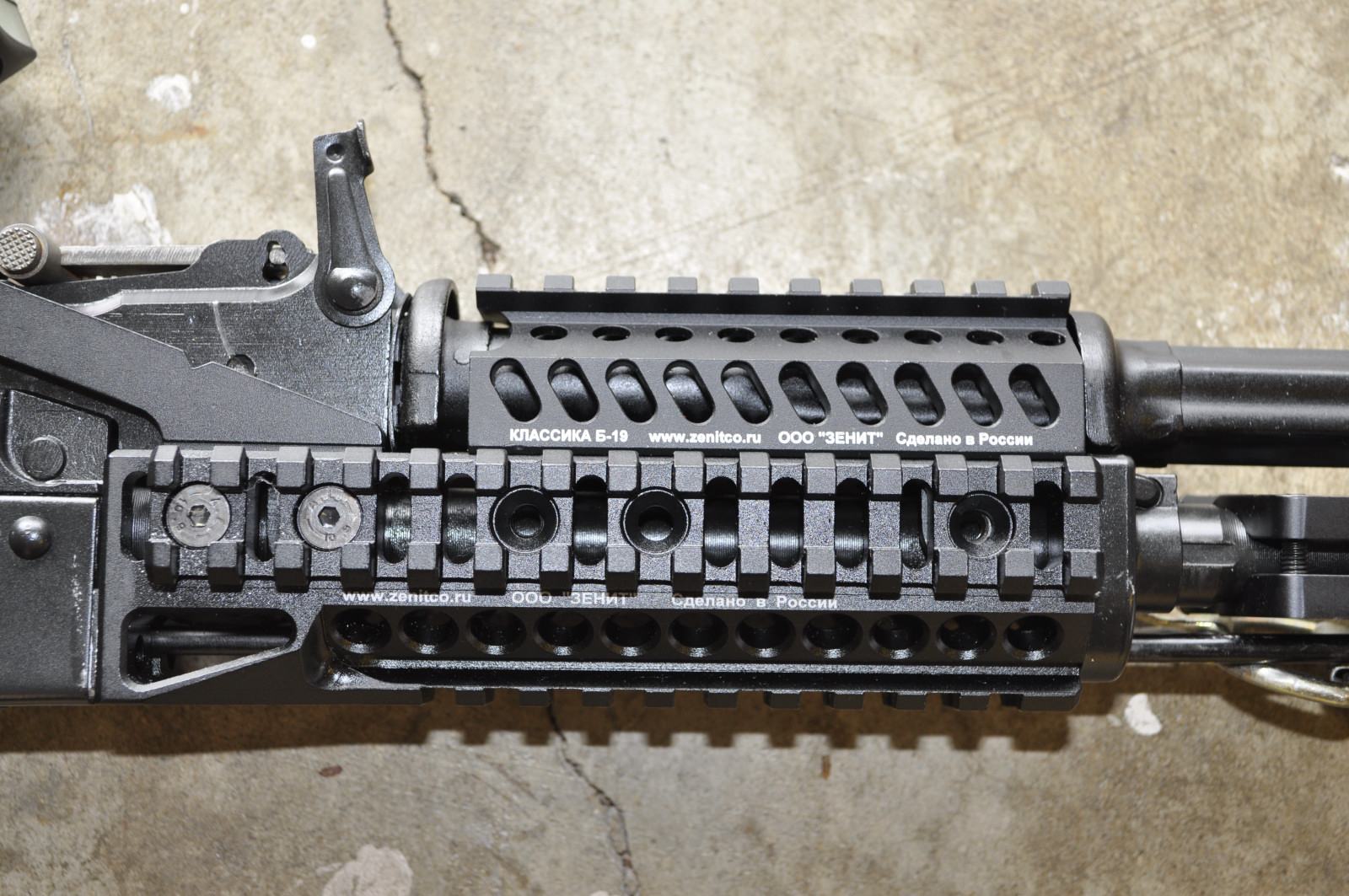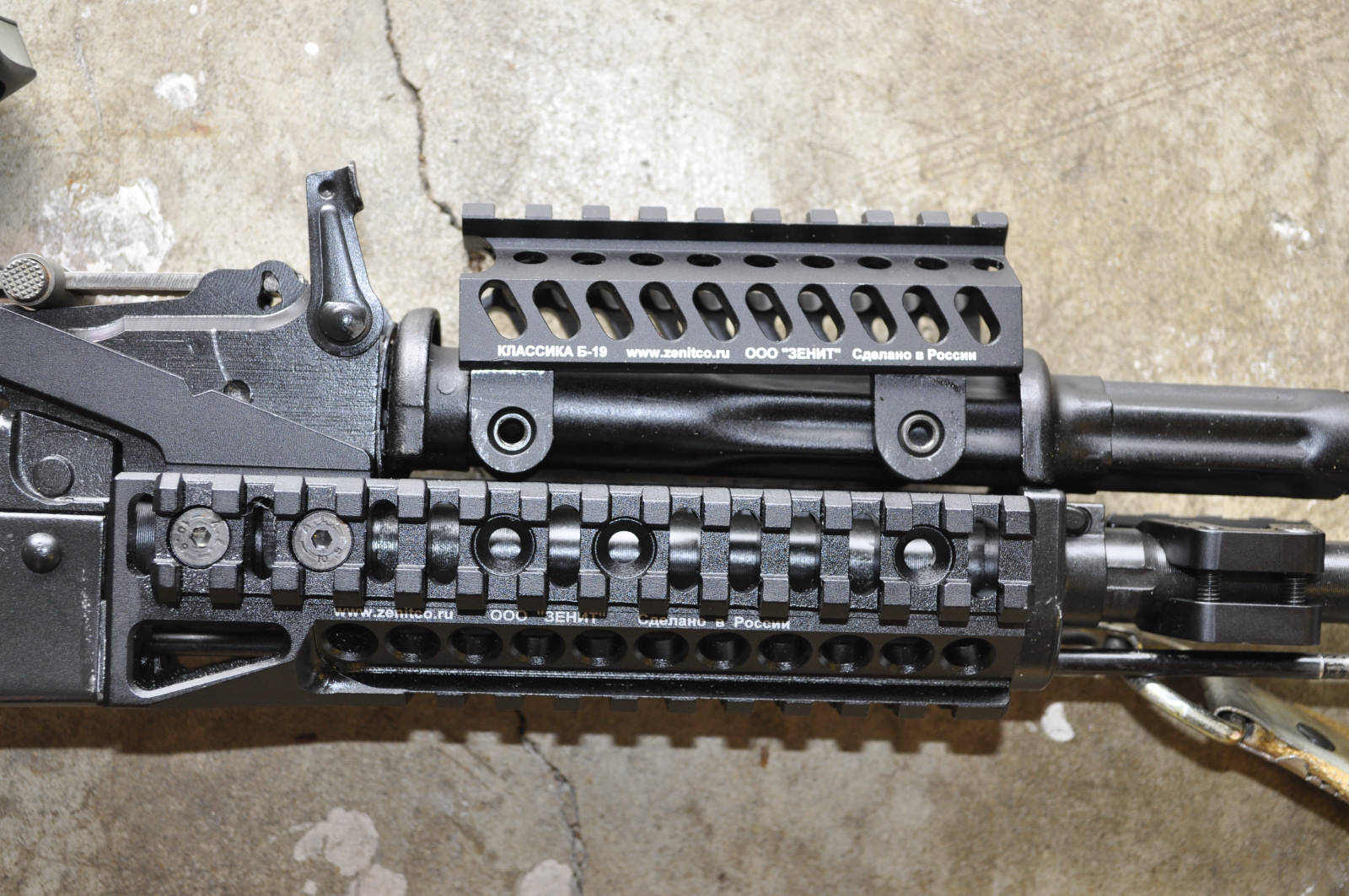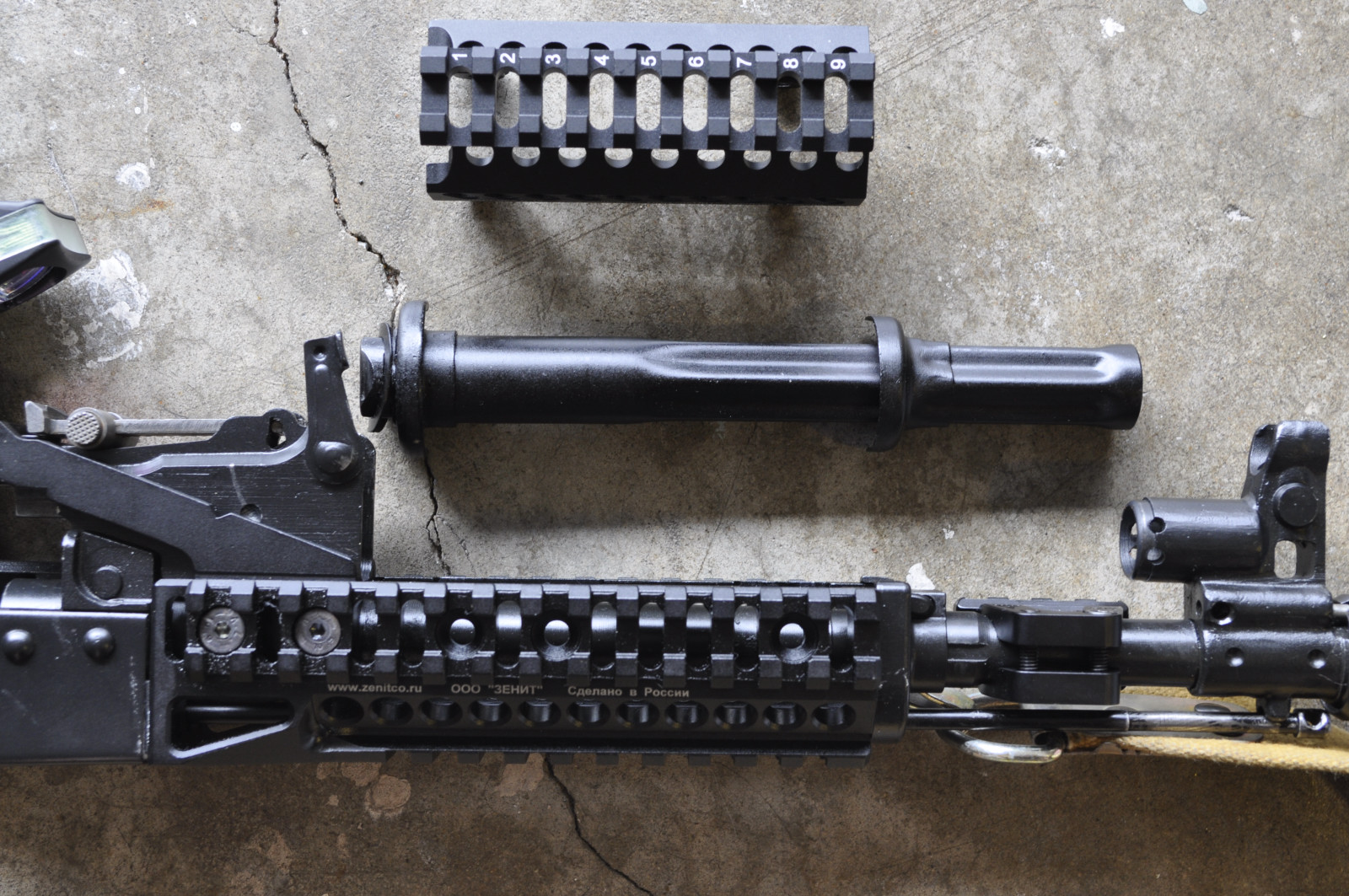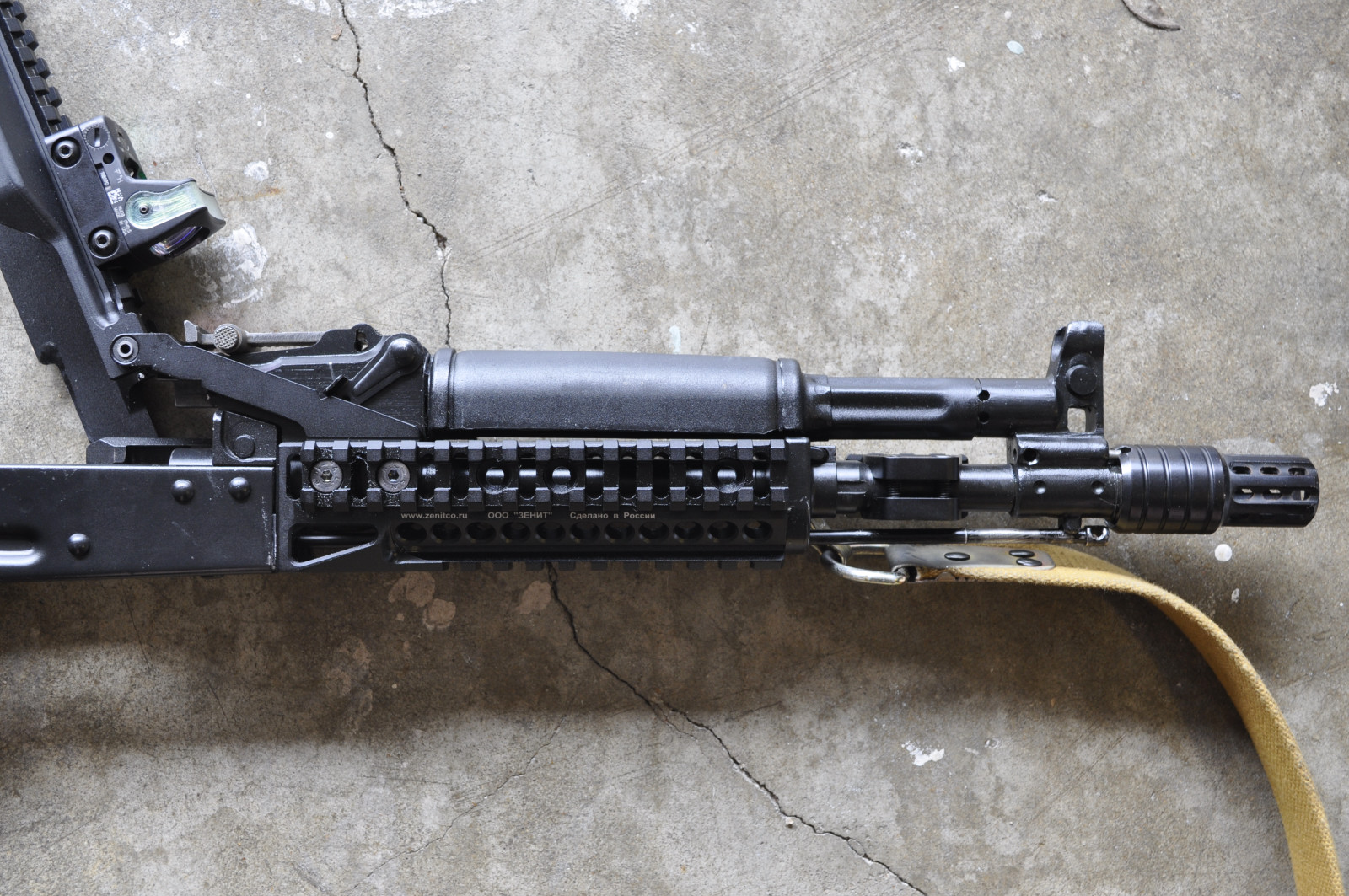 I think the secret sauce for how the B33 top cover will return to zero is the steel reinforcement plate that slides into the trunnion where the original top cover fits. Combined with the hinge being mounted to the lower HG this should allow the B33 to always return to it's original position when the cover is closed again.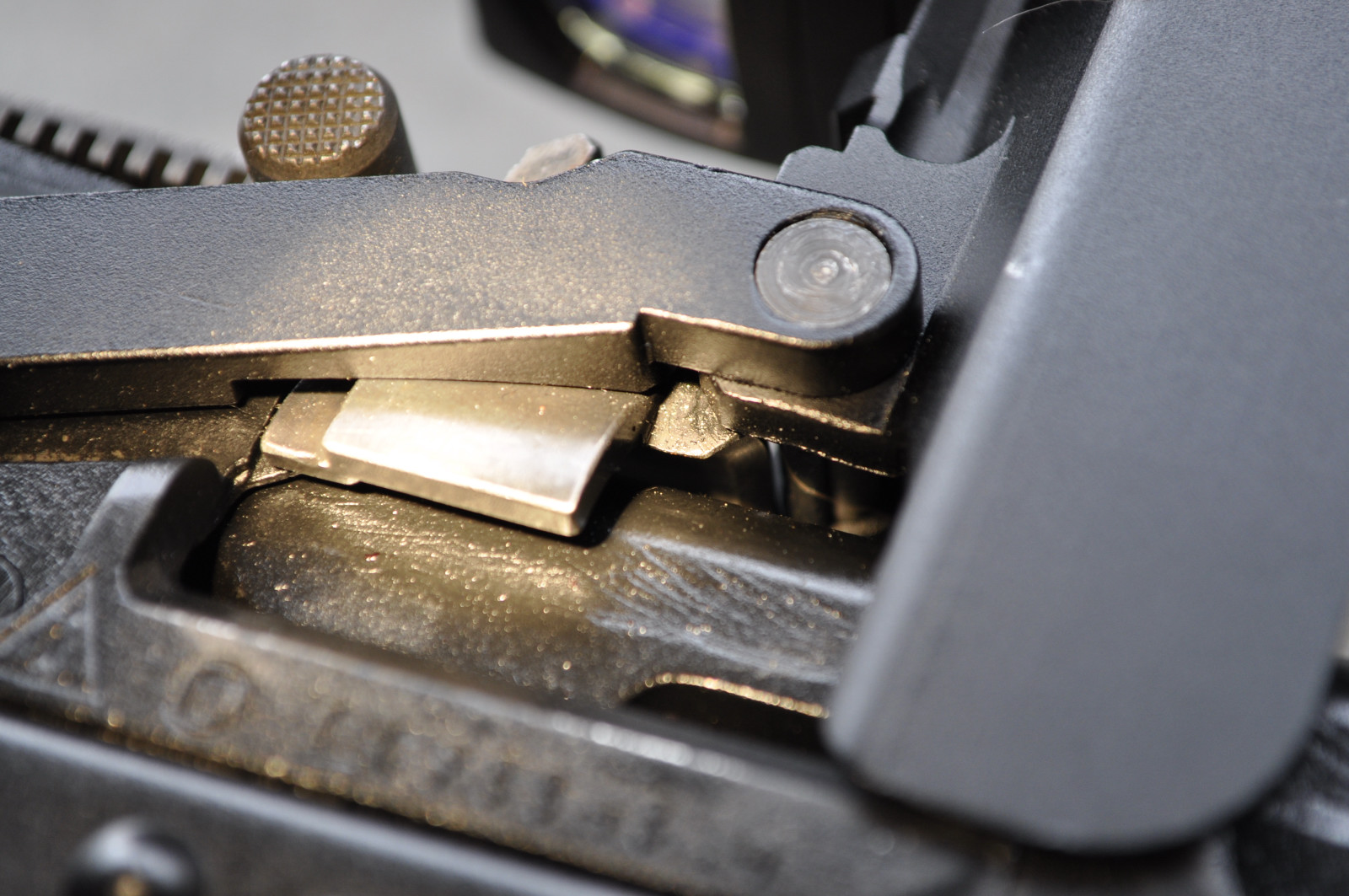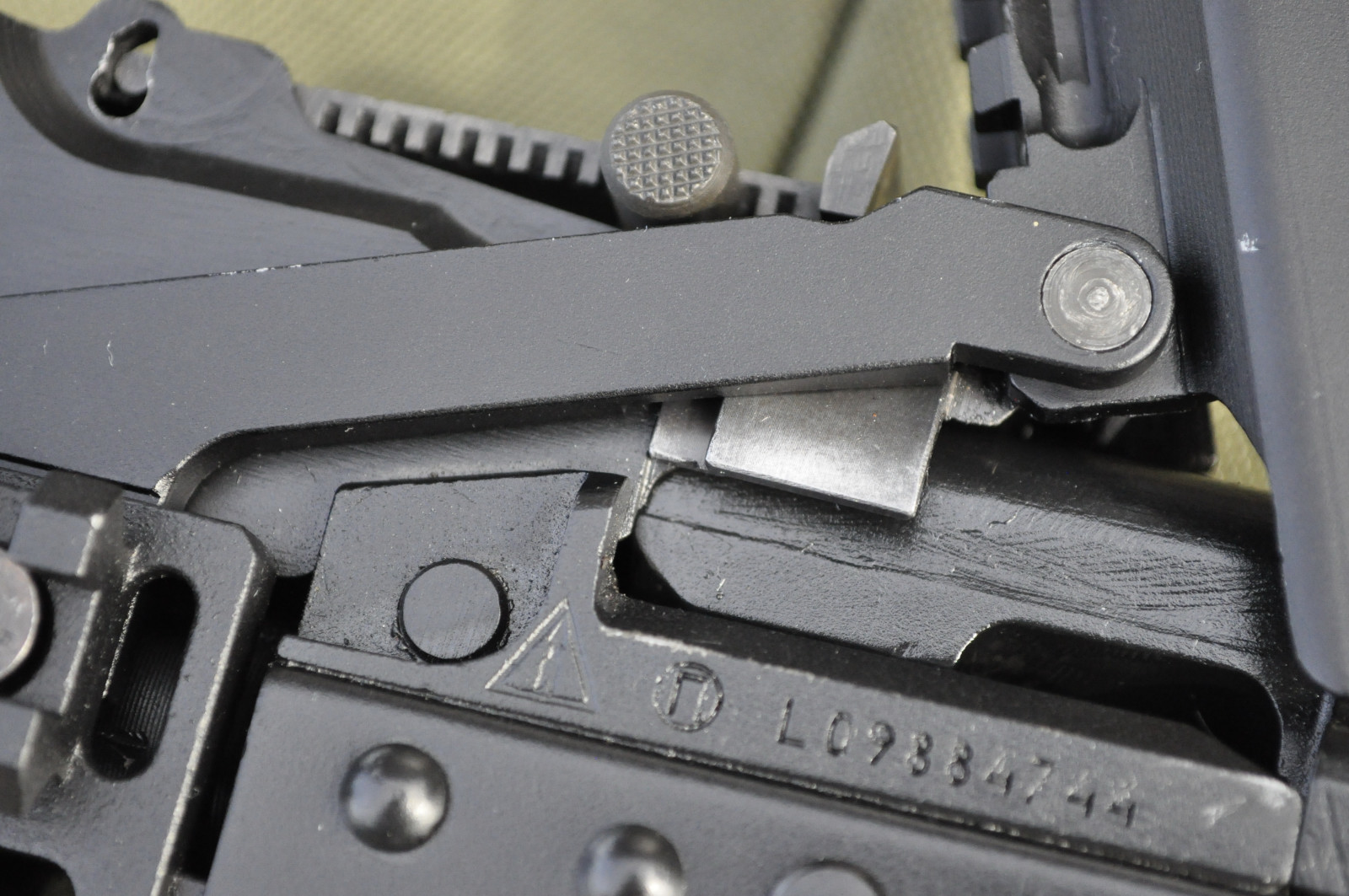 PT1 Klassika stock
This is an interesting and versatile stock that has the ability to adjust the length, the cheek riser height and the butt pad position as well. It required no modifications to fit the SGL31 rifles I tried it on and can be swapped between 5.5mm trunnions and 4.5mm trunnions by removing the hinge mechanism from the stock itself. While it fit perfectly on the SGL31s with 5.5mm trunnions it did appear that a bit of fitting would be needed for the 4.5mm hinge mechanism to lock fully open. It mounted ok but would not secure completely on the SLR105 that I tried it on. This seems like a very sturdy stock that is much heavier than I thought it would be, though I have seen a few pics posted of cracked hinges from users in Russia. I can't comment directly but it is worth noting.
Fully open.
In this picture you can also see that various screws allow the cheek riser to come up or down and allow the butt to be moved up or down as well. I find it to be very comfortable with the butt moved down as shown, it gives a nicer tuck in the shoulder pocket when standing. LOP is 8.5" closed and 11.5" open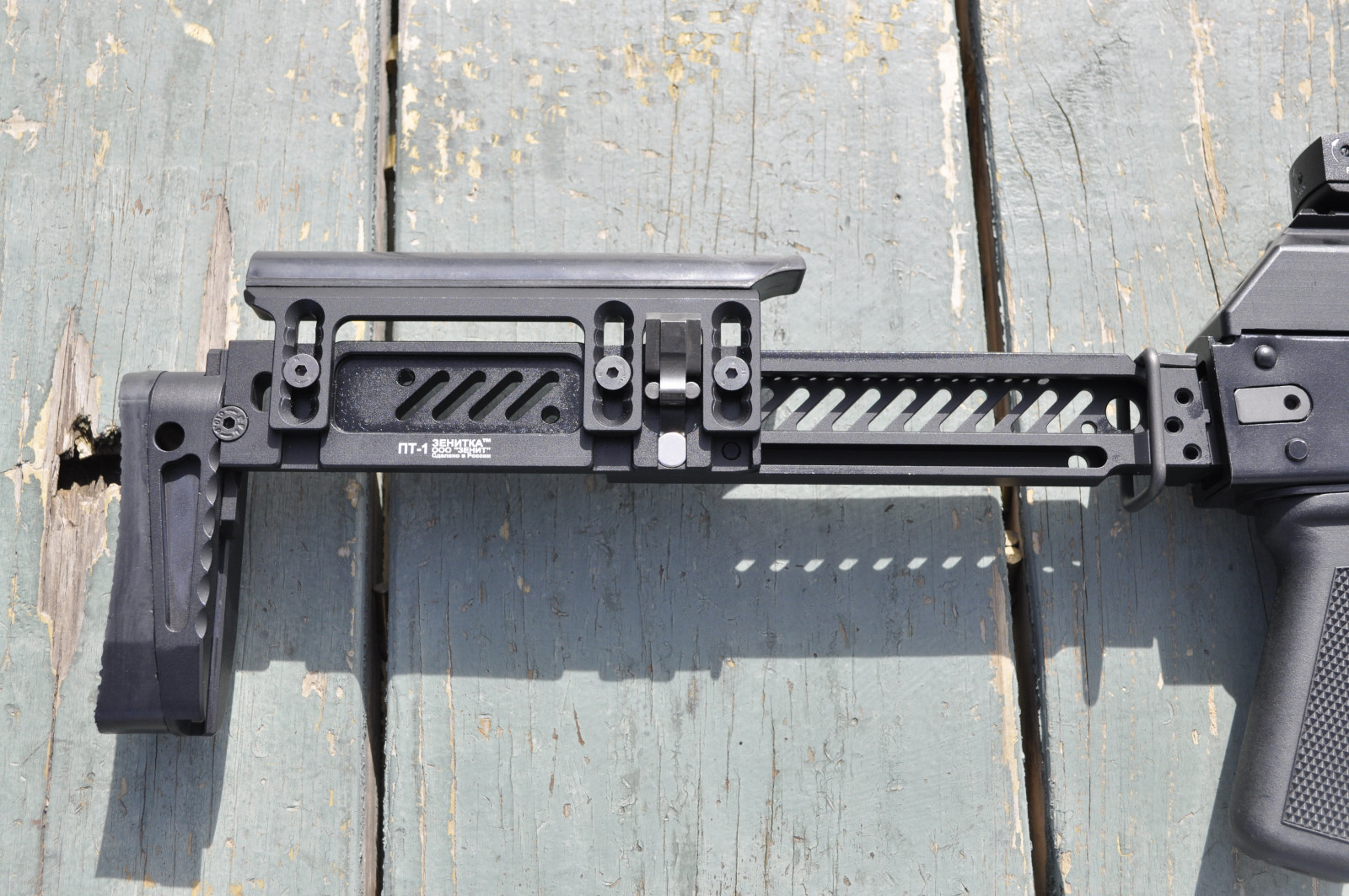 Cheek riser at maximum height and butt pad options. Surprisingly, at its lowest possible the cheek riser pretty much prevents the use of the iron sites. Due to the unyielding nature of the plastic it's very difficult to force your cheek low enough for a good sight picture.(Though I am told the intent is to file the front portion down by the user which will allow the irons to be used with a face forward position on the riser)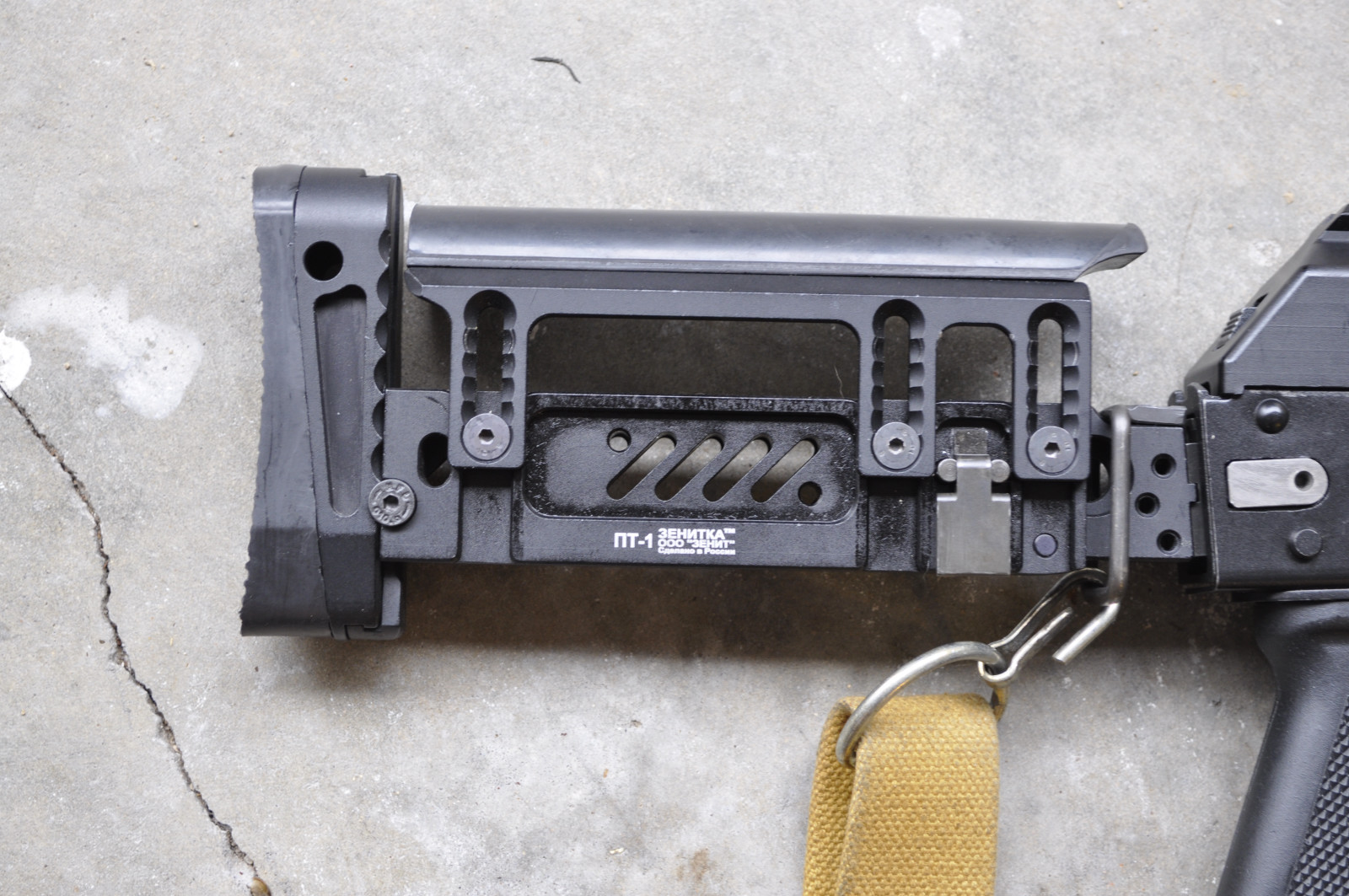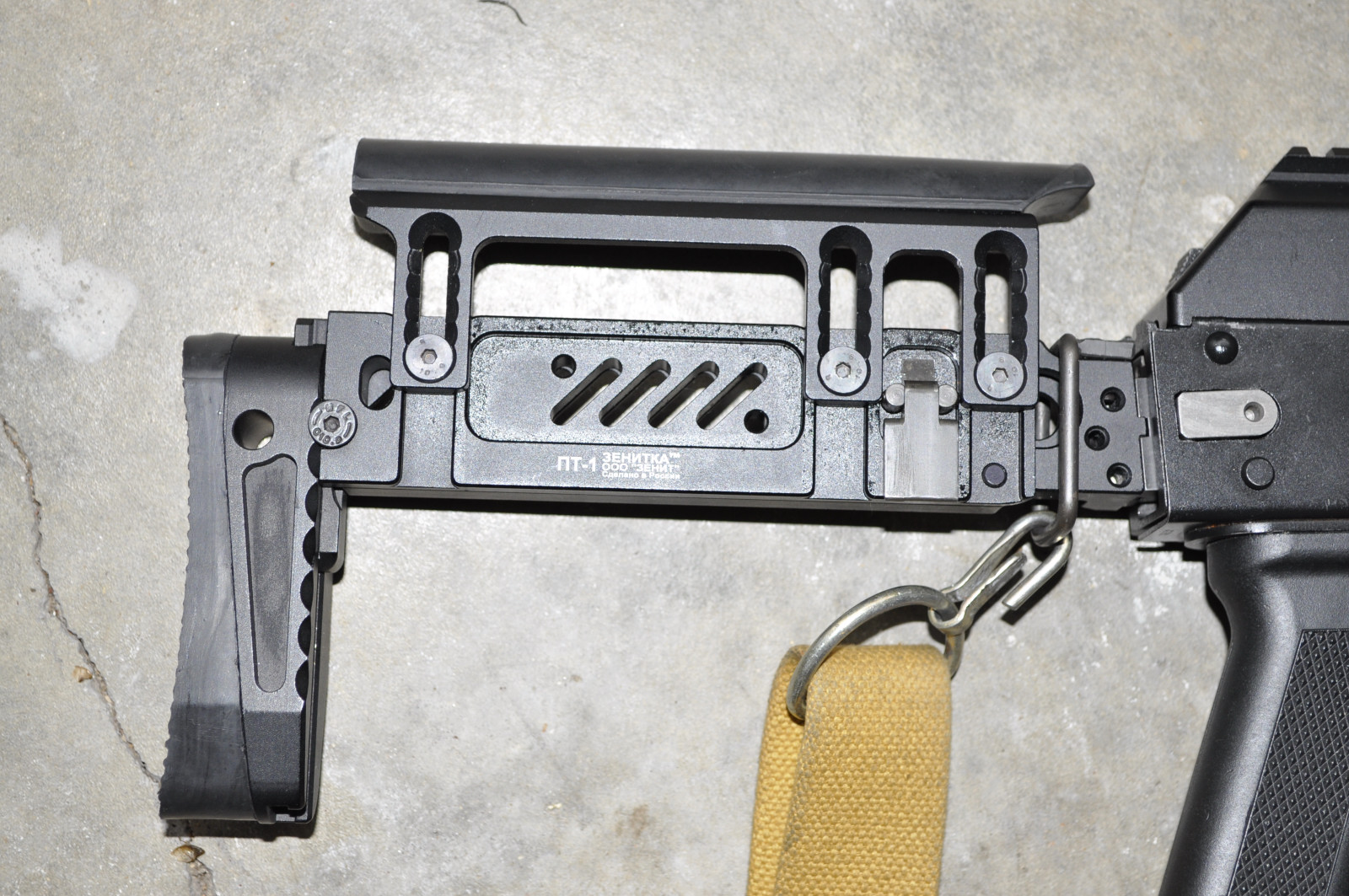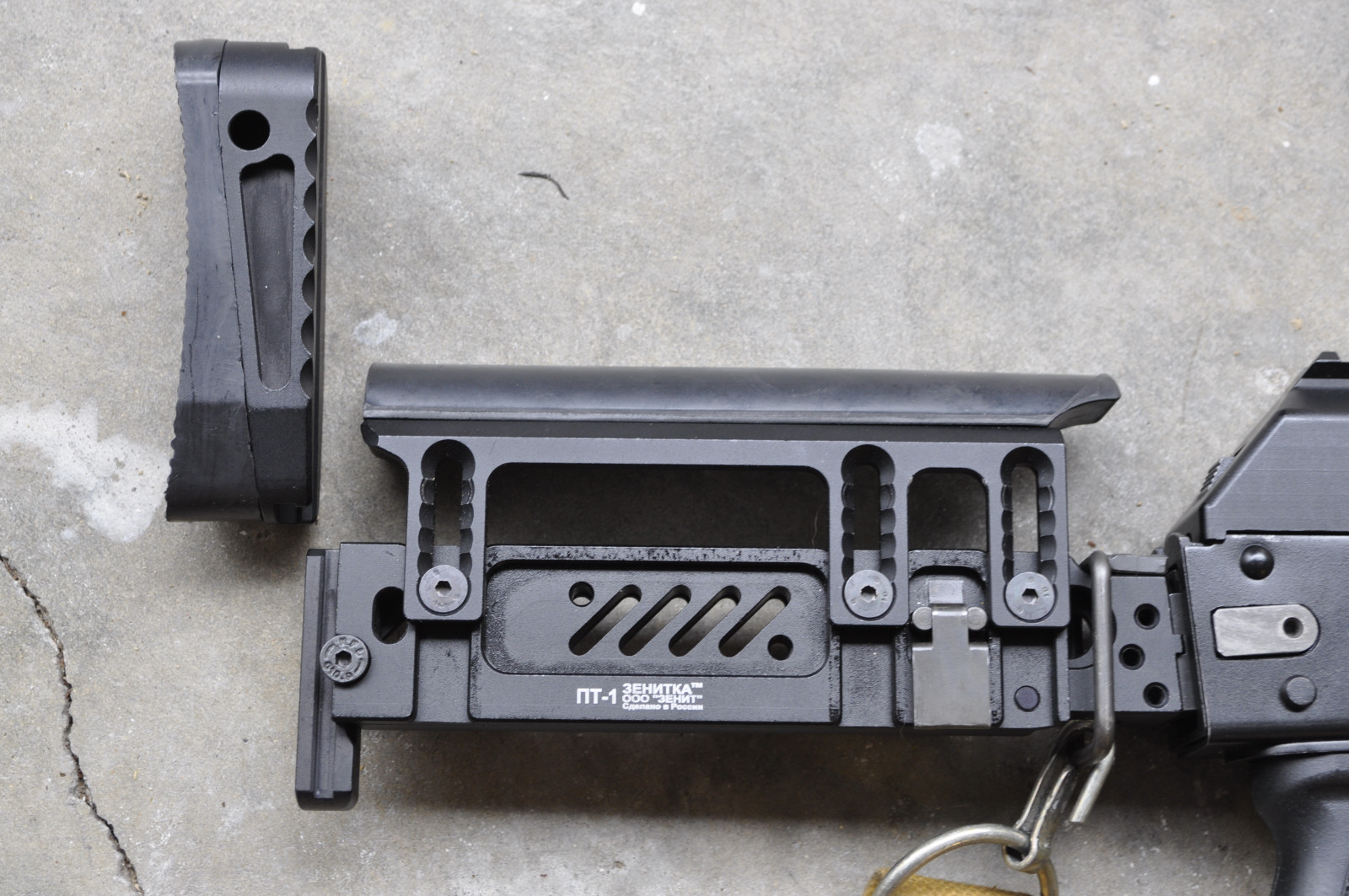 Fully collapsed and with latch open (on the front portion of the cheek rest)
The latch is magnetic and is easy to operate.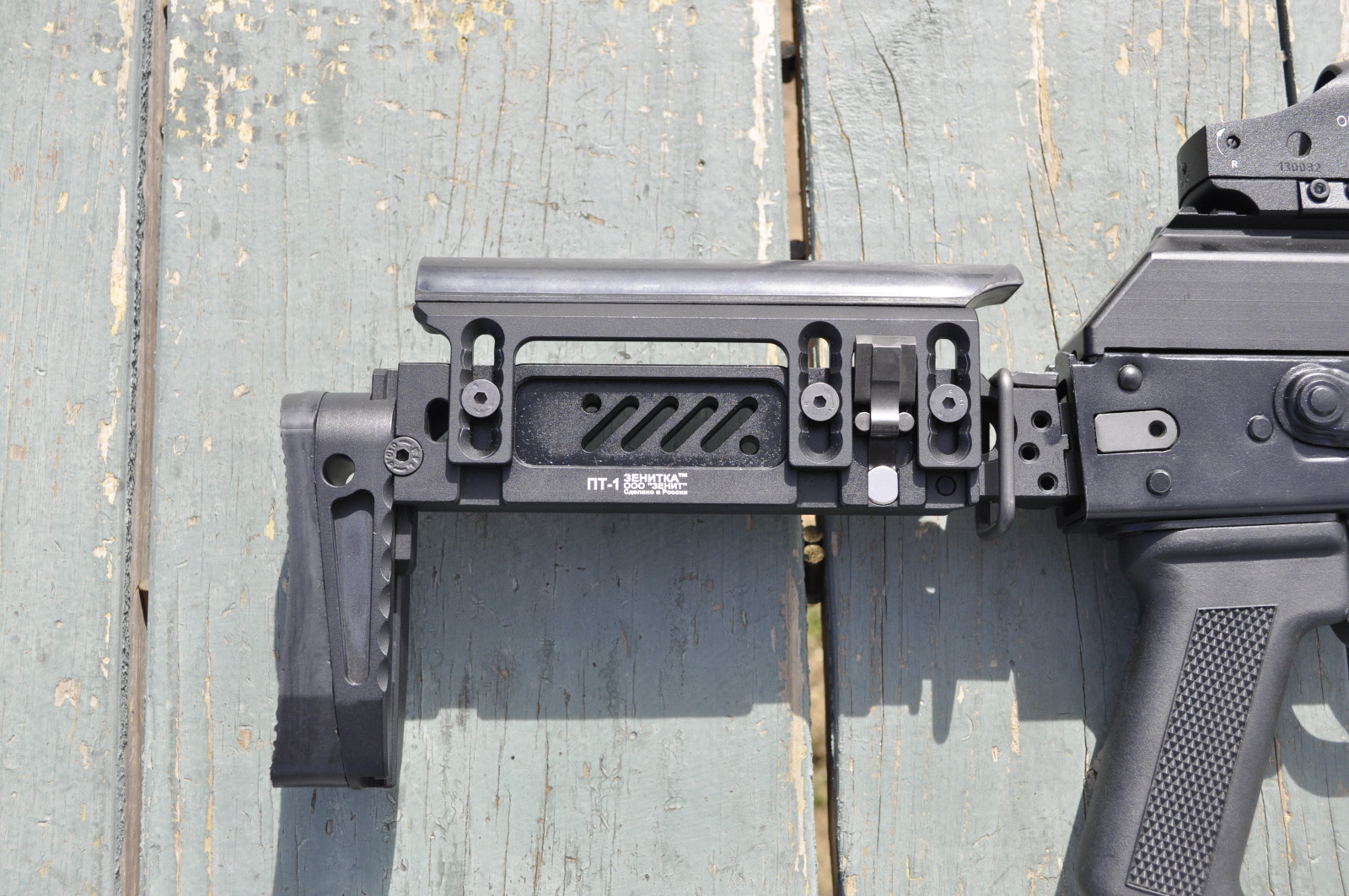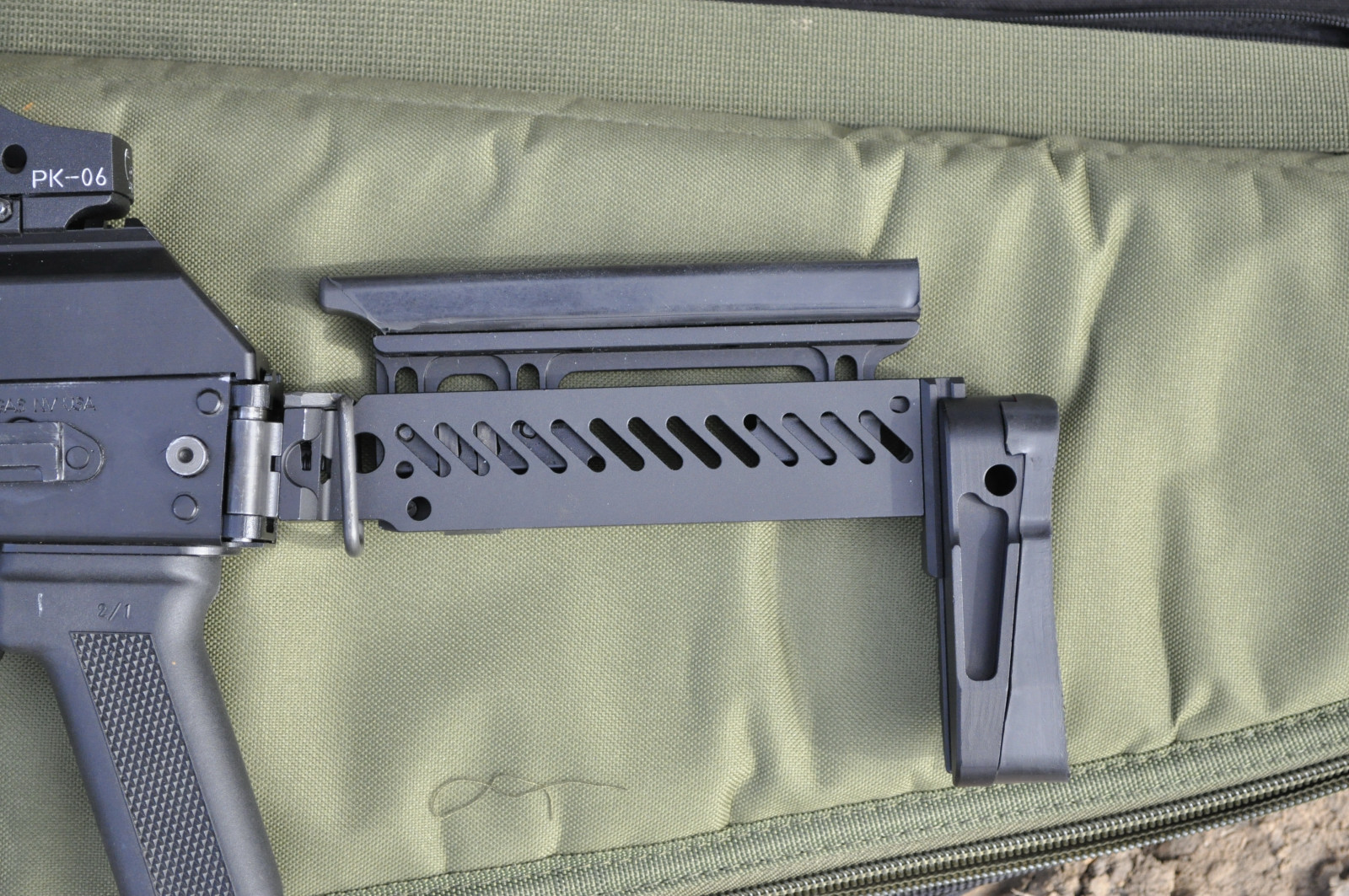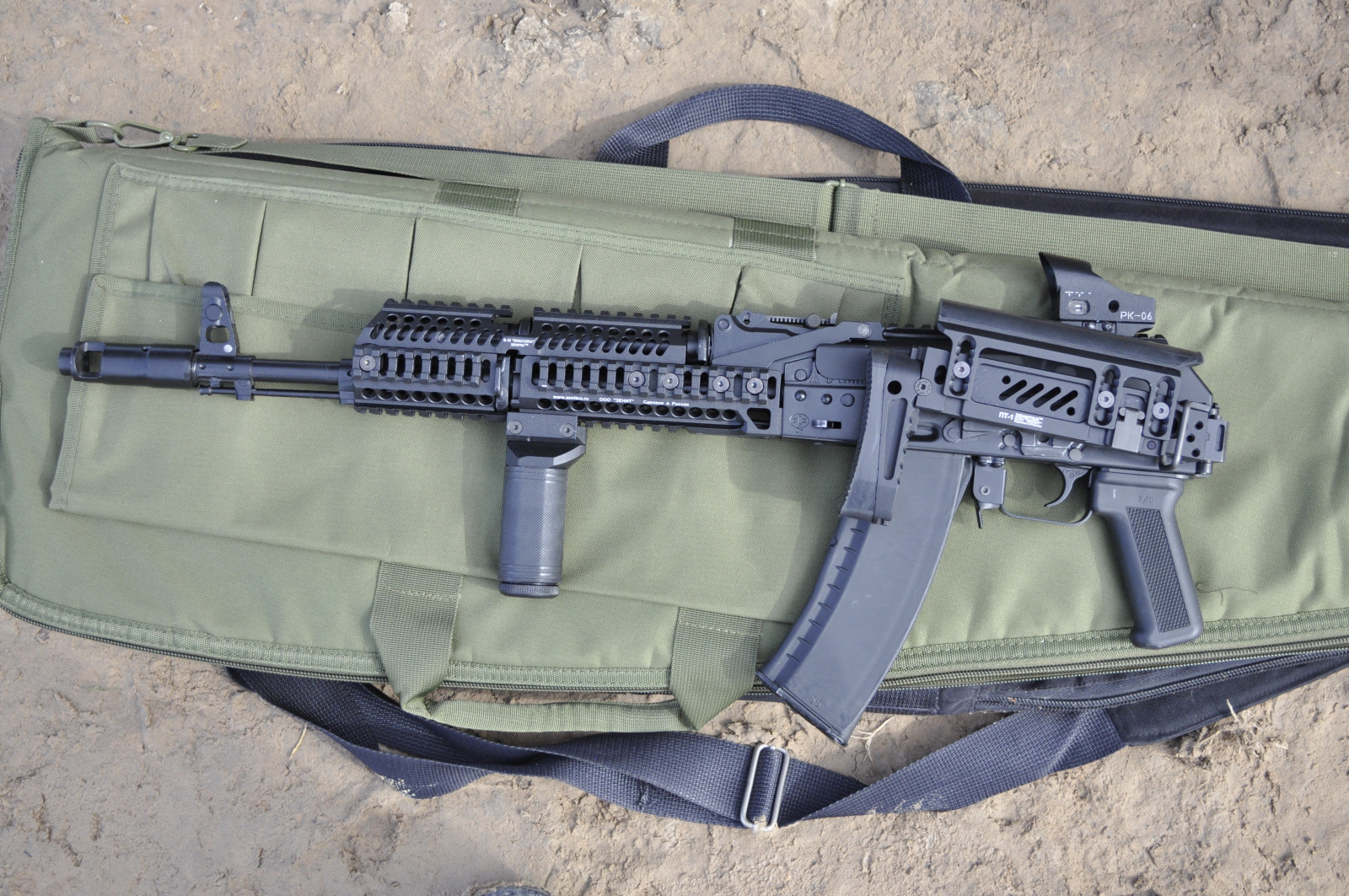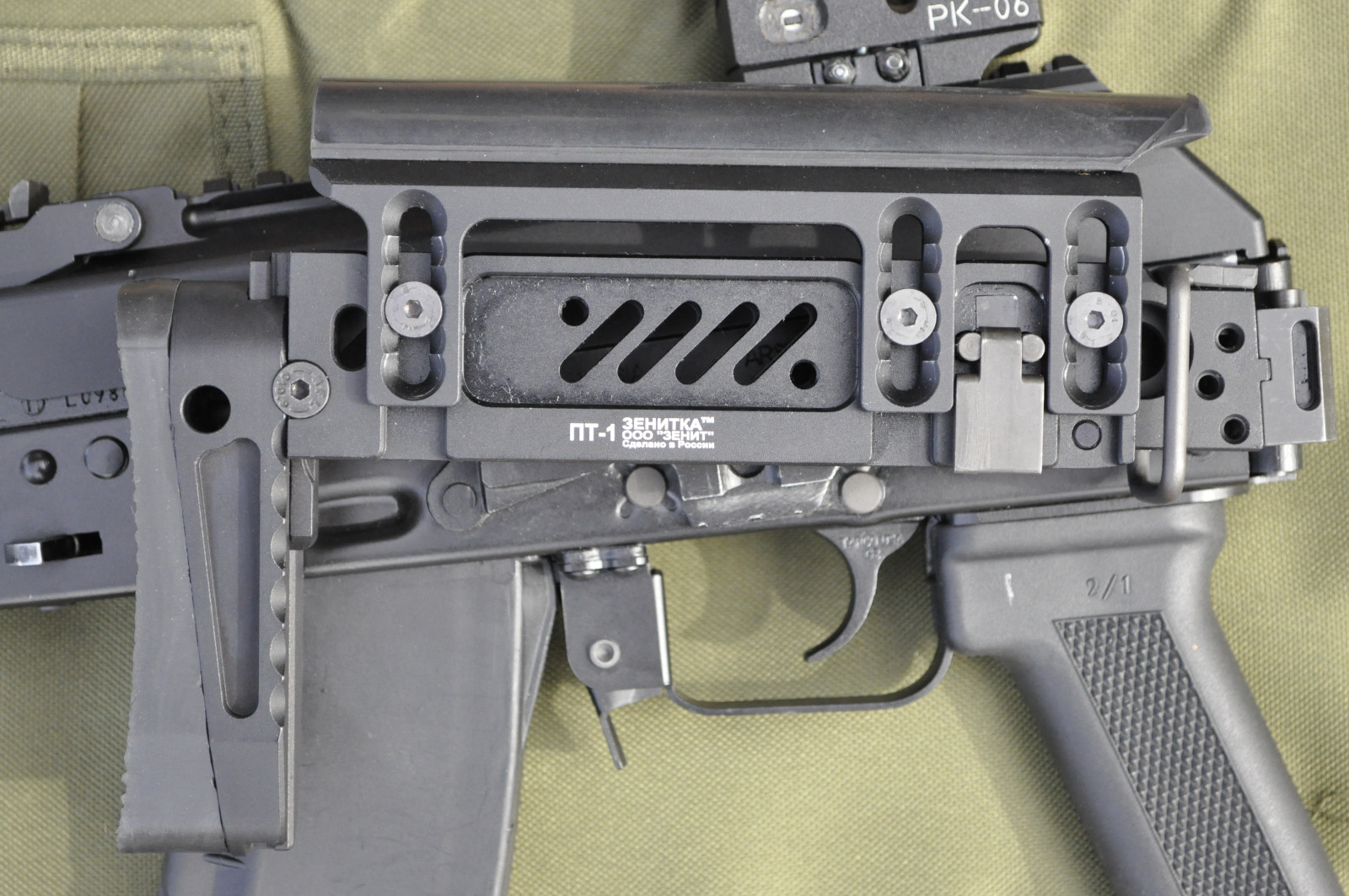 PT3 Stock 3-20-17
Newly acquired PT-3 stock is very interesting, and in my opinion simpler and easier to use. While PT-1 can be customized for just about any type of shooting preference, PT-3 is more like a slightly adjustable standard AK stock. It does have an adjustable cheekriser but will not extend as far out as PT-1. With the cheekriser stowed or at minimum height the irons are able to be used properly.
Shown here fully collapsed with
Rakurs-PM
on the B33 topcover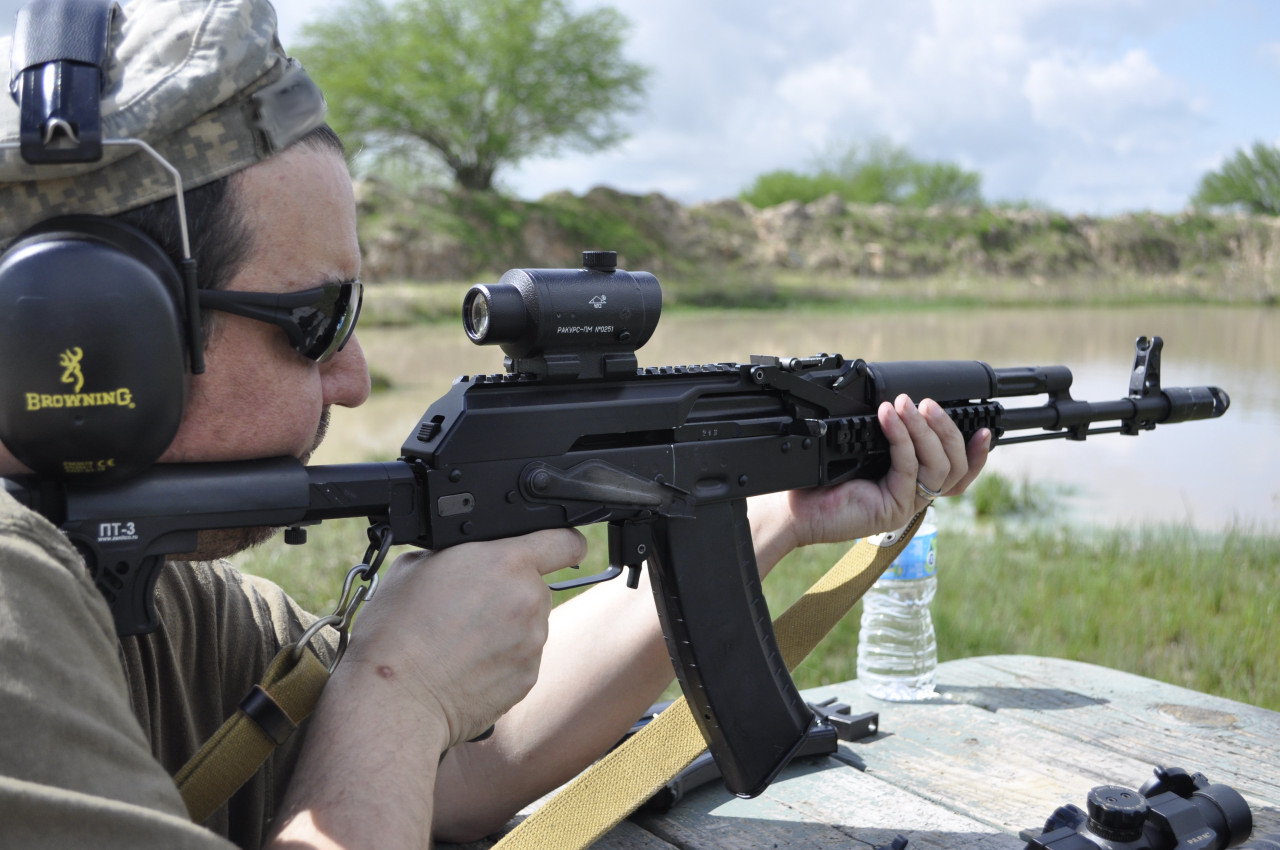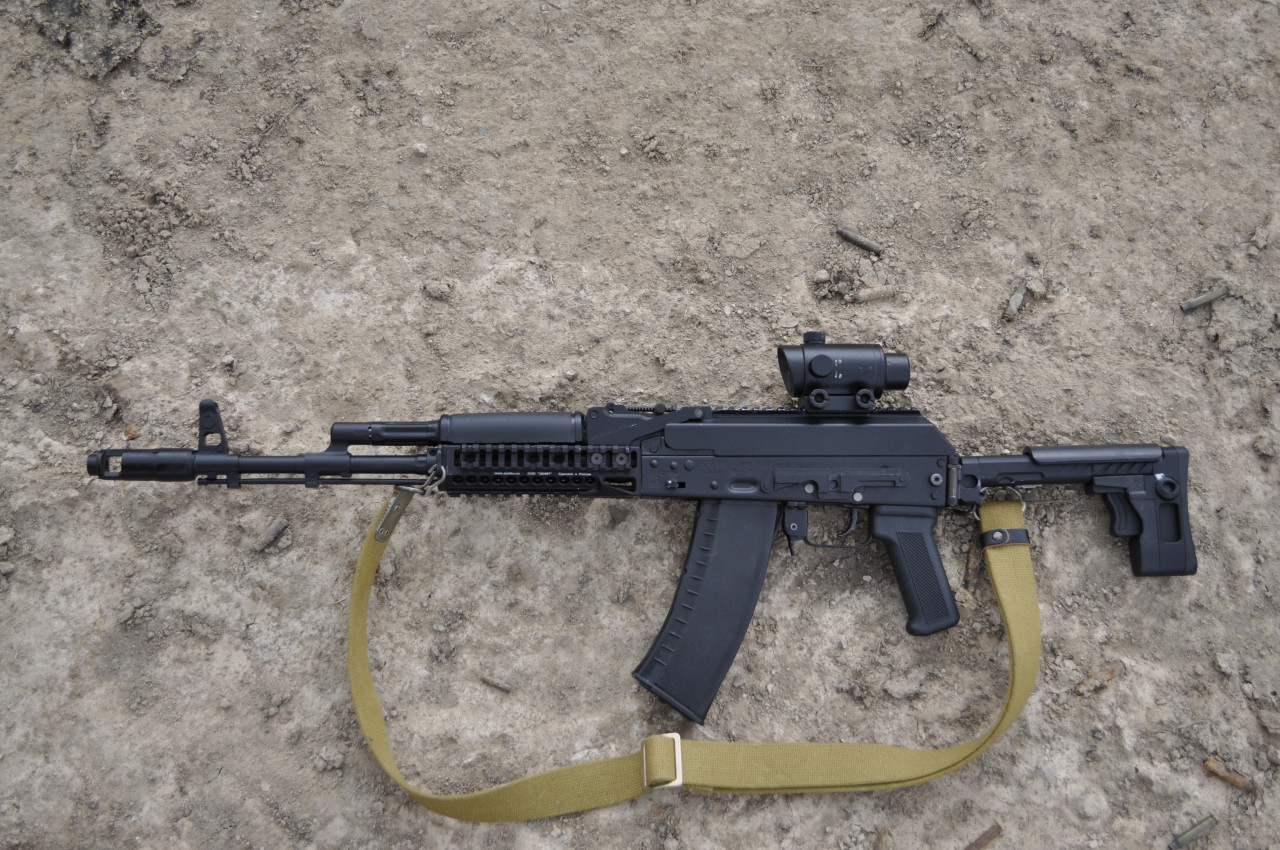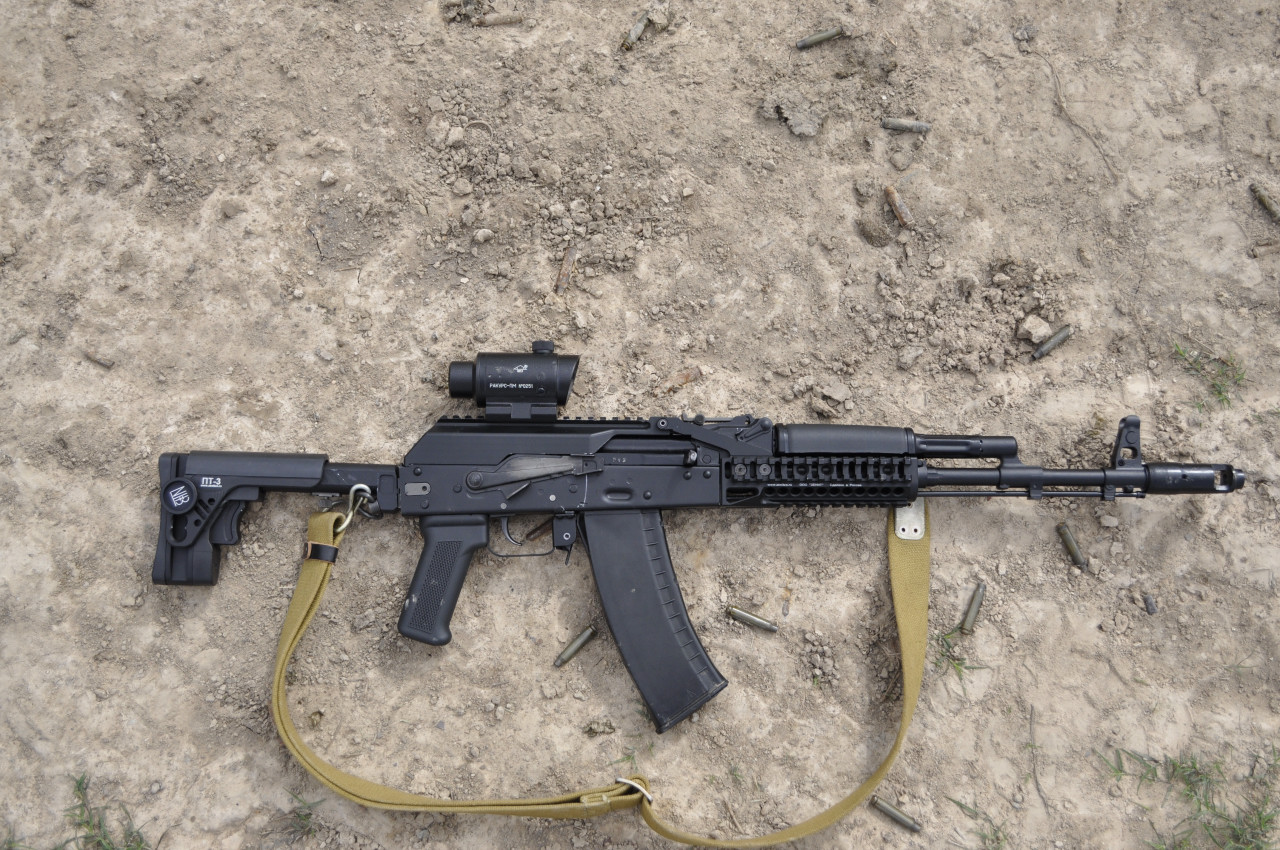 Locked/folded position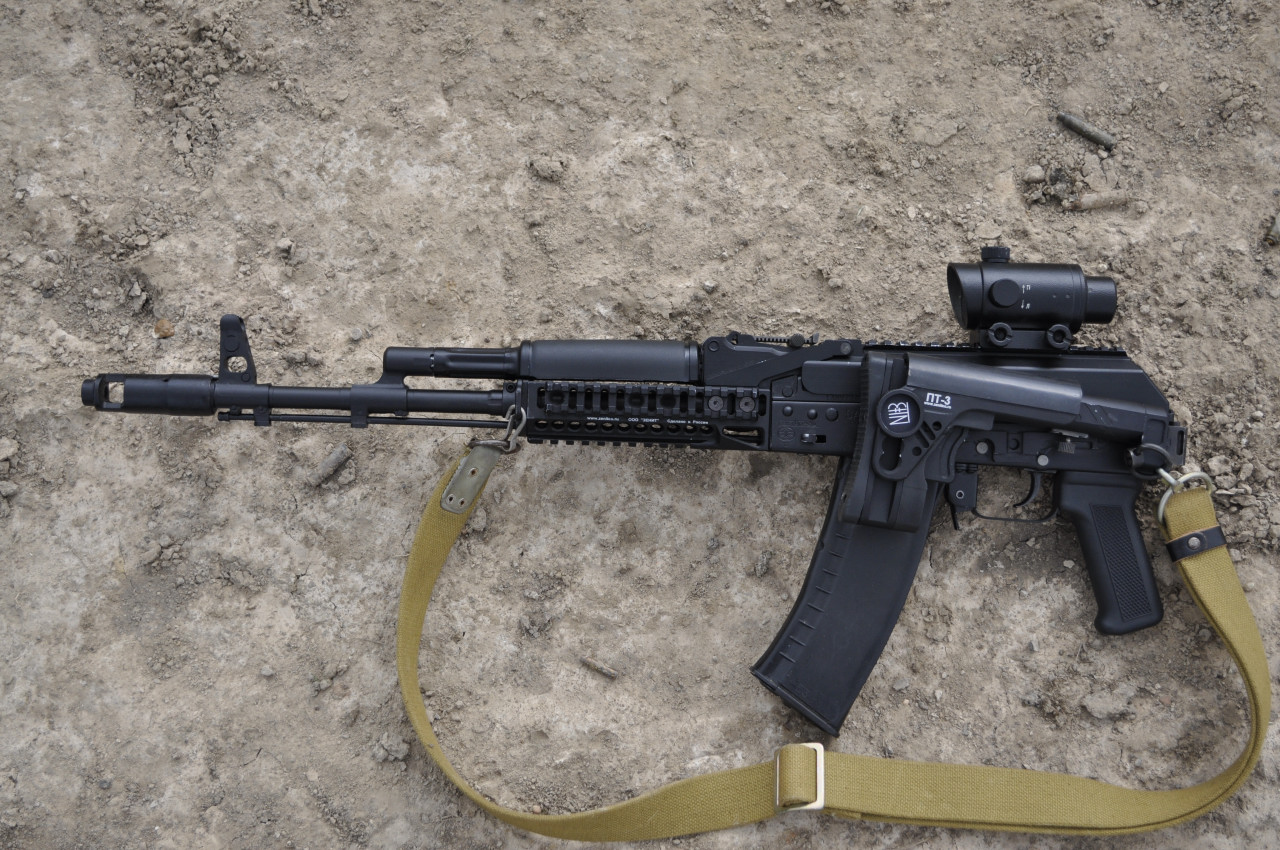 Cheekpad raises about 1.75" and is almost as high the dust cover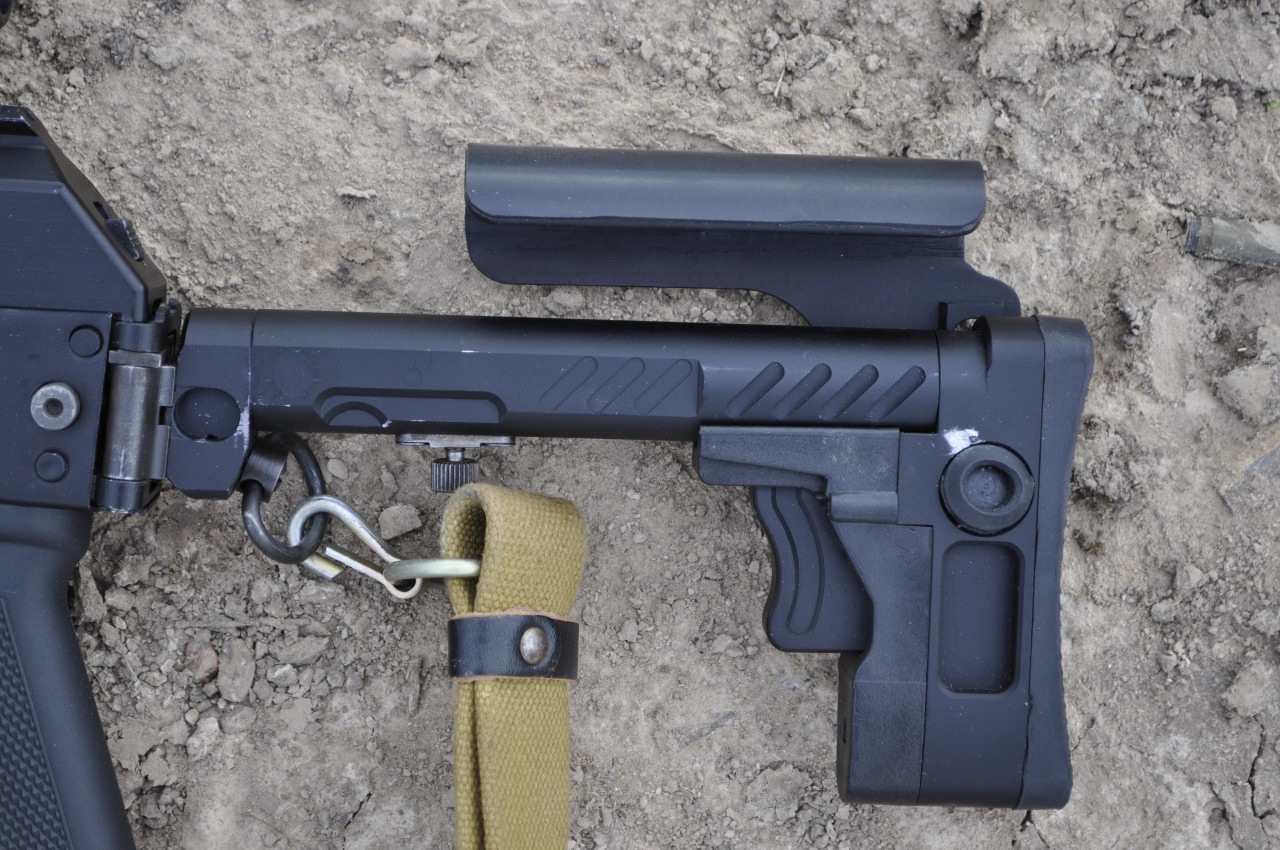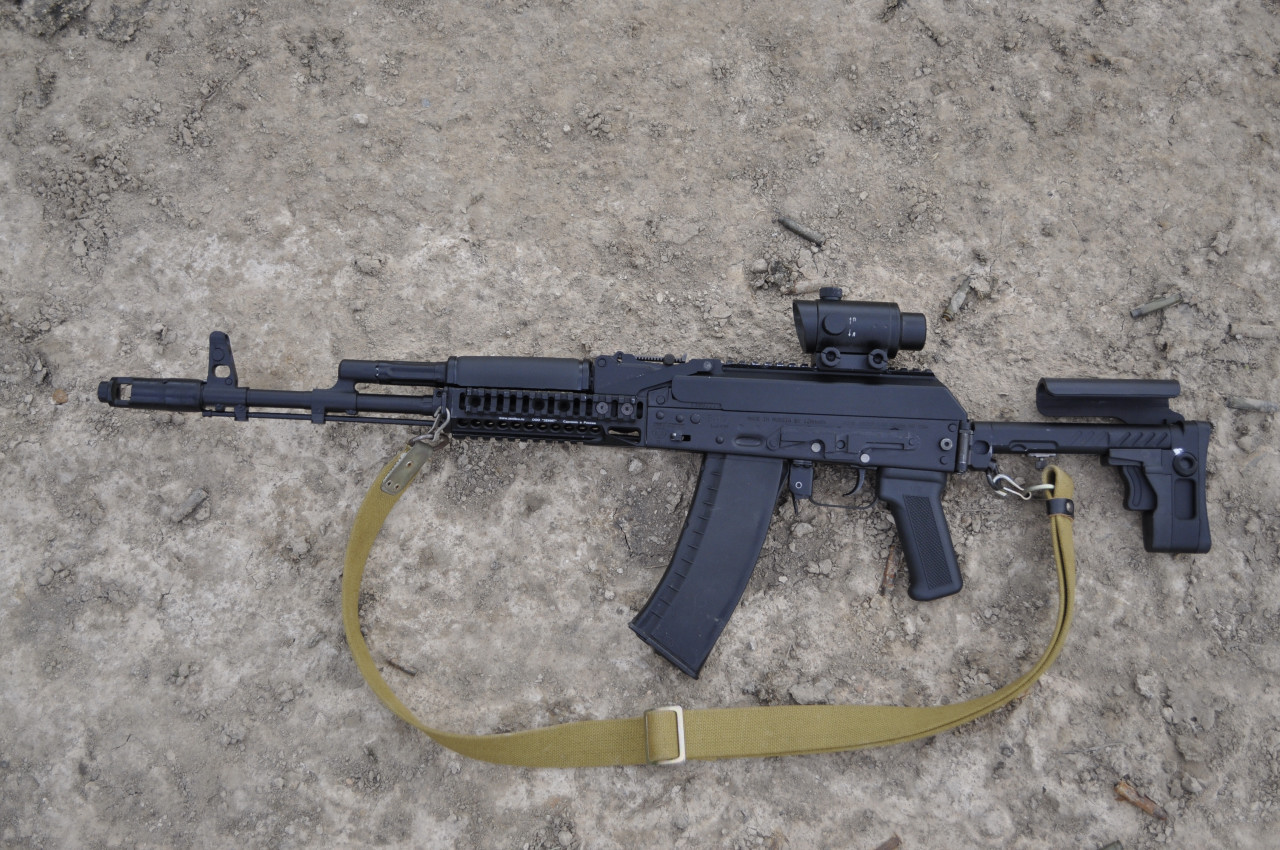 Cheek riser is adjustable by the the large circular knob. The mechanism is a bit wobbly when loose, but locks down tight.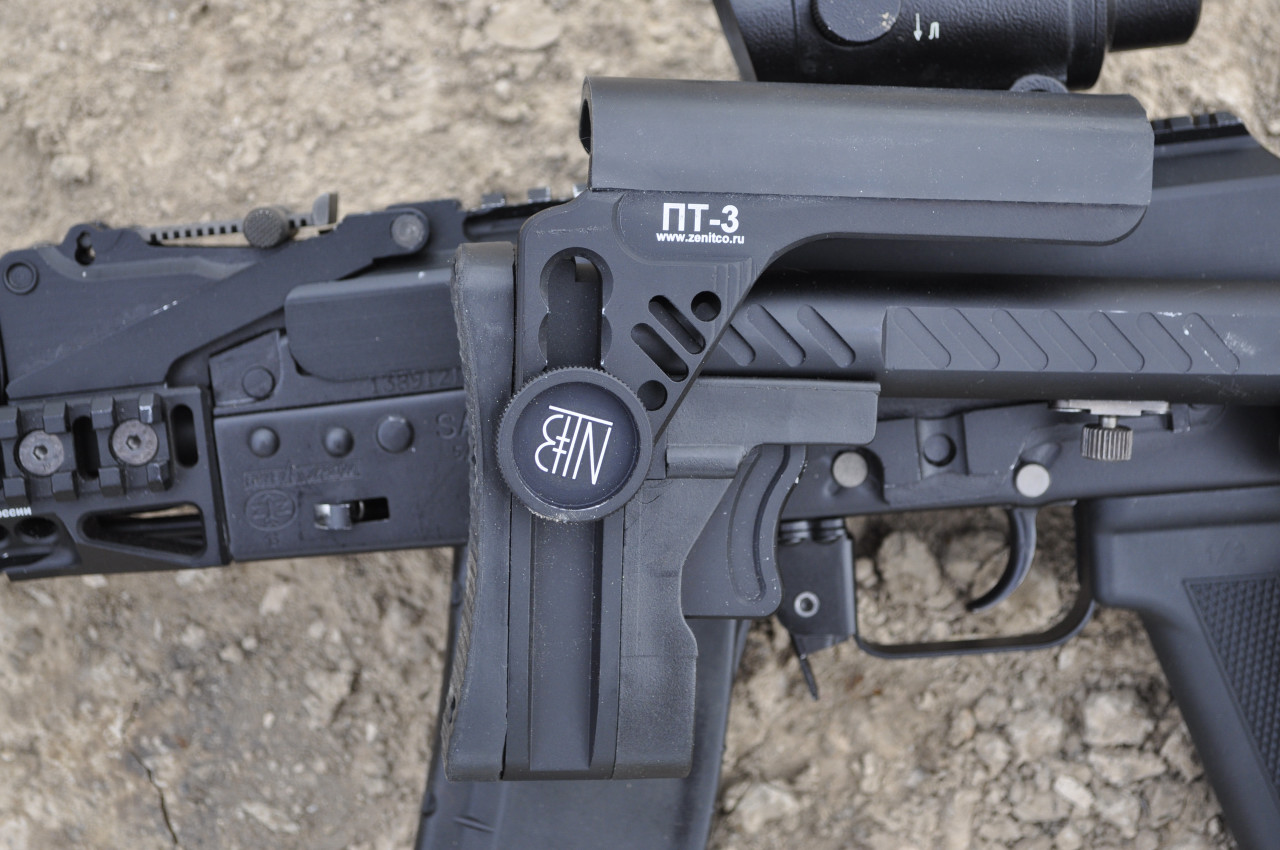 Comparison to PT-1 at full extension. LOP is 10 inches and weight is 19 ounces compared to PT-1 which is actually lighter at 18.4 ounces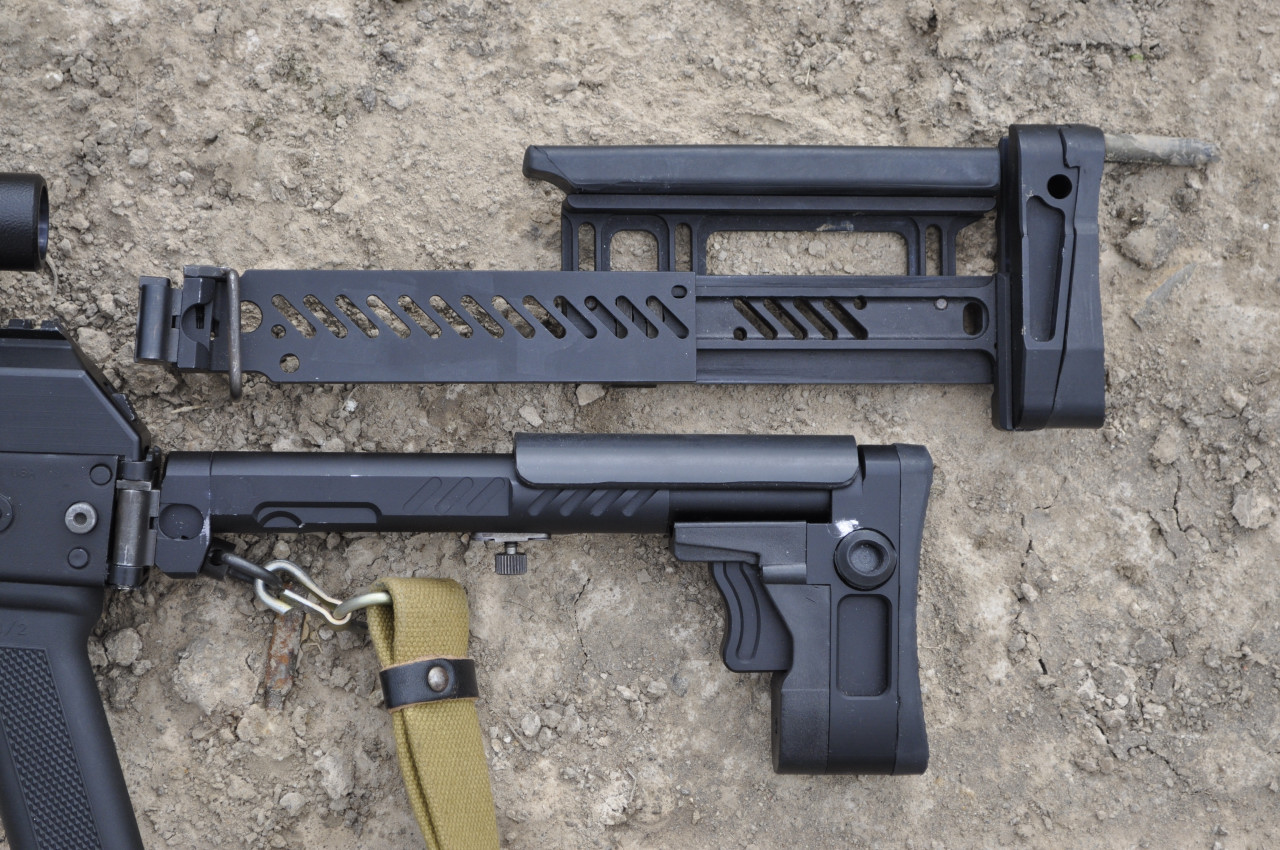 Fully collapsed. LOP is 7.75 inches, similar to PT-1 at 8.5
PT-3 has a tension screw in the middle of the stock on the bottom which can be tightened to prevent the stock from collapsing or extending. You can see it just above the sling clip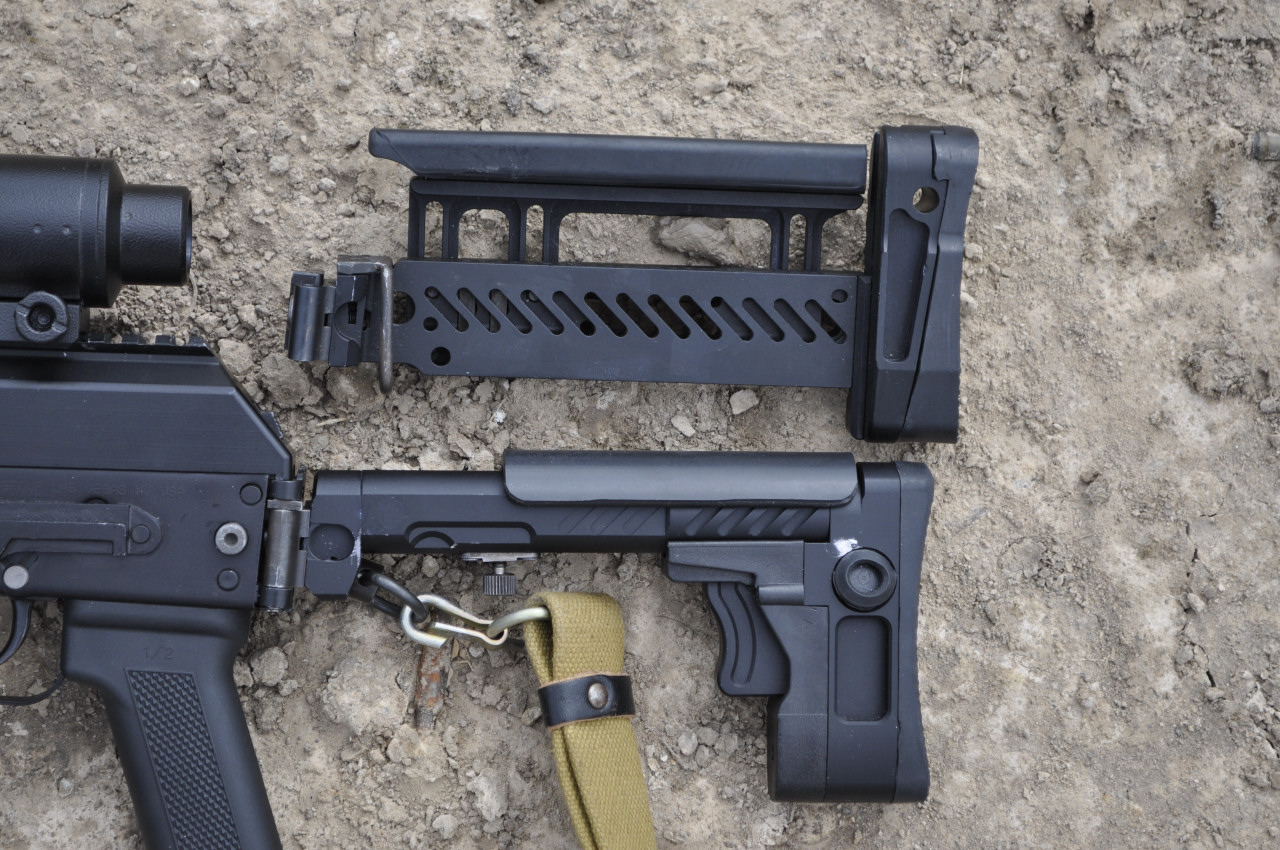 Hinge Mechanism
The Klassika can be fitted to either 4.5mm or 5.5mm trunnions by changing the faceplate on the PT-1. A single large screw removes the hinge mechanism from PT-1 and allows swapping to either pin size. The tensioner that keeps the stock locked while folded is actually inserted into the folding trunnion on top of the hinge mechanism. While the Klassika uses the standard push button to fold the stock as usual for a 74M, it does not use the front latch to keep it in place. Instead the Klassika automatically locks against the receiver when folded, and pushing down on the hinge mechanism allows the stock to be locked in the fully open position for shooting.
As normal for 74M side folders it will not fold with an optic mounted, unless you are using the B13 side rail.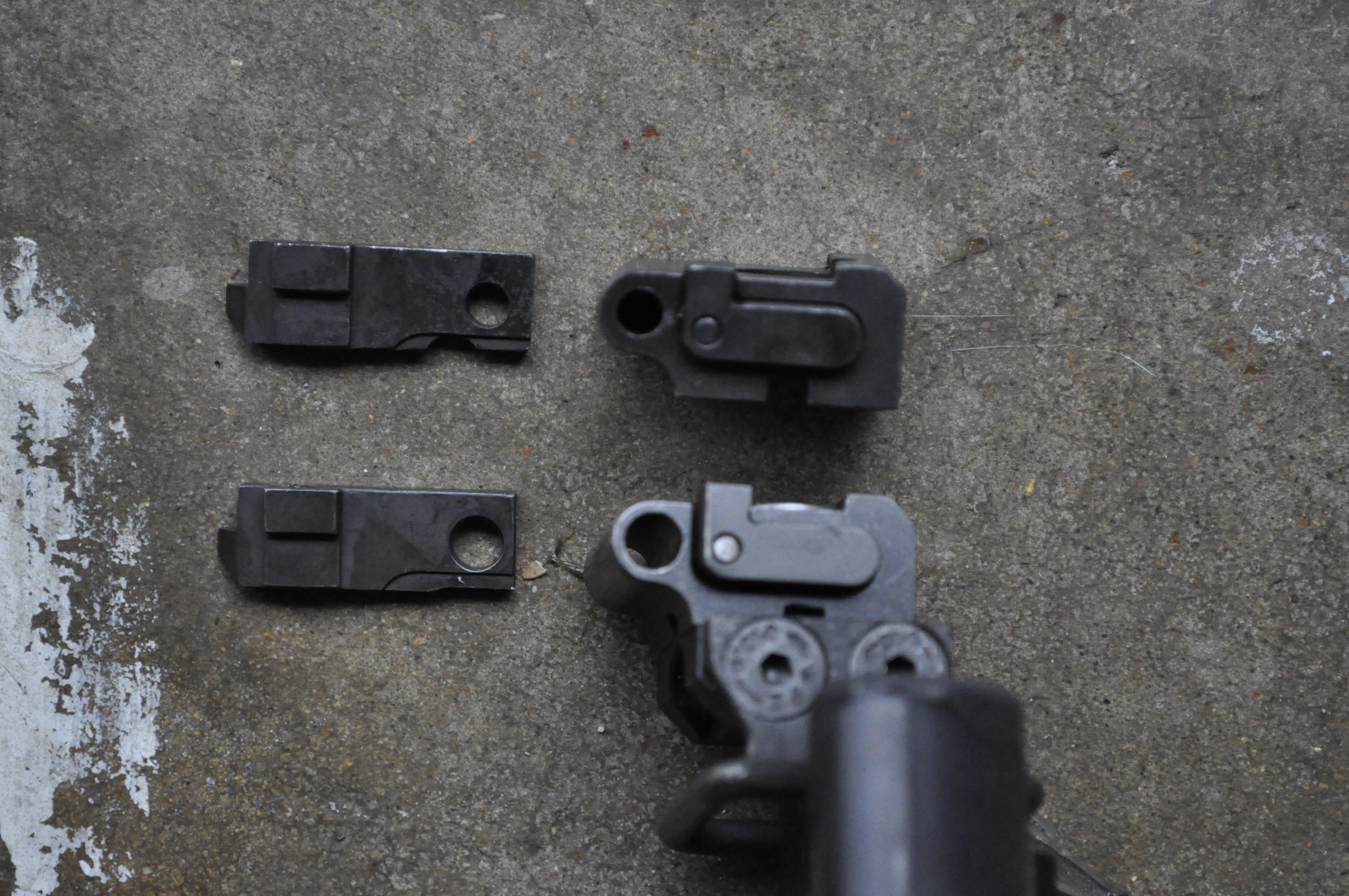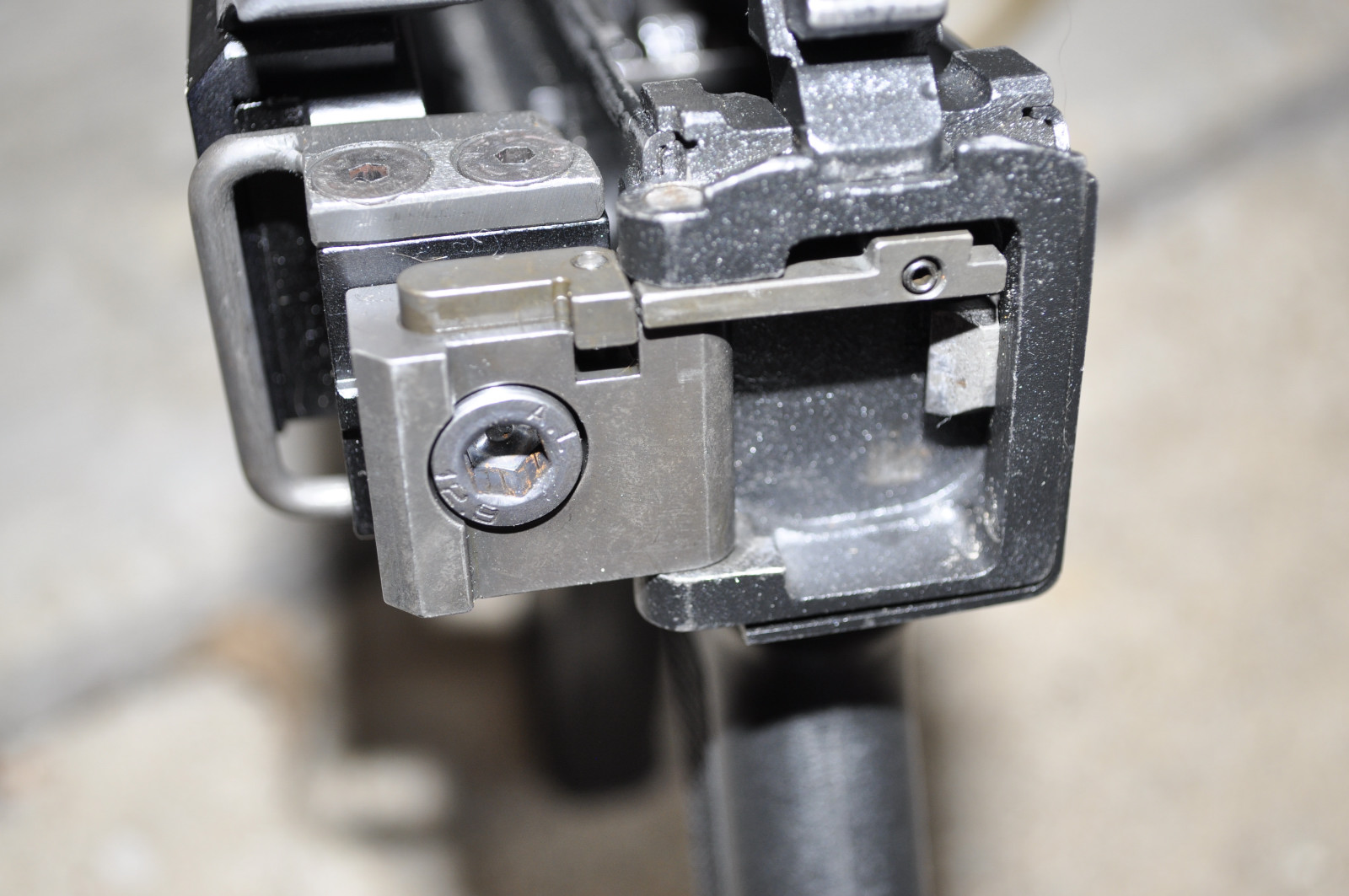 Shown here without the latch insert that locks the stock when in the folded position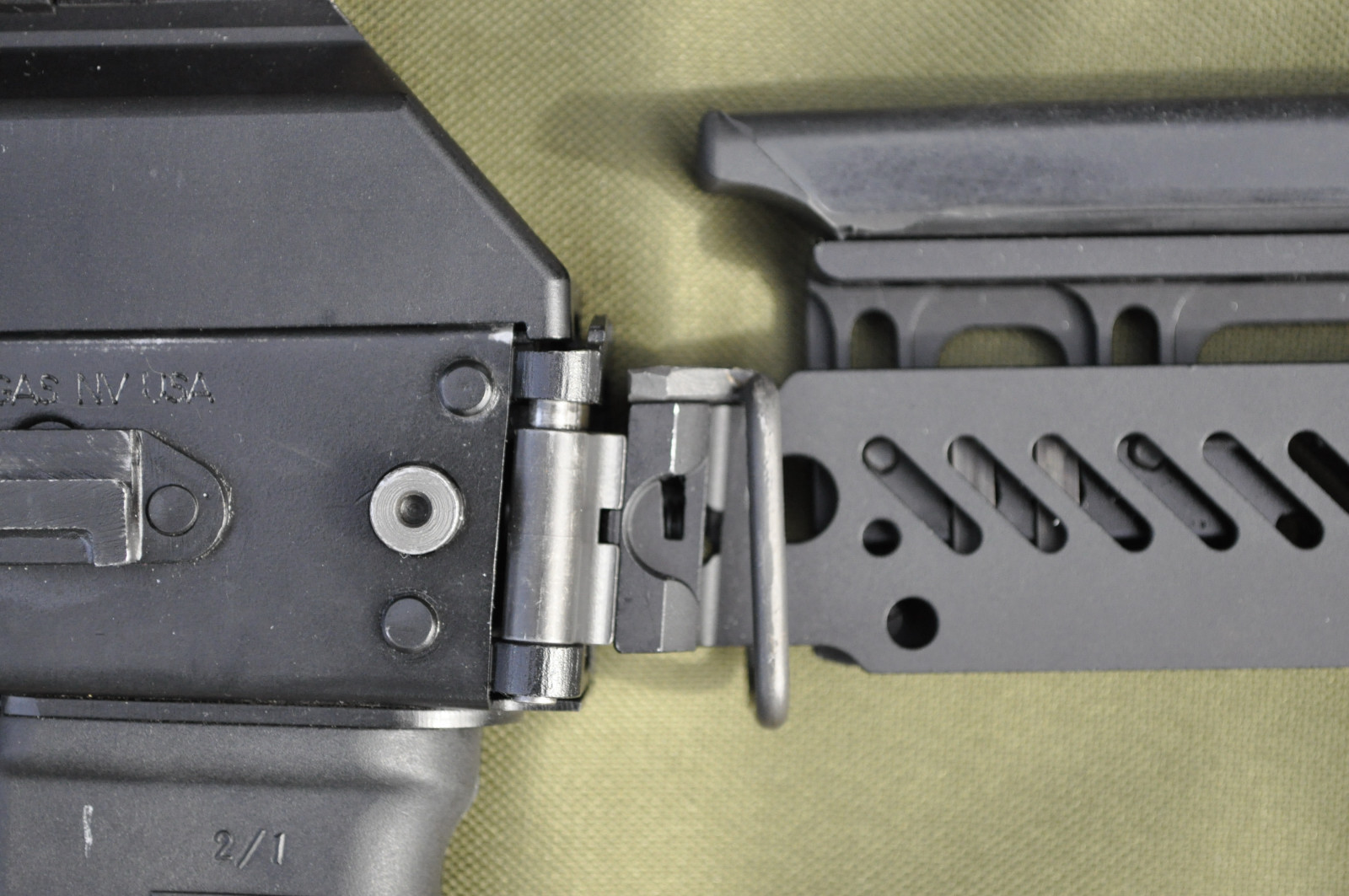 PT3 is also designed to swap latches from 5.5mm to 4.5mm. Both PT1 and PT3 use the exact same hardware so no need to buy full hinges for both stocks, simply move the adapter to either stock as necessary.
Shown here with push button locking mechanism installed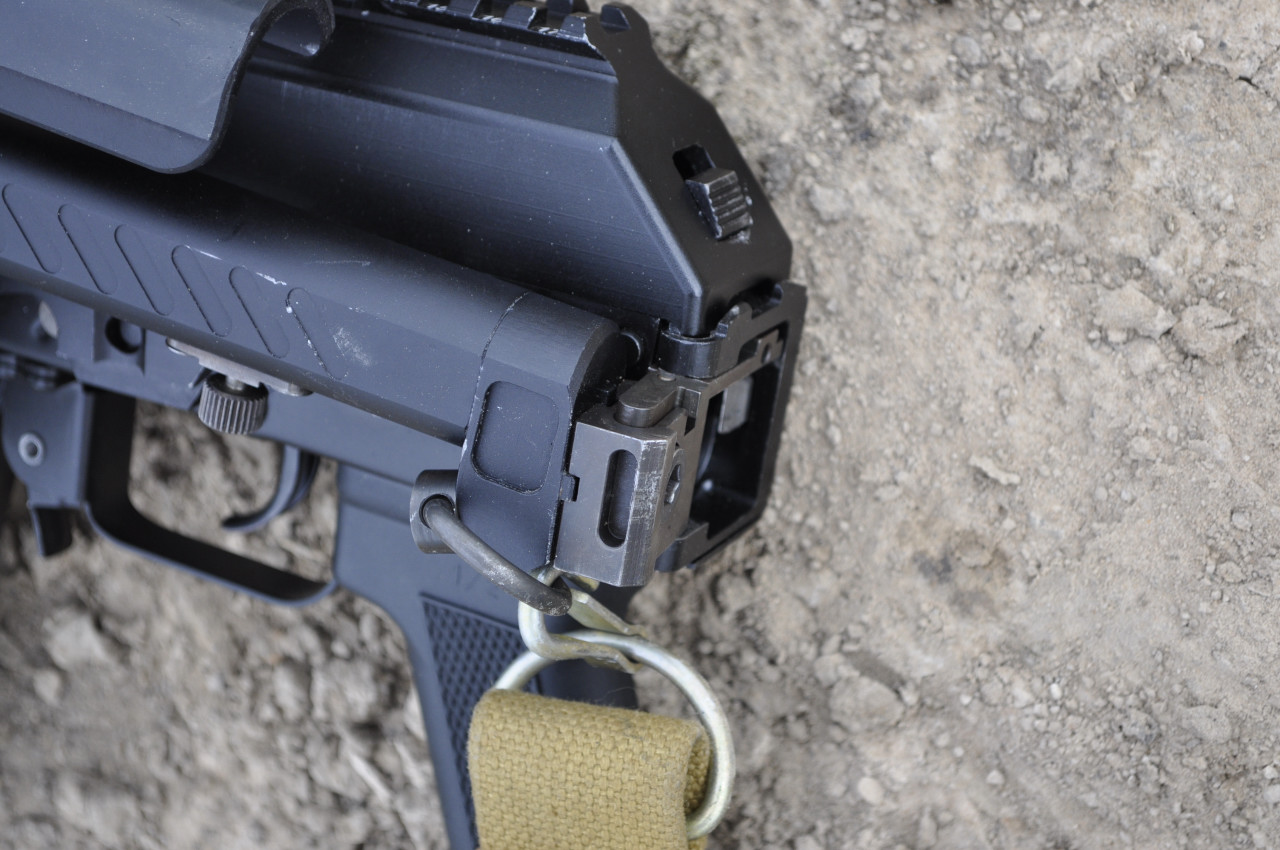 ZenitCo makes larger thumb style screws
to replace the standard allen wrench versions
For those of you who do not want to get uber tacticooled out, you still have some options. This is actually my preferred setup though I confess I am really quite impressed by PT-1 Klassika and intend on swapping it out as the mood strikes. As you can see B10M and B33 coexist perfectly with an otherwise vanilla AK105 or 74M. Muzzle device is the
Manticore Arms Night Brake
(Youtube here)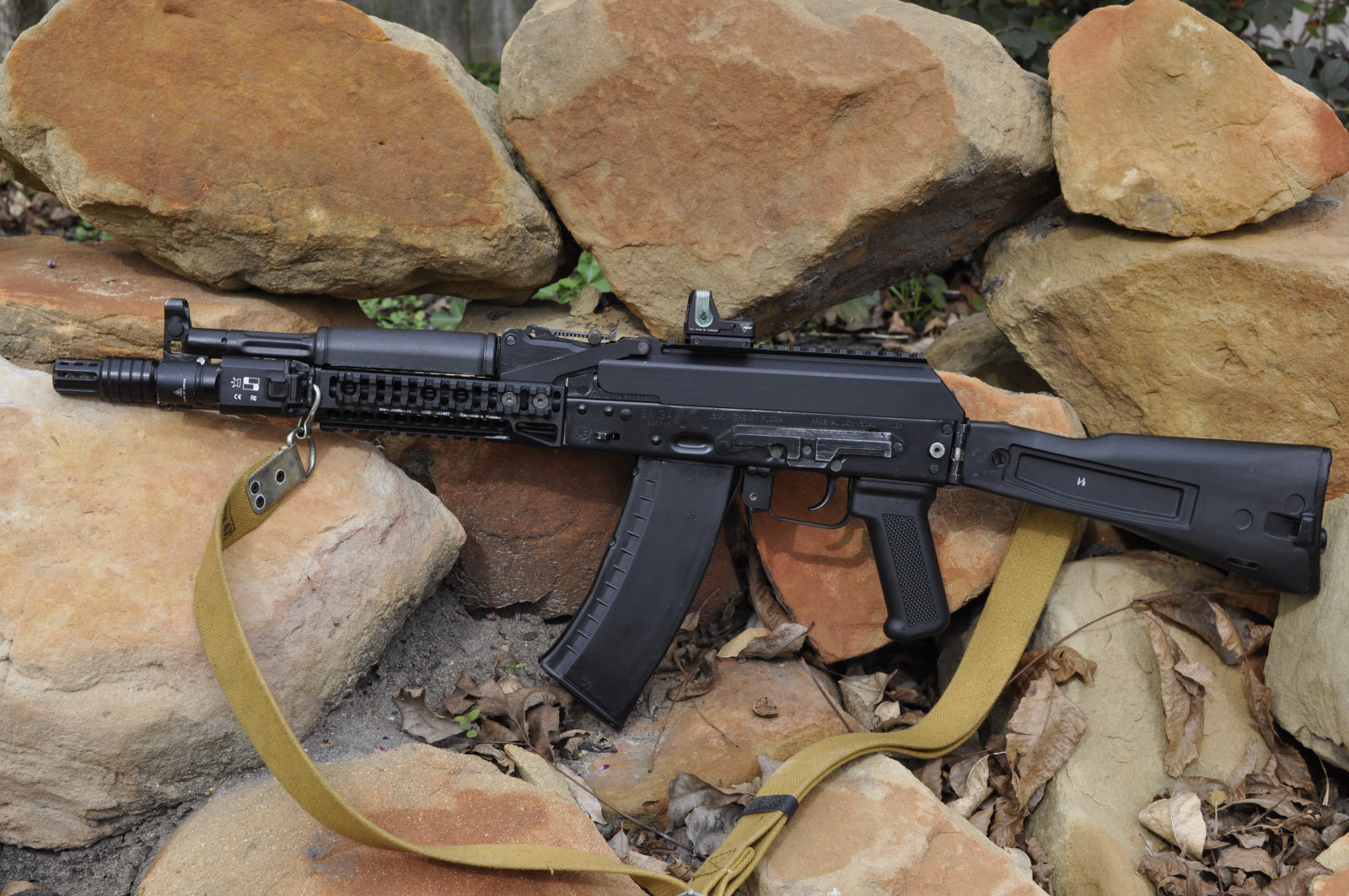 ZenitCo also makes some pretty nifty accessories for the AKSU (and RPK, among other things)
AKSU with B11 rail and Klesh light/laser combo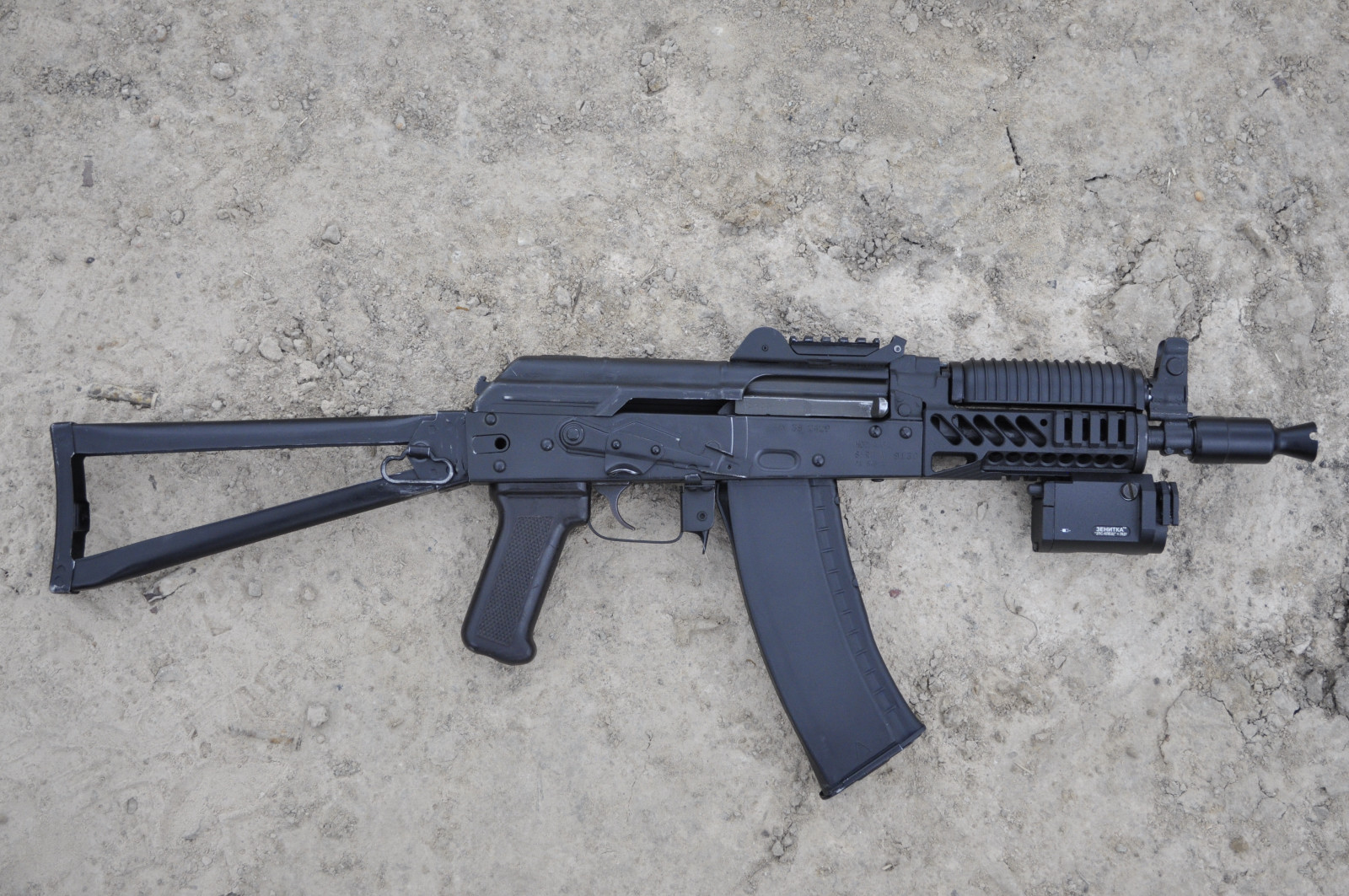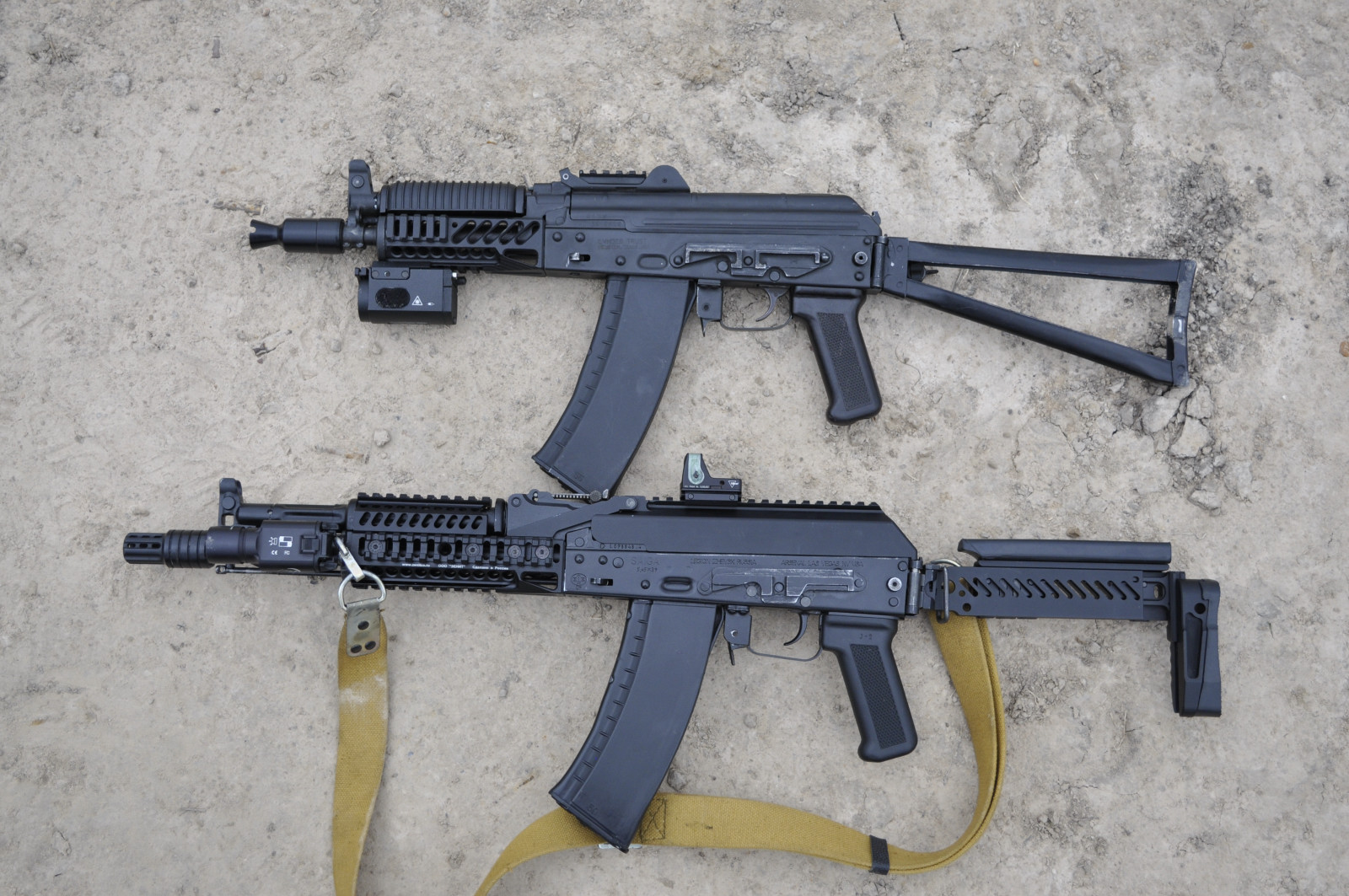 B11 closeup. I am very very impressed with this lower HG rail...the best I've seen for the AKSU bar none. B11 is 4.9 oz and uses the standard ASKU HG retainer to lock in place. (3.3 oz for a standard laminate AKSU lower HG)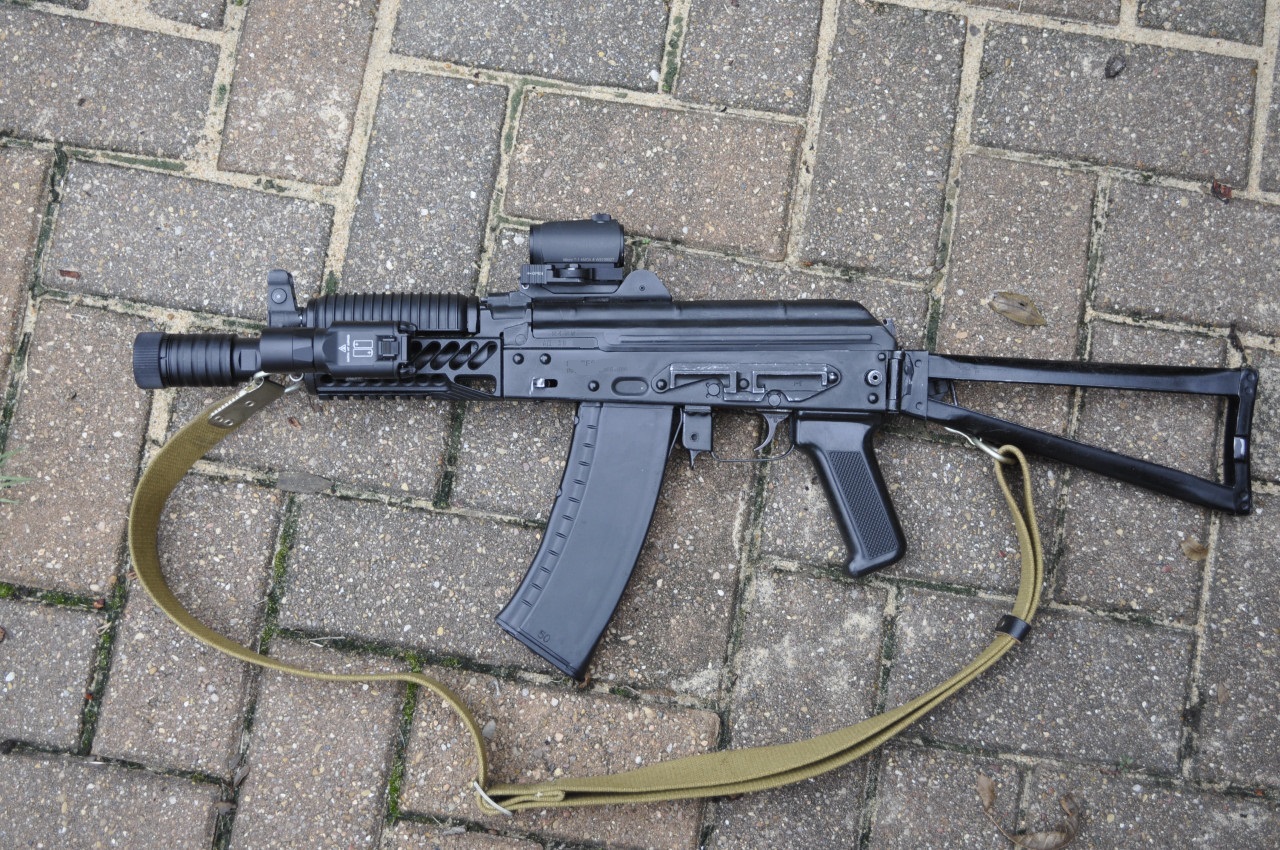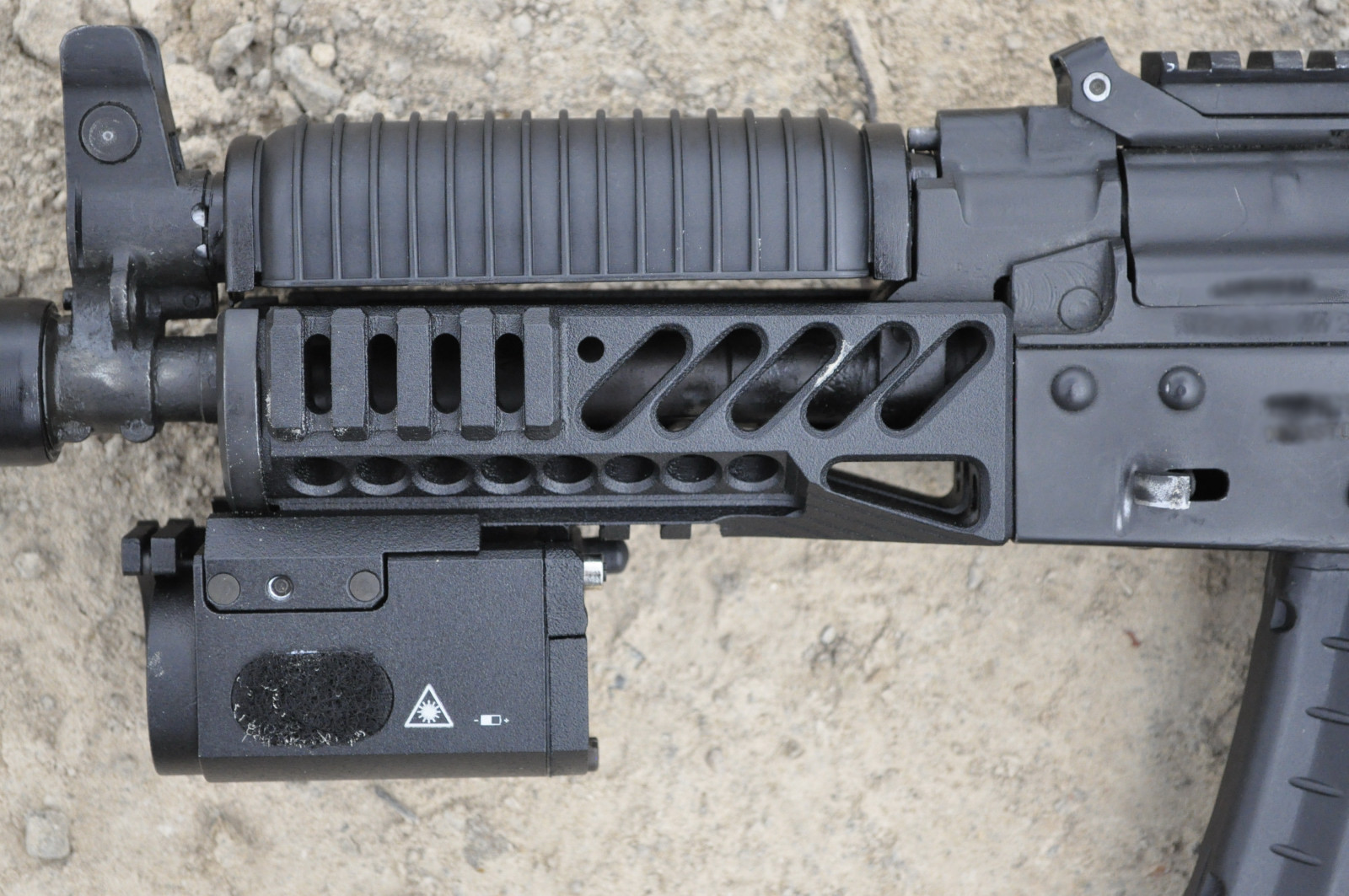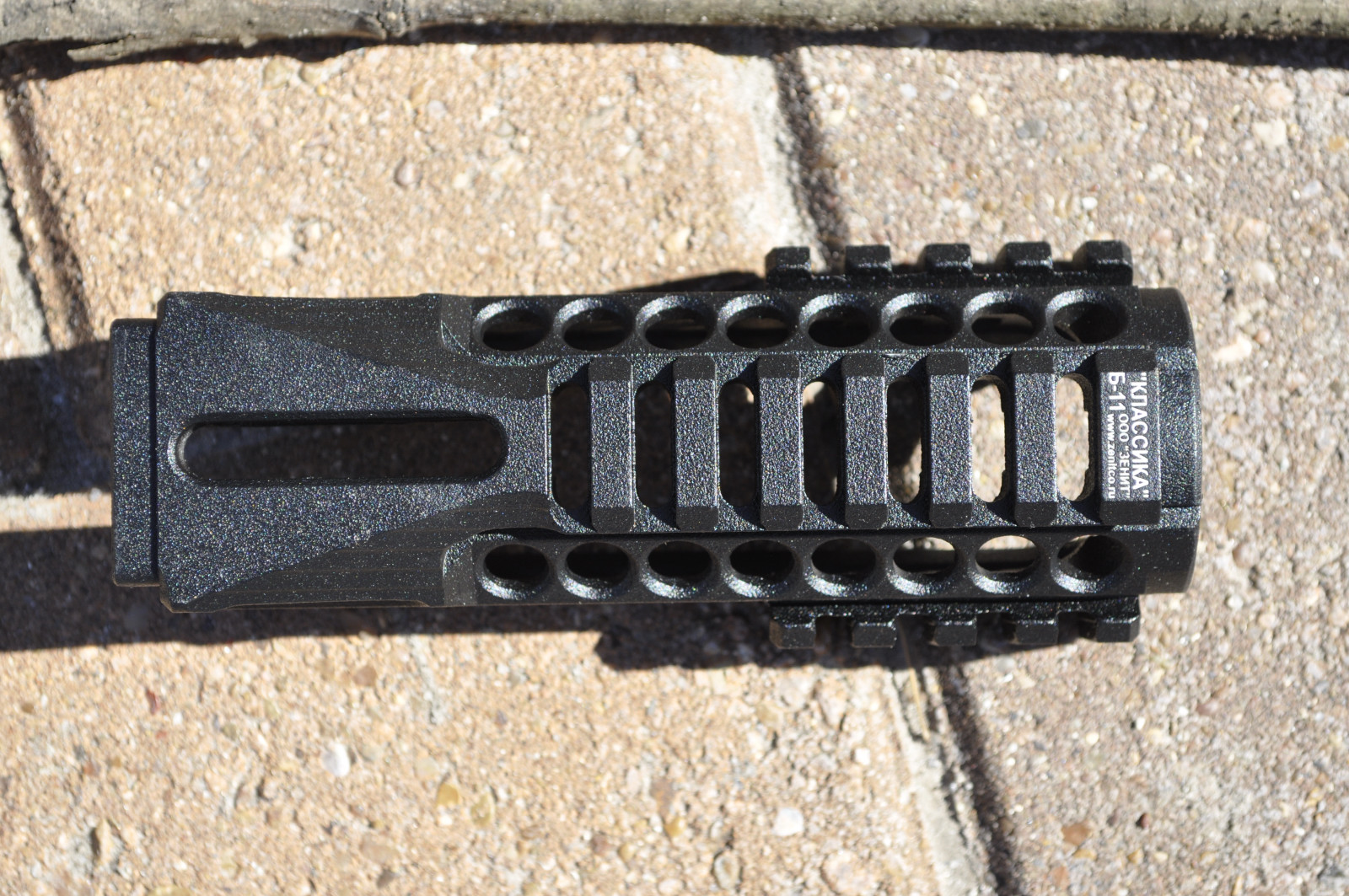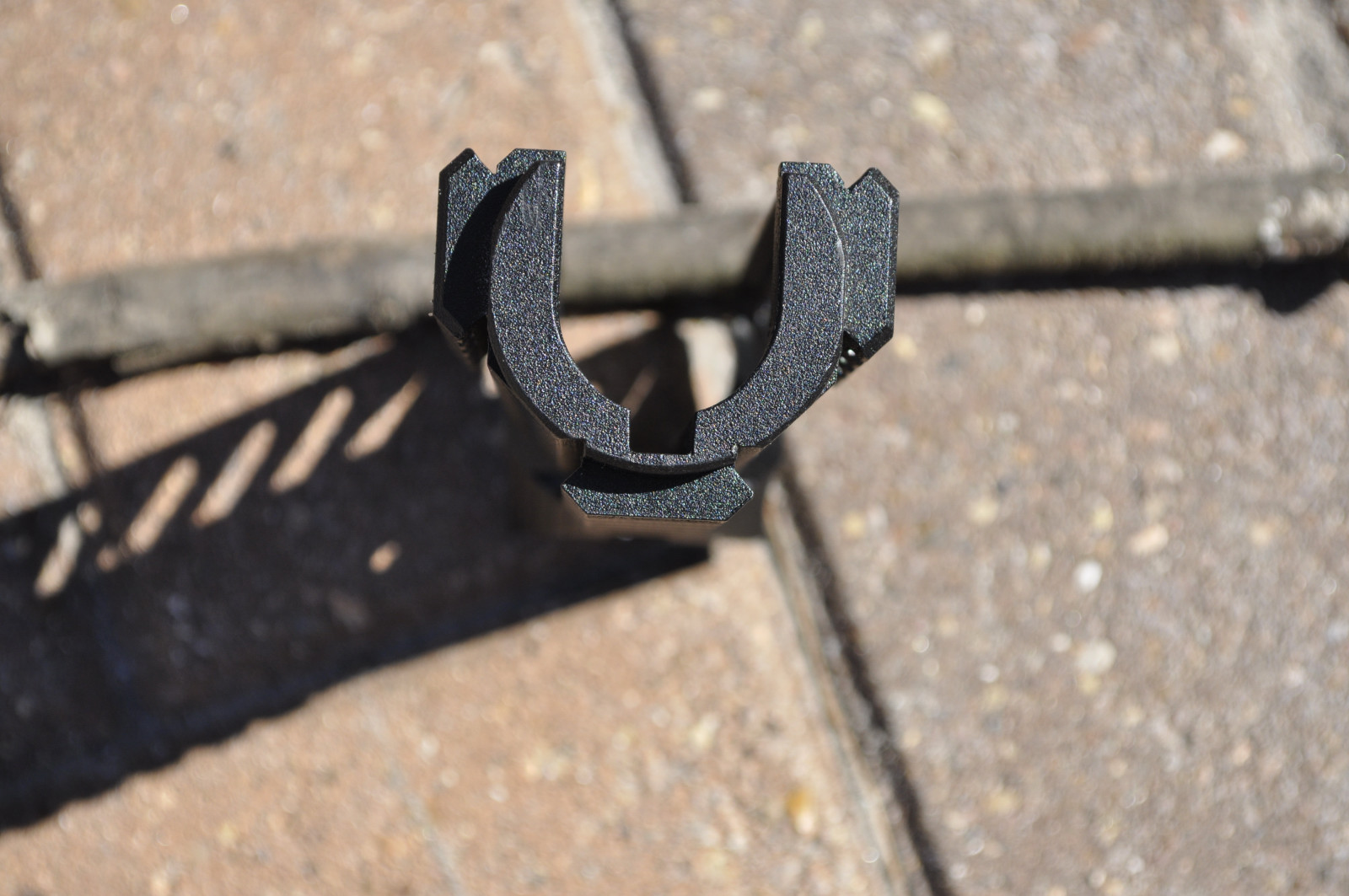 B18 topcover AKSU rail
For those of you who don't want to drill the AKSU topcover for the Stormwerkz rail, ZenitCo makes a screw on rail that fits snugly. With a bit of locktite I can see this working very well. While it does put the optic higher than Stormwerkz does you can still use the irons with the B18 mounted. B18 weighs 1.9 oz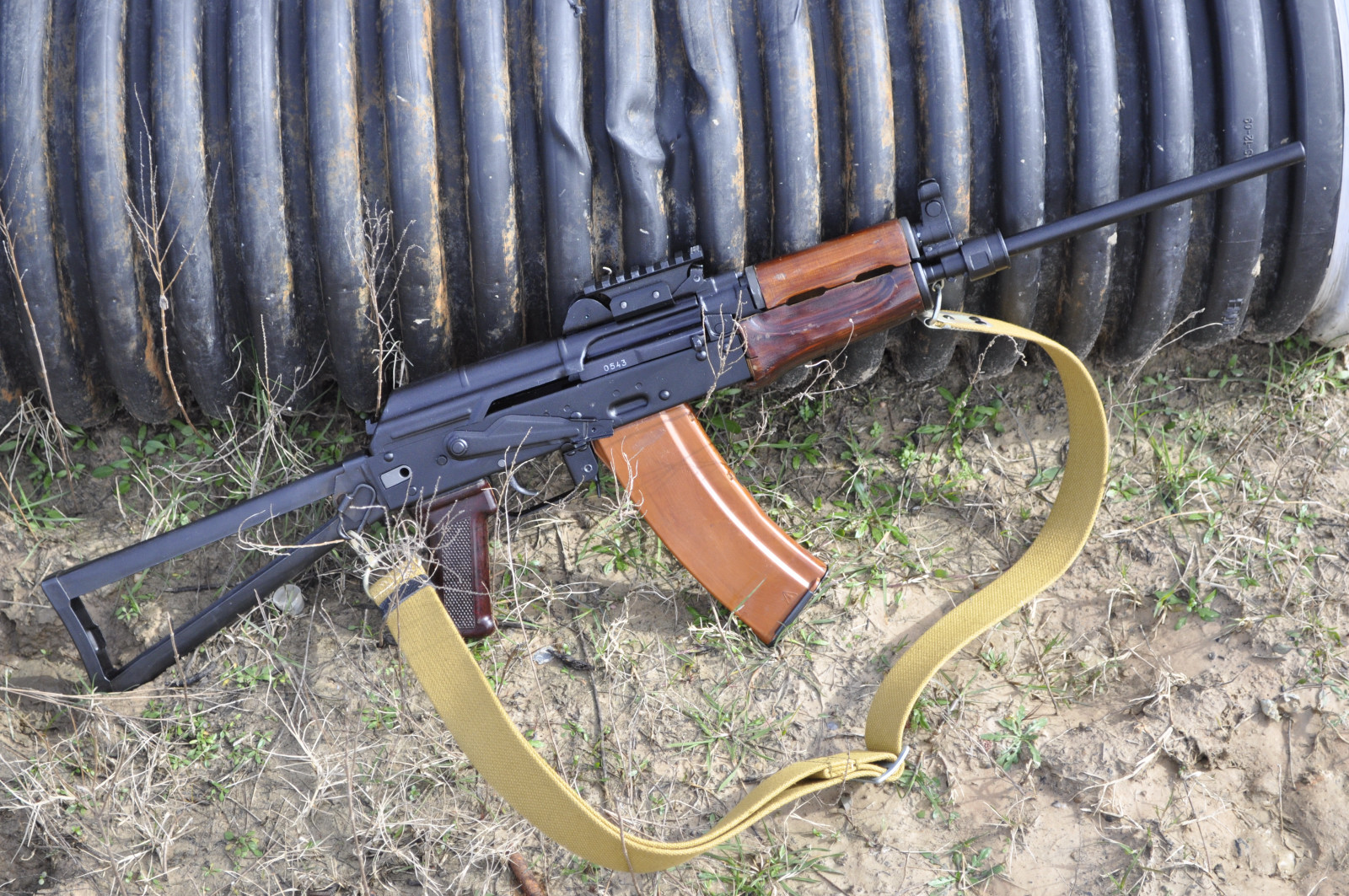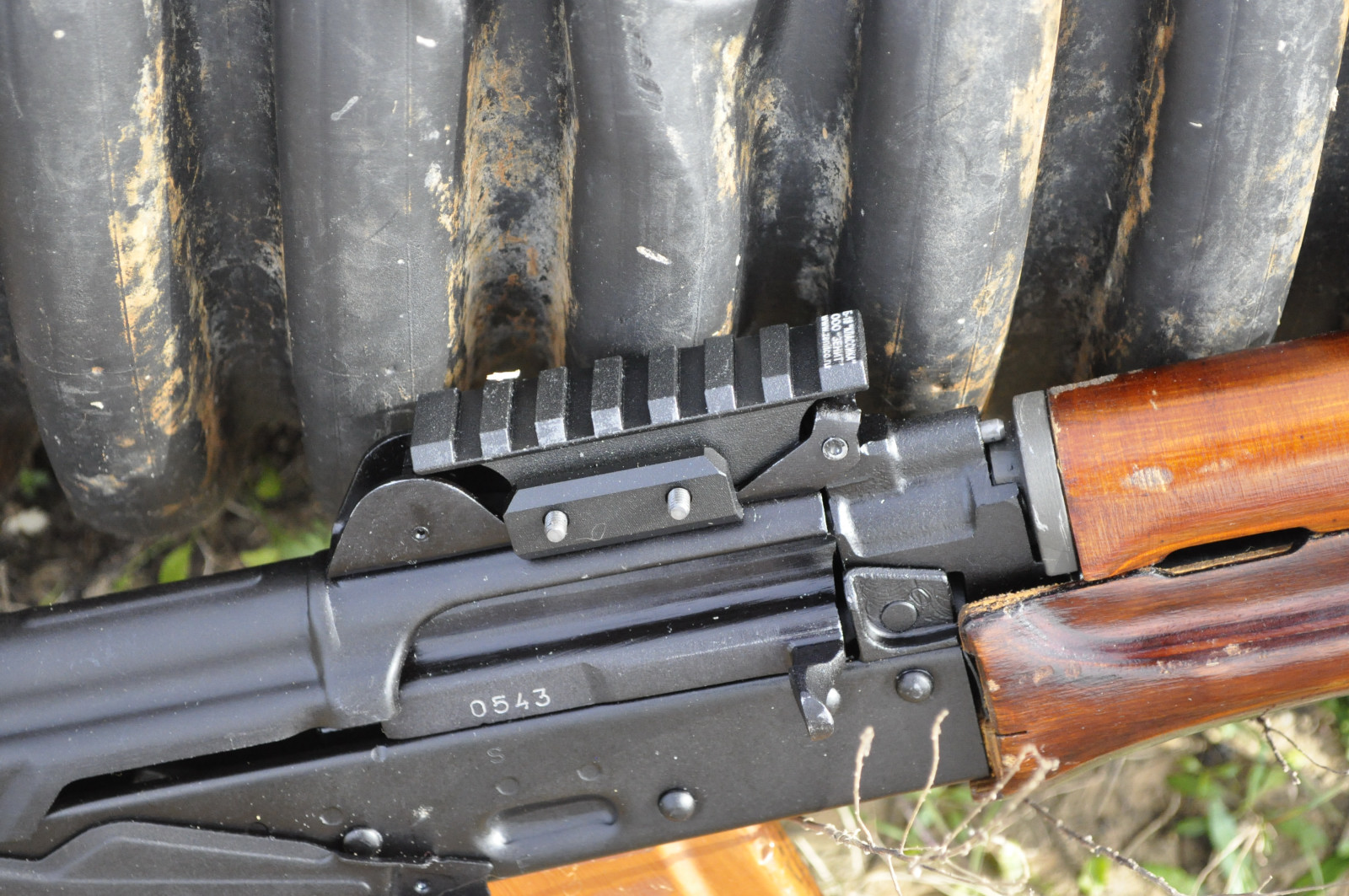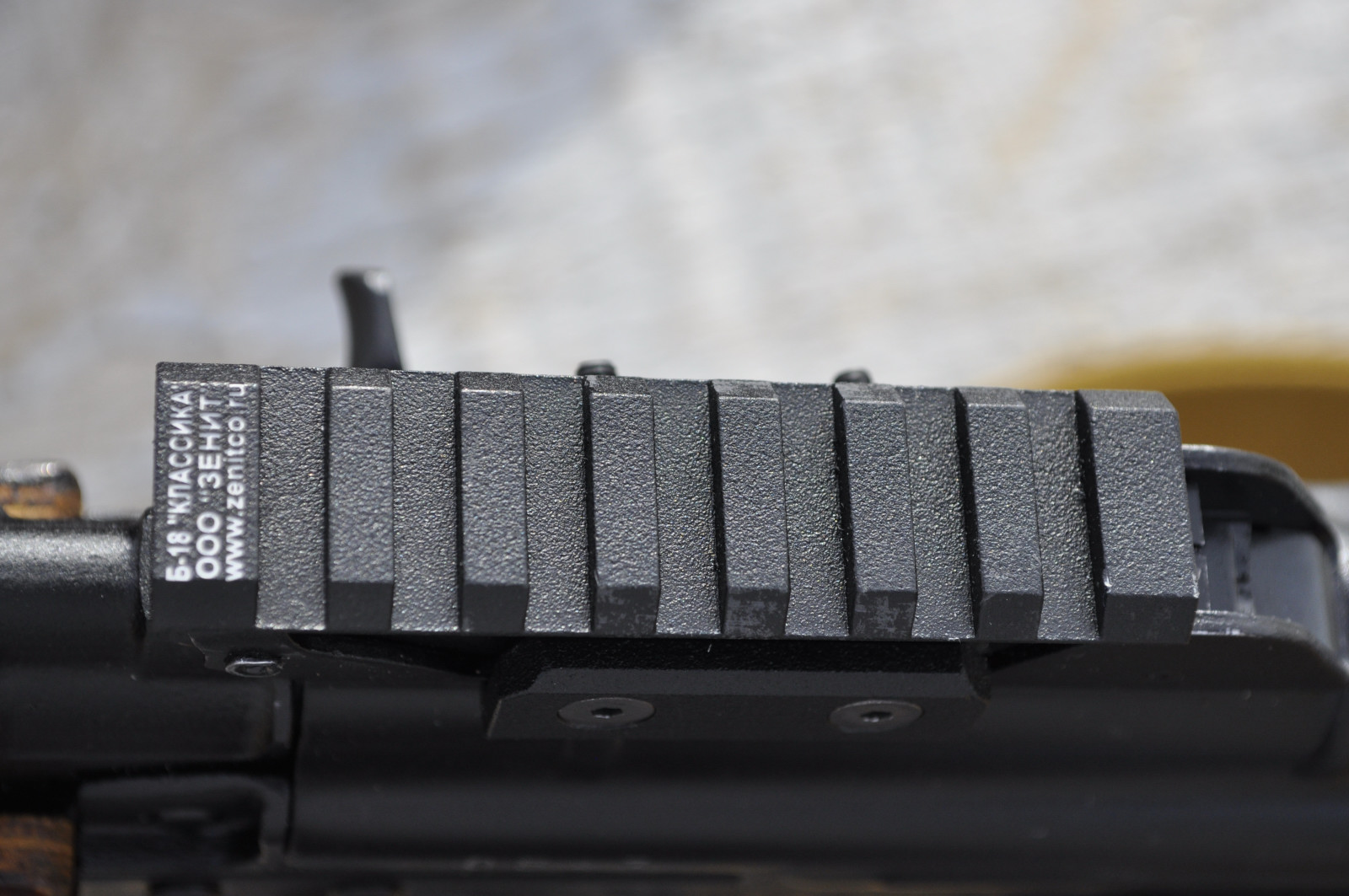 Klesh light
This is light and laser combo that weighs 6.9 oz. Not terribly impressive to me but it seems well made. It can function as light+laser or laser only mode though the toggle is hard to reach and seems better suited to the pressure switch that is included with the kit.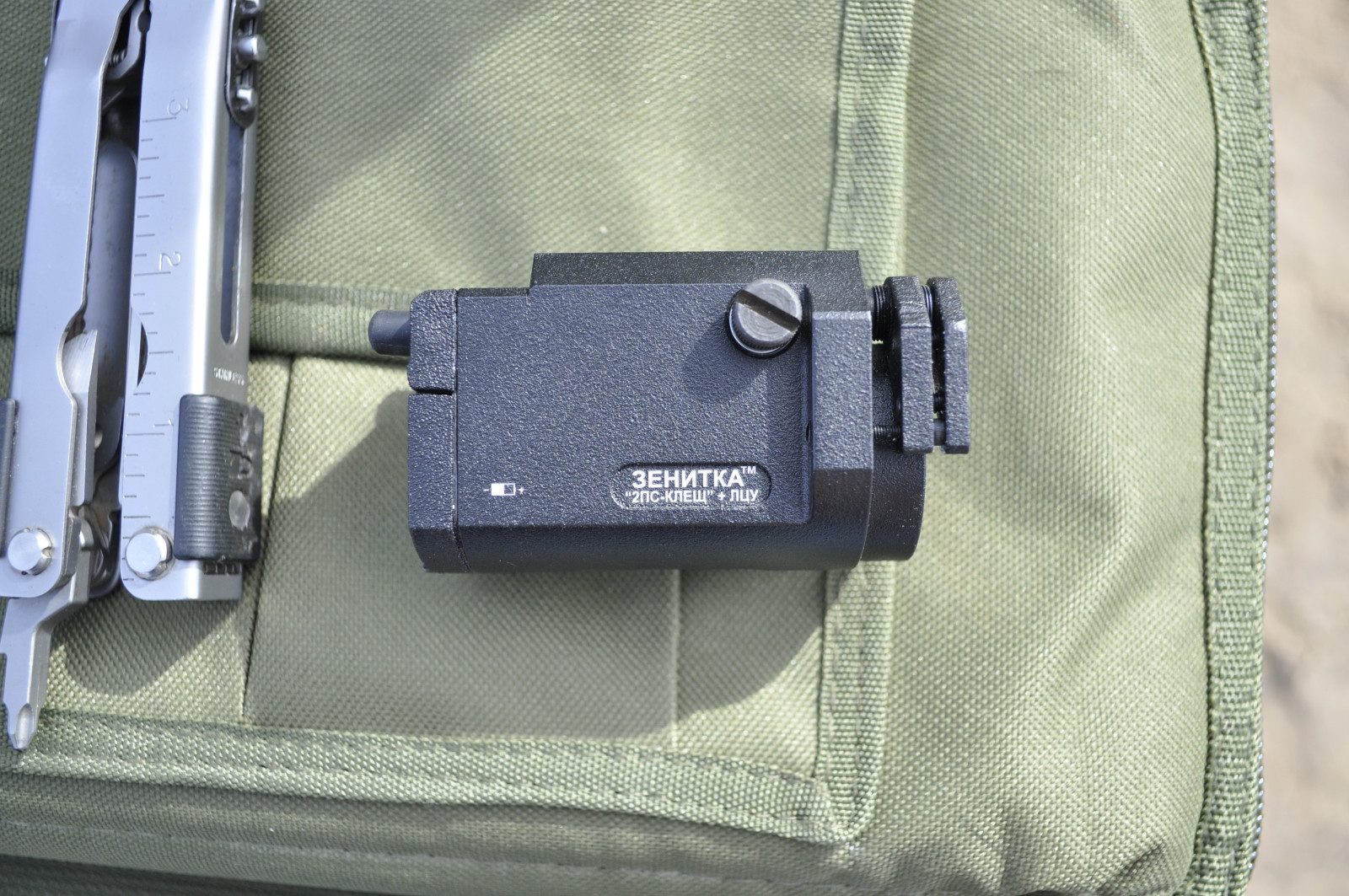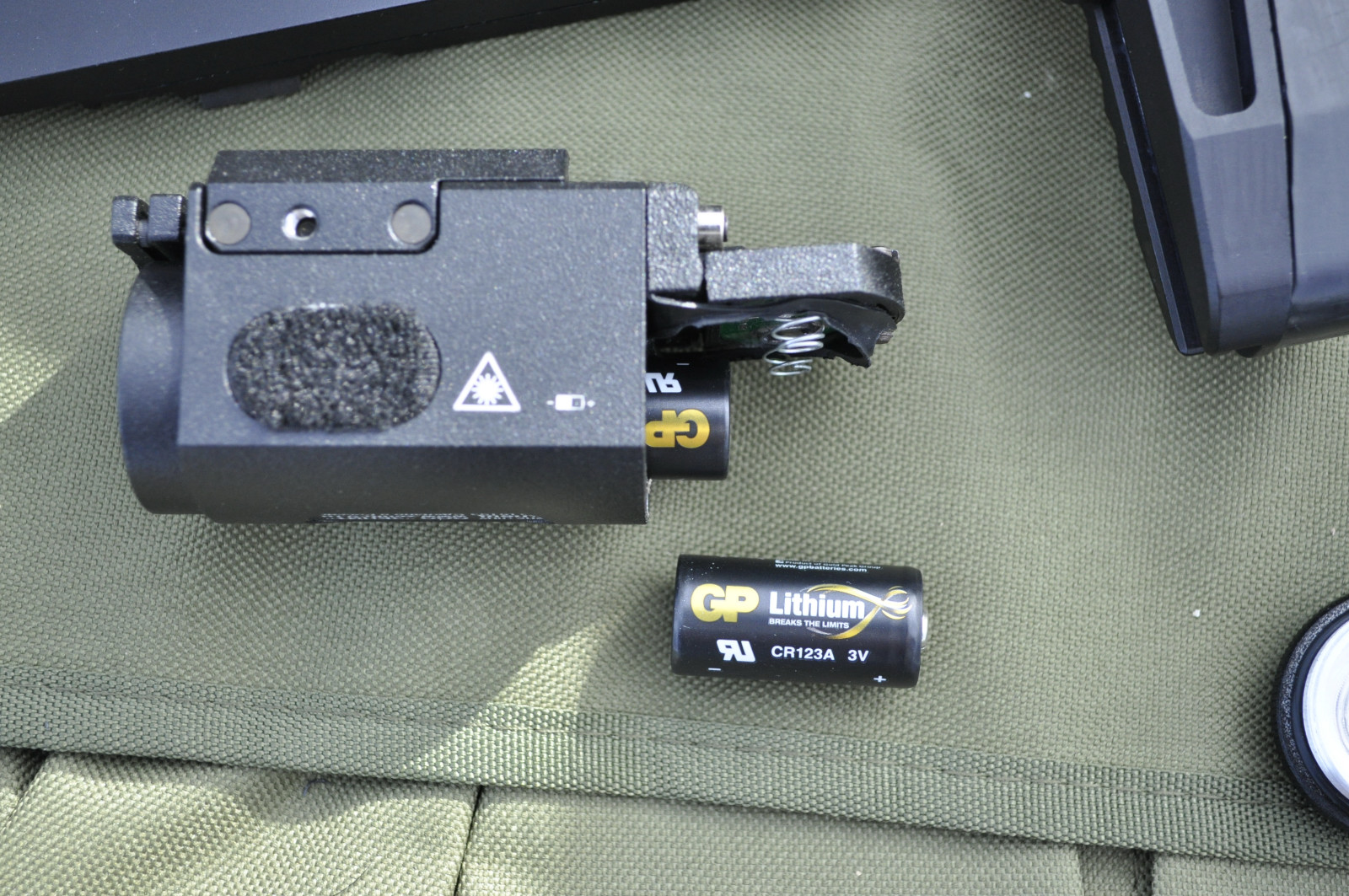 PK-1 grip
A tactical grip with internal compartment. Well made, not much to say. 6 oz.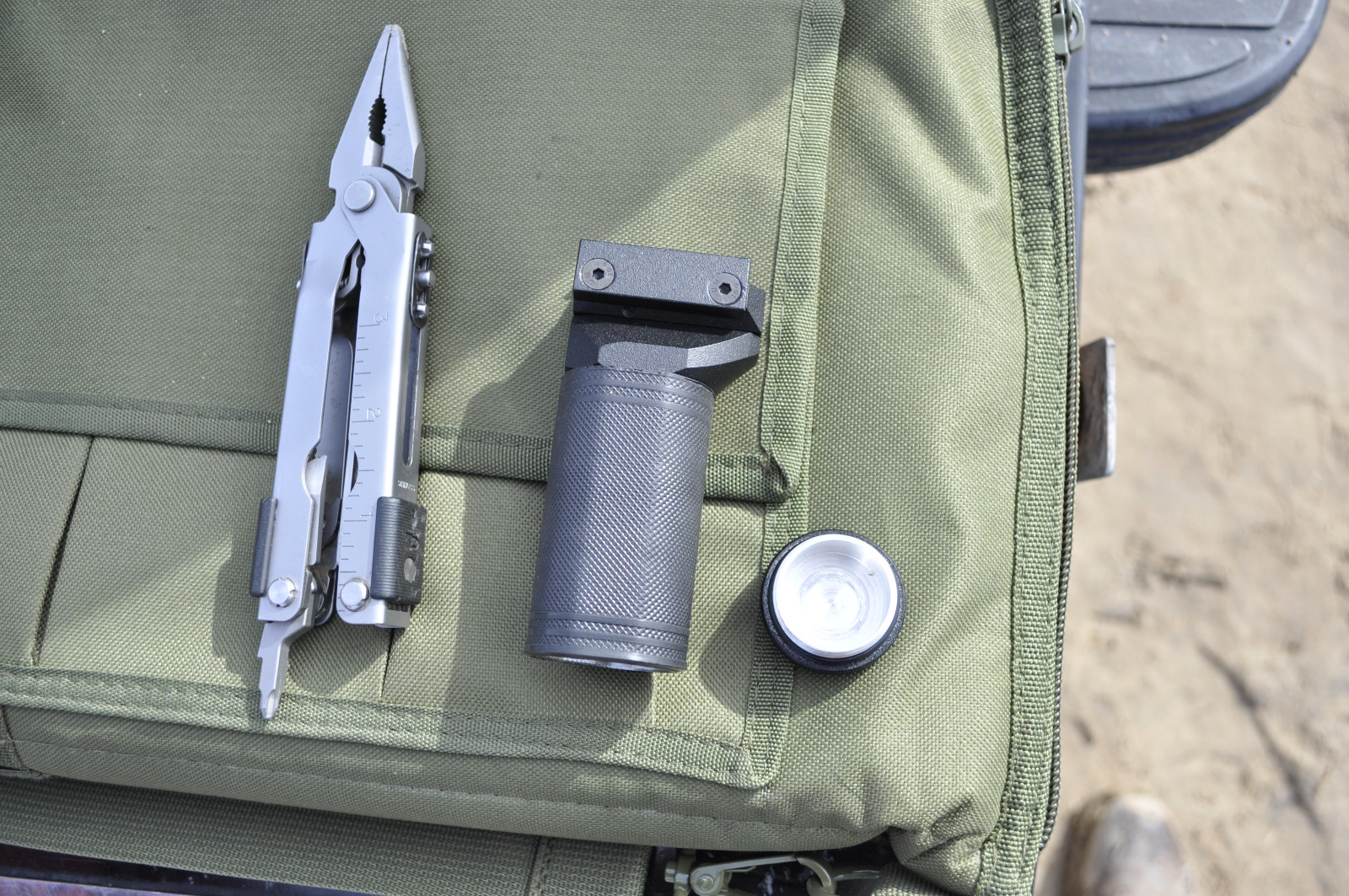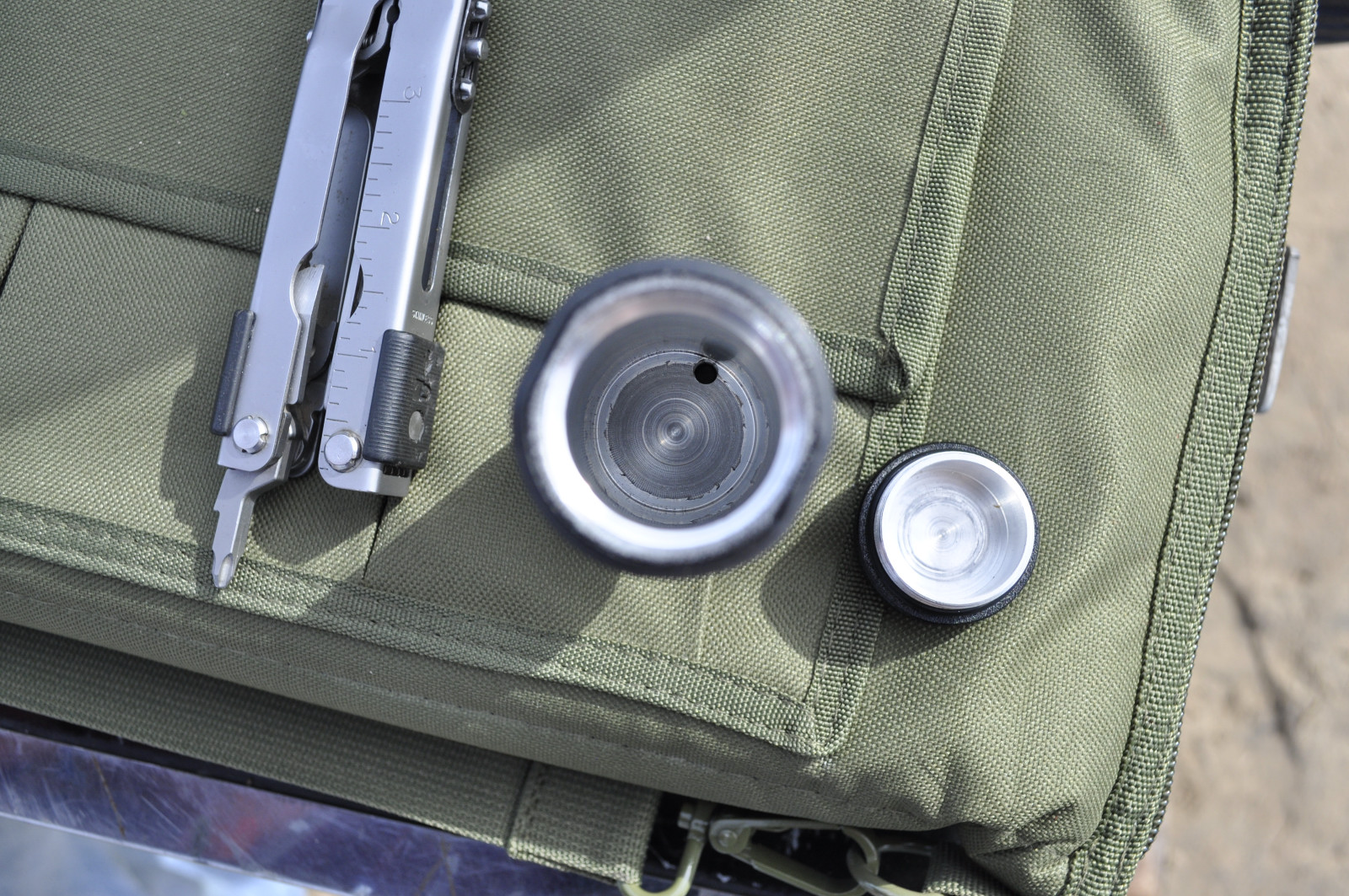 Last but not least is a very interesting side rail, the B13. This is a lightweight 6.0 oz rail that is lower than Alpha or NPZ and almost half the weight. The clamping mechanism is not as sturdy as the tried and true NPZ but it appears that it will stand up reasonably well. (Though I would not be surprised if it failed sooner than the other two under hard daily use)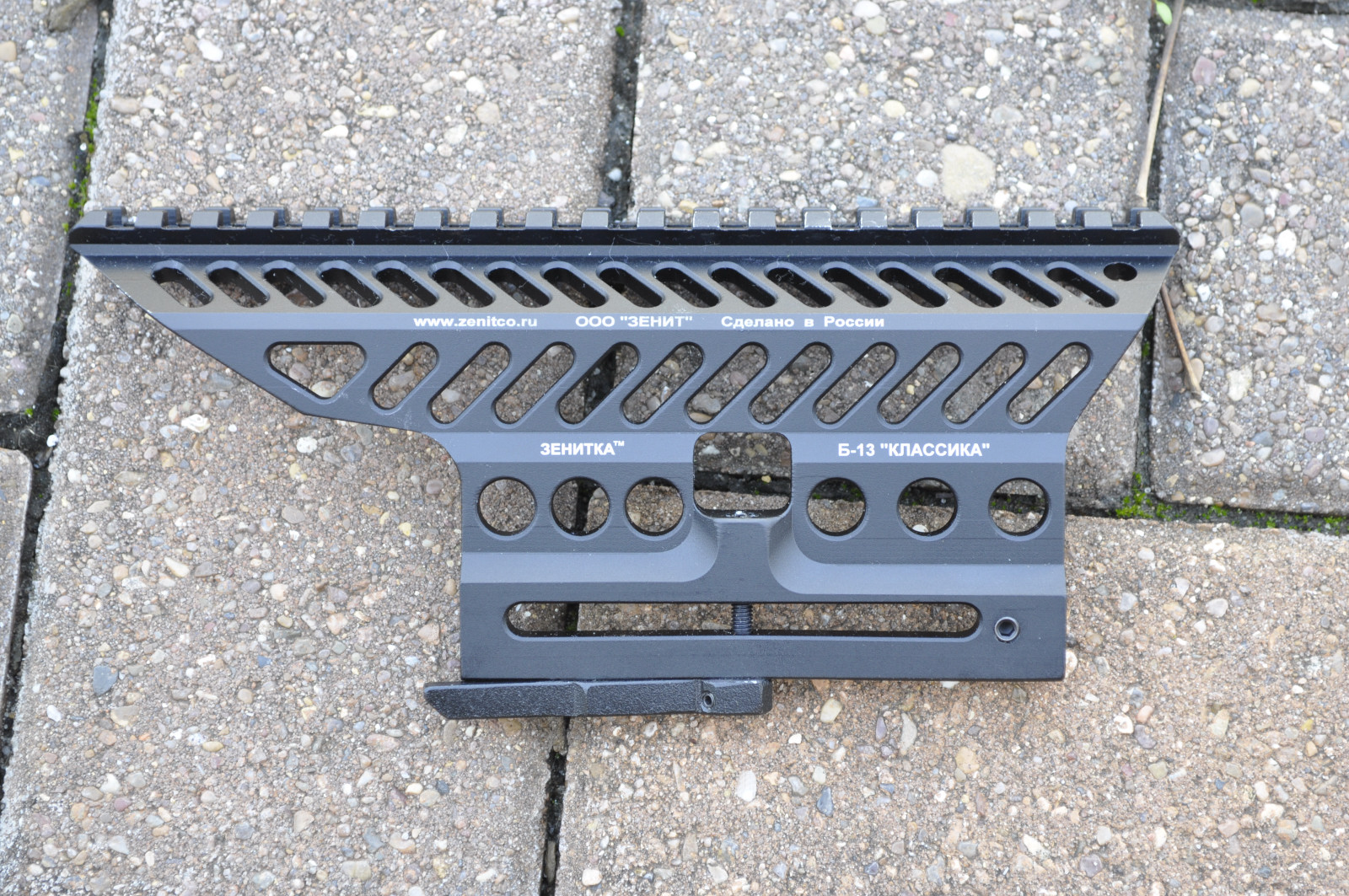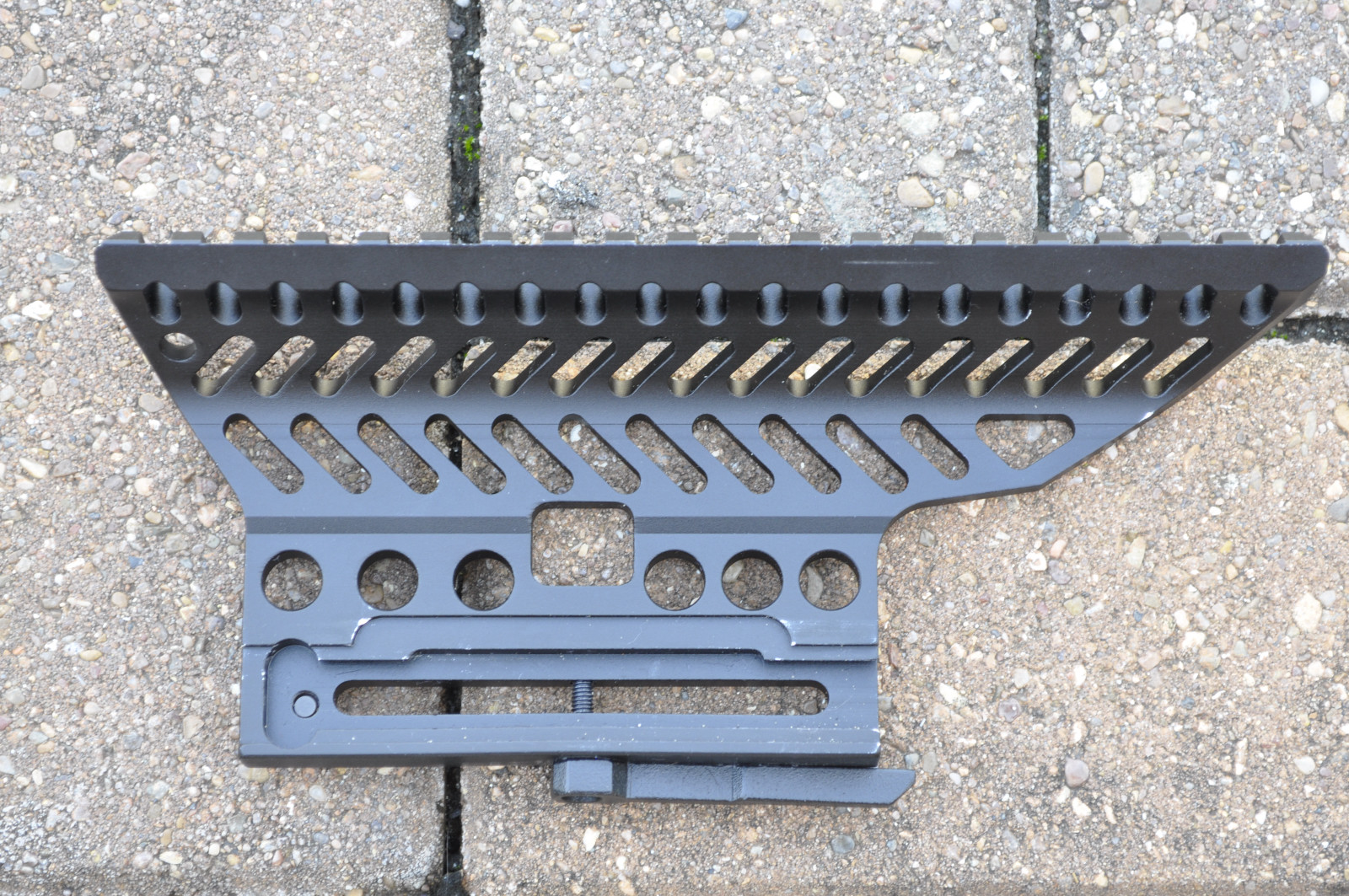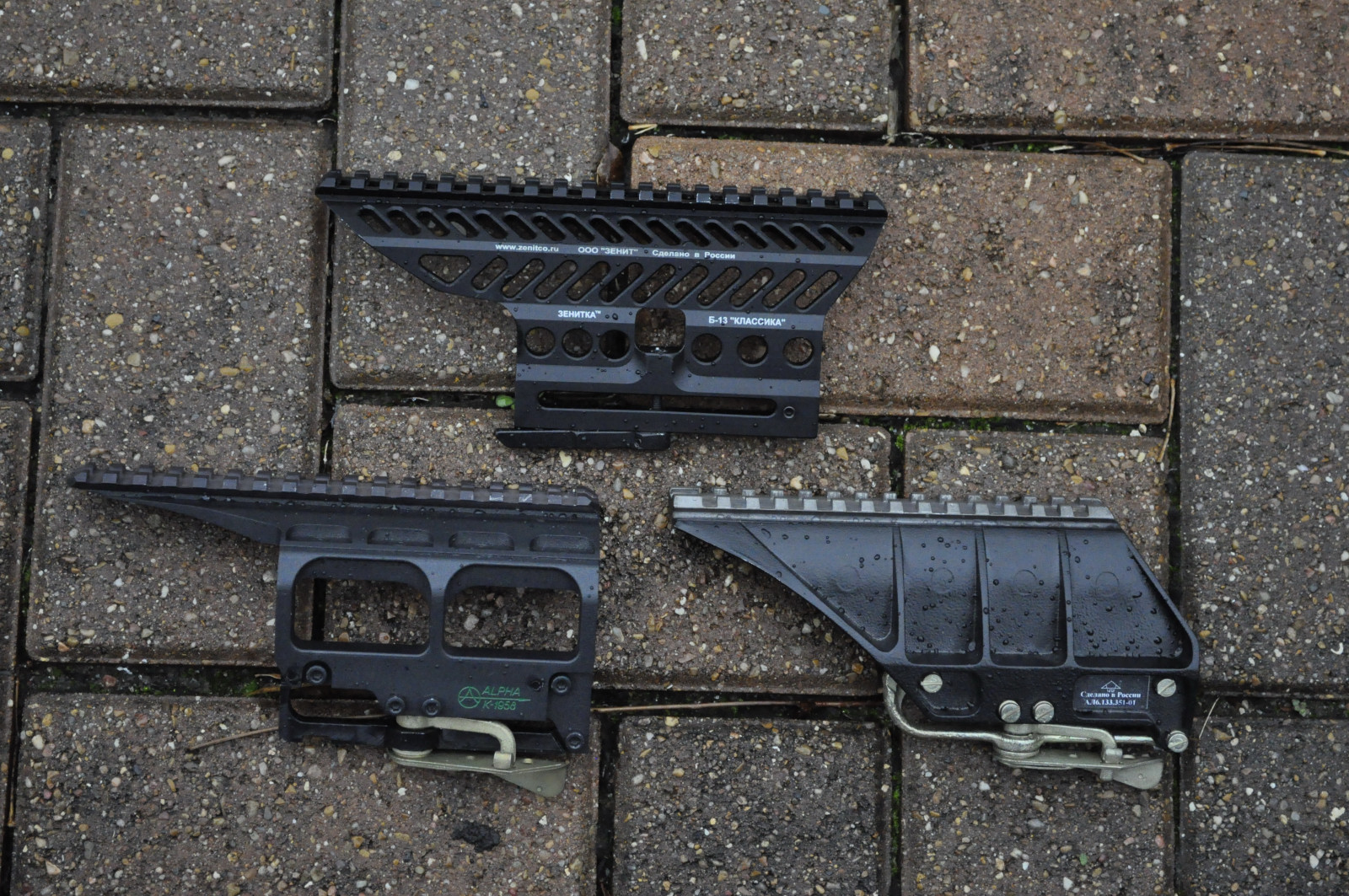 Miscellanious pics
AK105 with with RMR08. As a side note I like this optic due to size and weight but
Obzor
is actually a much better execution and outperforms the RMR dramatically when shooting from a dark position into a brighter one, for example being inside a building and shooting outside. Obzor is not perfect but RMR is next to useless unfortunately.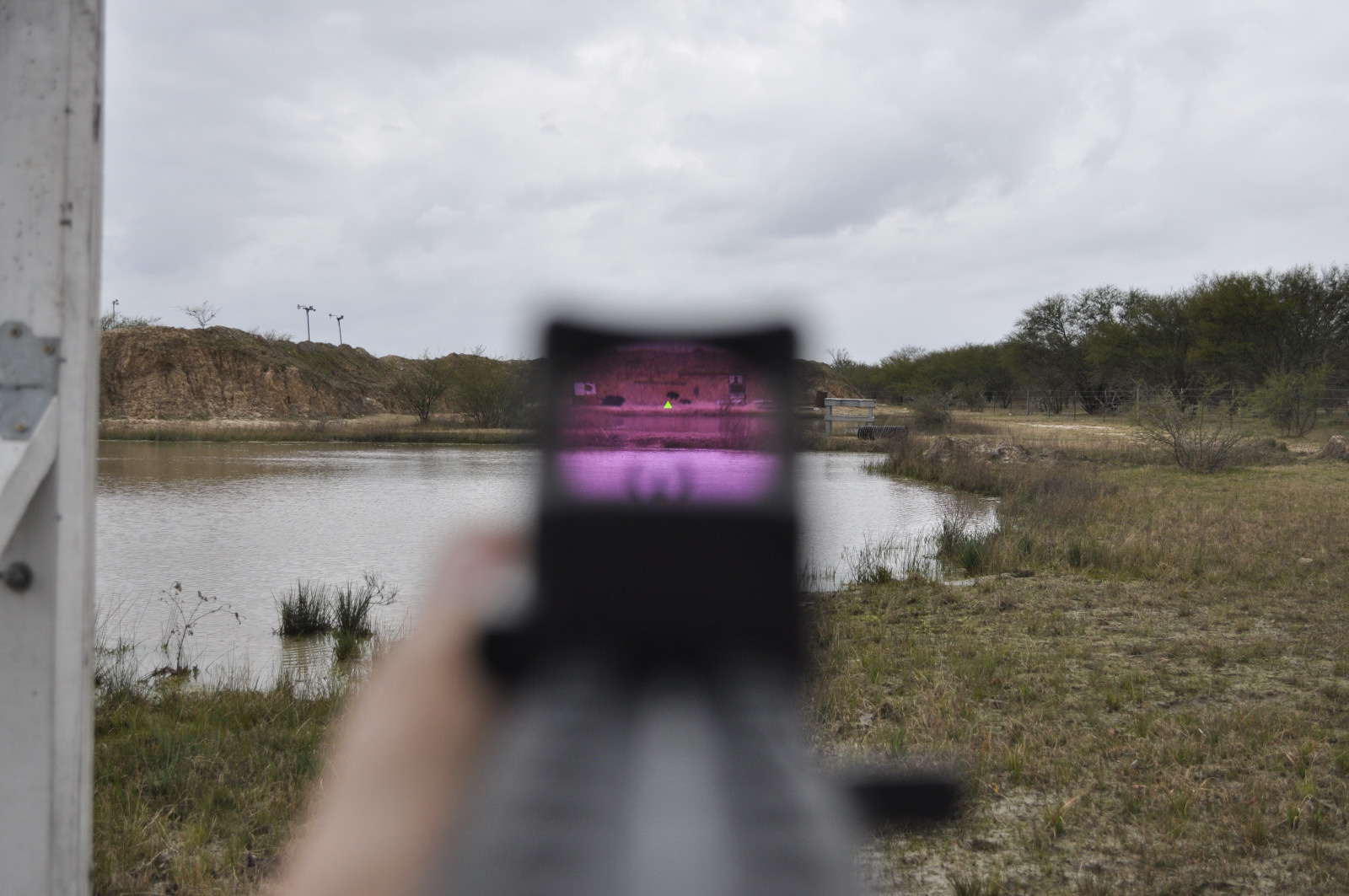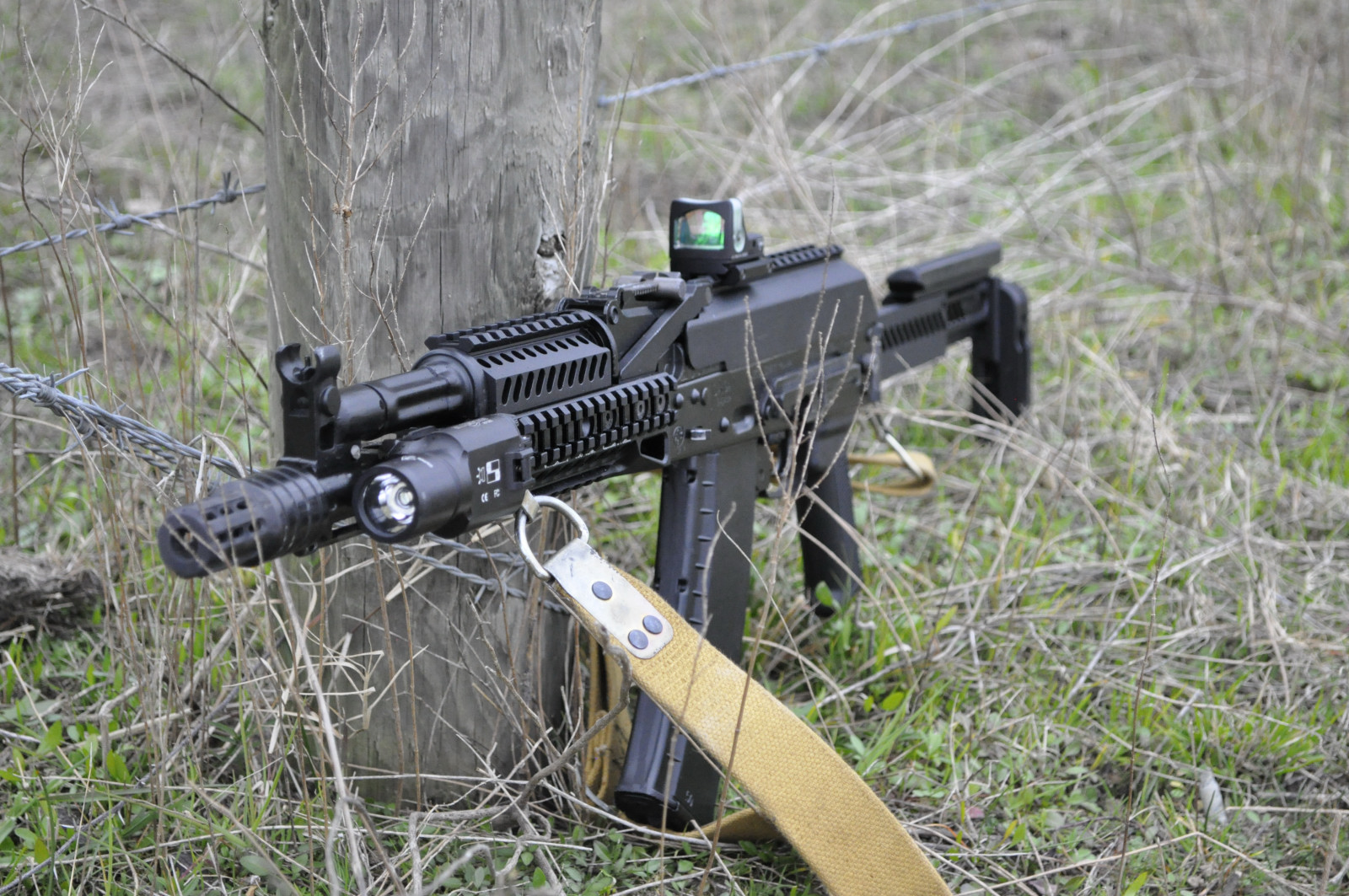 Pricing
These will fluctuate based on whoever brings them in but a ball park prices in Russia appear to be (2015 prices):
B10M Lower HG $275
B10 Lower HG $275
B30 Lower HG $275
B31 Upper HG $150
B33 Top Cover $325
B19 Upper HG $125
PT-1 Stock $400
B13 Rail $200
B11 AKSU HG $200
B18 AKSU $75
PK-1 Grip $75
PT-1 4.5mm converter $75
As you can see the gear is not cheap by any means, to get the AK105 to the config in the pictures ran about $875 with the PK-1 grip.
All things considered the ZenitCo gear appears really well made, has a luxurious finish that appears pretty durable and except for the PT-1 itself are some of the lightest rails and mounts I've come across yet. I wasn't terribly impressed with Klesh because of the finicky on/off toggle which is nearly impossible to reach with your finger, but it really appears that it's intended to use the momentary pressure switch which would make the toggle a moot point.
My favorite pieces of the kit are the B10M + B33 topcover and the B11 lower AKSU hand guard. PT-1 is neat but I have to mention the possible durability issues (though not for me personally, I do not anticipate I will be running the gear as hard as the professionals do). I have high expectations that the B33 will perform well with magnified optics in the return to zero department and I do intend on systematic testing as the weeks roll by to see where it ends up.
Final thoughts are that the gear is pricey and out of the casual AK users reach but apparently the demand for their products is very high in Russia among professional operators.