A long time favorite of mine, the PK-AS is an interesting and well designed collimator sight that has probably the best field of view of any red dot or collimator type optic that I've seen. Originally descended from the PKS-07 magnified scope used on the SV98 and sometimes SVD Dragunov rifles, the PK-AS is the non magnified version inspired from the original PKS-01.

Of all the collimators I have personally used it seems to me that PK-AS has the highest light gathering and clearest optical quality. Due to it's construction and with such a thin scope body the edges almost completely disappear with both eyes open, leaving you with virtually nothing to obscure your vision. A small 1.5moa always on black dot is handy for more precise shooting and a large black oval is useful for CQB shooting. The PK-AS dot can be illuminated red for low light/night shooting and uses common CR357 type watch batteries, and has a variable intensity as part of the on/off knob. Battery life at max brightness is about 120 hours. Only the dot illuminates, not the oval as well.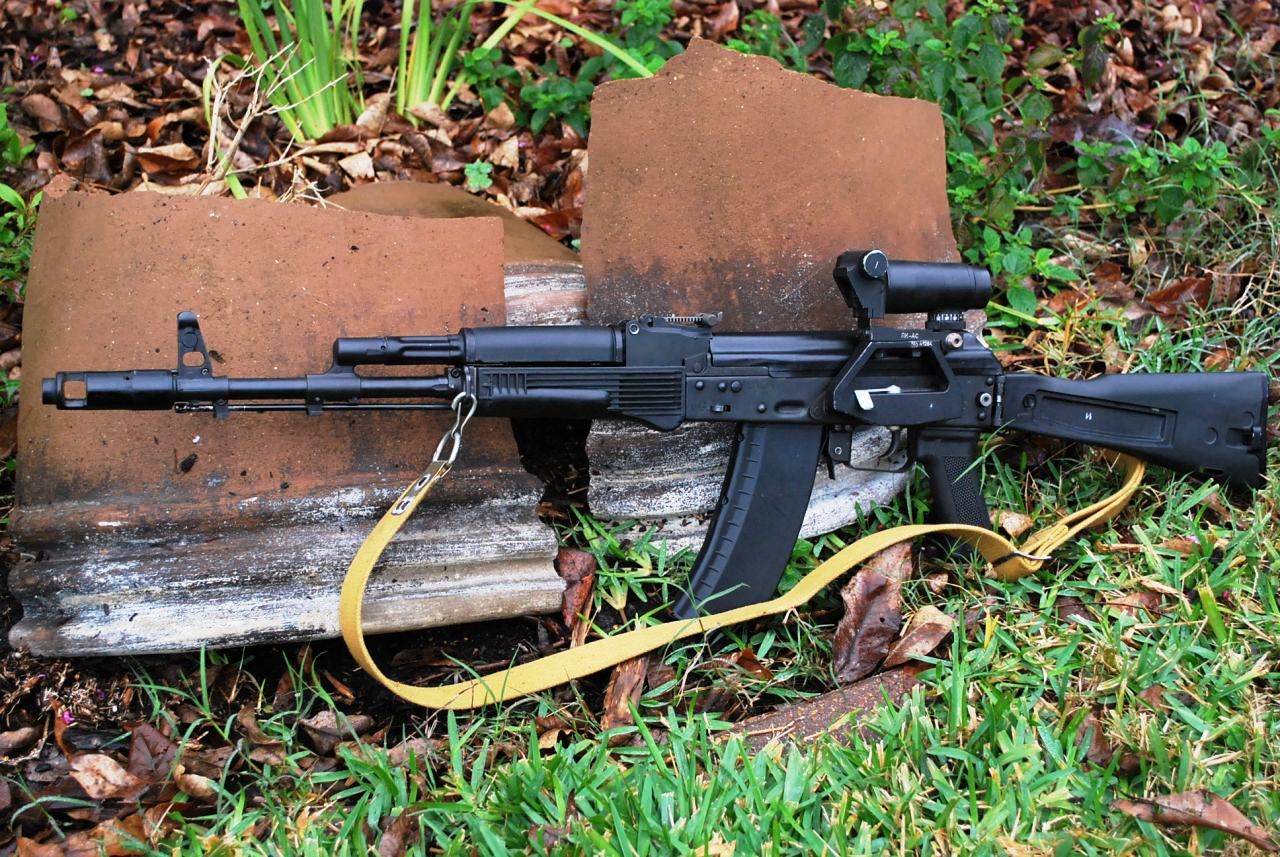 This is the most difficult Russian optic to zero due to the mechanical nature of the windage and elevation controls and this is actually an intentional part of the design. PK-AS was intended to be zeroed to a specific rifle and to remain paired with that rifle, therefore the ability to easily re-zero in the field did not appear to be necessary.

KalinkaOptics has a manual for the PK-AS that explains the features in detail, as well as how to zero. Having experience with it I can say it's not too difficult once you get the hang of it but it's really not the easiest thing for a first time user.


PK-AS comes with a 3.5mm wrench for adjustment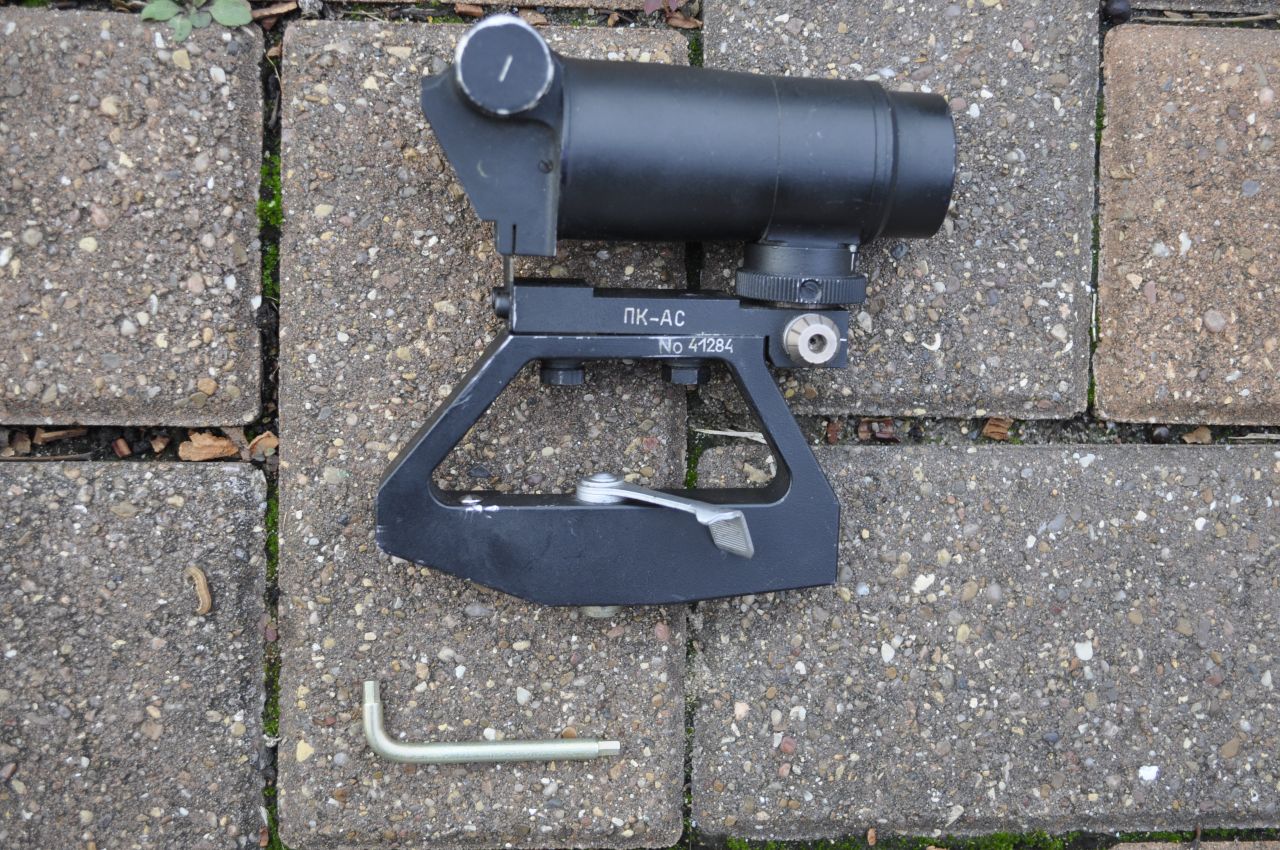 From Avtomats-In-Action



This is also one of the most left offset optics and has a reputation for not giving a good cheekweld. If you are right eye dominant I think this is true, however with both eyes open you can still get somewhat of a chinweld. It's definitely to the left however and can be tough for new shooters to get used to. Because of the offset PK-AS does not block the irons, but the AK version with MTK83 mount does. The AK version sits higher than regular PK-AS however and that may take some getting used to as well. My personal experience was that I had to train with this optic to get used to, it wasn't as natural as other rifle/optic combinations I'd tried but as I learned to shoot with both eyes open and practiced more close range drills I began to get an idea of why it was designed the way it was. After you spend some time with it it becomes easy to use and I continue to respect the PK-AS, but all things considered I think Rakurs is probably the better of the two.

PK-AS has an elevation cam wheel graduated in 2 MOA increments that can be used for any caliber rifle if you know your ballistic drop at range. I believe the pure military version of the PK-AS elevation cam is in meters but I have not verified this in person. Suffice to say that it can be easily used out to 400m by applying the standard 22cm offset of the 400m zero principle, allowing you to put the dot on center mass and not have to know or adjust for range out to about 400 meters.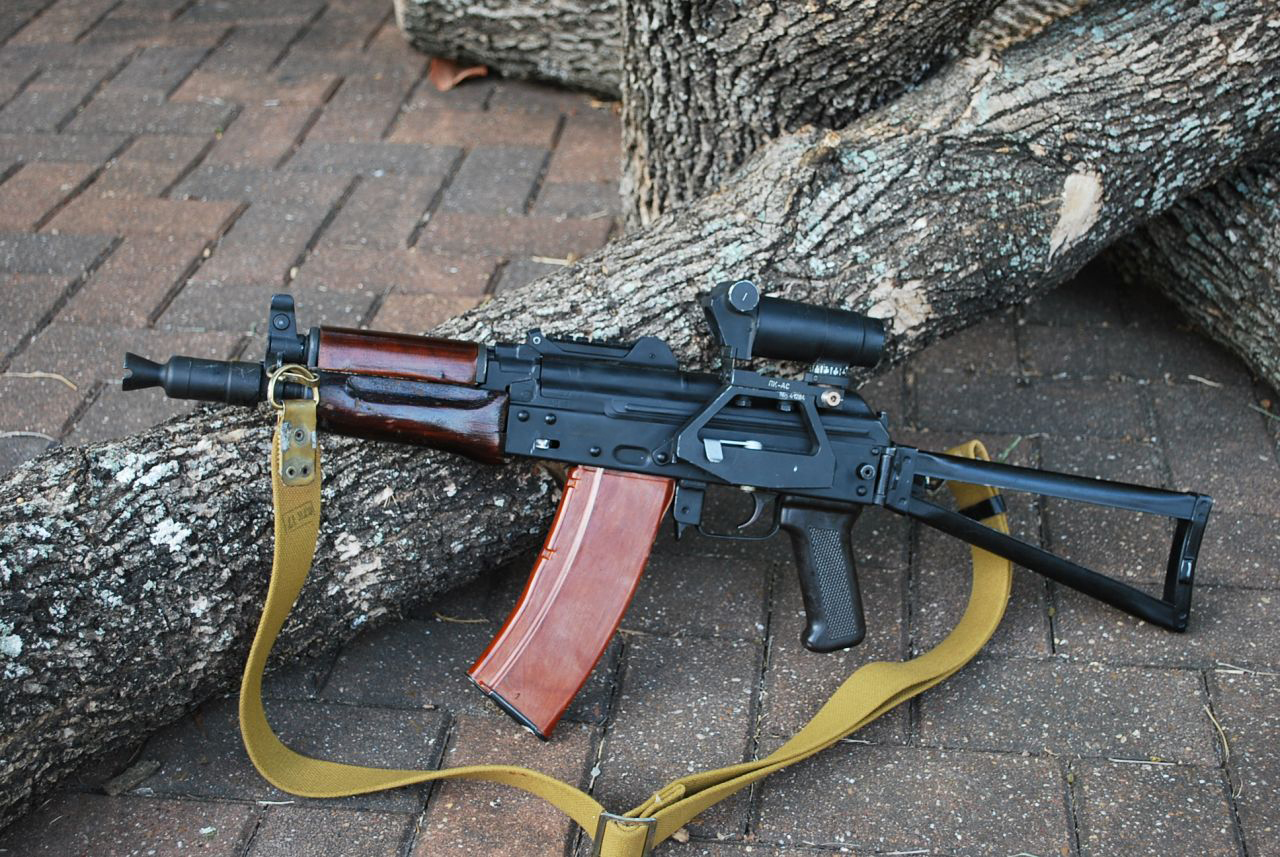 PK-AS is descended from PKS-01, which itself is a descendant of the PKS-07 shown here on an NDM86. PKS-07 is a 7x sniper optic for the SV98 rifle but is effective on the SVD as well.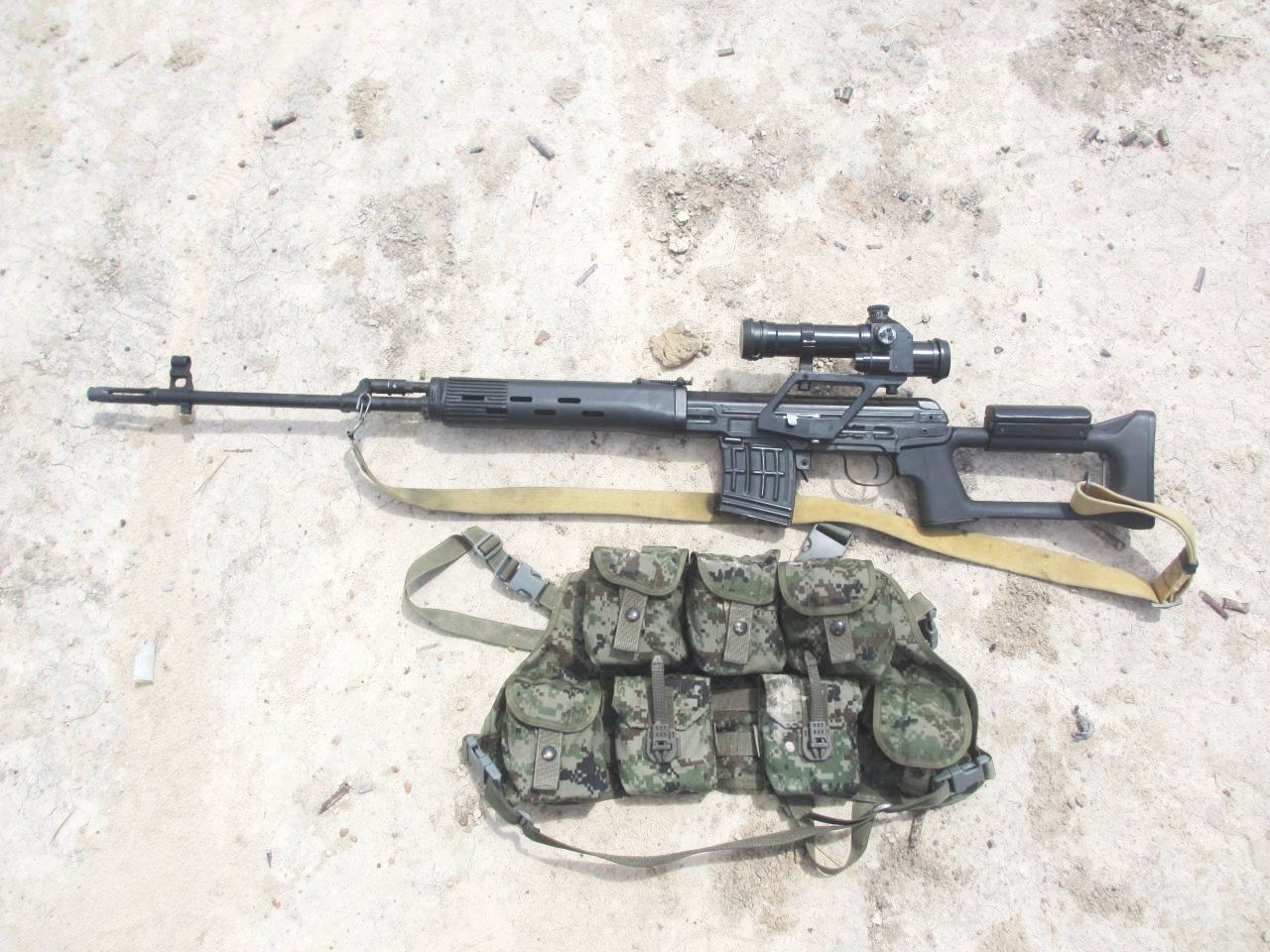 PK-AS with PKS-07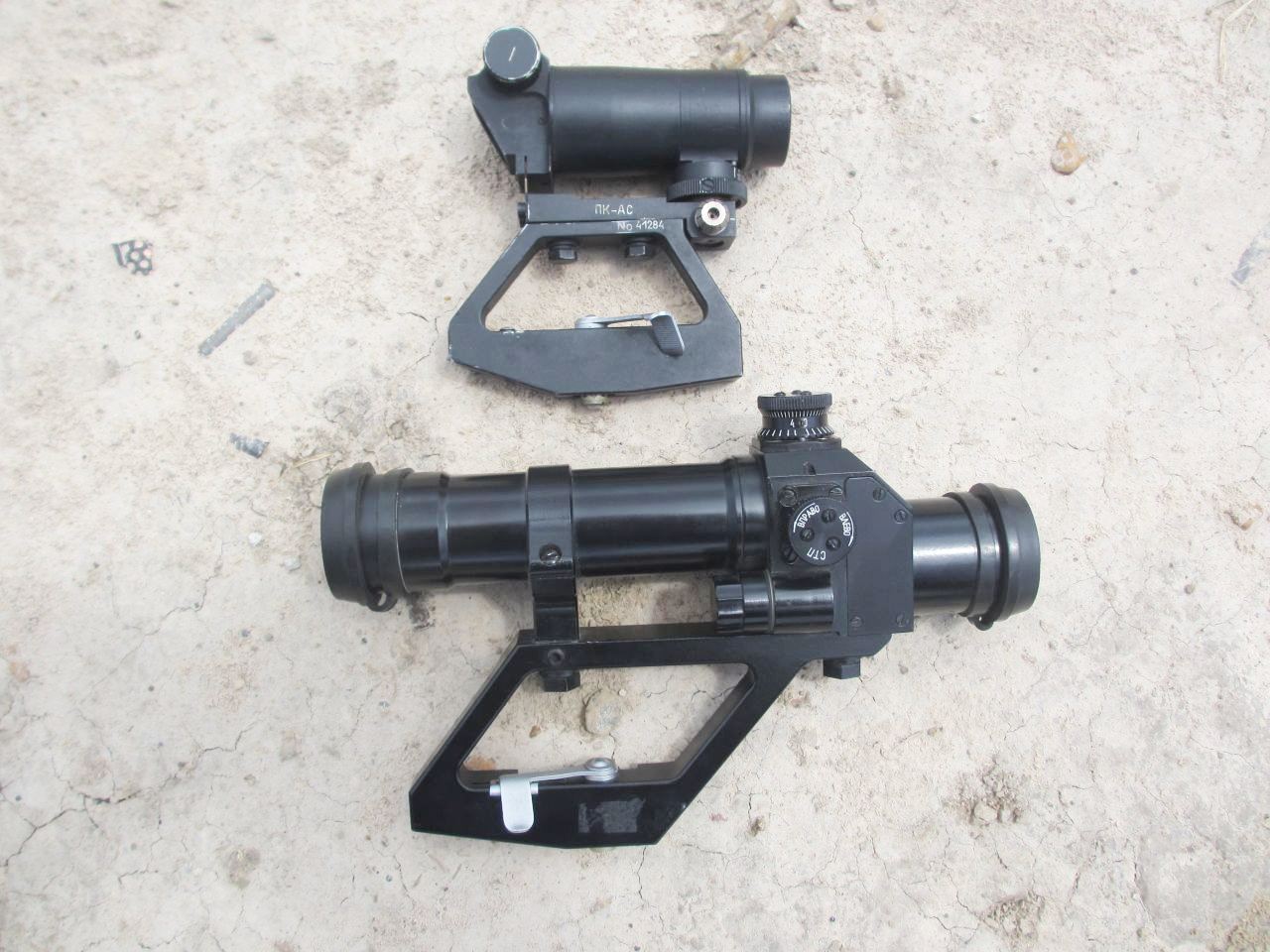 Left PK-AS and right, the original PKS-01. This version of PKS-01 is actually for the AS Val, a suppressed 9x39 rifle.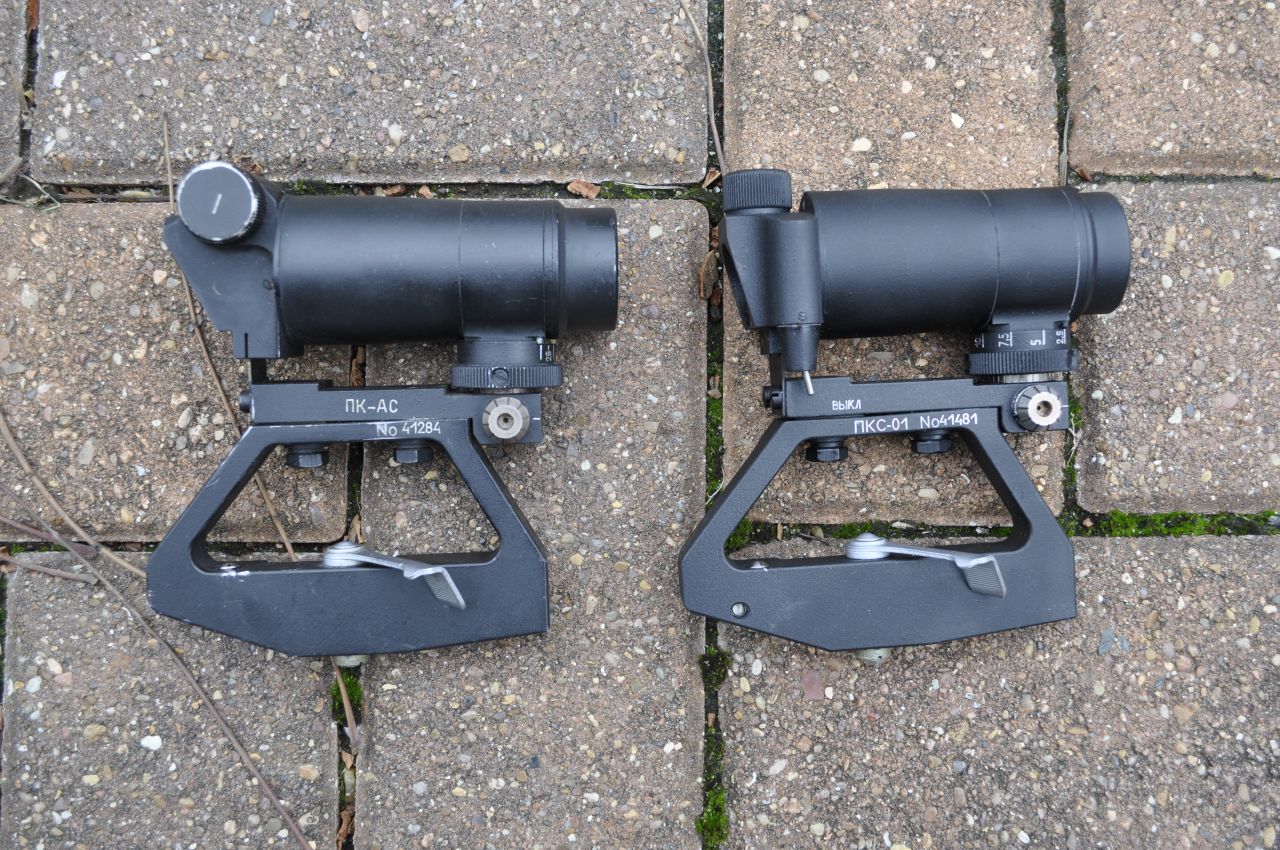 The PK-AS uses a universal mount, PKS-01 (as currently available in the US) uses an SVD mount for the AS-Val. There are dedicated 5.45x39 military versions of PKS-01 but I have not seen them yet.

SVD stop pin on the front part of PKS-01 (right) and Universal mount on the PK-AS (left)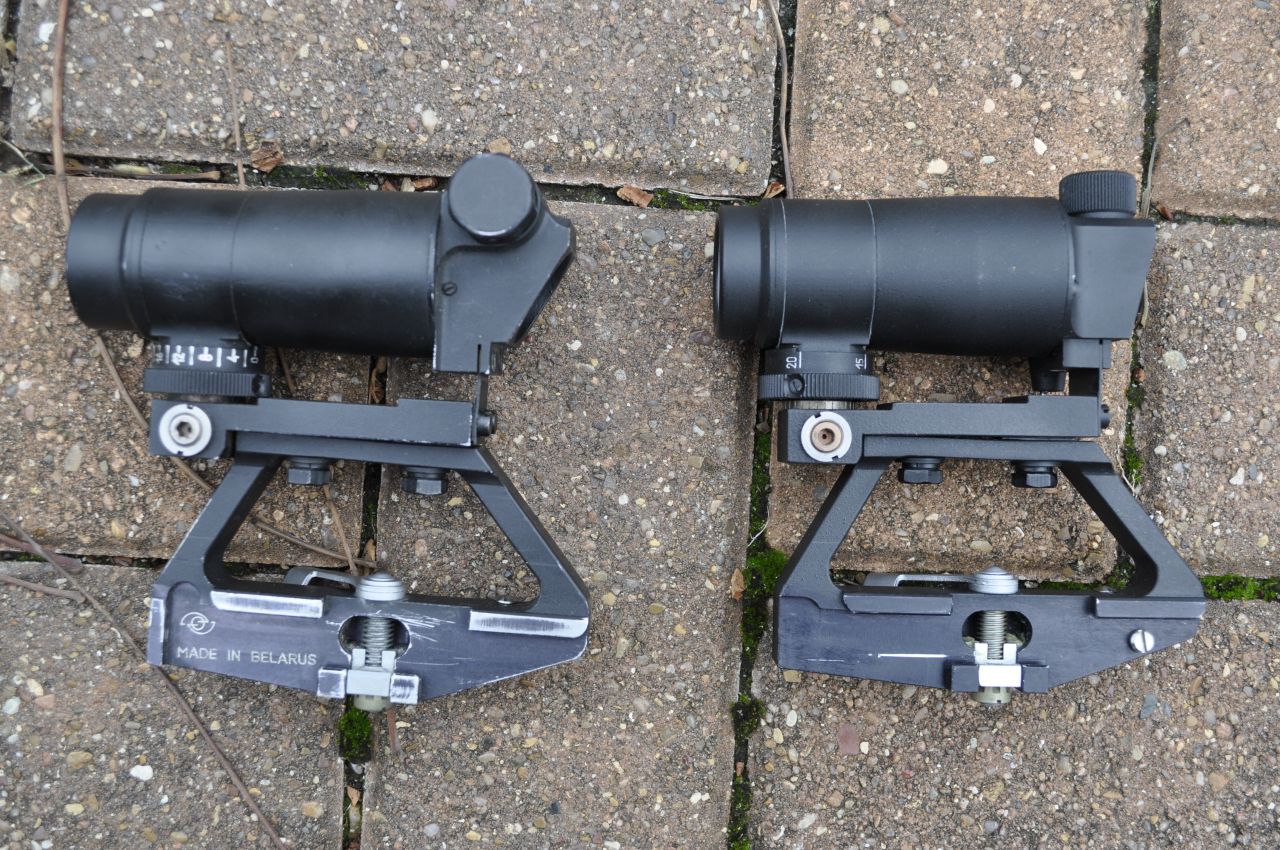 PK-AS comes in several variants as well including a Weaver mount and a civilian model with an MTK83 AK mount that sits directly over the bore (and higher than the regular PK-AS)


From Avtomats-In-Action, PK-AS-V

This was my favorite collimator / red dot for many many years and probably would still be if it were not for the appearance of the Rakurs and most recently Obzor. I'm a big fan of the always on black dot which means that even if the batteries go dead you still have the ability to use the optic during the day. While Rakurs looks huge next to PK-AS the two are about 1 ounce different in weight...17.1 for Rakurs vs 15.8 for PK-AS

PK-AS is in use with police and counter terrorist units but has not been adopted by the Russian military so far as I know at this time.