I had another go around with SURPAT camo from Survival Corps / SRVV in Russia, this time a full uniform and some headgear among other things. I'd previously gotten some of the SVD pouches to try out a few months ago and while I wasn't happy with how quiet they were(n't), I was happy with the company itself and the quality of the gear itself was very good, so I was ok with getting more stuff in the future. This time around I wanted to try out a couple of IFAK/medical/utility molle pouches along with what they call a suit/smock uniform, mainly because the smock has a hood vs the other BDU style uniforms that don't. After using the SPOSN Gorka and Partizan uniforms all summer I really ended up liking having a built in hood partly for weather but mostly for extra camo, so that was the deciding factor with the SRRV choice of uniforms.
I have to say the quality of the uniform is really good. It seems like it has the same kind of attention to detail that SPOSN puts into their gear which is probably to be expected since like SPOSN, Survival Corps is an aftermarket company who sells to the military. To me the uniform seems to be as good or better quality as the US woodland BDU's that I was issued in the Army and pretty close to the same feel as the USMC desert MARPAT's that my Marine Brother In Law sent me.
SURPAT is an interesting color pattern and one that IMO is probably a good all-around choice of camo, it seems to blend well in a wide range of environments. (For reference, SURPAT/Survival Pattern is the Russian version of MARPAT or CADPAT and seems to work really well in the pictures that I've seen, plus my own experiments so far)
SRVV Suit 'Smock' and Trousers
50/50 cotton/nylon riptstop
Similar to Gorka in design but lighter ripstop BDU weight fabric , not exactly designed for winter or mountain use specifically IMO but these are well made though and very comfy. The trousers are also 50/50 ripstop and are pretty lightweight, similar to summer BDU's but softer feeling.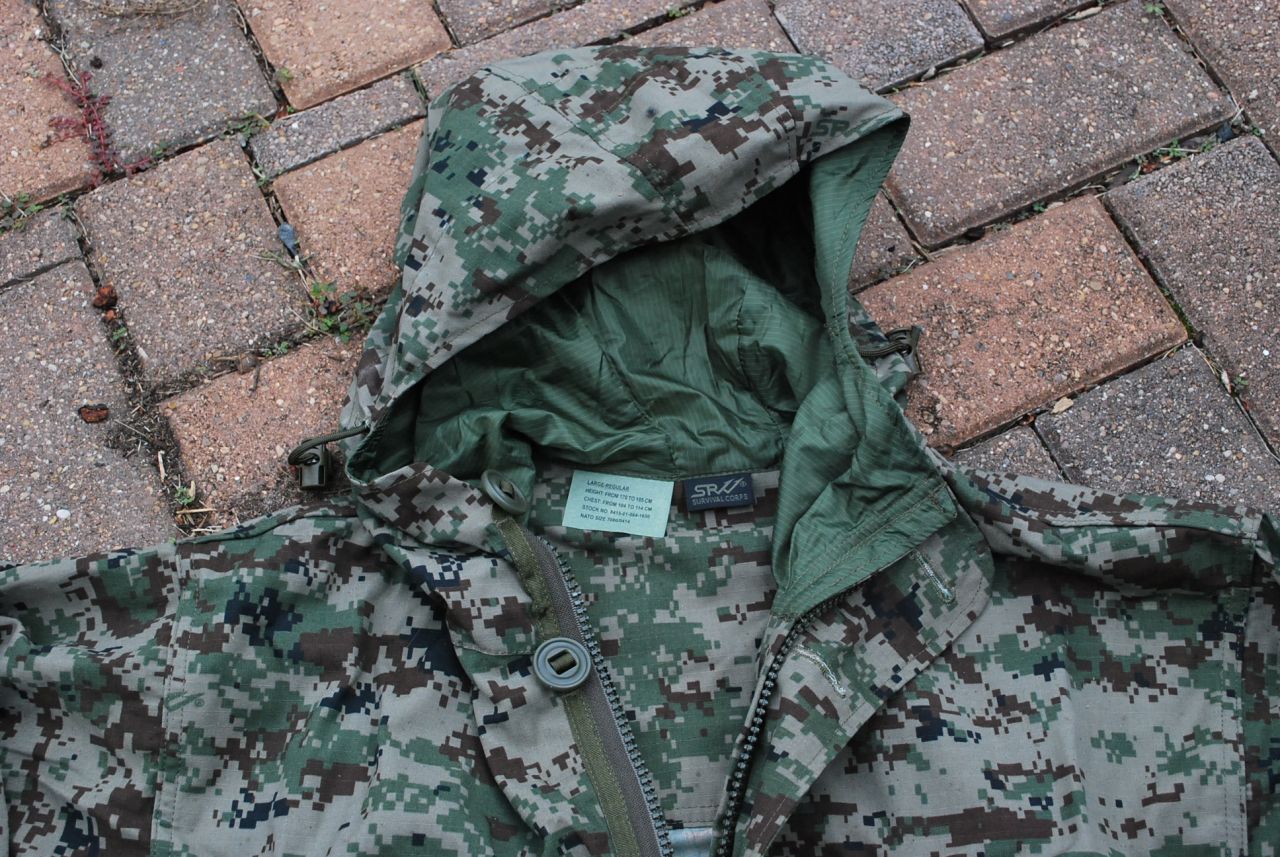 Has a nice array of pockets too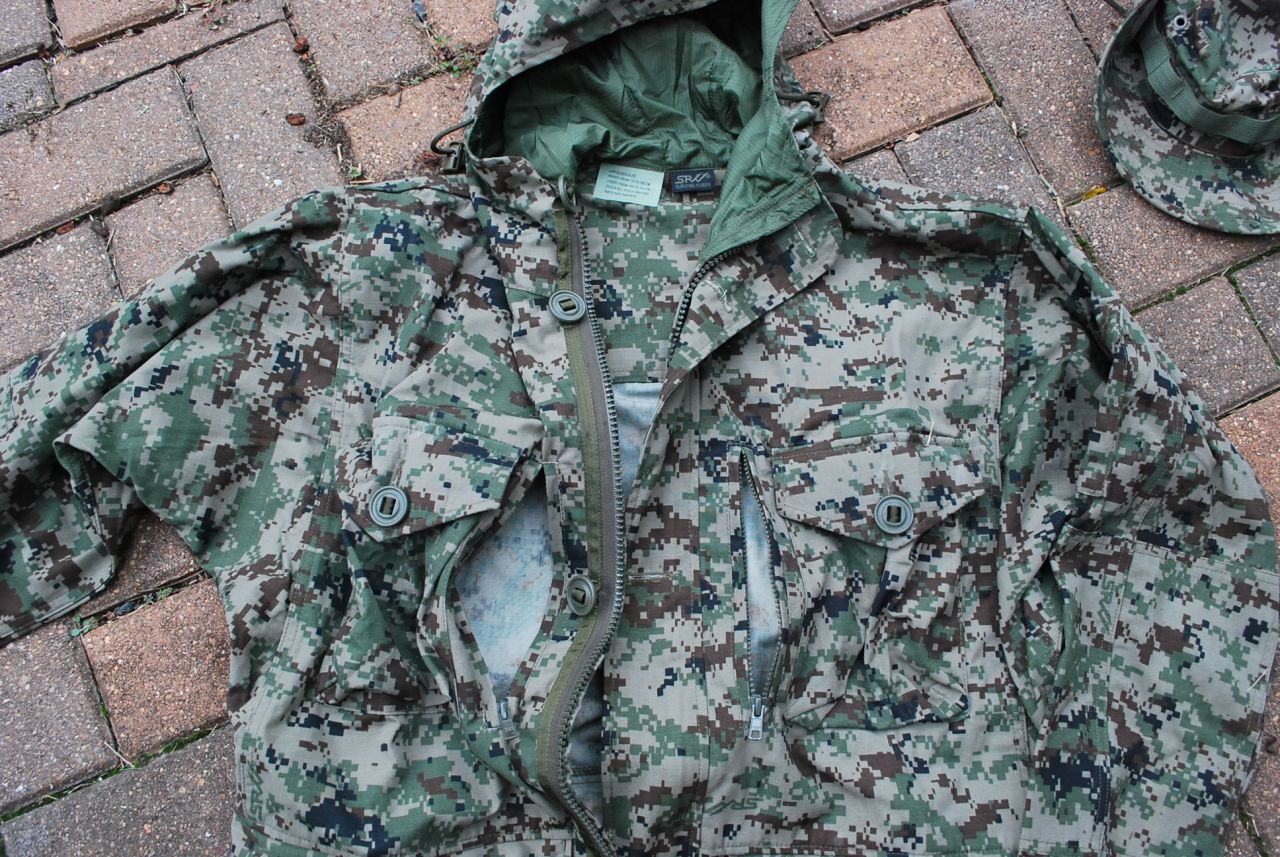 Headgear is really nice, the patrol cap is exactly the same cut and style as my old US Army BDU cap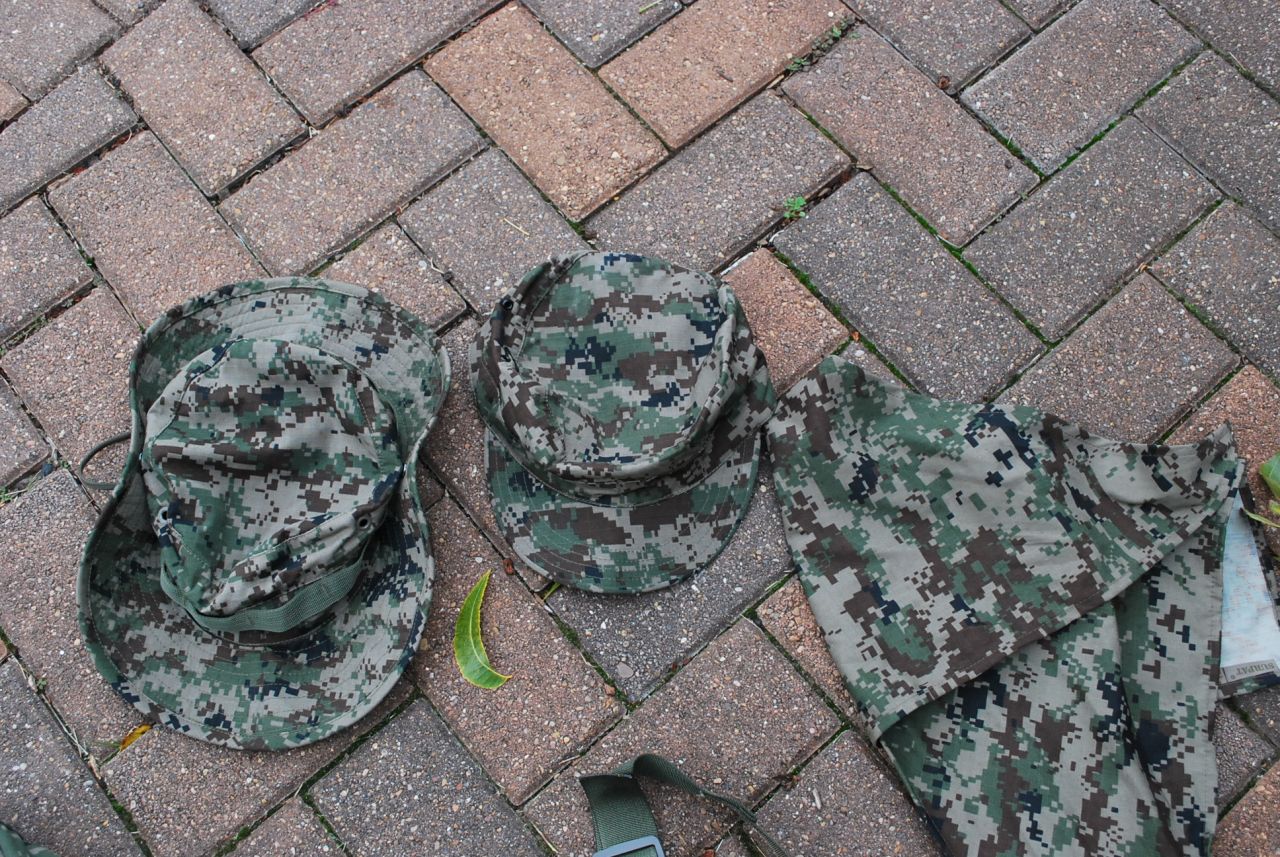 CAMO:
As labelled these are all SPOSN after market uniforms, not general issue but apparently available for individual soldier purchase and in some cases issued to certain units, from what I understand. SPOSN makes really high quality uniforms, I am really impressed with all of these and have already commented that I wish I had a Gorka when I was in the US Army. The Partizan is a tad light-weight for my taste (though heavier and more durable than the Modoks KZM Partizan I recently sold), but the Partizan-M is ultra comfortable. And you really can't beat the comfortable feel and fit of the Gorka series, seriously.
Partizan's are interesting uniforms, big, comfortable and fully reversible including all pockets. Buttons are designed to push through to the other side and you can run the strings through holes after you reverse too. Partizan has a mesh for better hearing, Partizan M doesn't but has an extra set of pockets on the front and is a heavier and nicer feeling uniform. They also include a face net for better camo and have plenty of attachment points for adding foliage to the uniform.
Autumn Pattern on the reverse side: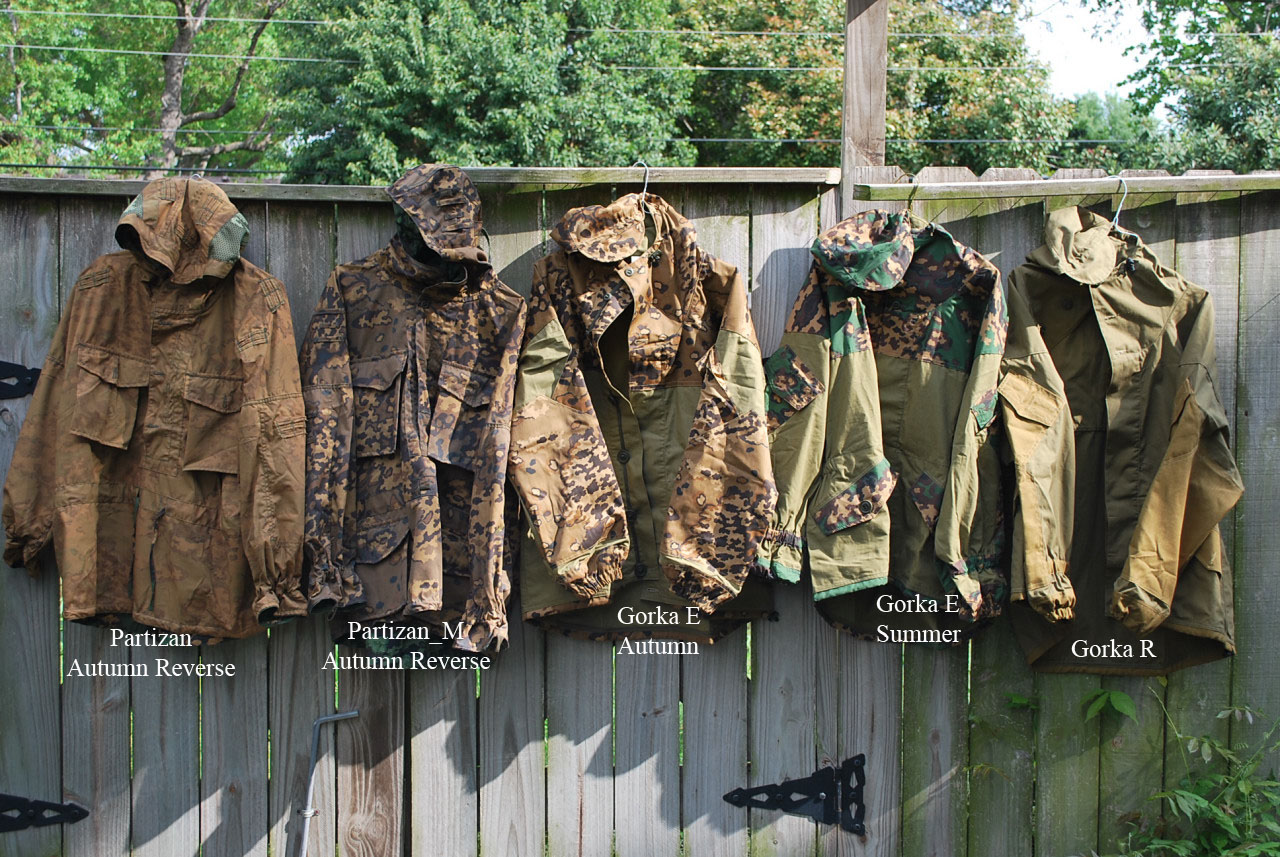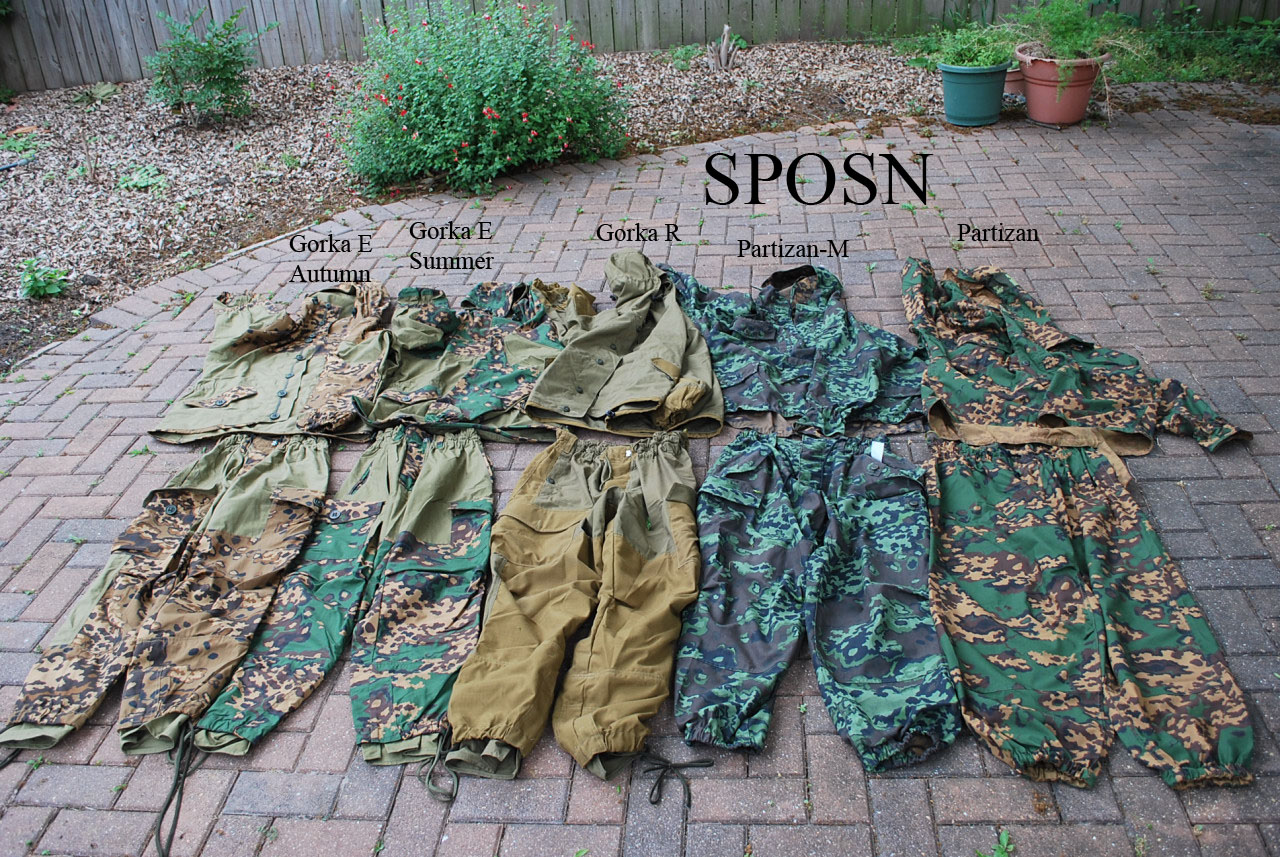 Gorka trousers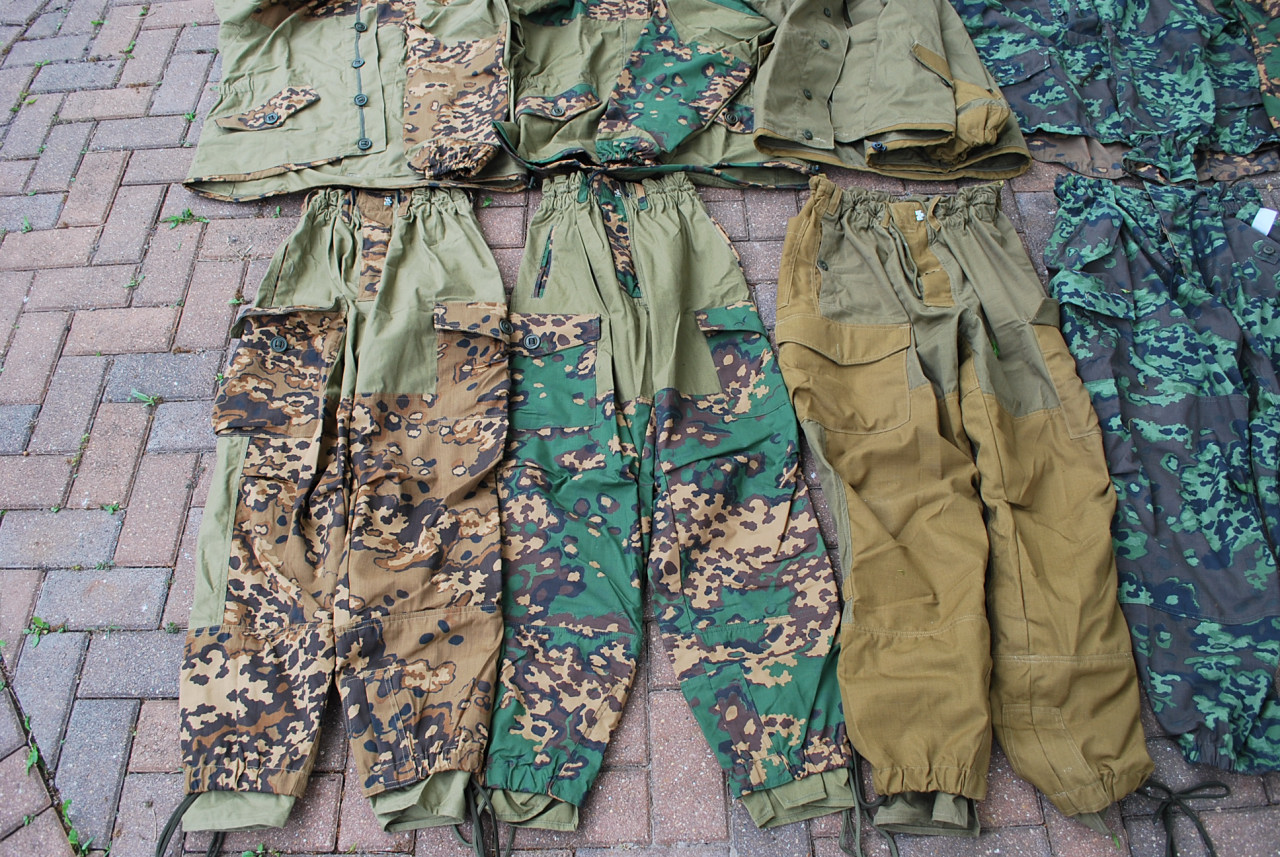 Comparison of autumn trouser patterns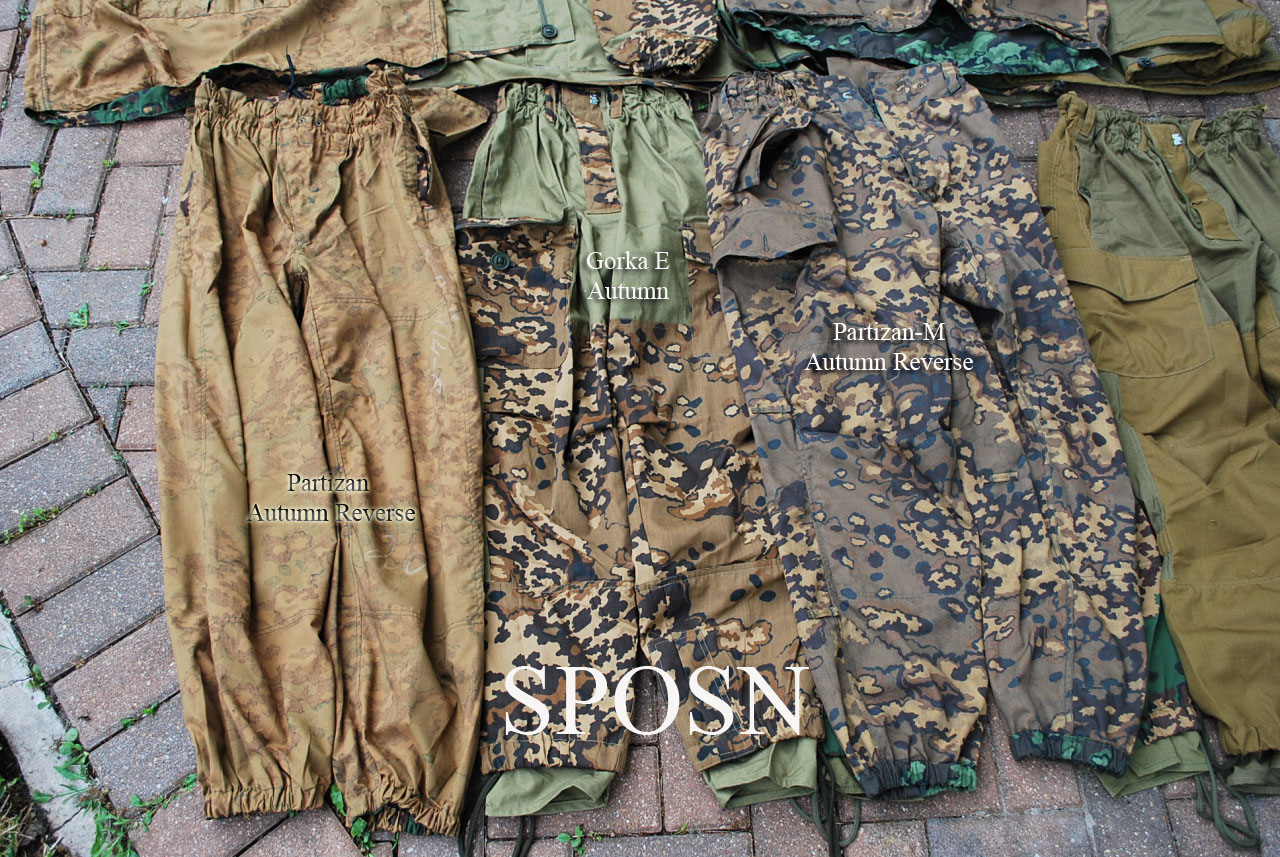 Partizan (left) and Partizan M summer colors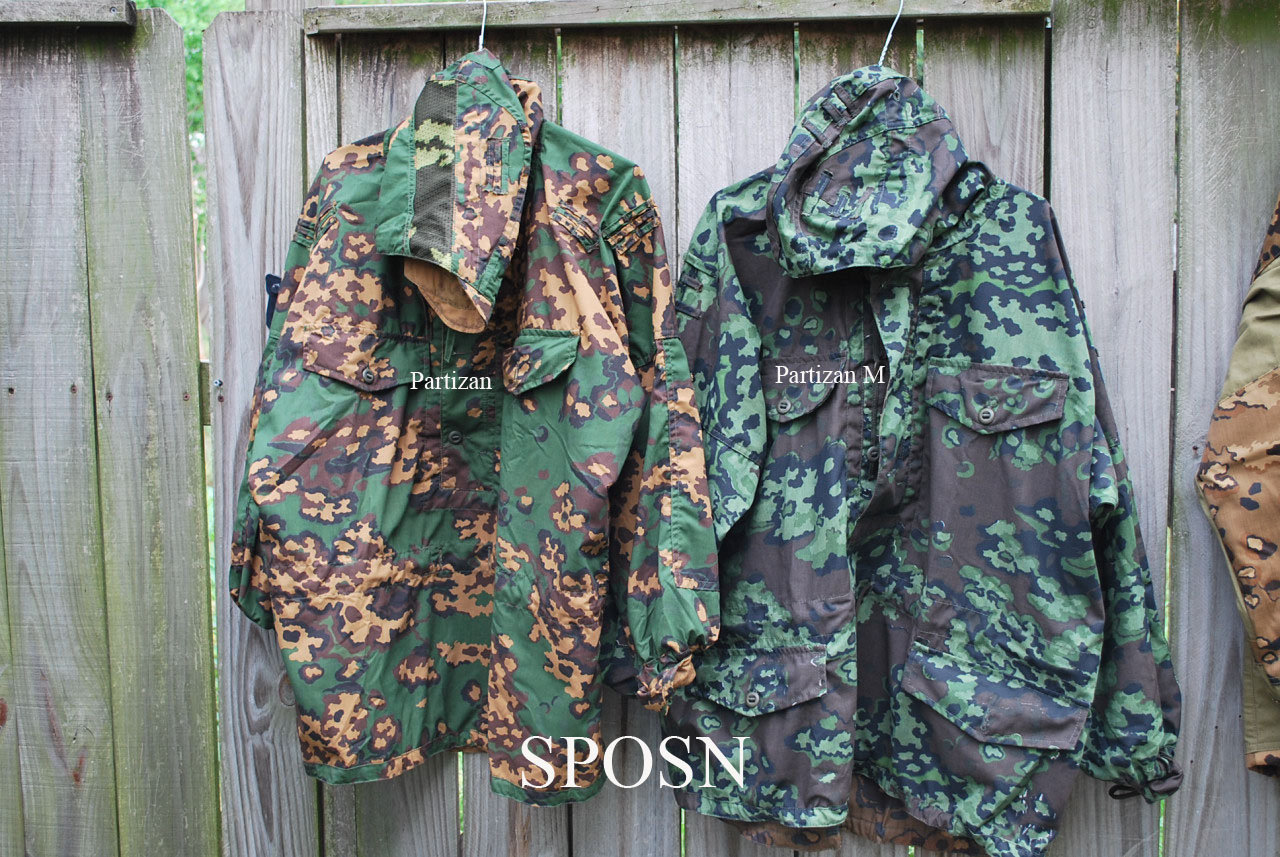 Autumn colors Partizan (left), Partizan M and Gorka-E Autumn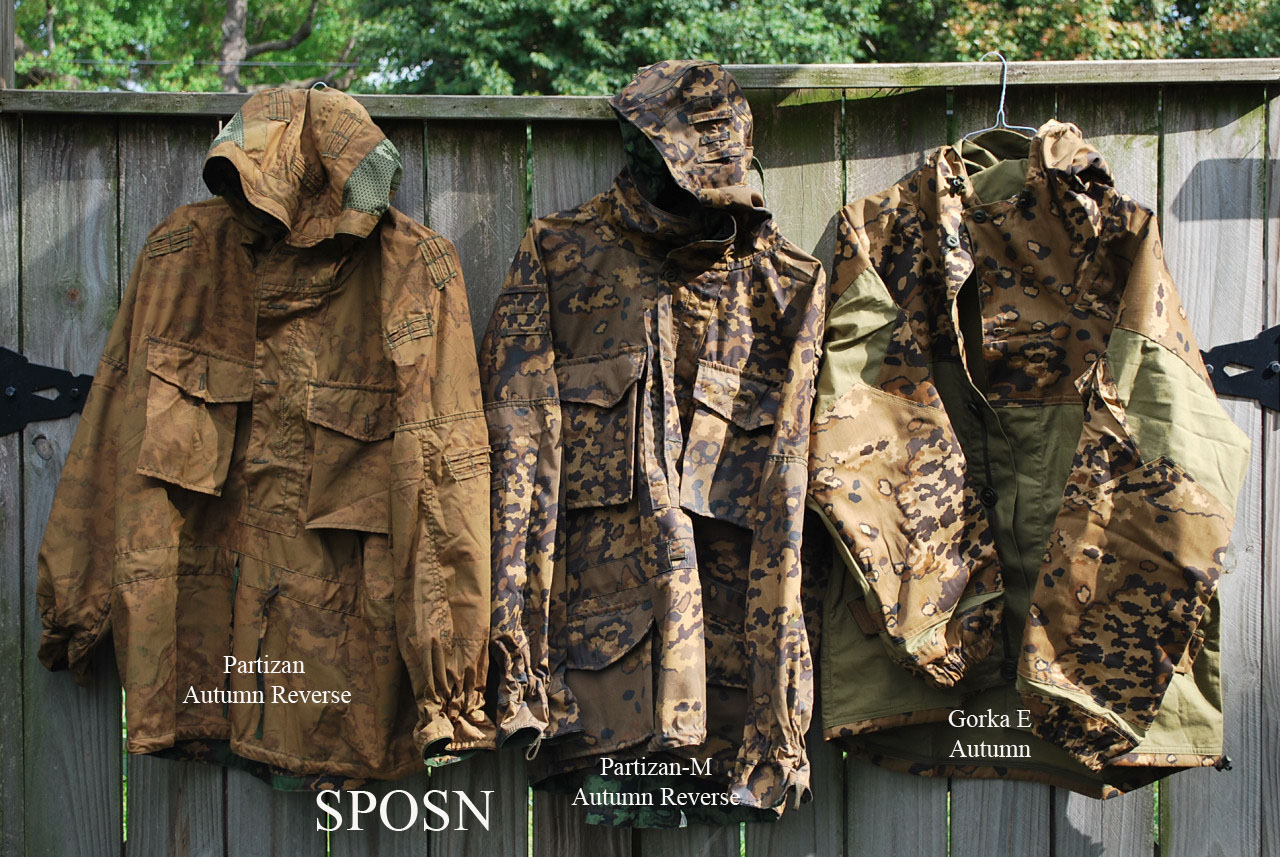 And TX-Zen junior (who prefers 'TX-Curbmonkey') with his favorite rifle trying out the Partizan-M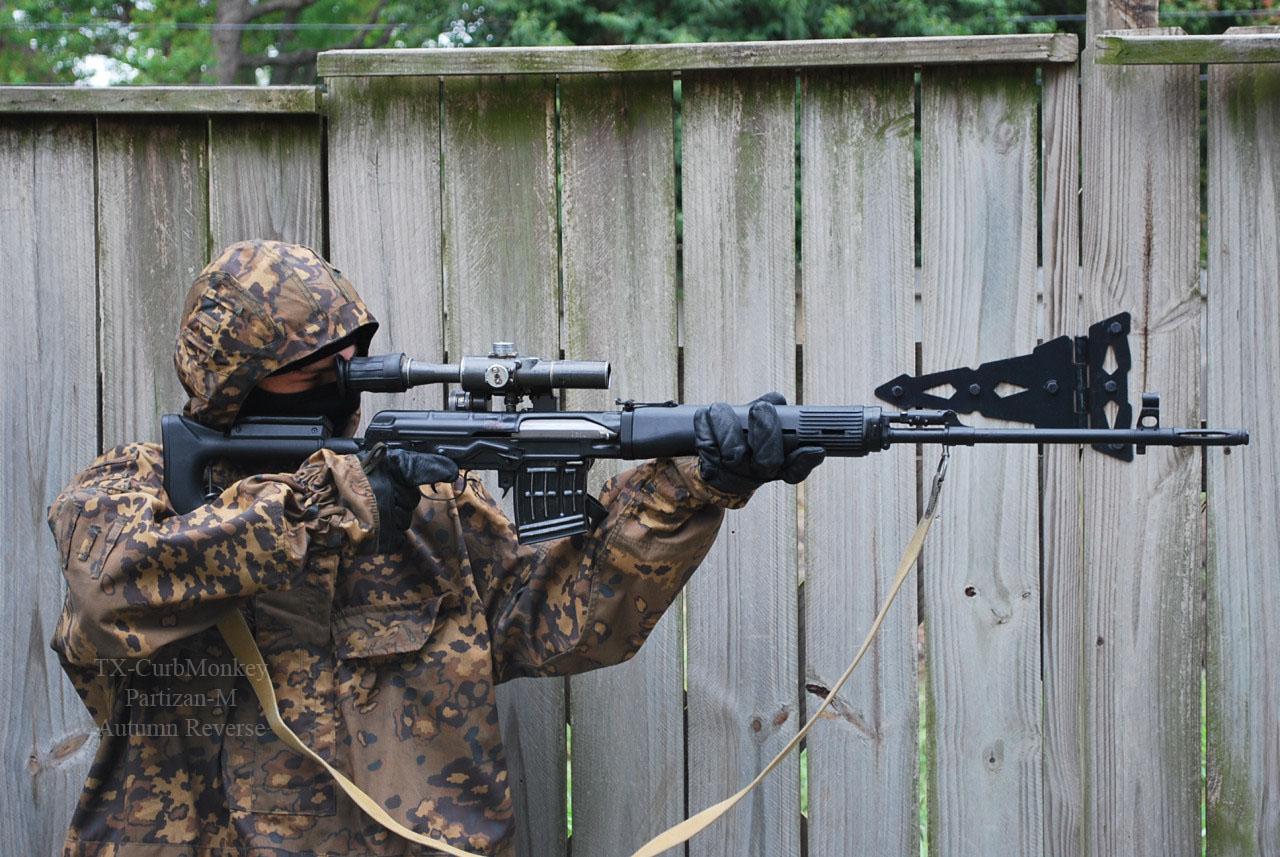 Gorka-E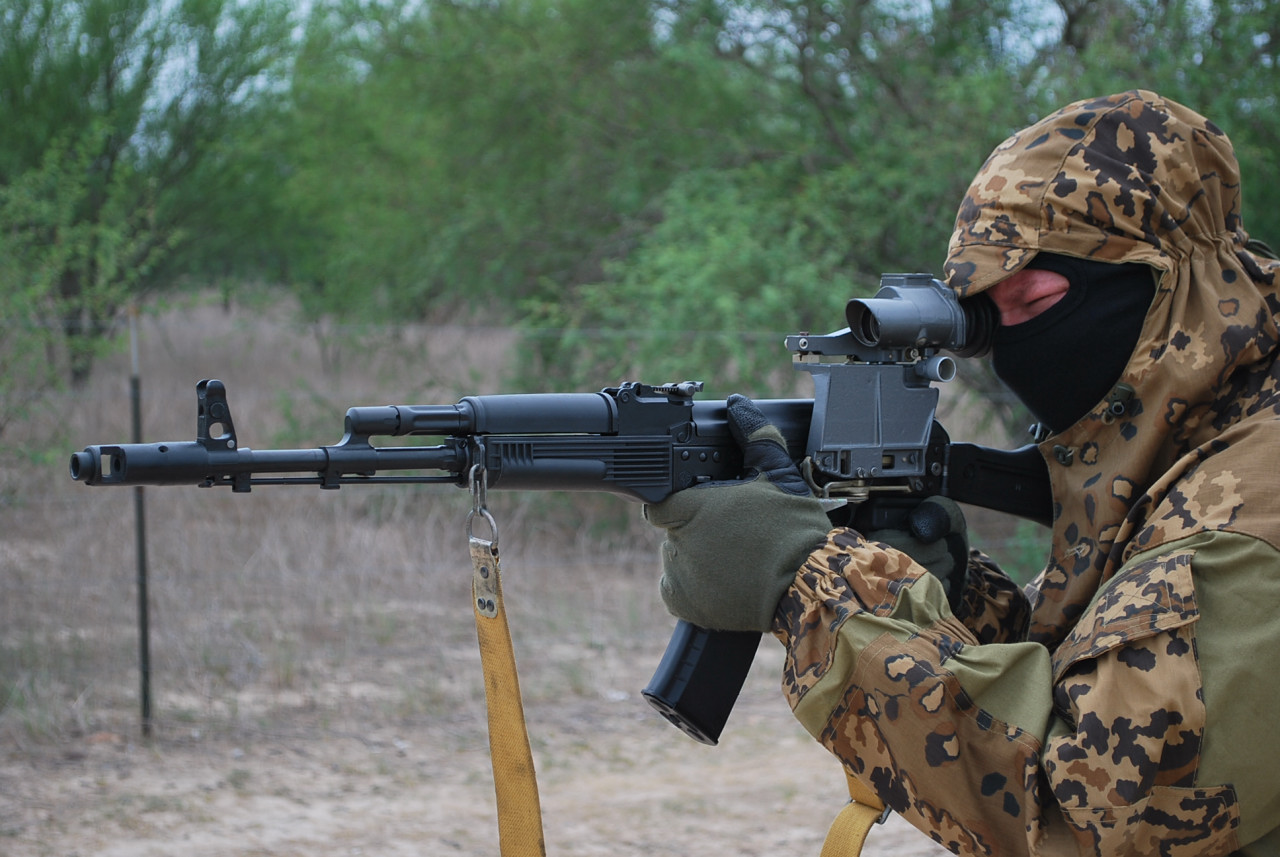 Partizan oversuit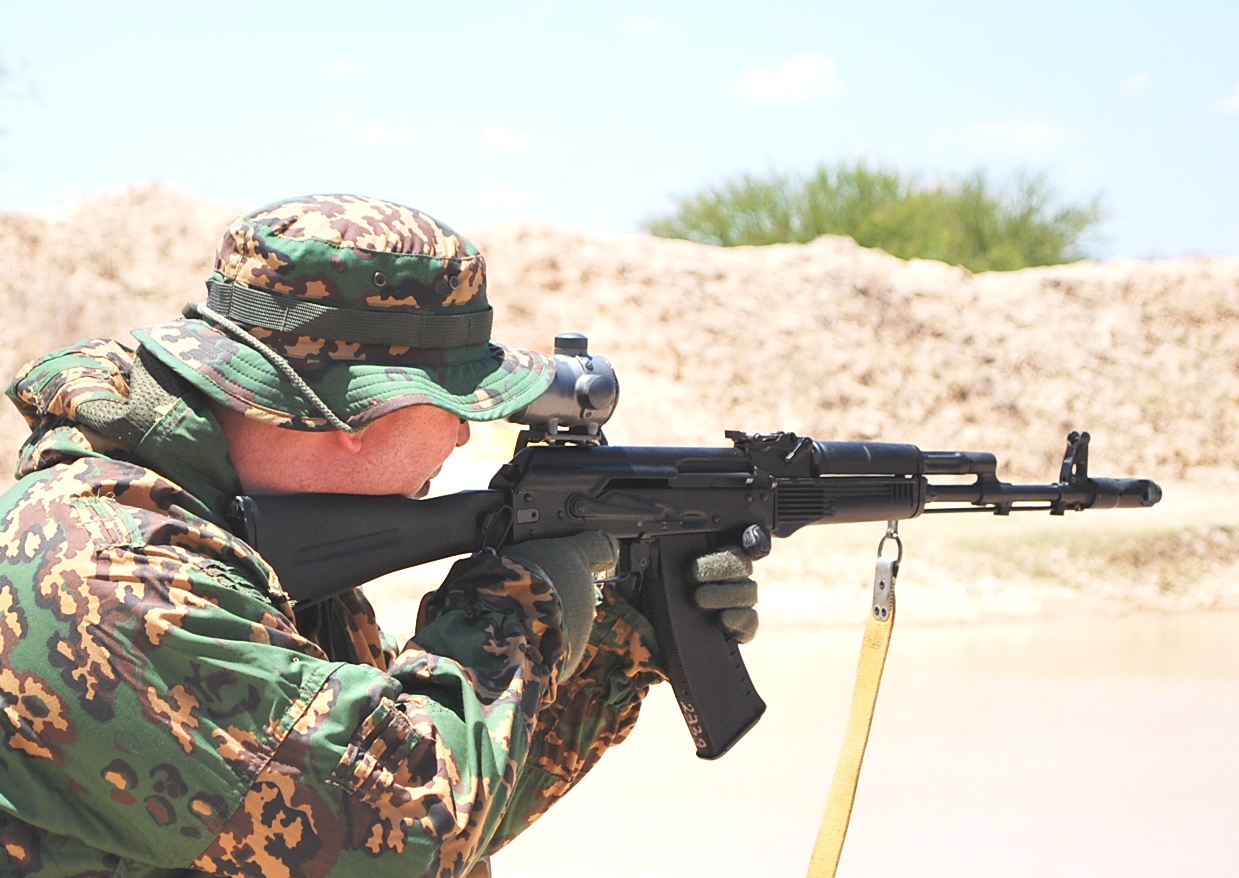 Small comparison of the autumn colors in the yard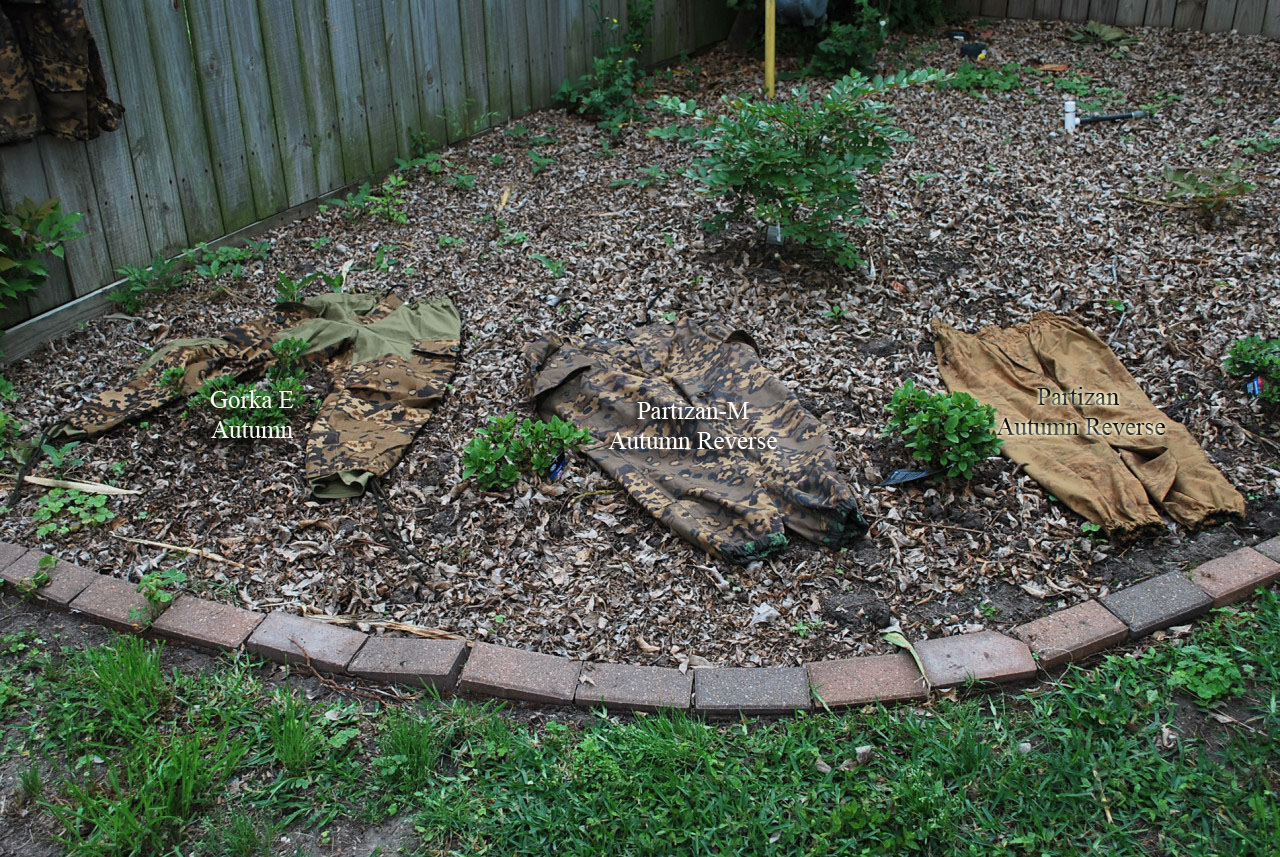 The Gorka-R came from SkippersMilitarySupply and the rest from Soviet-Propaganda, both Justin and Dmitry have been excellent to deal with and I'm really happy with the quality of service from both.
Some pics of the Modoks KZM Partizan I sold
Not reversible, no foliage loops and no face net. Also feels like a track suit, I wasn't impressed...but then again I think this really is only an oversuit and not a uniform by itself. I wouldn't call it crap but it's definitely not as well made or versatile as the SPOSN Partizan.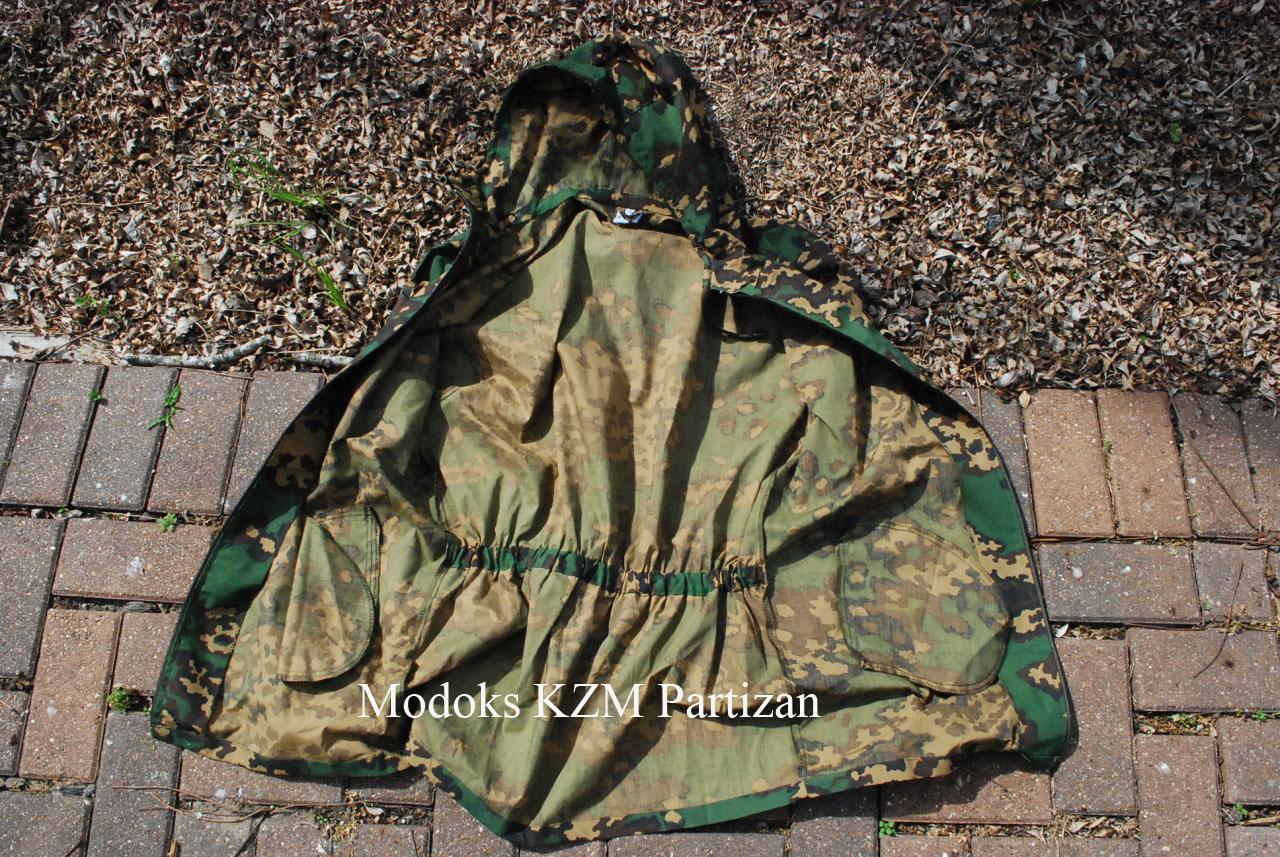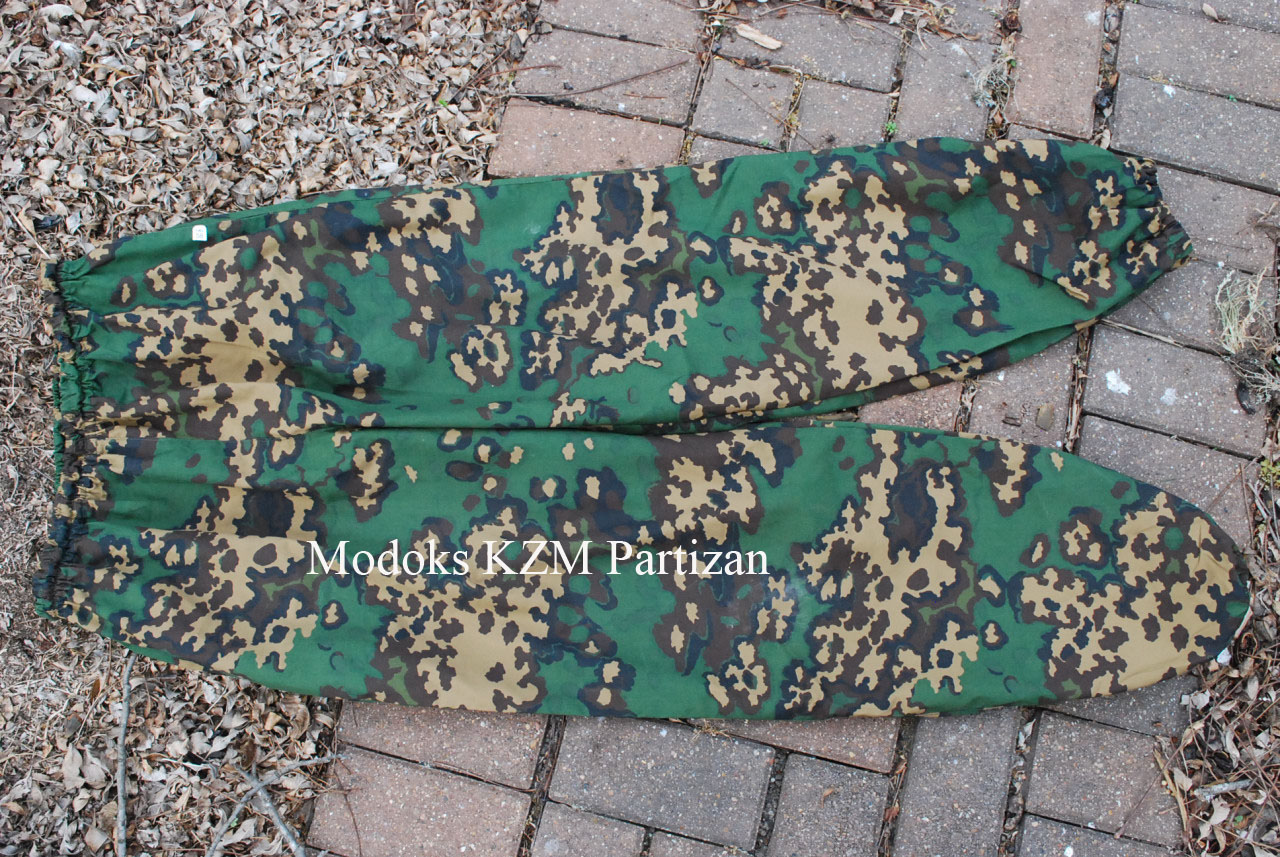 Partizan-M autumn side in action in East Texas summer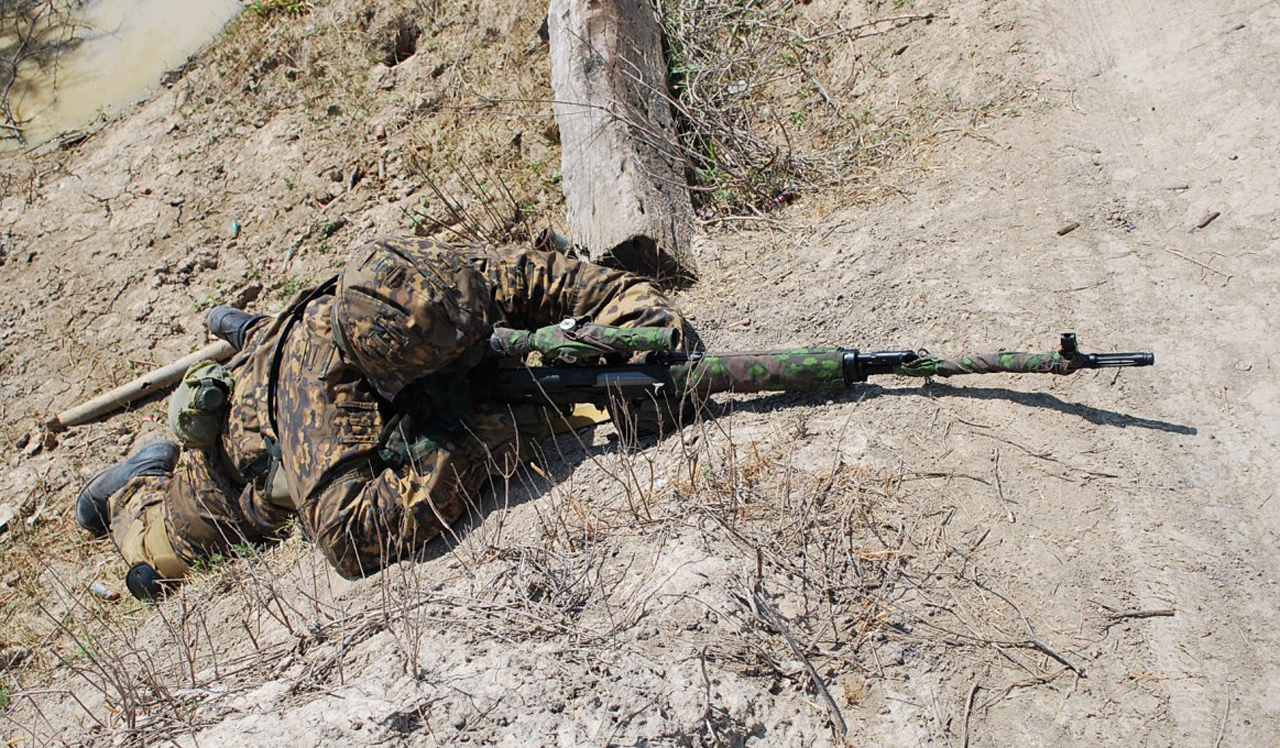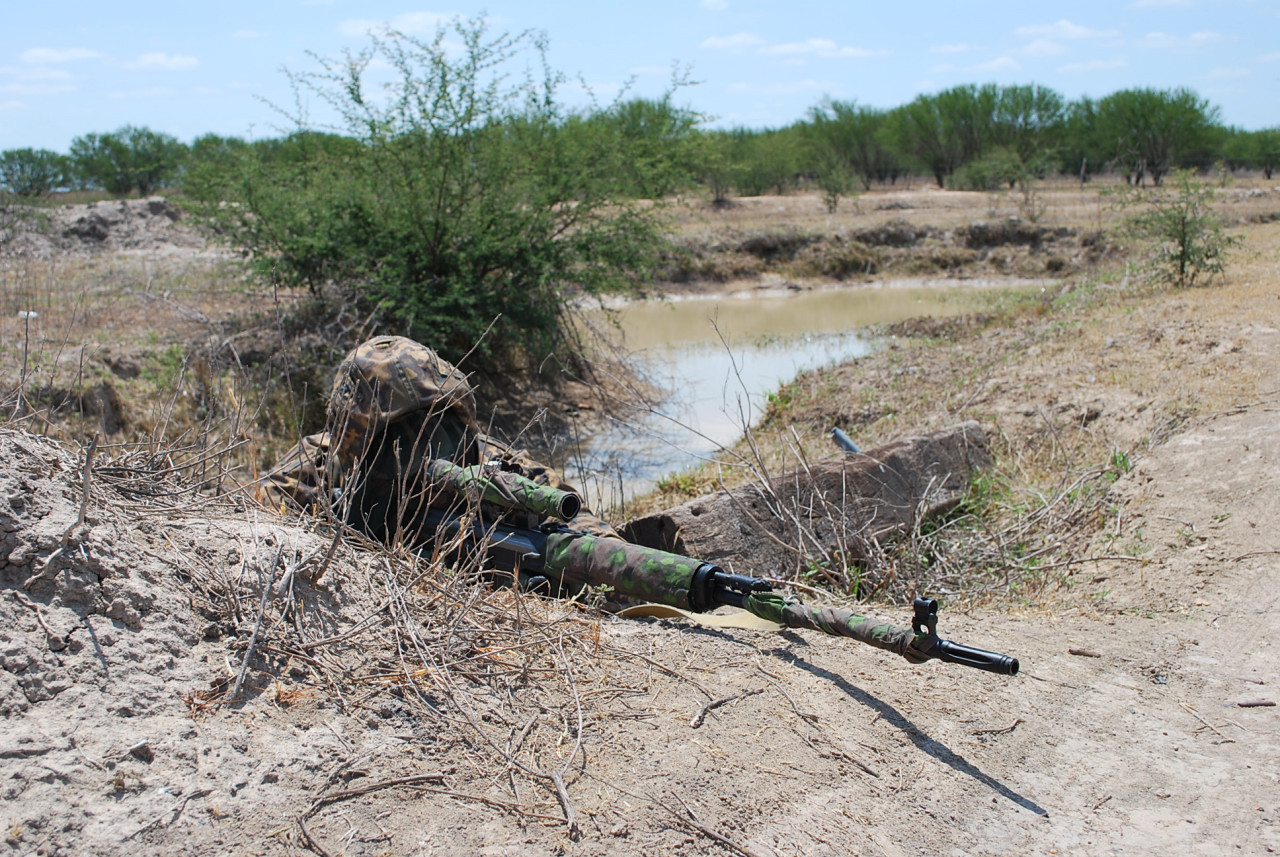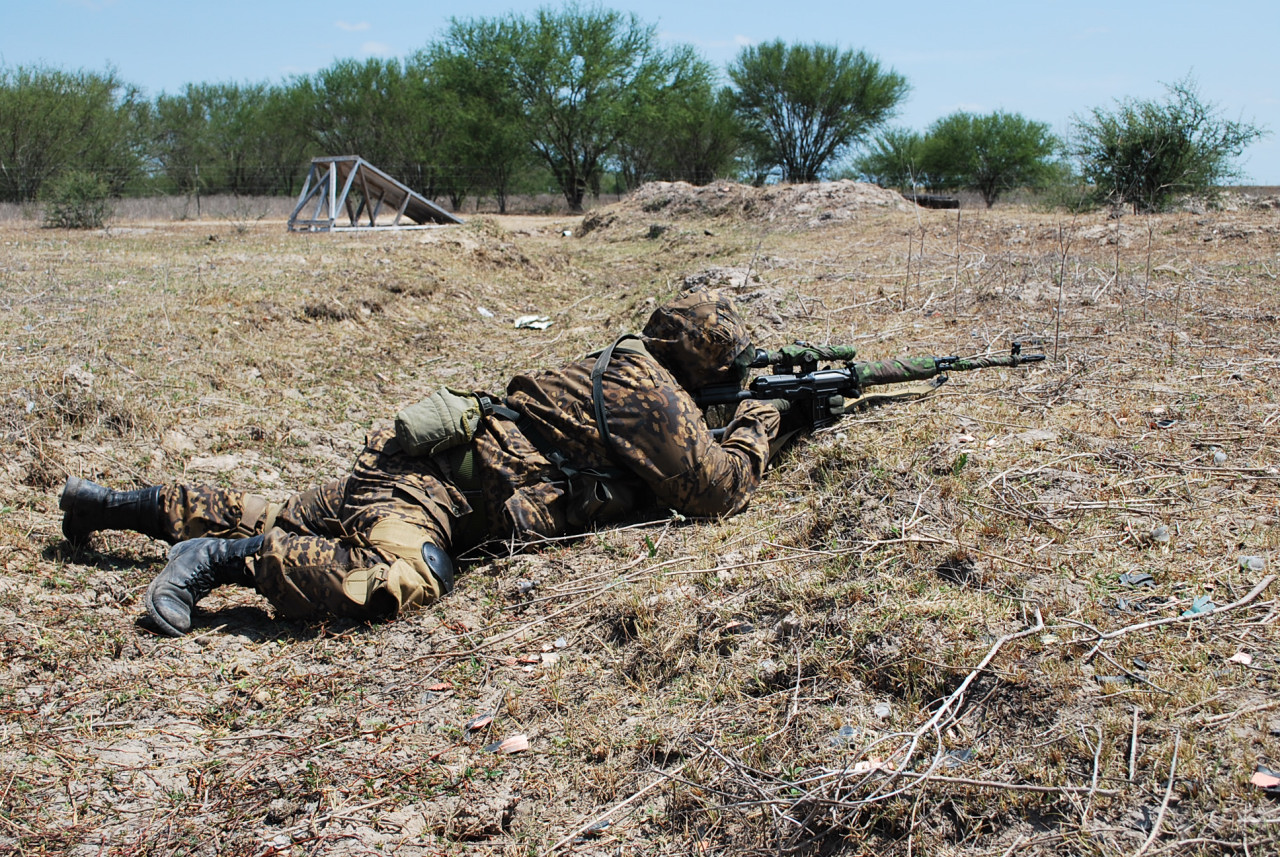 With Chamelion SVD chest rig (holds 10 mags)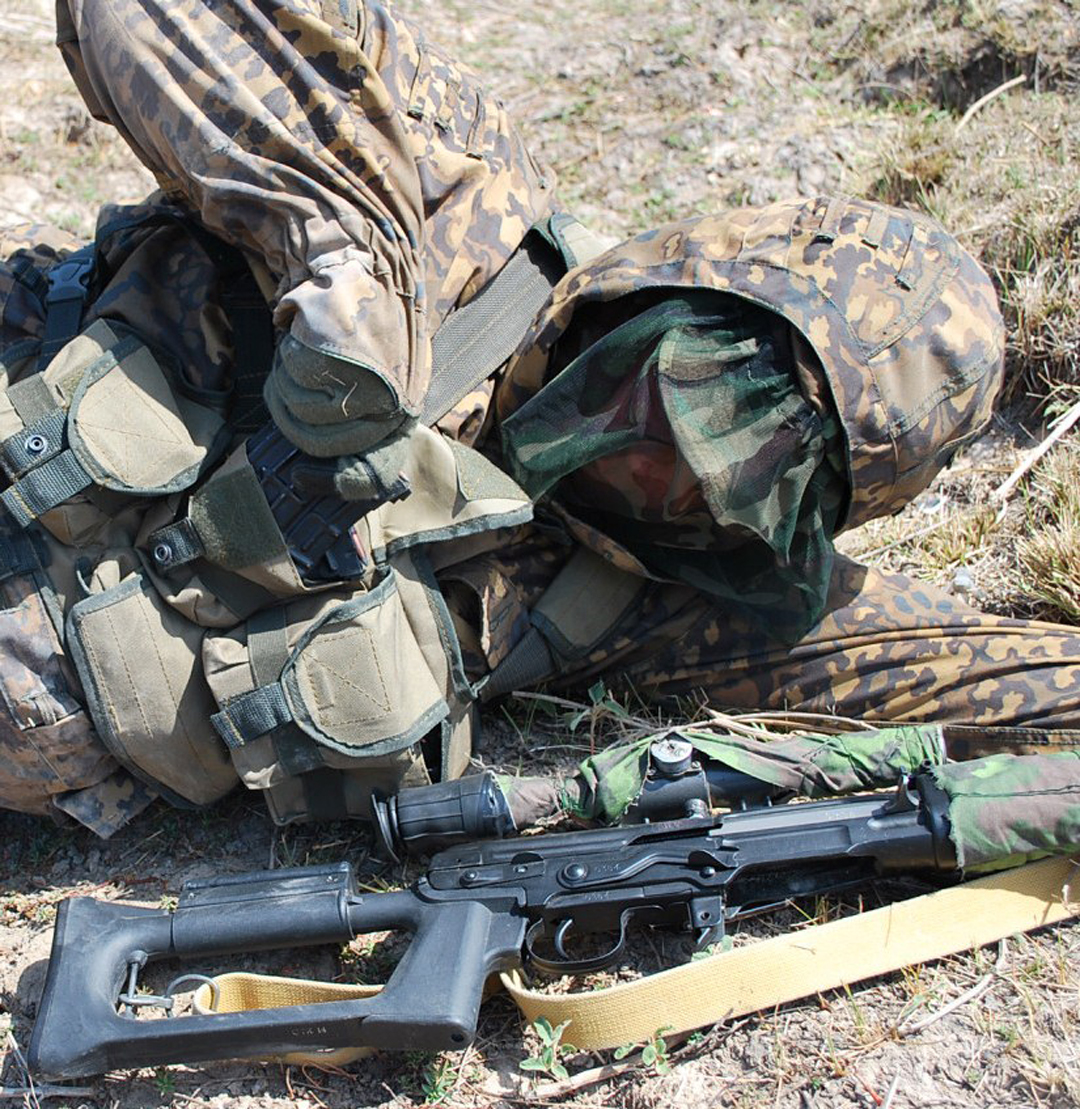 BDU caps and Boonie, SS Summer and Autumn patterns. These hats are super lightweight, almost like a bandana with an attached brim. I feel like they are more for pure camouflage than they are for keeping the weather off your head...comfy though. There's a decent amount of stretch to the fabric also so I don't think you have to get your size dead on.